7 Facts from our Full Genomes Review
Location: Maryland, USA
Services: Whole genome sequencing technology and Y chromosome sequencing; analysis of third-party data
Reports: Basic genetic health reports; genome data must be analyzed with third-party software
Result delivery: Download of raw DNA data from the Full Genomes website
Privacy: Data is deleted upon request
Cost: Ranges from $25 for a single SNP test to $1150 for whole genome sequencing; no free analysis options
Alternatives: Nebula Genomics (the most affordable 30x Whole Genome Sequencing)
This review is written with the intent to be as unbiased as possible. However, it represents the opinion of an individual reviewer and is therefore subjective. Furthermore, at Nebula Genomics we seek to educate the public about the benefits of Whole Genome Sequencing. Information about our Whole Genome Sequencing DNA test is therefore incorporated into the review.
July 25, 2022
Edited by Christina Swords, Ph.D.
Pros and Cons
Pros
Full access to raw DNA data
Option to delete personal data
Reviews suggest good customer support
Cons
Little information on each service provided on the company's website
No user-friendly reporting for genetic predispositions
High cost
Introduction
Full Genomes is a DNA testing company that specializes in complete genetic mapping and entire genome analysis to provide individuals with comprehensive information about their ancestry and health. The Full Genomes corporation headquarters are located in Rockville, Maryland, USA.
It was founded in 2012 by several scientists, including Justin Loe, Leon Kull, and Abdullah Marafi. The company's focus splits into two sections. The first is on whole genome sequencing, which decodes all 3 billion base pairs. The second is Y chromosome sequencing for men, as only men have Y chromosomes.
Most of the Full Genomes services involve identifying genetic variants associated with specific health outcomes. Additionally, some of the company's services allow individuals to reconstruct family trees. Read more in our Full Genomes review!

Full Genomes Services and Products
Whole Genome Sequencing (WGS)
One of this company's biggest draws is that it offers high-quality whole genome sequencing. This company offers several different tiers of its genetic sequencing service on the human genome, determined mainly by the 'coverage' or read length.
Coverage, in this context, refers to how accurate the sequencing results are. For example, 20x coverage will produce more accurate complete genomic results than 10x coverage. These services use next generation sequencing technology.
Whole Genome Analysis ($75) – If you have already had your DNA sequenced, you can upload your raw data to get it analyzed
Whole Genome Sequence 15x ($645), 20x ($825) or 30x ($1150) coverage. Next-generation sequencing coverage

Y chromosome sequencing and analysis
The sequencing of the Y chromosome is available for males who want to reconstruct their paternal phylogenetic tree.
Analysis of Y BAM files ($50) – If you already have a Y BAM file, you can upload it to analyze your paternal ancestry.
Y Elite Ancestry Test for Men ($425) – This is a Y chromosome sequencing service. With this package, you can connect to other people around the world who share your paternal lineage.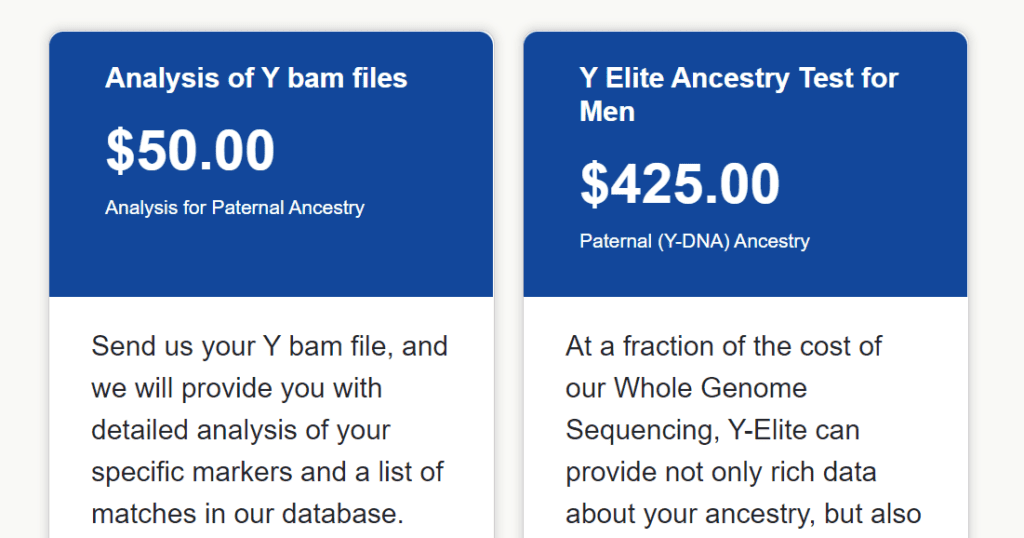 Additional services
In addition to the services described above, the company offers several other services for those people who already have their DNA sequence information.
BAM File download ($10)
b38 upgrade ($25)
Ancestry advice consultation ($25)
Whole Genome GRCh38 Alignment ($75) – If you have a FASTQ file or a GRCh37 BAM file, this service can generate the latest GRCh38 version
Forensic file analysis ($400) – Convert 3rd party files to Gedmatch compatible format
How to use Full Genomes
After choosing the right genetic testing product for you, Full Genomes will send you a DNA sample collection kit. Typically, the company requests a saliva sample. Sometimes, upon further request, it may accept blood samples or cheek swabs. For the services that do not include DNA testing, you can just upload your raw DNA data.

Review of Full Genomes Services
Let's say, for instance, that you purchase the 30x Whole Genome Sequencing service for $1150. After you send in your saliva sample, you will have to wait a few weeks.
When your sample has been sequenced, you will receive an email informing you that your sequenced lab analysis file is available for download. You will then be able to download your BAM and "Interpretation of Results" files. The information also includes mitochondrial DNA (mtDNA) files, and if you are male, Y chromosome files.
Next, you will have to interpret your genome wide results. This can be a bit tricky because it provides you with a lot of information on your genetic data but minimal reporting or access to genetic counseling. However, the company has excellent customer support, which can help you make sense of the Full Genomes analysis file it provides.
If your package includes ancestry analysis, the company also loads your information into its database to help you find relatives through genetic genealogy and reference genomes.
If your package included a Y chromosome analysis, you will also get specific information about your paternal haplogroup (the population your most recent paternal ancestors are related to). Your haplogroup information is found in a text file. From there, you need to use a third-party website to find out your haplogroup's geographic origins.
Also included with the Y chromosome sequencing and analysis service is information related to single nucleotide polymorphisms (SNPs) shared by your paternal ancestors.
Analysis
One of the trickiest parts of using this service is analyzing and understanding your results. Some files related to your sequence can be opened simply using your web browser or Microsoft Excel. However, it still will be challenging to understand without a significant investment of time and effort.
To make sense of the files provided, you will need to use an additional third-party software, such as Promethease.
In short, a Full Genomes test may provide comprehensive whole genome sequencing testing and accurate results. However, its services fall somewhat short in terms of analysis and interpretation. Nebula Genomics can solve that issue for you and help you learn more about what your DNA says about you.
Privacy and Data
According to Full Genomes Corporation (FGC) Terms of Service, the customer reserves the right to request that their account be closed and their information removed from all databases. Processing time is usually thirty days.
Samples received are de-identified and substituted with a code. The laboratory does not know the identity of the sample being tested. When results are up, the laboratory staff does send them with the unique code created.
FGC may disclose your information to partners or service providers such as payment processors and specialized laboratories. The corporation will also share information with authorities under the terms permitted by the Law.
Full Genomes in the News
According to one online report, this company was the first to offer sequencing of the Y chromosome in January of 2013.
Full Genomes Corporation is always included in outlooks of the direct-to-consumer industry several years from now. It is listed among market-leading participants such as Ancestry, 23andMe, and Color Genomics.
The company has also played a part in using DNA technology to unveil the identities of the highly decomposed remains of murdered John Does. Such are the cases of Kraig King from White Bear Lake, Minn., and Gary Albert Herbst of New Prague.
Full Genomes Reviews
Full Genomes are well-rated by consumers. For example, on DNAtestingchoice.com, the editor reviewed the company at 4 out of 5 stars. The customer service is rated at 5 out of 5 stars, while the clarity of results and value for money are both rated at 3 out of 5 stars. Customer reviews have an average rating of 4.5 out of 5 stars.
What do consumer tests have to say about Full Genomes? Here is an example of a review:
"I have just received my Y Elite 2.1 results early this morning and after getting the whole files ready to be studied I am sincerely impressed by the quality of their job. A few days ago I tested the Long Read WGS with them and now I know that I was right when I decided to test again with them. They are the best in their job."
Nebula Genomics
Although Full Genomes may have been one of the first to offer whole genome sequencing, Nebula Genomics offers the most affordable 30x Whole Genome Sequencing services at $299 or less. Compare this to Full Genomes' 30x whole genome sequencing service package, which is $1150!
We also provide extensively updated reporting, analysis tools to explore your DNA data, and deep ancestry analysis.
Here we compare FullGenomes.com with three other DNA sequencing services, 23andMe, AncestryDNA, and Nebula Genomics.
| | | | | |
| --- | --- | --- | --- | --- |
| | Full Genomes | 23andMe | AncestryDNA | Nebula Genomics |
| DNA testing method | Whole genome sequencing | Microarray-based genotyping | Microarray-based genotyping | Whole genome sequencing |
| Focus on privacy | No | No | No | Yes (learn more) |
| Security technology used | Unspecified | SSL for data transfer | Unspecified | Blockchain, privacy-preserving computing |
| Data upload options | Yes | No | No | Yes |
| Tools to explore data | Limited | Limited | Limited | Yes (learn more) |
| Ancestry reporting | Yes | Yes | Yes | Deep ancestry reporting with full Y chromosome and mtDNA sequencing |
| Cost | $15-$1150 | $99 or $199 | $99 or $119 | $0, $99, $299 |
Other companies
Other whole genome sequencing companies that you may want to consider are:
Learn more about whole exome sequencing and whole genome sequencing!
If you are interested in advanced ancestry analysis using your whole genome sequencing data, you should take a look at Genovate or YFull. For those looking for monetary compensation from their contribution to genome research, Luna DNA has open possibilities.
You can find more reviews on our blog and check out our complete guide to the best DNA test kit and other home tests.