7 Facts from our Rightangled Review
Location: Hammersmith, England
Services: Has over 25 kits for blood, DNA, and COVID-19 PCR tests
Cost: $86-$208 (DNA), $55-$208 (blood), $60 (COVID-19 PCR)
Reports: DNA variants or blood biomarker information reviewed by doctors and health specialists
Upload options: Customers can upload 23andMe data
Counseling: All test results are reviewed by a qualified Doctor and/or Level 3 Personal Trainer who will tailor your report. Partner specialists are available for follow-up consultations
Complimentary Products: Nebula Genomics 30X Whole Genome Sequencing (WGS)
This review is written with the intent to be as unbiased as possible. However, it represents the opinion of an individual reviewer and is therefore subjective. Furthermore, at Nebula Genomics we seek to educate the public about the benefits of Whole Genome Sequencing. Information about our Whole Genome Sequencing DNA test is therefore incorporated into the review.
June 21, 2022
Pros and Cons
Pros
Tests can be performed at home
Offers both DNA and lab testing
DNA tests ship worldwide
Sample collection does not require an extensive procedure, mostly a simple cheek swab or finger prick
Cons
To take part in blood and COVID-19 PCR tests, you must be in the UK or Channel Island
The test kits are relatively expensive
Only accepts data upload from 23andMe
Rightangled Introduction
Rightangled is a healthcare provider that specializes in personalized medicine. The biotech and genetic testing company offers various at-home screening and diagnostic services. The headquarters is in London, although its services are available internationally. Rightangled connects its users with the company's registered healthcare professionals through its online platforms.
Since it's a UK-based company, it is Care Quality Commission (CQC) registered – the body that regulates all healthcare and social service providers in England.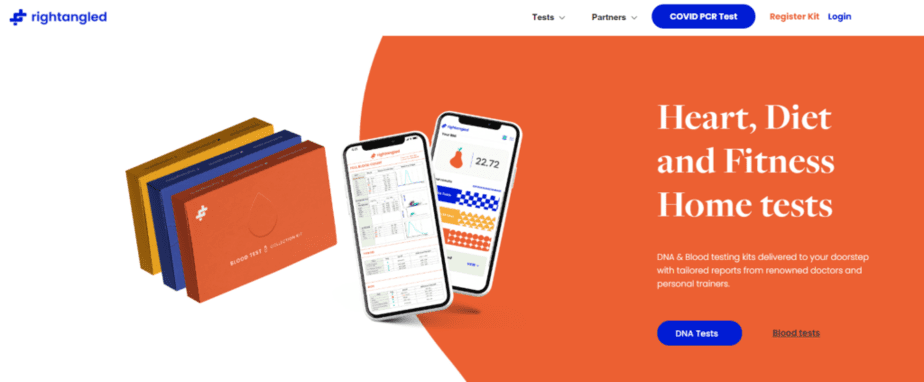 After ordering a test kit, you will send samples for analysis in ISO-certified labs. Besides in-depth testing, Rightangled boasts of top-notch follow-up consultations. It links you to relevant fitness and wellness experts who review the DNA analysis, gives comprehensive explanations of the results to customers, and offers recommendations to obtain the best outcomes. You may also schedule a follow-up consultation through any of the company's online platforms.
A Brief History
The company was founded in 2015 by scientist and entrepreneur, Abdullah Sabyah. He initially created a technology to detect DNA sequences in real-time and then established Rightangled with the hope of leveraging digital technology to provide precision medicine. Initially, the company was backed with seed funding by the West Midlands Academic Health Science Network – The innovation adoption arm of NHS England in the West Midlands, UK.
CEO Abdullah Sabyah is a member of the British Heart Foundation Alliance and the Clinical Pharmacogenomics Implementation Consortium in the United States. The company received the backing of NHS England – the National Healthcare provider in the UK, and was registered by the CQC. Besides providing testing services, Rightangled has medical professional review and consultations included with all its tests.
Review of Taking a Rightangled Test
After ordering a Rightangled testing kit from the website, you collect your sample at home and send it back to the lab. Customers in the UK can drop off their kits in any Royal Mail Priority Mailbox. Delivery times are 1-3 business days. Londan-based customers can also book a private courier or drop off the sample in person at one of five testing centers.
If ordered internationally, customers will receive instructions for postage.
Depending on the test, you may collect the sample in one of three different ways. For the DNA tests, you will collect a DNA sample through a cheek swab. The blood tests require a blood sample via a finger prick. Finally, the COVID-19 test requires a nasal swab.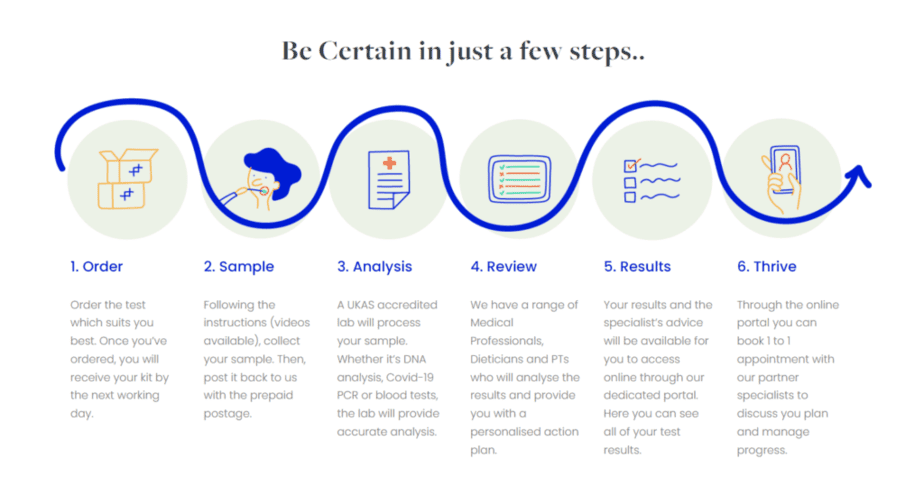 Results become available 48 hours after the sample arrives at the lab. You will receive an email when the results are ready to be accessed on the online portal. If you need additional support regarding the results, you can book a follow-up appointment with a specialist through this portal as well. The series of exchanges from users to the company is often through registered courier services.
Review of Rightangled Testing Services
Rightangled offers three types of testing services:
DNA tests
Blood tests
COVID-19 PCR test
DNA Tests
Rightangled sells four DNA tests for general health and fitness:
Food and Diet
Fitness DNA
Heart DNA
Wellness Pro
Food and Diet
The goal of this test is to provide understanding of innate metabolism, including how your body responds to certain nutrients and the way it converts food, vitamins and other nutrients. This knowledge may help you implement diet and lifestyle changes that improve health.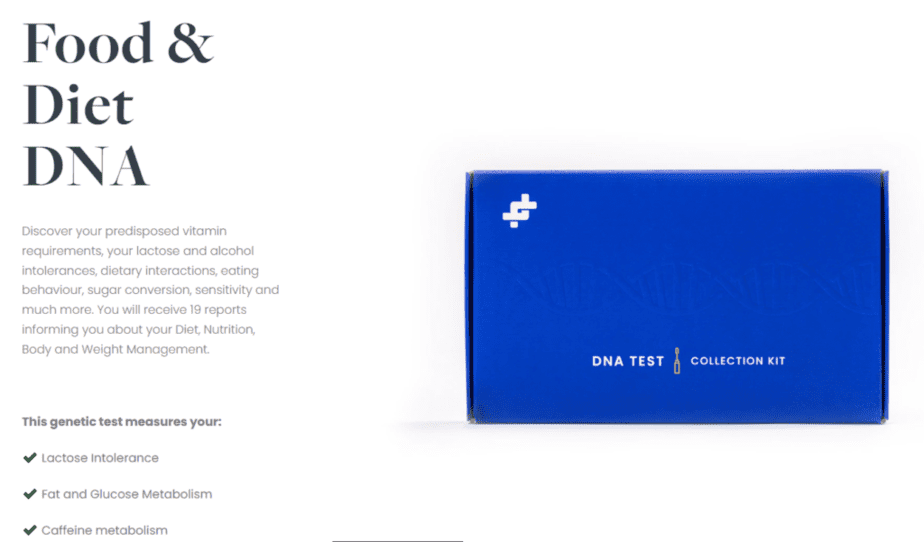 This test offers about 19 unique reports about your diet, nutrition, and bodyweight management. Some of the highlights are insights into vitamin requirements, dietary interactions, eating patterns, alcohol and lactose intolerances, fasting blood sugar, sensitivity, etc.
Fitness DNA
This test is a step above the Food and Diet DNA test. Its goal is to help you optimize your overall fitness plan. In addition to nutrition, it also includes predispositions to fitness-based aspects such as energy levels, muscle growth, repair and recovery for a total of 27 reports. It includes a tailor-made action plan based on your health, goals, and genetic profile. If you need additional guidance, you can follow up with a qualified specialist.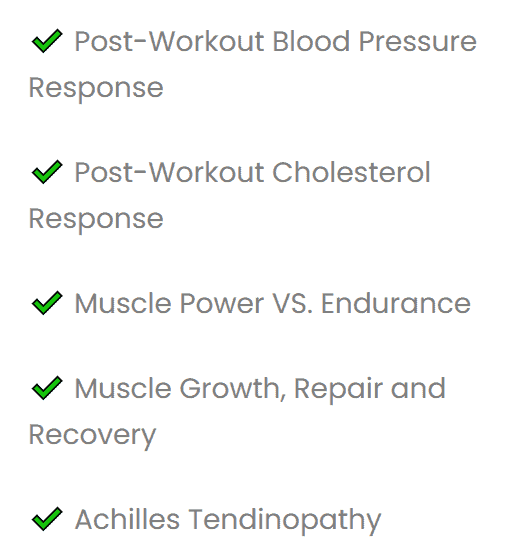 The Fitness DNA test checks how the body's metabolism of nutrients in food works and responds to exercises. Upon interpretation of the results, doctors can then give you directives on how to improve your health.
Heart DNA
This test checks for DNA markers linked to various cardiovascular health. It also observes how your heart will respond to different cardio medications. The Heart DNA test measures your genetic risk of having hypertension, atrial fibrillation, coronary artery disease, blood clot or abnormal cholesterol levels, and other heart diseases.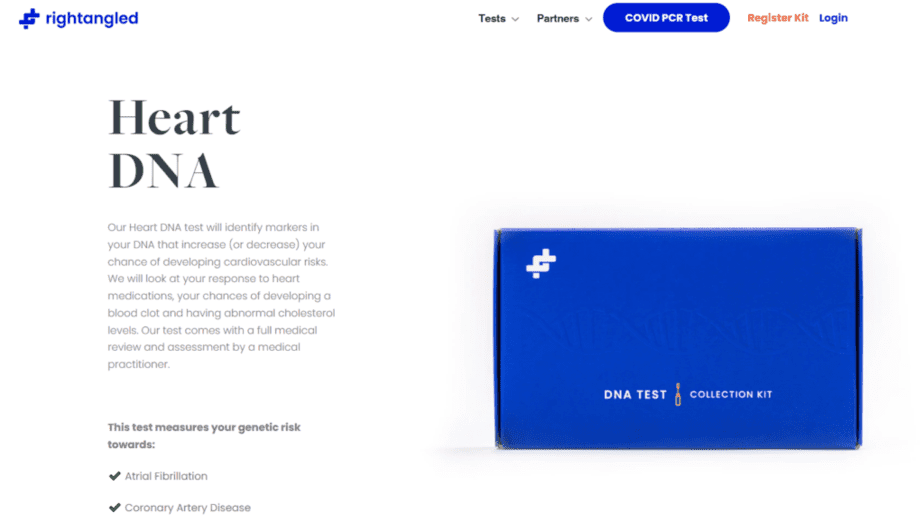 Qualified doctors and cardiologists review your results and provide a basic medical report. A summary report for printing and sharing is available from the online portal. Plus, you can schedule a follow-up appointment online.
Wellness Pro
The Wellness Pro test is a combination of both Heart DNA and Fitness DNA tests. It checks virtually everything about your health, from cardio, food, and dietary sensitivities and how the body responds to different exercises.
Interpretation of the results provides insights into better optimizing your health.
Blood Tests
Rightangled has 21 test kits for different blood tests. Unlike the DNA tests, which analyze for specific variants that influence predispositions to disease, these blood tests identify biomarkers to give you a real-time visualization of your current health.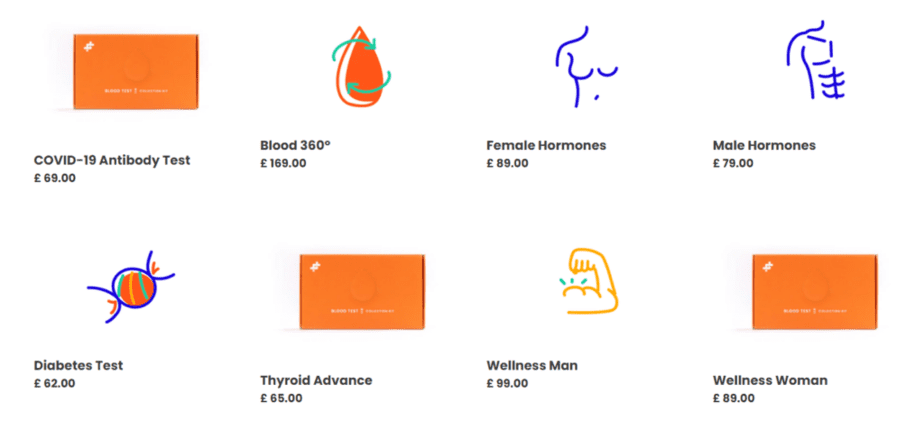 Each product page provides in-depth information on the biomarkers included in the report. This information can help you and your doctor develop a more personalized, optimized health plan to prevent or mitigate various conditions. 
Disease
Covid-19 Antibody Test: This test checks for Covid-19 antibodies. Positive results indicate that you have come in contact with the virus in the past, either by infection or immunization. 
Hormones (Thyroid Advance and Male and Female sex hormones): Tests for effects of your hormones on mood, fertility, skin, weight, sex drive, and menstrual cycle. The tests identify if there are any irregularities in hormonal balance and find the relationship between said imbalance and overall health. 
Diabetes Test: Checks for the body's insulin production, management, and storage levels. The tests are ideal for detecting blood sugar levels.
STIs Test (Sexually Transmitted Infections): This test tells you whether you are positive for HIV, syphilis, and Chlamydia, letting you know if you are at your optimal health sexually. 
Hepatitis B & C: Hepatitis B and C are common causes of chronic liver infection. The test checks your status to see if you are predisposed to hepatitis B and C.
Heart Health: This test provides insights into how critical biomarkers affect your heart. Along with the Heart DNA test, it detects cardiovascular disorders you may be susceptible to. 
Testosterone and Prostate Health: These are also two distinct tests. The testosterone one checks for testosterone levels, which are essential for fitness and fertility, while prostate health checks the condition of your prostate and whether you are predisposed to disease affecting your sex organs. 
Full Blood Count (FBC): Irregularities in the number of blood cells may result from infection or certain diseases. This test takes a count of all blood cells to check for blood disorders ranging from anemia, leukemia, thrombocytopenia, leukocytosis, etc.
Cholesterol Test: High cholesterol levels are linked to several heart conditions. The test shows your cholesterol levels so that you can make necessary corrections to diet and lifestyle in case of irregularities. 
Health
Blood 360°: A thorough blood screening that shows comprehensive information about your health. It measures liver, kidney, and thyroid functions and takes a complete blood count. Unlike other tests, the Blood 360° involves taking a venous blood sample by a phlebotomist at your home. 
Wellness Man and Woman: These are two distinct tests – Wellness Man and Wellness Woman. They both discover specific information affecting your health and help work out the best diet and exercise choices.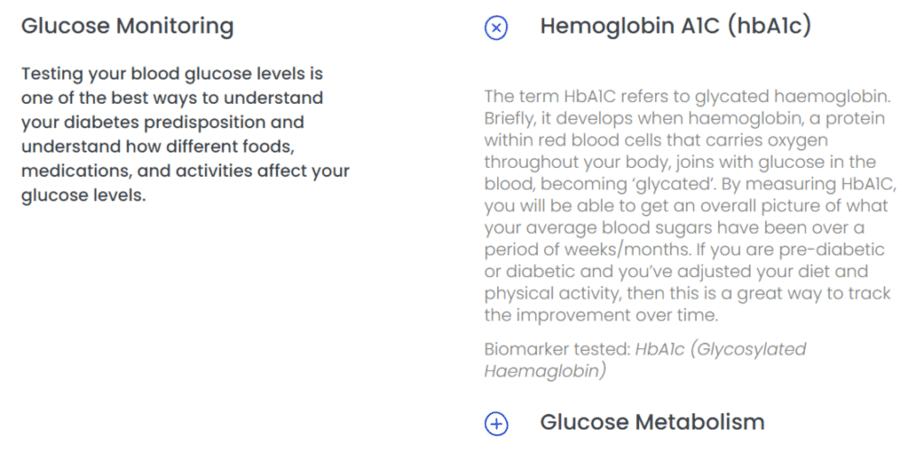 Vitamins Test (B9, B12, and D): The test shows vitamins that are deficient in your body, giving you an insight on how to supplement them for optimum body functions. 
Female Fertility: This test provides essential information that may be necessary to improve fertility, especially when trying to have a baby, donate eggs or just have a better understanding of your menstrual cycle. 
Immunity Health: This test shows you whether your immune system is optimal or deficient, so you can know if you need to take more supplements and immune boosters.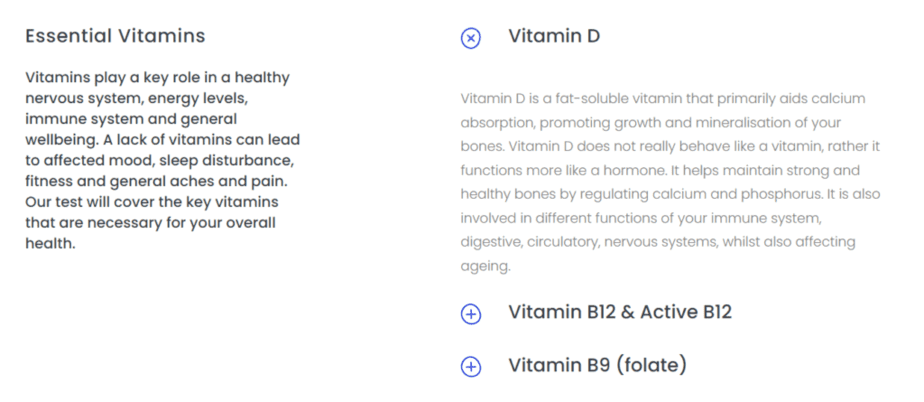 Fitness Health: This test checks for balances between body fluids and minerals, essential for optimal health and wellbeing. The results provide necessary information to maintain said balance. 
Balance Test: This test gives a comprehensive analysis of the body's metabolism. It checks the activities of two vital body organs – kidneys and liver. Early detection of a vulnerability in these organs may be critical for averting various disease conditions.
Iron Status: Iron is an essential macronutrient for body growth, development, hormone production and a key component of red blood cells. This test shows if your body's iron composition is enough or if you need to take iron supplements.
Review of Rightangled Costs
The DNA tests cost between £79-£169 ($86-$208)
Food & Diet: £79 ($86)
Fitness: £129 ($159)
HeartDNA: £129 ($159)
Wellness Pro: £169 ($208)
You can get a discount if you upload 23andMe data instead of taking a DNA test.
Shipping may cost extra if the tests are shipped outside of the U.K.
The blood tests cost between £45-£169 ($55-$208).
There is also a COVID-19 PCR test for travel which costs £49 ($60).
Rightangled Privacy
Data protection is important to the company and it claims to keep everything encrypted, sharing your data only with the specialists that review the results and create personalized action plans.
The laboratory to which your samples are sent to destroys them within 7 days, per the policy of all UKAS compliant labs.
Other Rightangled Review
The company has a 3.7 out of 5 star rating on Trustpilot with over 10,000 reviews. Many customers who provided a Rightangled review praised the quick and helpful customer service. However, some customers noted that they never received their products or that they were delayed.
In 2021, a business that purchased RightangledPCR COVID-19 tests for their customers to use for travel claims to have had to pay £600 after the results did not come back in time. This article was published in The Guardian.
Nebula Genomics
Rightangled is a health and wellness company that provides information about genetic predisposition and health, knowledge which may be critical to preventing or treating specific health conditions. However, the company is relatively limited in the amount of genetic reports it provides.
Nebula Genomics also empowers its users with accurate and action-directed information regarding their genetic health. We also ensure the most comprehensive view of your genes by performing 30x whole genome sequencing, a technique that decodes 100% of your DNA.
We ensure that you have access to your data, allowing you to continue to ask questions throughout your lifetime and interpret it in any way you see fit. Plus, with our service, you receive regularly updated reports based on the latest research on everything from health, traits, and ancestry.. You can get all this at Nebula Genomics for less than $300.
| | | |
| --- | --- | --- |
| | Rightangled | Nebula Genomics |
| Mode of testing | Cheek swab (DNA), finger prick (blood) and pharyngeal and nasal swab (COVID-19 PCR) | Saliva sample |
| Genome sequencing | No | 30x Whole Genome Sequencing, which decodes 100% of DNA |
| Ancestry report | No | Performs detailed ancestry reporting with the complete Y chromosome and mtDNA sequencing |
| Worldwide shipping | Yes | Yes |
| Counseling | Follow up appointments with specialists available | No, but data is of the top quality and available to physicians and general counselors |
| Cost of services | $86-$208 (DNA), $55-$208 (blood), $60 (COVID-19 PCR) | $0, $99, $299 |
Did you like our Rightangled review? You can read more reviews on our blog and check out our complete guide to the best DNA test kit and other home tests.
Other companies
You may also be interested in these other at-home health and wellness products: