7 Facts from our empowerDX Review
Location: Framingham, Massachusetts, United States
Products: 31 tests including those for women's health, men's health, heart health, mental health, sexual health, and more
Cost: $49 – $599
Reports: Biomarker levels and some genetic predispositions
How it works: Customers create their accounts and receive their chosen test at their home. Biomarker tests require a small blood sample while genetic tests use a cheek swab. Results are available between 2 days and 4 weeks
Counseling available: No
Alternative Products: Nebula Genomics offers 30X Whole Genome Sequencing that decodes 100% of your DNA and offers reports on diet and much more!
This review is written with the intent to be as unbiased as possible. However, it represents the opinion of an individual reviewer and is therefore subjective. Furthermore, at Nebula Genomics, we seek to educate the public about the benefits of Whole Genome Sequencing. Information about our Whole Genome Sequencing DNA test is therefore incorporated into the review.
October 18, 2022
Pros and Cons
Pros
More than 30 different options
Offers genetic and non-genetic tests
Easy to understand results
Cons
No whole genome sequencing
Sample collection can take up to 30 minutes
Only available in the United States
Introduction
empowerDX offers comprehensive testing on more than twenty different conditions. Its aim is to improve self care by giving customers the power to get answers to their health concerns at home. It has a wide selection of home health tests. It is targeted to those who are looking for the easiest and quickest way to uncover health potential.

It has seven different laboratories in the United States, with each one located in a different region to make shipping around the country and neighboring states easier. Together, these CLIA-certified labs have performed the equivalent of 143 years of lab work.
There is a free health quiz that helps potential customers determine the best option for their unique needs.
As of 2022, the company has processed 9.6 million tests. It is a subsidiary of Eurofins Scientific, which was founded in 1987 in Nantes, France.
The Science Behind empowerDX
empower DX has just over 30 different tests that include genetic and non-genetic options to provide users with comprehensive health knowledge. The company states that its various tests use the best clinical and researched biology sciences.
For example, the MTHFR at-home test employs deep analyses of the MTHFR genes and their roles in affecting neurotransmitters like dopamine and serotonin. As such, the company can analyze whether a person has genetic vulnerability to mental health conditions and more.
Review of empowerDX Products
EmpowerDX Lab has a total of 30 products divided into the following categories.
Categories
Genetic Vulnerabilities
Women's Health

Hormones
Bacterial vaginosis
Thyroid

Men's Health
Heart Health

Advanced heart health (6 biomarkers)
Premium heart health (10 biomarkers)
Cholesterol Dx
Omega (EPA and DHA)
Inflammation, heart, and diabetes
Lp(a) – lipoprotein(a)
Mental Health

MTHFR
APOE
Mental vitality (11 markers)
Omega DX (14 fatty acid markers)

Sexual Health

Chlamydia, gonorrhea, and trich
Bacterial vaginosis

Energy + Metabolism

CoQ10 (antioxidant)
Thyroid (basic and advanced)
Vitamin B12 and folate
Testosterone

Diabetes Risks

HbA1c
Inflammation, heart, and diabetes

Environmental Risks

PFAS exposure (40+ compounds)
Glyphosate
PFAS – legacy compounds
Details
The product pages describe each test in detail. It should be noted that different information is provided based on the type of kit ordered. We'll use the Thyroid test page as an example of some of what you can learn about the products before ordering.
Thyroid Test
The top of the page gives you the basic information. This data includes ages, what the test measures, collection method, preparation, and whether a physician review is included with the order.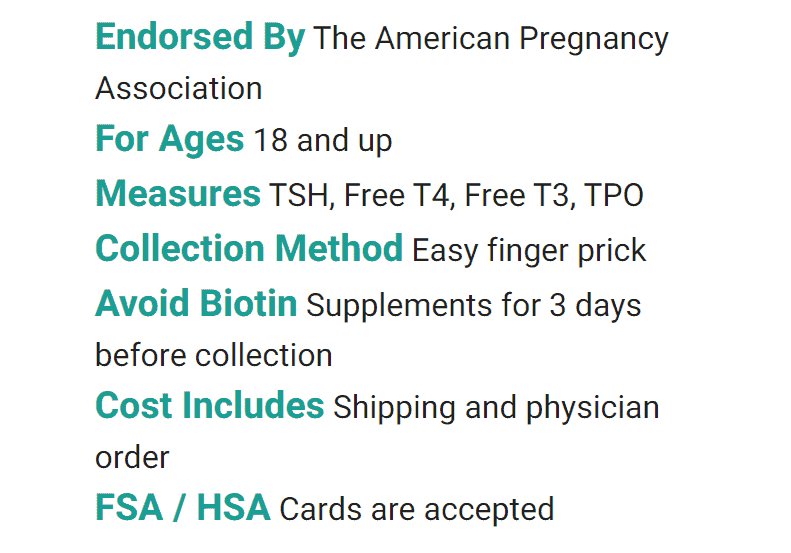 This test measures four thyroid hormones: thyroid stimulating hormone (TSH), free T4, freeT3, and thyroid peroxidase (TPO). Customers age 18 and up use a finger prick to collect the sample. They should avoid biotin supplements for 3 days before collection. The cost includes a physician order and the test accepts FSA/HSA.
Next, the page includes details on each biomarker measured.

Near the bottom of the page, customers can view details about the type of person who should be considering this test. These lists can help you self-identify the product that is right for you.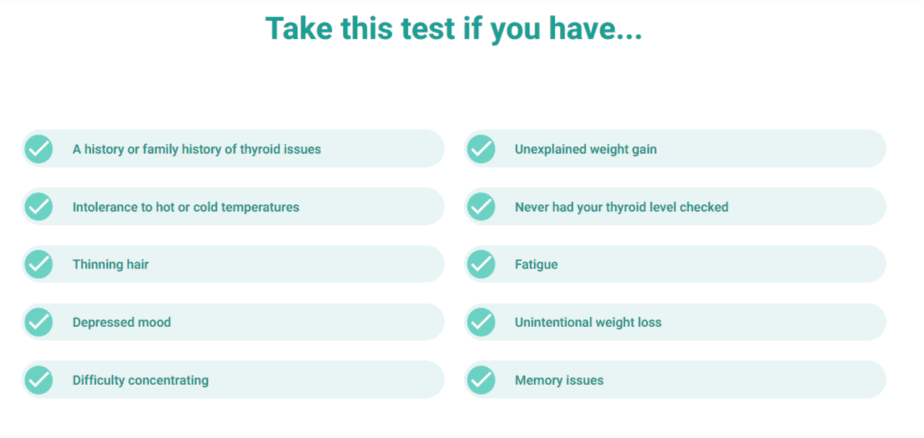 Review of Taking an empowerDX Test
Purchase and receive your desired kit at home. This company only ships within the United States. Kits should be used within 60 days of arrival to avoid the contents expiring.
Most tests require a small blood sample. Customers perform this collection through a simple finger prick, collecting a few drops of blood in the provided tube. It can take up to 30 minutes to collect a blood sample.
Some tests require fasting and/or frozen ice packs before collection. Therefore, it's important to read the instructions.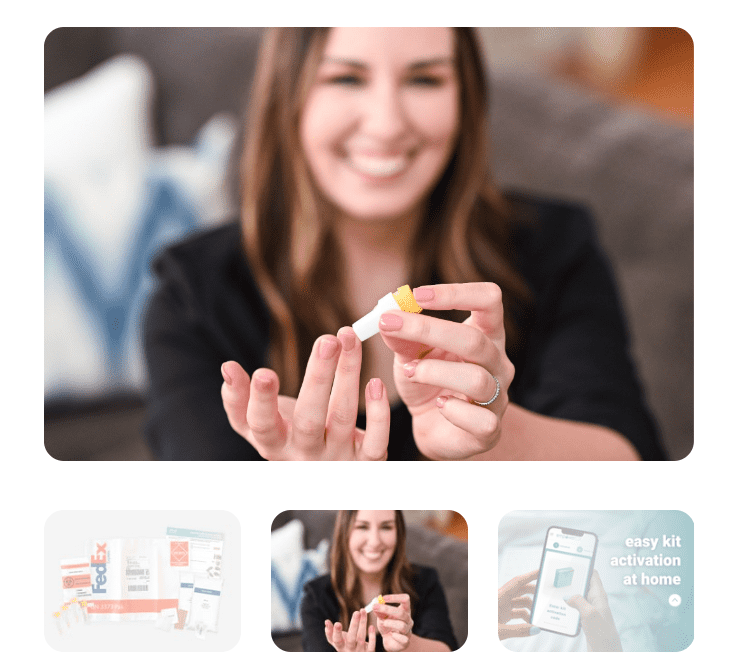 Some tests require a cheek swab. In this case, customers swab their mouth with two different swabs and place each swab back in a collection tube.
Then, customers should mail the sample to the lab for analysis the same day as collection using the prepaid envelope. Pickup occurs via FedEx on Mondays through Fridays.
Review of empowerDX Costs
empowerDX Lab has different prices for its different tests mostly ranging from $49 to $199. The PFAS Exposure™ Blood Test (40+ Compounds) is the single option that costs $599.
Review of an empowerDX Report
Generally, empowerDX reports are comprehensive and easy to understand. The genes responsible for certain vulnerabilities are highlighted for the genetic tests, while recommendations for non-genetic tests are given to achieve better health.
The information provided from the reports is for informational purposes only.
Typically, lab results are available within two days of the lab receiving the sample although some more involved tests can take up to 4 weeks. They are delivered using a HIPAA compliant patient portal. Customers can also print a PDF copy of the results to share with their health care professional.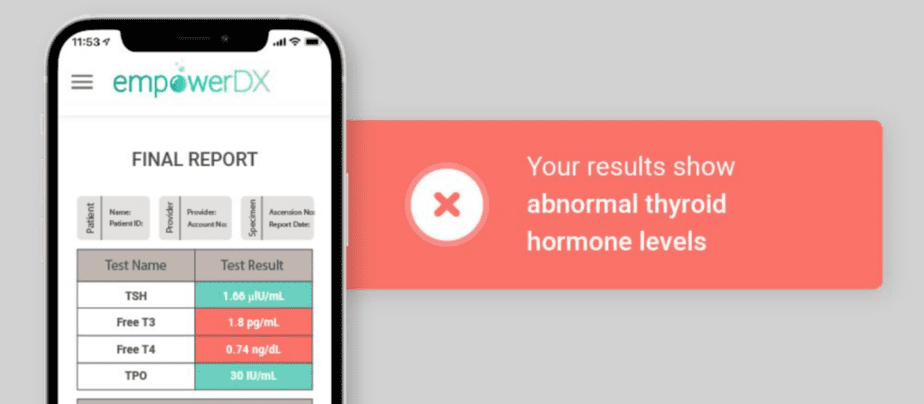 For most lab tests, such as the thyroid kit, the customer's portal will show personal information, including the provider that reviewed the results and details of the sample collection.
Each biomarker tested is listed in a table along with the numerical result. A color code of blue and red allows the customer to easily see which values are normal (blue) and which are out of standard value (red). In the case above, two hormones (free T3 and free T4) are abnormal.
Each product also comes with a detailed Test Guide.

This document helps you better understand your results by providing details of the condition and what abnormal values mean. These guides are approved by doctors and based on peer-reviewed studies.
Review of empowerDX Privacy
This website is not meant for children under the age of 18.
The company collects information that you directly provide to them such as name and address as well as website usage details such as IP address, etc. User information on this website is collected through cookies and other tracking technology. The company uses this information to provide the requested services.
The company may disclose aggregated data that cannot be tied to an individual. It may also release individual information to affiliates, to provide the service, with customer consent, and to comply with legal orders.
empowerDX uses appropriate and reasonable security measures such as keeping data stored on secure servers behind firewalls.
User information can also be collected by filling out the website's form. However, this kind of information is provided at the time of registering, purchasing the website's kits, etc.
Other empowerDX Reviews
empowerDX sells several test kits on Amazon, including the Celiac, APOE, and MTHFR. There are less than ten reviews for each of these tests, suggesting that most kits are sold on its website.
As of 2022, the company also sells an FDA authorized at-home PCR test for COVID-19. The empowerDX COVID-19 test has a 3.5 star rating out of about 175 reviews. Most recent reviews note that the nasal swab is convenient and easy to use. However, customers that gave lower ratings cited the length of time to get results (over 1 week) and issues with getting results processed.
Nebula Genomics
empowerDX offers a variety of at-home tests for genes and biomarkers. For many, it is a more convenient alternative to going into a doctor's office for lab testing. The company has resources to help potential customers determine which test is right for them, including a health quiz and symptom information.
These products are most useful for those trying to learn more about whether they might have specific conditions or are dealing with certain symptoms. On the other hand, for those interested in a more holistic view of their health, there are additional options available.
For example, Nebula Genomics offers the most comprehensive view on genetic predispositions that highlights predispositions related to disease, traits, ancestry, and much more. With 30x Whole-Genome Sequencing, Nebula sequences 100% of your DNA. The test is incredibly accurate and comes with other additions, including ancestry reporting and genome exploration tools.
Nebula Genomics also provides customers with regularly updated reports on genetic discovery so that they do not miss any new significant development and groundbreaking research.
For only $299 or less, customers will get access to their entire genome, allowing them to continue to ask more questions as more research is conducted.
empowerDX vs Nebula Genomics
| | | |
| --- | --- | --- |
| | empowerDX | Nebula Genomics |
| Sample collection | Cheek swab (genetic) or blood sample (biomarker) | Cheek swab |
| Testing method | Microarray and biomarker for specific conditions | Sequences all 20,000 genes and regulatory regions |
| Reports | Biomarker levels, including whether they are in the normal range; presence of specific genes | An extended genetic report that is updated regularly |
| Ancestry reporting | No | Performs deep ancestry reporting with the complete Y chromosome and mtDNA sequencing |
| Counseling | No | No, but data is of the highest quality and can be used by physicians and genetic counselors |
| Cost | $49 – $599 | $0, $99, $299 |
Did you like our empowerDX review? You can read more reviews on our blog and check out our complete guide to the best DNA test kit and other home tests.
You may also like these other at-home lab testing options: