7 Facts from our BlueChew Review
Location: Chicago, IL
Products: Chewable tablets of Sildenafil, Tadalafil, or Vardenafil for erectile dysfunction
How it works: Patients can see a medical provider online and receive prescriptions for one of three erectile dysfunction treatments
Privacy: HIPAA compliant, but may share aggregate or de-identified information for marketing, advertising, research, and other purposes.
Cost: Prices range from $20 to $120 per month, dependent on the quantity and dose of BlueChew tablets.
Reviews: generally very good
Complementary products: Nebula Genomics (whole-genome DNA test that provides 100% of your DNA sequence, giving you insights on conditions and traits related to erectile dysfunction)
This review is written with the intent to be as unbiased as possible. However, it represents the opinion of an individual reviewer and is therefore subjective. Furthermore, at Nebula Genomics we seek to educate the public about the benefits of Whole Genome Sequencing. Information about our Whole Genome Sequencing DNA test is therefore incorporated into the review.
February 2, 2023
Edited by Christina Swords, Ph.D.
Pros and Cons
Pros
Get diagnosed and order medications for treating ED from home
Prescriptions arrive by mail each month in discreet packaging
Range of prices and prescription options
Chewable for those who have difficulty swallowing pills
Cons
Generally not covered by health insurance
The company can sell your non-identifiable information
Introduction
BlueChew (Blue Chew) was started in 2014 with the goal of giving men with erectile dysfunction an easy and affordable way to get treatment. For that reason, the service requires no in-person doctor visits or medical tests. On the other hand, it provides telemedicine services for individuals to receive a diagnosis and prescriptions from their homes.
BlueChew offers three options for treatment – sildenafil (the generic version of Viagra), tadalafil (the generic version of Cialis), and vardenafil (the active ingredient in Levitra and Staxyn). At the present time, the service is available in 48 states.
About Erectile Dysfunction
What is erectile dysfunction? Erectile dysfunction (ED) is a condition in which an individual cannot achieve or maintain an erection during sexual activity. It often causes sexual dissatisfaction due to decreased sexual performance. ED can be either short-term or chronic and can lead to secondary conditions such as depression and low self-esteem.
Overall, it is estimated that around 26% of men under 40 have experienced the condition. Even though nearly 30 million men in the United States are affected, many find it uncomfortable or difficult to discuss. Fortunately, it is possible to treat erectile dysfunction, and the development of pde5 inhibitors like Viagra and Cialis has allowed many men to regain their sexual life. Markedly, these inhibitors help improve the body's natural erectile processes.
Initially, Viagra and Cialis held patents for the active ingredients sildenafil citrate and tadalafil in their brands of ED treatments, which drove prices up. Bayer AG held the patents for vardenafil. However, these patents expired between 2012 and 2018, and generic companies like BlueChew have had the opportunity to sell ED treatments at much lower costs.
Causes of Erectile Dysfunction
Many different factors can contribute to ED. For example, medical experts indicate that age is a large determinant of ED. Individuals affected by diseases that affect blood flow to the penis or the nervous system also have an increased risk. This includes type 2 diabetes, high blood pressure, multiple sclerosis, and many others. Likewise, certain medicines such as blood pressure medication and antidepressants, have also been shown to cause ED as a side effect.
Lifestyle factors also have the potential to contribute to the development of ED. For example, individuals who smoke, use illegal drugs, and drink excessively may be at increased risk. Obesity and a sedentary lifestyle are also risk factors for the condition.
Another major determinant of erectile dysfunction may lie in our genes. So far, studies have suggested that nearly one-third of an individual's risk of developing ED is heritable. For example, a 2018 genome-wide association study found that a genetic variant near the SIM1 gene may increase an individual's risk of developing ED by 26%.
BlueChew Pill Reviews
What is BlueChew? This service is designed to combat the embarrassment affected individuals feel about bringing up the issue in a doctor's office. Above all, BlueChew is an online service that lets users obtain a prescription and receive ED treatment at home.
How does BlueChew Work?
The process to receive a diagnosis is rather straightforward. First, individuals must create an account and then answer about a dozen questions about their medical history. These questions from the health assessment include current medications, allergies, and heart health.
Then, the answers are sent to a licensed medical physician, who decides if you are eligible for a BlueChew subscription. In general, users report that the medical team's approval process takes about 24 hours.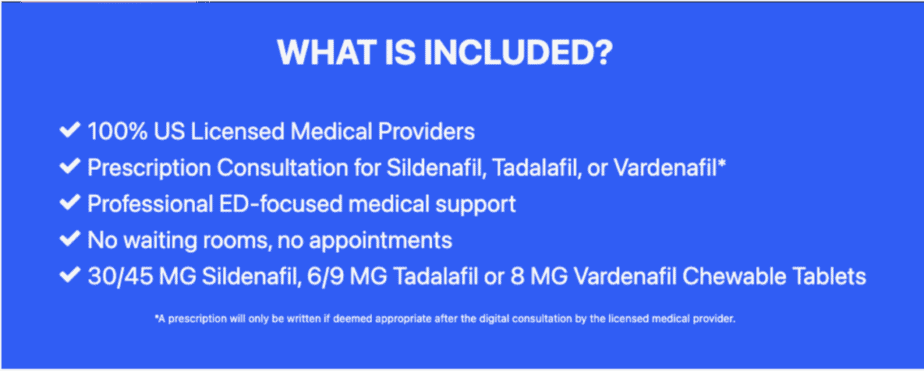 Following approval, users are invited to choose the plan that works best for them. There are three BlueChew tablets available – sildenafil (the active ingredient in Viagra) chewable tadalafil pills (the active ingredient in Cialis), and vardenafil (active ingredient in Levitra and Staxyn).
How long does BlueChew last? The website recommends BlueChew sildenafil for individuals looking to use the ED pills on an "as-needed basis," since the ED medication is designed to last around 4-6 hours and can start working in about 30 minutes. On the other hand, the company suggests tadalafil for individuals who want to be able to have sex at any time. It is more of a "sex pill," since this medication lasts about 24 – 36 hours.
Is BlueChew FDA-approved? Sildenafil, tadalafil, and vardenafil are FDA-approved medications for ED. However, the BlueChew chewables are not.
For sildenafil and tadalafil, BlueChew offers two different doses (30 mg and 45 mg for sildenafil, and 6 mg and 9 mg for tadalafil), ​​and one dose for vardenafil (8 mg). Finally, the company provides a range of tablet counts, from 4 to 34 per month, depending on a user's need.
Is BlueChew safe?
BlueChew's side effects vary by medication. Most people experience none or only minor ones. However, common side effects, such as headaches, can affect one out of every 100 people.
The company includes a disclaimer at the bottom of its product pages, cautioning potential customers who are taking certain nitrate medications or guanylate cyclase stimulators. Patients experiencing chest pain, dizziness, or nausea during sex should contact their doctor immediately.

Once a BlueChew plan is chosen, the company will send the tablets directly to the individual. The discreet package will arrive in a couple of business days. The purchase also includes free online consultations.
BlueChew tadalafil review
Tadalafil is the active ingredient in the brand-name medication Cialis. The drug has been found to be highly effective in clinical trials, with up to 81% of men reporting an improvement in their ability to get and maintain an erection. Furthermore, the drug was also shown to provide lasting benefits, with more than 76% of patients remaining satisfied with the effects even after 12 months of use. By comparison, this makes tadalafil one of the most dependable treatments for erectile dysfunction currently available.
BlueChew offers dosages of 6 mg or 9 mg, while Cialis offers 5mg, 10mg, and 20mg. You should not exceed 20 mg of tadalafil in 48 hours. The effects may last up to 36 hours, which is much longer than its competitors.
BlueChew sildenafil review
Sildenafil is the active ingredient in the brand-name medication Viagra ​​and medical professionals widely regard it as one of the most effective treatment options for erectile dysfunction available on the market today.
BlueChew offers dosages of 30 mg or 45 mg. In other words, this drug is less potent than its competitor, tadalafil which is why it can provide higher doses.
On the other hand, the brand name drug is offered as 25mg, 50mg, 100mg, and 200mg. You should not exceed 60 mg of Tadalafil in 48 hours. The effects may last 4-6 hours.
BlueChew vardenafil review
Vardenafil is the active ingredient in the brand-name medications Levitra and Staxyn. BlueChew offers one dosage of 8 mg, while Levitra offers 2.5mg, 5mg, 10mg, 20mg, and 40mg tablets. Vardenafil has been found to be both safe and reliable in clinical studies.
The drug works quickly, with effects that can last up to 16 hours. You should not exceed 16 mg of vardenafil in 48 hours.
Review of BlueChew Cost
BlueChew is a subscription service. Therefore, pricing for a prescription with BlueChew highly depends on the dose and number of desired tablets per 30 days. BlueChew coupon codes and a BlueChew free trial are also available. You can cancel your subscription anytime on the website or by emailing support.
Sildenafil
| | |
| --- | --- |
| Active: 6 chewables/month | $20 for 30mg |
| | $30 for 45mg |
| Busy: 10 chewables/month | $30 for 30mg |
| | $40 for 45mg |
| Popular: 17 chewables/month | $50 for 30mg |
| | $65 for 45mg |
| Pro: 34 chewables/month | $90 for 30mg |
| | $120 for 45mg |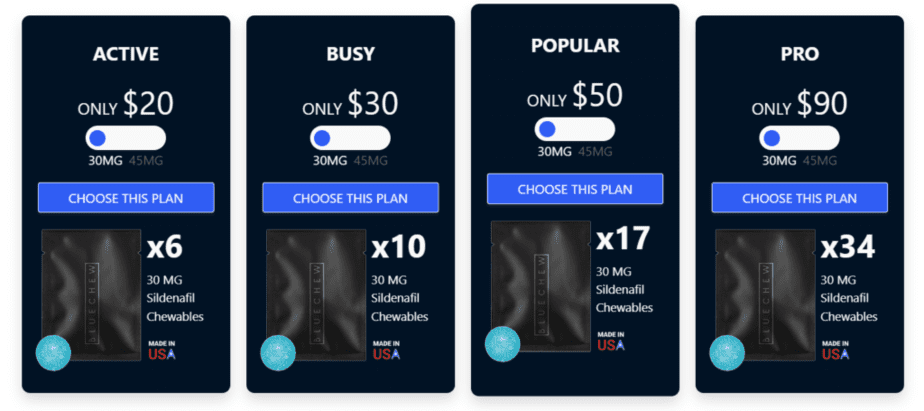 Tadalafil
| | |
| --- | --- |
| Active: 4 chewables/month | $20 for 6mg |
| | $30 for 9mg |
| Busy: 7 chewables/month | $30 for 6mg |
| | $40 for 9mg |
| Popular: 14 chewables/month | $50 for 6mg |
| | $65 for 9mg |
| Pro: 28 chewables/month | $90 for 6mg |
| | $120 for 9mg |
Vardenafil
| | |
| --- | --- |
| Active: 4 chewables/month | $20 for 8mg |
| Busy: 8 chewables/month | $35 for 8mg |
| Popular: 15 chewables/month | $65 for 8mg |
| Pro: 30 chewables/month | $120 for 8mg |
These rates are fair compared to brand-name ED medications, which tend to increase in price each year. However, it should be noted that BlueChew is not covered by insurance, including Medicare.
Review of BlueChew Privacy
BlueChew takes steps to preserve the security of personally identifiable information under HIPAA laws. In other words, the company only shares this identifiable information with healthcare, pharmacies, and other relevant service providers if necessary.
In terms of non-identifiable information, the company reserves the right to share such data with third parties for advertising, marketing, research, and other uses.
BlueChew customers have the right to request the company to delete their personal information. While the company says it will take all steps to delete this information if possible, it may retain it if deemed necessary by the law. Further, the company states that deleted information may remain in its archives and only be deleted from active databases.
Other Real BlueChew Reviews
BlueChew's TrustPilot reviews rank the company at 3.3 stars with 11 reviews.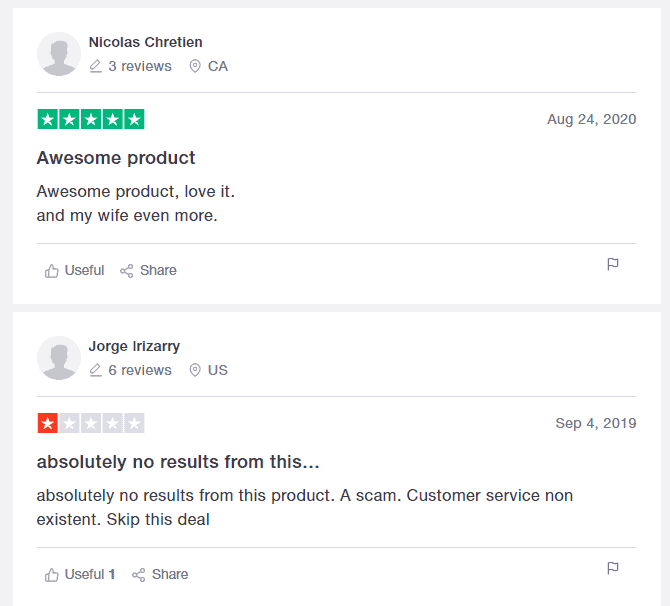 Reviews for BlueChew on Reddit are generally positive.
Nebula Genomics
At Nebula Genomics, we aim to empower individuals to discover more about their genomes. By sequencing your whole genome, you can learn more about your risk of ED and conditions related to ED, such as type 2 diabetes and high blood pressure. This may help determine if services such as BlueChew are right for you.
If you have already participated in services such as 23andMe or AncestryDNA, you can upload your DNA data for free and get an expanded DNA report covering information about many traits and conditions. In brief, we use a process called imputation to fill in the blanks left by typical DNA tests.
As a customer, you can access hundreds of traits and curated research studies through the Nebula Research Library. This allows you to stay up-to-date with the most cutting-edge research as it comes out and what it means about you and your DNA. Furthermore, we provide tools to explore your DNA and allow you to download your raw DNA data.
We offer 30x Whole-Genome Sequencing service, a genetic test that reads 100% of your DNA- over 10,000 times more data than tests like 23andMe or AncestryDNA!
BlueChew Review Summary
Is BlueChew legit? BlueChew provides a service allowing men to receive diagnosis and treatment for ED from their homes. Altogether, the company offers a number of options to fit an individual's lifestyle and price range.
Other companies such as Forhims ($30-$520/month, depending on prescription) and Roman ($2-70/dose, depending on prescription) provide similar services and may be worth exploring. Overall, BlueChew is well-reviewed, and many users appreciate its convenience and affordability.
Other home testing options
For gut health:
For general health and wellness:
Another supplement that you might be interested in is Tru Niagen or Elysium Health, which are supplements that may be able to slow down aging!
Other reviews include:
You may also be interested in virtual health care such as that offered by PlushCare, Teladoc, and Lemonaid Health!
Did you find our BlueChew review helpful? You can read more reviews on our blog and check out our complete guide to the best DNA test kit and other home tests. Plus, you can learn how to test for testosterone levels and other men's health biomarkers at home!