This review is written with the intent to be as unbiased as possible. However, it represents the opinion of an individual reviewer and is therefore subjective. Furthermore, at Nebula Genomics we seek to educate the public about the benefits of Whole Genome Sequencing. Information about our Whole Genome Sequencing DNA test is therefore incorporated into the review.
March 1, 2022
7 Facts from our Paloma Health Review
Location: New York, New York, United States
Products: Home thyroid blood test and Paloma Thyroid Health Counseling
Cost: $99 for thyroid blood testing, $75-$110 for consultation. Discounted prices available for members ($16/month membership fee)
Reports: The blood test provides a full report on thyroid health by testing four major biomarkers; TSH, Free T4, Free T3, and TPO
How it works: Create an account and order the blood test. You will receive the test kit at home and provide a blood sample. Send the sample to the lab and the result will be uploaded to your account in a few days
Counseling available: Yes, you can book an appointment with experts
Alternative Products: Nebula Genomics offers 30X Whole Genome Sequencing that decodes 100% of your DNA and offers reports on thyroid, diet, and much more!
Paloma Health Introduction
Paloma Health is a dedicated at-home thyroid testing company that offers a holistic treatment approach. It is exclusive for patients with hypothyroidism. This condition occurs when the thyroid does not create enough hormones, slowing down your metabolism and leading to symptoms such as fatigue and weight gain.
The company allows all patients, even those uninsured, to get their biomarkers measured, consult with a specialist, and order prescriptions. Guillaume Cohen-Skalli and Marina Tarasova founded the company in 2018 in New York, United States. This makes it a useful service for those who suspect they have hypothyroidism and either want a personalized approach or lack access to traditional medical care.

The company tests four major biomarkers. If you have experienced any complications like constipation, muscle weakness, and fast heartbeat, Paloma Health will help you find out if it is thyroid related or not.
‍The Paloma blood test kits are currently only available in the United States, with the exception of New York, New Jersey, Rhode Island and Maryland (temporarily). Telemedicine visits and prescriptions are available in the following states: ‍Alabama, Alaska, Arizona, California, Colorado, Florida, Georgia, Hawaii, Idaho, Illinois, Indiana, Iowa, Maryland, Massachusetts, Michigan, Minnesota, Missouri, Montana, Nevada, New Hampshire, New Mexico, North Dakota, Ohio, Oklahoma, Oregon, Pennsylvania, South Carolina, South Dakota, Tennessee, Texas, Utah, Virginia, Washington, Wisconsin, and Wyoming.
The Science Behind Paloma Health
Paloma Health works with leading experts in hypothyroidism. The testing kit is the most complete one that can be taken at home. Expert thyroid doctors analyze over 100 data points and 20 thyroid medications to find the right one for you. By taking a 60-second quiz, the company matches patients with a doctor that best fits their needs and goals. Questions even include personal preferences such as communication style. Health coaches will also focus on evidence based aspects of wellbeing including diet, stress, and exercise. 
All test labs are CLIA-certified and CAP-accredited, ensuring accuracy. The company also provides users with related services under its expert counseling program. Here, patients speak with experts about their condition and know the right treatment for better living. The company also recommends treatments for patients based on answers provided in a questionnaire and active live chat session.
Taking a Paloma Health Test
Patients start by creating an account on the Paloma Health website – you do not need a doctor's visit. If patients have thyroid test results that are less than four months old, they can upload them to their account and make a consultation from there. If you don't have results or your results are older than four months, you can purchase a complete thyroid blood test kit.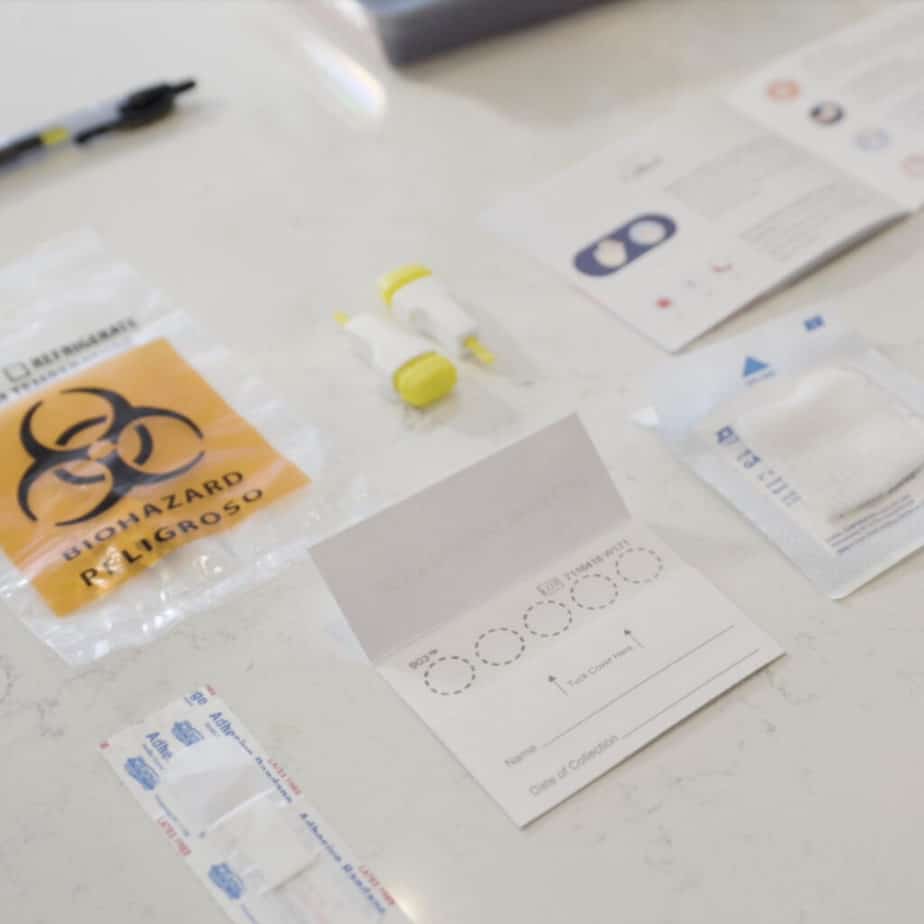 Once you purchase a kit, you should receive it at your home in 3-5 business days. Provide your blood sample in less than 5 minutes using the pain free finger prick materials and send it back to the lab. Once the lab receives and processes the sample, experts will review the results and results will be available on your online account in 5 business days.
Review of Paloma Health Products
Using a holistic approach, Paloma health offers a thyroid testing kit and expert counseling for hypothyroid patients.
Complete Thyroid Blood Test Kit
This test helps to look into the TSH biomarker, a stimulating thyroid hormone in charge of the production of hormones by the thyroid. This hormone is the most sensitive marker used to test thyroid conditions and diseases. This thyroid test will help determine your TSH levels compared to the normal levels of TSH.
Markers tested
Unlike most thyroid tests, which only look at the TSH biomarker, Paloma Health tests all 4 major thyroid markers to provide the most comprehensive view of your thyroid health. In addition to TSH, Paloma Health believes it is also critical to test for fT3, fT4, and TPO antibodies.
Free T3 is one of the hormones generated by the thyroid gland. The levels of fT3 and fT4 fluctuate when a person has an overactive or underactive thyroid gland. With this thyroid test, the company measures the levels of these hormones to understand if your thyroid gland is functioning correctly. TPO antibodies help suppress thyroid function by binding with thyroid enzymes. The autoimmune disease, Hashimoto's thyroiditis causes the TPO antibodies to become elevated, and with this thyroid test, any abnormality in the TPO antibody will be unraveled.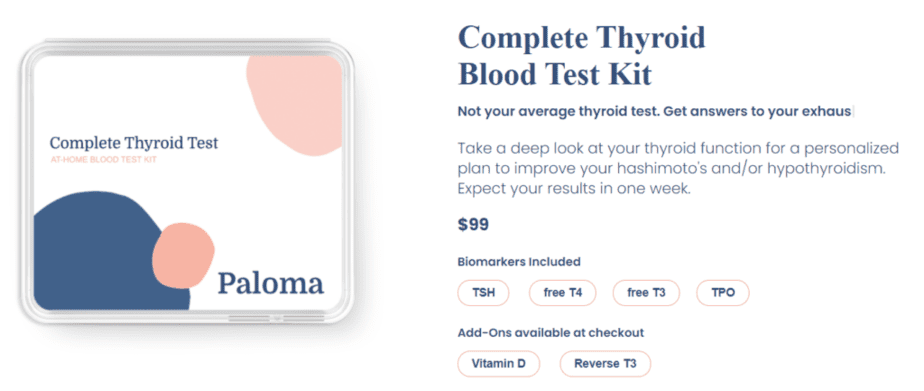 Patients can also choose to upgrade their test to cover additional biomarkers, reverse T3 and vitamin D.
Reverse T3 is another measure of the functionality of the thyroid gland. This hormone is an inactive form of T3 that is not able to perform normal metabolic processes. Some studies have discovered that patients with thyroid disorders caused by Graves disease, Hashimoto's disease, or hypothyroidism usually have low vitamin D levels. However, these studies have not clearly explained if vitamin D is a consequence or a cause of the development of these thyroid diseases. This is an add-on biomarker that the thyroid test also helps to check to ascertain the levels compared to the normal levels of vitamin D.
After the thyroid test, patients will get a customized plan to help improve the thyroid conditions that they might be struggling with.
Medical Counseling
You can meet with Paloma Health doctors to give you expert counseling and recommendations on the best treatments. They will also be able to send prescriptions to your local pharmacy. You can make telemedicine appointments online through the patient dashboard, most cases on the same day. The company focuses on patients who have been formally diagnosed with hypothyroidism, either through Paloma's at home test kit or the patient's doctor.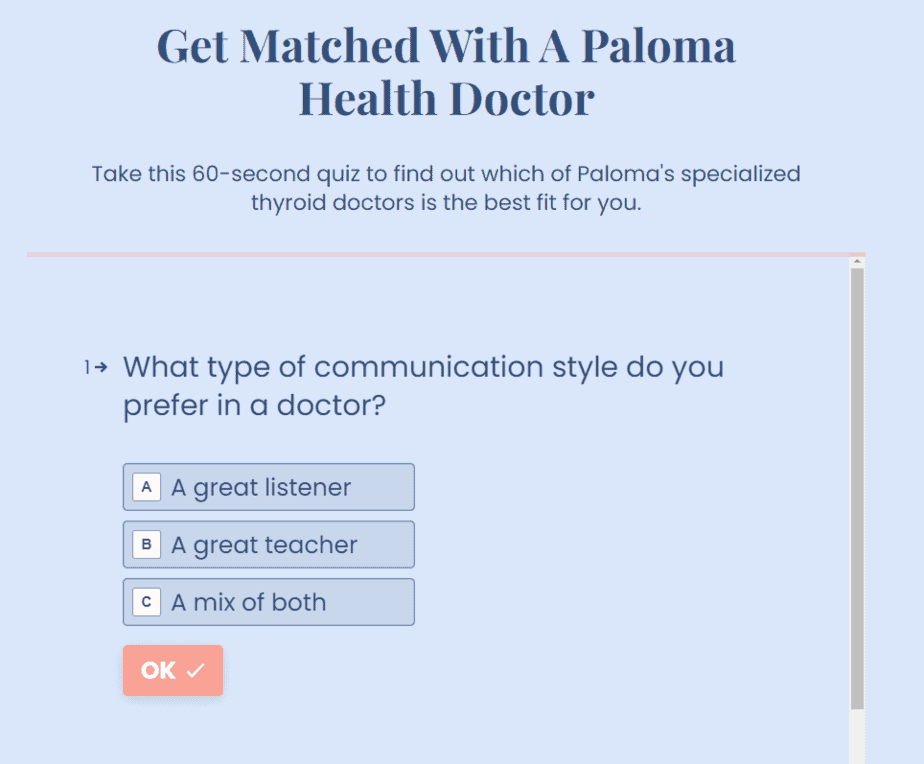 Counseling service is available via a live chat video that lasts 30 minutes. The other appointment is based on a Levothyroxine refill request.
Supplements
The company also offers a daily thyroid supplement that costs $40 for a 30 day supply. Customers can receive discounts if they are a member or if they subscribe to automatic delivery.
Review of Paloma Health Cost
Paloma Health works hard to reduce its out of pocket expenses for patients.
The Complete Thyroid Blood Test Kit costs $99. Most insurance companies do not cover the cost of at-home test kits. However, the company encourages patients to check with their insurance carriers. Patients can also usually pay with HSA/FSA accounts. The cost for the at-home test is typically less expensive than testing options at doctor offices without insurance. By becoming a member for $16 per month, the cost of the test is reduced to $75. 
Counseling services with a physician (15 or 30 minutes' live video) cost $110 while a thyroid nutritionist visit is $75.
Insurance usually covers consultations with Paloma Health doctors. The company accepts most major insurers, including UnitedHealthCare, Cigna, BlueCross BlueShield, and Aetna. Likewise, prescriptions are covered based on your plan.
Review of Paloma Health Reports
Paloma Health Thyroid test kit offers comprehensive testing by testing four Biomarkers TSH Free T4, Free T3, and TPO as well as the add-on biomarkers. When your results are available, you can access them on your secure dashboard. Here, you can view your lab results & trends, schedule consultations, read your after-visit summaries, and chat with your thyroid care team.
Customers will see a summary of each marker tested. By expanding your result, you can see how your result compares to standard ranges.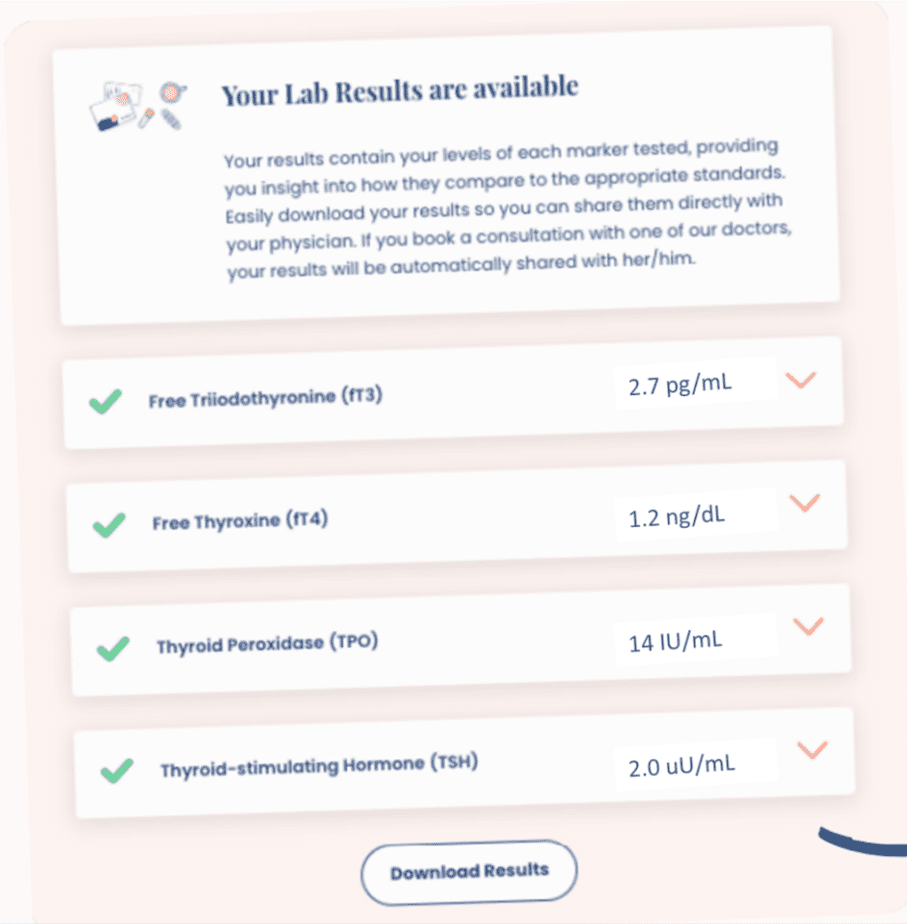 You can easily download your raw lab results. When you test multiple times, your online account will update with a graph showing your trends. The plot is interactive. You can change the biomarker using the drop-down menu.
Personalized recommendations are based on expert analysis. If your results indicate hypothyroidism, you will be offered to book a consultation with one of the company's specialists to customize your treatment.
Review of Paloma Health Privacy
Paloma Health has a very good privacy policy and protects customer details. The company carries out its testing in its own laboratories, and as such, personally protects all personal details. Third Parties cannot access customer details except for the sake of research and development of tests. If a customer does not want their details to be with the company anymore, deleting their account would wipe it off the database. As a health company, Paloma Heath is HIPAA compliant.
Other Paloma Health Reviews
The company offers many positive reviews, including video testimonials, on its website. Patients note that they feel better and enjoy positive interactions with the doctors at the company.
The company has 4.8 out of 5 stars on its Facebook page with 56 ratings. Customers generally report that they have good experiences with the doctors and appreciate the test measuring multiple biomarkers. Likewise, it has a 4.8 out of 5 stars on Google with over 200 reviews.
Pros and Cons
Pros
Easy thyroid tests at home
Comprehensive thyroid lab tests with 4 biomarkers included
Improve a patient thyroid treatment plan with the right diagnosis
Offers counseling
Cons
Limited to patients diagnosed with hypothyroidism (not hyperthyroidism)
Consultations are only available in some states
Consultation expenses can add up if uninsured
Nebula Genomics
Paloma Health takes thyroid testing to a new level so that patients can diagnose and monitor their hypothyroid symptoms.
This is one aspect of health. However, for a more comprehensive view of conditions such as thyroid problems, you may be interested in genetic testing. DNA tests link your genetic code to predispositions to traits, health, and ancestry.
Nebula Genomics is a major genetic test company where users can get a comprehensive genetic test. We perform 30x Whole-Genome Sequencing, which sequences 100% of users' DNA to discover every genetic vulnerability and its root cause. The Nebula Genomics test is highly accurate and comes with other additional services like ancestry reporting.
Nebula Genomics also provides regularly updated reports to give users the latest information on genetic research. With Nebula Expand, users can access tools to explore their genome on their own. For example, if you learn of a gene that is connected with thyroid problems, you can easily go back to your data to assess your own risk – no waiting for new reports!
Nebula tests are extremely competitive, and you can get a full genetic test for $299 or less.
| | | |
| --- | --- | --- |
| | Paloma Health | Nebula Genomics |
| Testing method | 4-6 biomarkers for thyroid health | Sequences all 20,000 genes and regulatory regions |
| Reports | Biomarker results and health recommendations for hypothyroidism | An extended genetic report that is updated regularly |
| Data access | Yes | Yes |
| Counseling | Yes | No, but data is of the highest quality and can be used by physicians and genetic counselors |
| Cost | $99 | $0, $99, $299 |
Paloma Health vs Nebula Genomics
Did you like our Paloma Health review? You can read more reviews on our blog and check out our complete guide to the best DNA test kit and other home tests.
Other companies
Other health and wellness products that you may be interested in include:
Want more information on thyroid health? You can check out our article on hyperthyroidism or at-home thyroid tests.
You may also be interested in other virtual health care such as that offered by PlushCare, Teladoc, and Lemonaid Health!