7 Facts from our Kean Health Review
Location: San Francisco, California
Products: Two gut microbiome tests, gene traits analysis test, and a vaginal microbiome test (in process).
Cost: $89 – $169
Reports: Gut profile, insights, and wellness factors for the gut microbiome tests
How it works: Customers create their accounts, receive their chosen test at home, and activate the kit. They provide either a stool or saliva sample and return it to the lab using the prepaid shipping material.
Counseling available: No
Alternative Products: Nebula Genomics offers 30X Whole Genome Sequencing that decodes 100% of your DNA and offers reports on diet and much more!
This review is written with the intent to be as unbiased as possible. However, it represents the opinion of an individual reviewer and is therefore subjective. Furthermore, at Nebula Genomics we seek to educate the public about the benefits of Whole Genome Sequencing. Information about our Whole Genome Sequencing DNA test is therefore incorporated into the review.
August 30, 2022
Pros and Cons
Pros
Two options for gut health and overall welness, plus a gene test
Price is reasonable
Cons
No Whole Genome sequencing
Only ships in the United States
Raw data not automatically provided
Introduction
Kean Health provides customers with at-home gut microbiome and DNA testing kits that give personalized results and insights on gut health and 100+ traits related to genetic predispositions.
The company sells two versions of its gut microbiome test and one version of its gene test. It also advertises a vaginal microbiome test on its website. The latter aims to decode the vaginal microbiome and educate customers on how results impact general health. This product is not yet available but interested individuals can sign up to receive status updates.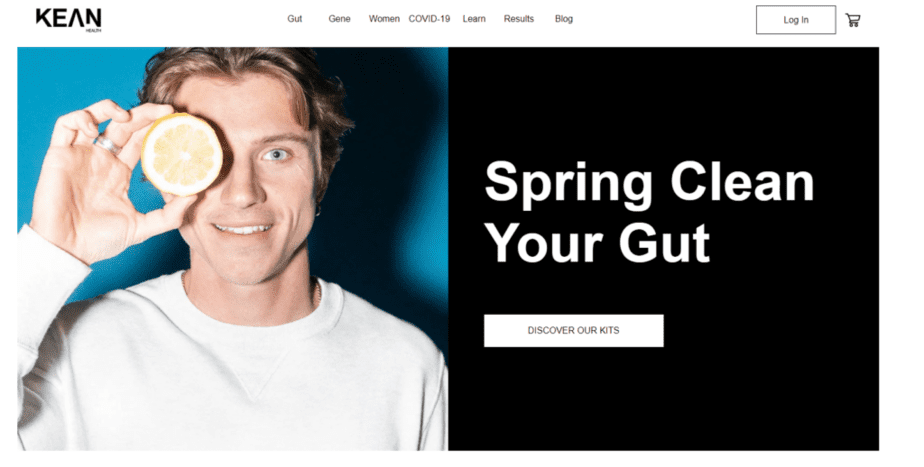 Originally, Kean Health worked with healthcare providers before offering their products to individuals. Like most direct-to-consumer tests, these products are not evaluated by the Food and Drug Administration (FDA) and cannot be used to diagnose or treat any disease or condition. Customers should consult with their doctor before making any health changes.
The company, based in San Francisco CA, was founded in 2004 by Psomagen Incorporation, a brand that is owned by Ryan Kim. Jason Scharf is the Vice President Strategy & Partnerships.
The Science Behind Kean Health
Kean Health uses DNA sequencing technology to help patients get distinct deep rooted results about their gut health and genetic vulnerabilities. Their main test is the Gut and Gut+ products.
The microbiome is a community of bacteria, both good and bad, that live in the gut. These organisms influence gut health as well as overall wellbeing. The microbiome changes over time and is influenced by factors such as age, diet, and lifestyle.
The company uses its gut tests to take snapshots of the microbiome and analyze the result based on different metrics.
Kean Health also offers a genetic test that sequences certain genes to provide information on various aspects, including health, lifestyle, and traits such as mosquito attractiveness and musical ability.
The company summarizes their main offerings on their Facebook page:
"Stop guessing. Start testing.
Kean Health, a newly launched brand by Psomagen Inc., is making at-home testing accessible to improve human wellness.
Kean Health offers a no band-aid approach to personalized wellness management. Backed by science and trusted by experts. At-home testing offerings include gut microbiome testing, genetic trait analysis, vaginal microbiome health with more to come."
Review of Kean Health Products
The three tests currently offered by this company include Gut, Gut+, and Gene.
The two microbiome tests provide in-depth results with recommendations to improve gut health. THe Gut+ test also includes recommendations for overall health. The Gene test analyzes over 100+ traits.
Kean Gut and Gut+
With the help of advanced whole metagenomic sequencing, this product gives you insights into the status of your gut and action to improve your health. The basic gut report includes:
Gut grade
Top 2 Results
General recommendations
List of Bacteria
Probiotic Profile
Metabolism

The more advanced Gut+ version includes a high-level overview of your gut health and general wellness factors and recommendations. The additional information includes mental and emotional health, information on weight loss, and inflammation.
The ultimate goal is to repeat the test over time to see how changes in diet, mood, sleep, and supplementation impact your health.
Kean Gene
This report is an analysis of your genetic predispositions that provide you with the details of what makes you unique.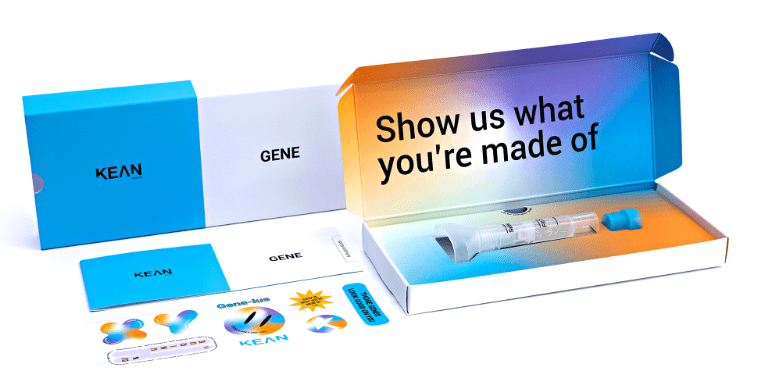 This report covers 100 topics connected to your health, sensitivity, appearance, nutrition, and more. It also helps determine your lactose intolerance, aerobic performance, early hair graying, musical ability, mosquito attractiveness, linguistic performance, risk of hearing difficulty, knee pain, and more.
Currently, Kean Health only ships within the United States.
Review of How to Take a Kean Health Test
Users follow the included instructions to activate the kit, collect a sample, and ship it back to the lab. The gut tests require a stool sample while DNA for the gene test is collected via saliva. Ideally, stool samples should be collected in the morning. Saliva samples can be taken at any time of day as long as you do not brush your teeth, eat, drink, smoke, or chew gum for 30 minutes before sample collection.

Samples should be mailed back to the lab not longer than 48 hours after sample collection. Results will be available in about four weeks and customers will receive an email alert when they are ready.
Review of Kean Health Costs
The price of the Kean Health tests are standard for the industry.
Kean Gut: $99
Kean Gut+: $169
Kean Gene: $89
Review of Kean Health Report
Kean Health reports are easy to access. From the dashboard, users can access their different reports and favorite scorecards.
Gut Tests
Both of Kean Heath's gut reports includes:
Gut Grade
Top Results
Low Results
Personalized Recommendation
The Gut grade is the general calculator Kean Health uses to let users know their gut health.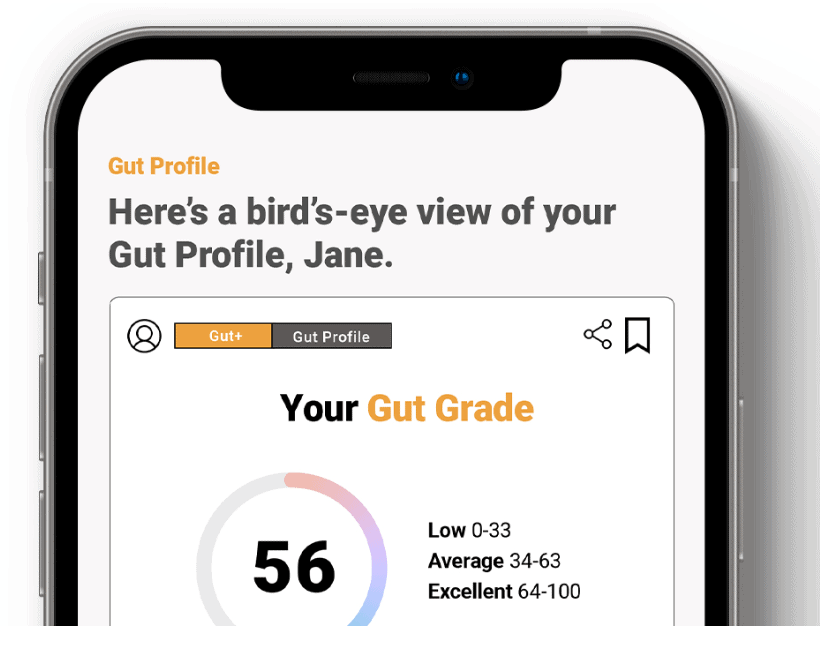 The Grading is a score from 0 to 100. The higher the score, the healthier the gut health of the analyzed samples.
0 – 33 is considered as low
34 -63 is average
64 – 100 is the ideal Gut Health grade range
The major metrics used for determining the grades are the probiotic profile, diet, and microbial diversity.
The Gut test includes:
Less than 100,000 NGS reads
Gut grade
Bacteria list
Microbial diversity
Probiotic profile
The good guys
Metabolism breakdown
The probiotic profile will clearly identify the types and amount of probiotics in the sample. It also includes major characteristics and how your result compares to other users.
You can toggle between your results using the panel on the left hand side of the dashboard.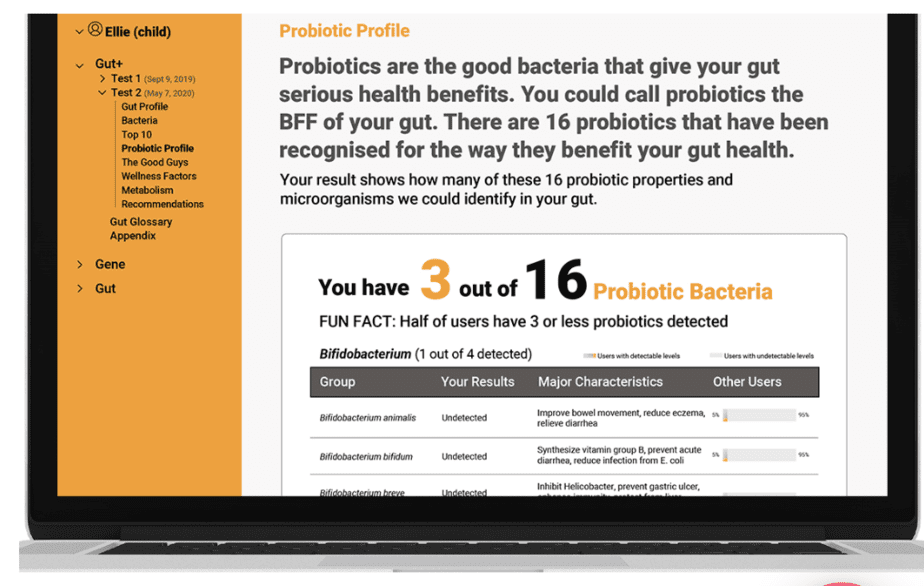 In addition to the aspects above, the Gut+ health also includes:
About 7,000,000 NGS reads
Top 10 results
Vitamin profile
Wellness factors
Food, lifestyle, and supplement recommendations
Gene Test
If taking the Kean Health Gene test, your report will include 100+ traits. These include aspects in the categories of age, gender identification, ethnicity, nationality, and diet.
You will also receive a Health status based on all 29 health traits provided in the Gene Report. These are things like lung capacity, BMI, alopecia areata, blood pressure, and more.
Other traits included in the report are:
Look (early onset hair loss, hair thickness, skin aging, freckles, tanning, and more)
Food (Vitamins A-E, trans-fatty acid levels, lactose intolerance, and more)
Sensitivity (bitter taste sensitivity, fat taste sensitivity, salt taste sensitivity, and more)
Lifestyle (ear wax, to body odor, to knee pain, and more)
Novelty (alcohol induced flushing, persistence, risk taking, candy preference, and more)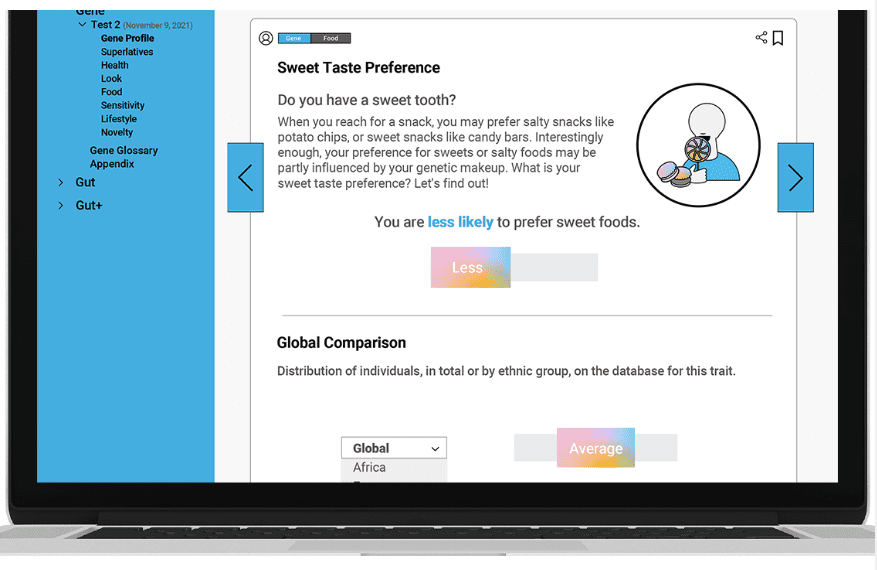 The report will describe what your genes say about the trait and how your result compares to other global averages.
Review of Kean Health Privacy
The company's privacy policy explains better how devoted they are to securing their customer's privacy. Your contact information, genetic data, and personal data that you give to the company are stored properly and used to provide you with the required service.
It will protect personal information from unauthorized access through physical and technological measures that safely store data.
It will de-identify information and use it to improve services and perform internal quality control. Personal information includes account, profile (your name, birthday, address, etc.), your results, credit card information, and any information that can identify you.
Kean Health will not sell, rent, share, or disclose your information to a third party without the customer's consent.
Other Kean Health Reviews
Kean Health has a 2.9 rating on Trustpilot. However, this is based on the reviews of only 26 people.
Some people found the results useful and insightful. The negative reviews touched on things like confusing instructions, not enough information, and results that were never received. It's worth noting that Kean Health has responded to each comment on this site.
Although the Gut test is available on Amazon, there are no customer reviews as of August 2022.
Kean Health in the News
The parent company, Psomagen, has been operating for over a decade. It launched the Kean Health brand in 2021 as a way to make at-home microbiome testing more accessible. The press release on Business Wire summarizes the company's goals.
Nebula Genomics
Kean Health is a microbiome testing company with an additional offering of a genetic test. The two options for the gut test cater towards two types of customers, those that are looking for a general overview and those that want a deeper dive. The additional genetic testing provides a more comprehensive view of whole body traits, including certain vulnerabilities, nutrients, metabolism, and lifestyle.
This genetic test analyzes over 100 traits. While this may sound like a lot, it is actually only a small portion of the entire genetic blueprint available. Nebula Genomics, on the other hand, uses 30x whole genome sequencing technology.
This next generation sequencing decodes all 20,000 genes in the human genome. Results also come with ancestry reporting and genome exploration tools.
Nebula is not a microbiome company and thus does not report on gut microbes. However, it does offer a comprehensive test for any available genetic predisposition related to disease, traits, and health. We also provide customers with regularly updated reports on the latest genetic discoveries.
For only $299 or less, customers will get access to their entire genome, allowing them to continue to ask more questions as more research is conducted.
Kean Health vs. Nebula Genomics
| | | |
| --- | --- | --- |
| | Kean Health | Nebula Genomics |
| Testing method | Stool test for gut health; saliva test for genes | Saliva test for whole genome sequencing |
| Reports | Analysis and recommendations on gut health; 100+ traits | An extended genetic report that is updated regularly |
| Counseling | No | No, but data is of the highest quality and can be used by physicians and genetic counselors |
| Cost | $89 – $169 | $0, $99, $299 |
Did you like our Kean Health review? You can read more reviews on our blog and check out our complete guide to the best DNA test kit and other home tests.
Want to see more microbiome tests like this? You can start by reading our other reviews: