7 Facts from our Athletic Greens Review
Location: Wilmington, Delaware, United States
Products: AG1, a drink supplement for nutrition and gut health
Ingredients: Vitamins, minerals, an alkaline nutrient dense raw superfood complex, dairy free probiotics, plant extracts, antibiotics, enzyme, and mushroom complex
Recommended dose: one serving per day
Cost: $99 (plus discounts for signing up for a subscription)
How to order: Register and purchase the product. Choose one-time or subscription-based.
Alternative Products: Nebula Genomics offers 30X Whole Genome Sequencing that decodes 100% of your DNA and offers reports on diet and much more!
This review is written with the intent to be as unbiased as possible. However, it represents the opinion of an individual reviewer and is therefore subjective. Furthermore, at Nebula Genomics we seek to educate the public about the benefits of Whole Genome Sequencing. Information about our Whole Genome Sequencing DNA test is therefore incorporated into the review.
August 9, 2022
Pros and Cons
Pros
High quality product for gut health and energy
Independently third party tested by NSF, certified for Sport
60-day return policy
Cons
Only One product is Currently available out of the three
More expensive than other greens powders and plant based products
No clinical studies
Introduction
Athletic Greens is a wellness and fitness company that sells nutrition supplements good for health. Its goal is to make convenient and comprehensive nutrition available to everyone. 
The company offers formulated green juice powder that is easy to digest and provides convenient daily nutrition for both non-athletes and athletes. Their core product, the AG1 proprietary blend, has 75 vitamins, minerals, superfoods, whole foods, adaptogens, and probiotics in one serving. AG1 provides nutritional support and covers gaps where diet could be lacking. The company makes it in New Zealand in a TGA-registered facility and notes that it is NSF Certified for Sport®, a destination for professional athletes.
Athletic Greens used to also sell vitamin D3 + K2 and omega-3 supplements that aimed to support heart health, vascular system, immune system, respiratory system, skin, brain, bones, and more.

Logistics
The company strives for sustainability and works to be environmentally friendly. To this end, it is Climate Neutral Certified. It offsets carbon emissions through projects that protect old-growth forests and prevent deforestation in areas of great biodiversity.
It also gives charitably back to the community by donating to organizations that reduce childhood hunger.
The company's mission is to empower people to take control of their health to build a healthier world through sustainability, nutrition, and giving back to the community. Chris Ashenden, a world traveler, fitness and health expert, investor, and serial entrepreneur, founded Athletic Greens in 2009. The company is based in Wilmington, Delaware, United States.
The Science Behind Athletic Greens
Athletic Genetics is not a genetic testing company. The company sells superfood powder that helps the development of healthy muscles and promotes overall health through a nutrient dense supplement drink.
The company makes the AG1 product with healthy nutrients that include recommended minerals, vitamins, and antioxidants. To this end, each serving of the AG1 contains the required dose of Vitamin C, zinc, and magnesium. It is also packed with superfoods, adaptogens, and many more important nutrients. The product includes enzymes, prebiotics, and probiotics that aid digestion and absorption of nutrients by the microbiome.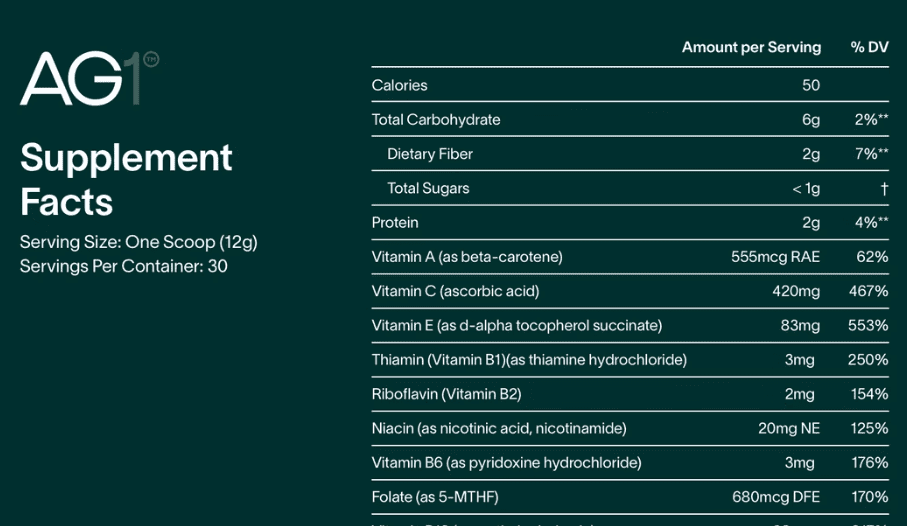 The company claims each of these ingredients is backed by peer-review literature, including thousands of scientific articles. The FAQ page directs readers to PubMed for more information.
Athletic Greens suggests, based on these studies, that daily use results in 5 key areas of health: promoting gut health, supporting immunity, boosting energy, helping recovery, and promoting cognitive function.
AG1 aims to ensure that people get a gluten-free, zero-sugar, healthy metabolism-boosting green vegetable drink.
It's important to note, like other supplements, the Food and Drug Administration (FDA) has not evaluated the product's statements. It also notes on its website that the product is not intended to diagnose, treat, cure or prevent any disease and the company does not provide medical advice. Information on this site is provided for informational purposes only. Customers should consult with a health care provider or registered dietitian before starting new supplements.
Review of Athletic Greens Products
Athletics Greens used to offer Premium Omega 3 and Vitamin D3+K2 products. However, the company has removed these items from their website.
Athletic Greens Premium Omega 3
The company made this product from purified fish oil that was molecularly distilled, sourced from wild fresh Icelandic fish. When you use safely and adequately sourced fish oil in its natural form, you get the most absorbable nutrients that your body requires.
DHA and EPA are fatty acids that support joints, heart, brain, skin, and more. This oil is receptive to oxidation which makes the supplements rancid. It is brought to you from the ocean as quickly as possible. A third-party for purity and contaminants tests the Athletic Greens omega-3 soft gel.
Athletic Greens vitamin D3 + K2
These liquid drops are made of two essential nutrients that work jointly to support the immune system, vascular system, respiratory system, and heart. It delivers a maximum amount of calcium to the teeth and bones for the protection and strength needed to combat vitamin deficiency and the deterioration that comes with age. The D3 + K2 liquid contains vitamin E and an olive oil base and helps for super absorption and to preserve its freshness. This product is free from allergens and soy, and it is non-GMO.
Athletic Greens AG1
Currently, this is the only product the company's website is marketing. They claim it is a nutritional insurance for customers who want to ensure they are consuming optimal nutrition daily.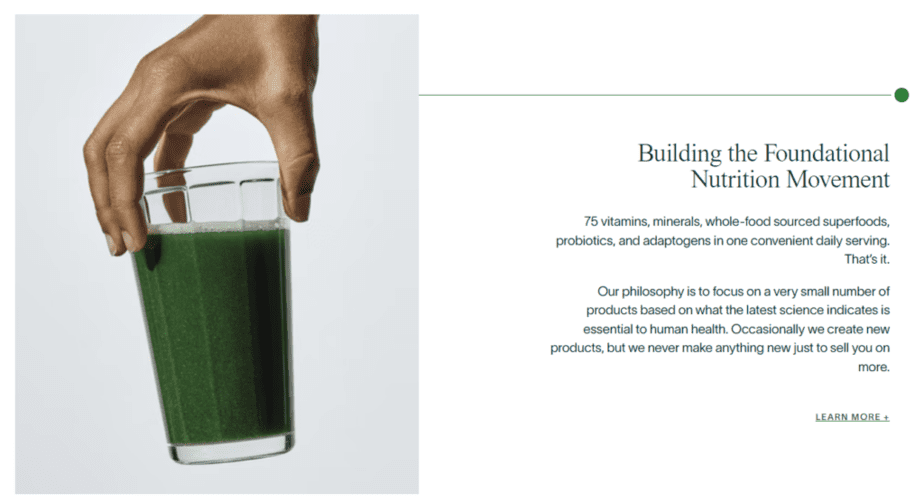 This complete all-in-one superfoods supplement contains 75 minerals, vitamins, and sourced whole food ingredients. The company claims that drinking Athletic Greens provides the daily nutritional needs of active and busy people. AG1 carries the benefits of 11 supplements that support five areas of our health and contains probiotics, vitamins, minerals, adaptogens, digestive enzymes, super mushroom complexes, antioxidants, and plant extracts.
They developed this product over 10 years and 50 iterations.
How To Take AG1
The Athletic Greens superfood is quite easy to take. Each pack contains 12 grams of the product, which should last 30 days.
Customers can take one serving per day at any time, although the company recommends taking it in the morning on an empty stomach. Then, you should wait 10-15 minutes before eating.
To make a serving, mix one scoop of the powder with 8 to 10 ounces of cold water. You can also include additions, such as a splash of lemon juice, depending on your preferred taste.
AGI will expire either 90 days after opening or 2 years from the manufacturing date if left unopened.
Review of Athletic Greens Cost
Athletic Greens has three major products. However, AG1 is the only one that is currently available.
One Time Purchase: $99.
Single subscription: $79. This is a monthly subscription service that gives customers a $20 discount per order.
Double subscription: $149. This subscription sends two packs of the products monthly. Each cost $74.50. This package is best for the family.
Customers can cancel a subscription either online or over the phone. They can also alter the details of subscriptions, such as delivery date and frequency, online.
A pack of AG1 supplements contains 30 servings. Therefore, customers pay at most $99 per month or $3.30 per day. Depending on your health goals, this may or may not be worth the cost for a daily supplement.
The product has a 60 day money-back guarantee.
To preserve, customers should keep the opened product in an enclosed dry container placed at room temperature.
Review Ingredients in Athletic Greens
Athletic Greens is a dietary supplement company. The current product has been through 50 iterations to optimize the 75 ingredients.
These ingredients include 15 vitamins, 11 minerals, 18 whole food sourced nutrients, 2 antibiotics, and 21 adaptogens.
Customers can learn more about the specific ingredients listed on the company's interactive website.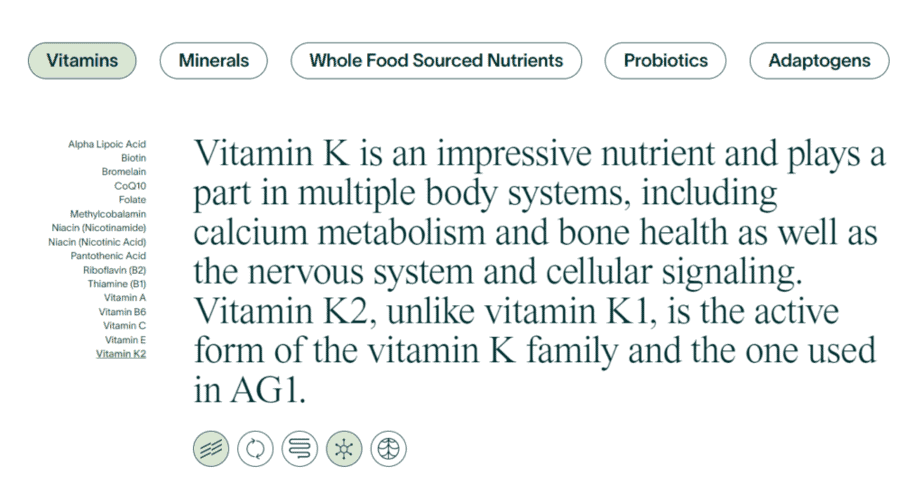 Users can choose one of the categories to see a list of ingredients. By selecting an item, they can learn more about it and how it affects their body systems. Ingredients include everything from biotin, to pea protein, to root extract.
At the bottom, there are 5 symbols, which represent benefits of Athletic Greens. The highlighted symbols suggest which benefits link to a specific ingredient. For example, vitamin K is associated with supporting energy and immunity.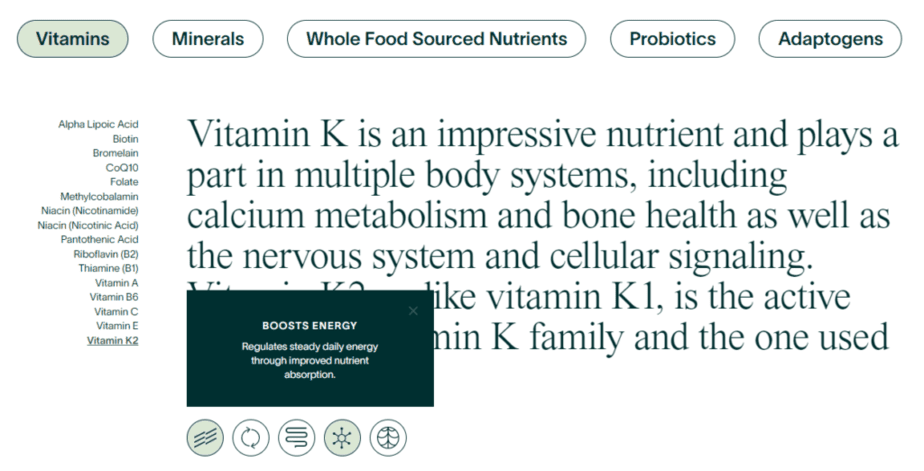 There haven't been any clinical studies on AG1 specifically. Other studies on similar greens powders showed health benefits that include lowered blood pressure, including this one, The effect of fruit and vegetable powder mix on hypertensive subjects: a pilot study. Experts have shown that many of the ingredients have anti-inflammatory properties.
Review of Athletic Greens Privacy
Athletic Greens knows how much customers value their privacy, which is why they put measures to help protect customers' information. The company's privacy policy explains how they protect all information. The name and contact address you share with the company are used to identify you and to know where to send your orders.
The automatic data collection system that the company uses to access your domain name and IP addresses is done to have a medium to send you information, newsletters, and new products. Any other personal information that the company can assess is used to process your orders. Athletic Greens cannot sell, share, disclose, or rent out any of their customers' information to a third party against their wishes. Any third party connected to the company and has access to customer's information uses it to meet the customers' requirements.
Athletic Greens as they take it upon themselves to make customers' privacy their priority.
Other Athletic Greens Reviews
Athletic Greens has been widely reviewed by various nutrition sites and professionals. The products are not currently not available on third party sites like Amazon.
Blake Reichenbach, contributor to self improvement blog, tried the product for a month. In 2021, he reported that although it was a high quality product for digestive health, it's more expensive than green powders on the market and packs too many ingredients into a single serving.
Another review on HealthCanal also noted that the product is of the highest quality and praised it for being rigorously tested for NSF certification.
Some online reviews note that the Athletic Greens taste is acquired. Not all supplements work for everyone. Some customers may experience side effects such as bloating, constipation, and nausea.
The company also includes testimonials on its website, where they show that their products earn a 4.5 out of 5 stars. They include reviews from athletes, health experts, and users.
Athletic Greens in the News
The company gained additional popularity when it was mentioned by Robin Arzon from Peloton in the New York Times. She is also an investor in the company, as are Hugh Jackman, Cindy Crawford, Olympian gymnast Shawn Johnson, and Steve Aoki.
The product has also been recommended by health experts such as Tim Ferriss.
Nebula Genomics
Athletic Greens is a gut Health and metabolism boosting supplement company. It sells largely well-known foundational nutrition drinks to target audiences, including athletes, people who want to lose weight, and those who want to ensure full gut health. Athletic Greens currently has one product on sale: AG1, which contains 75 ingredients for optimal health.
However, the product is not in any way inspired by genetics. Before starting a supplement program, you should consult with a medical professional. You may also be interested in learning more about how your body is genetically predisposed to reacting to certain nutrition, including many of the ingredients in AG1.
You may also find that you have certain tendencies to things like weight gain or metabolism speed. These factors are important when trying to optimize daily health.
Nebula Genomics offers a comprehensive test that highlights predispositions related to diet, fitness, and metabolism. With 30x Whole-Genome Sequencing, Nebula sequences 100% of your DNA to get to the root cause of every biological inclination. We also offer disease susceptibility tests to expose genetic vulnerability to many conditions.
The test is highly accurate and offers other added services that include ancestry reporting and genome exploration tools. Regularly updated reports ensure that you will not miss the latest genetic research.
For $299 or less, you can unlock your entire genome.
Other companies
Looking for more supplement reviews? You can read more reviews on our blog and check out our complete guide to the best DNA test kit and other home tests.
You may especially want to check out these supplements for weight loss: