This review is written with the intent to be as unbiased as possible. However, it represents the opinion of an individual reviewer and is therefore subjective. Furthermore, at Nebula Genomics we seek to educate the public about the benefits of Whole Genome Sequencing. Information about our Whole Genome Sequencing DNA test is therefore incorporated into the review.
January 11, 2021
Edited by Christina Swords, Ph.D.
7 Facts from our Resurge Review
Recommended dose: 4 Resurge pills a day for 90 days for optimal results.
Resurge Ingredients: magnesium, zinc, L-Arginine, L-Lysine, L-Theanine, Ashwagandha, Griffonia Simplicifolia Seed Extract (Hydroxytryptophan), and Melatonin
Costs: $29 – $49 per bottle
How to Order: Only available through the official website
How it Works: Place the order on the website and expect delivery in 3-5 days in the US and over 8 days if international
Who is it recommended for: Recommended for people in their 40s or above who want to have better sleep, lose fat, reduce weight gain, and become more energetic.
Complementary products: Nebula offers a complete DNA sequencing test to better determine if this product will work for you as advertised.
Resurge Introduction
This is a Resurge supplement review of a dietary supplement that alleges to help you sleep and burn fat easier by impacting the human growth hormone (HGH). In this Resurge review, we will dissect it into its ingredients to see if the collection of them can actually do what the advertising claims.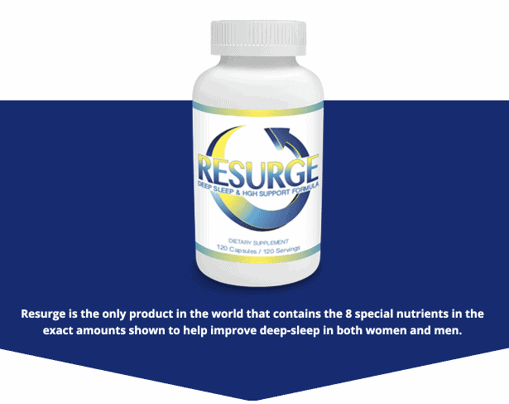 Resurge was formulated by health professional John Barban, who believes that the body has the potential to burn fat quickly without any diets or exercising.
According to the claims, taking 4 Resurge weight loss supplements every day, including 1 hour before going to bed, will guarantee higher sleep quality. During this sleep, the product purportedly impacts HGH levels and takes advantage of the fat-burning stages of REM sleep.
The product was created by Lisa Etwell and John Barba, siblings from Canada, after John experienced tremendous changes in his own life by mixing all the ingredients now in Resurge. Years of research led him to the exact mix and amounts of the eight natural ingredients.
The product mainly targets people who are aging and are getting less effective sleep as a result in part due to slowed down metabolism. Thus, this product is marketed as a Resurge deep sleep, anti-aging weight loss solution.
What is more, according to Barba, all this will happen without any changes in food habits and any exercise routine. This Resurge review intends to take a clinical look at these affirmations to prove or disprove them.
Is Resurge safe? How much does Resurge cost? We will try to answer these questions and others to help you decide if this is the best way to go.
The bottom line: Resurge offers a one-size-fits-all solution for weight loss and deep sleep. However, scientific research has shown that there is a link between genetic composition and optimal dietary behavior. Nebula Genomics offers complete whole-genome sequencing. While other companies only decode a small percent of your genome, at Nebula Genomics, you get a thorough DNA test that will guarantee a highly customized and effective dietary solution.
Review of Resurge: Deep Sleep and High Support Formula
Resurge is sold as an age-reversing, natural fat-burning solution without making any dietary or lifestyle changes. According to the site, the product has is 100% all-natural, vegetarian, non-GMO, safe, and has no proven to have no side effects
The following are the benefits that the manufacturer states you will get with this product:
Unleash the healing and fat-burning potential already within you.
It naturally rewinds the aging clock.
Improves metabolic regeneration in both men and women.
It is scientifically proven to provide proper sleep.
Increases mental clarity.
Enhances the immune system.
Boosts energy levels.
Ingredients in Resurge: What's Inside?
Resurge is a finely measured combination of eight ingredients, including natural amino acids, herbal extracts, and minerals. These are the active ingredients and the amount per pill:
Melatonin (10 mg)
Also known as the "sleep hormone," it is naturally produced by our body. It is the hormone that tells our body it is night time and helps us sleep faster by setting the body into a relaxed state.
Ashwagandha root extract (50 mg)
This Indian herb is an anxiolytic-antidepressant and is associated with the relief of certain other conditions such as insomnia, constipation, high stress, and memory loss. Resurge adds this ingredient to help reduce the effects of anxiety.
Magnesium (50 mg)
Magnesium has a myriad of health benefits that help energize the body and fight depression. It also has anti-inflammatory properties and can help prevent migraines and even type 2 diabetes.
Zinc (15 mg)
Zinc helps your immune system and your metabolism function. Enhanced metabolism is less likely to cause obesity and all the health issues associated with it. Zinc and arginine rapidly increase the production of human growth hormone (HGH) during the deep sleep stage.

L-arginine (1200 mg)
This amino acid is found naturally in the body. Besides its primary function of building proteins, it also increases nitric oxide levels in the body, which helps enhance blood flow and prevent high blood pressure. It can also help suppress appetite and control hunger.
L-lysine (2000 mg)
Another essential amino acid naturally produced by the body. It can reduce anxiety and when combined with L-arginine, lower cortisol levels – the stress hormone.
L-theanine (200 mg)
The third amino acid found in Resurge is found in black and green tea, and it provides a wide range of benefits to the body. This ingredient helps increase mental agility and focus. It can help increase cognitive ability as well as improve attention and reaction times and it reduces food cravings.
Griffonia Simplocifolia Seed Extract (Hydroxytrptophan) (100 mg)
Hydroxytryptophan is another amino acid that helps produce the neurotransmitter serotonin, whose function is to bring the body to a state of happiness and satisfaction. This ingredient is added to Resurge because serotonin helps reduce stress and anxiety, promotes deeper sleep, and supports losing excessive weight.
Review of How Does Resurge Work?
The action of the product is to help you sleep deeper. The amount of rest a person gets is not as significant as how much deep sleep they get. Resurge claims to lower levels of stress and anxiety and improve mental health, which play major roles in lack of sleep.
As a result of a boosted motivation, energy levels, and mood, your body will naturally begin to burn belly fat. It is quite the opposite effect that elevated levels of stress cause. A night of good deep sleep will also help control hunger by stabilizing your blood sugar levels.
Improved metabolism will burn fat and calories more efficiently. With stored fat gone, your body will learn to fill up your body with toned muscles.
Did you know you can test your metabolism at home? Learn more in our article about metabolism tests at home.
Who is Resurge for?
The product is offered to customers who want to dramatically lose weight but don't have enough time to exercise or don't want to diet. It is also recommended for people who simply want to feel and look good by positively impacting their sleep cycles.
Generally, it is also recommended for those who want to improve their sleep and, consequently, their entire persona and life. Resurge is unlike other dietary supplements that target the symptoms of weight gain in that it tries to reduce the cause.
If you are younger than 18, you should ask your doctor before taking this product and any dietary supplement. Anyone considering a dietary supplement should talk to their doctor before starting a program with Resurge.
Review of Resurge Cost
The Resurge supplement is only available on their website Resurge.com. It is not available at your local drugstore. However, there are some sellers on Amazon, but they are not from the official store, and some could be a scam. Plus, from the official website, you get a special discount and a 60-day, no-questions-asked warranty.
The website's educational video claims that one bottle of Resurge should cost $299 but "for today only," you can get one bottle at $49. You can always buy Resurge at this discounted price, and it will not change. Each bottle has 120 capsules for a 30-day supply (you take 4 per day).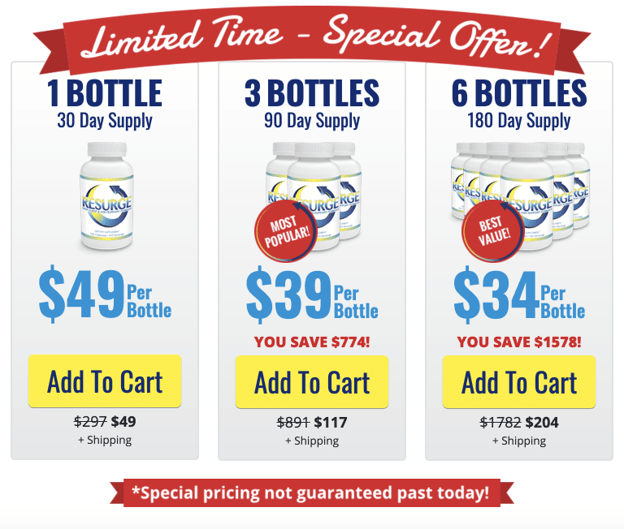 To get better results, the company suggests you try the product for 90 days. In this way, customers are enticed to take the second offer. The product comes with a 60 days guarantee, so it seems that there is no risk in trying the product.
Review of Resurge Privacy
At the moment of ordering a supply of Resurge, the website collects your shipping information. Your credit card information is only collected for payment purposes but encrypted once entered into the form. The company may collect information from online surveys or other forms of registration pages operated by third parties.
Other instances where Resurge collects information from a person include claiming a prize or incentive, through customer service, or newsletter subscription.
The website learns your behavior through cookies and web beacons. This essentially means that Resurge can track your navigation behavior to add interests to your profile's database based on third party websites you visited.
Resurge reserves the right to sell or transfer information to third parties when necessary. If you do not wish them to sell your information for promotional purposes, you must email them requesting it, and they will gladly comply.
Resurge in the News
Resurge was launched in February 2020, so most of the press found out there are reviews and interviews with co-creator John Barban.
Can Sleeping More Help You Lose Weight?. Article where Resurge is referenced as a place that explains how natural ingredients will help you sleep deep. (Note: the mentioned article links to a Resurge review with a biased tone.
Other Resurge Reviews
The Resurge customer reviews are quite mixed as it seems to work fine for some people but not for others. We want to highlight that there is no size fits all regarding obtaining critical physiological changes.
The following reviews were written in TrustPilot. It is interesting to note that the product makes a run for your money when it comes to deep sleep.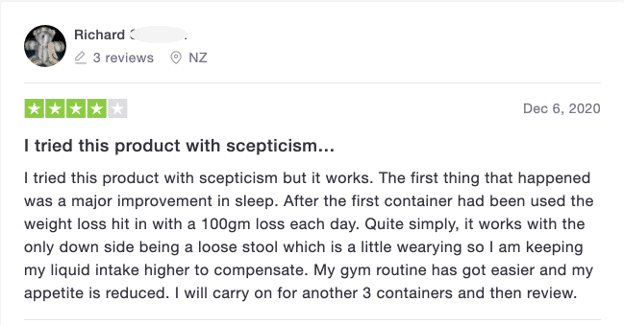 Although they do get better sleep, other customers would complain that their weight loss would not get as good as they hoped.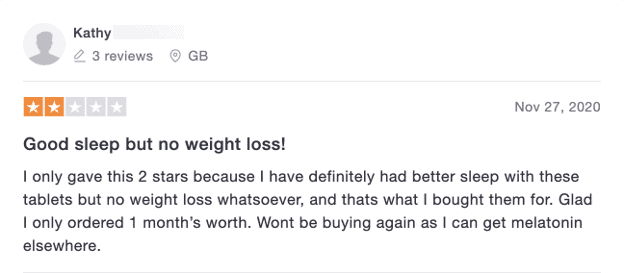 Out of all the Resurge reviews, complaints are also presence. As expected, this product will not produce the same results for everyone since, as it has been scientifically proven, our bodies will not respond equally to the same substances. We are the result of a carefully coded script, unique to each individual. In some cases, a person might even gain extra weight.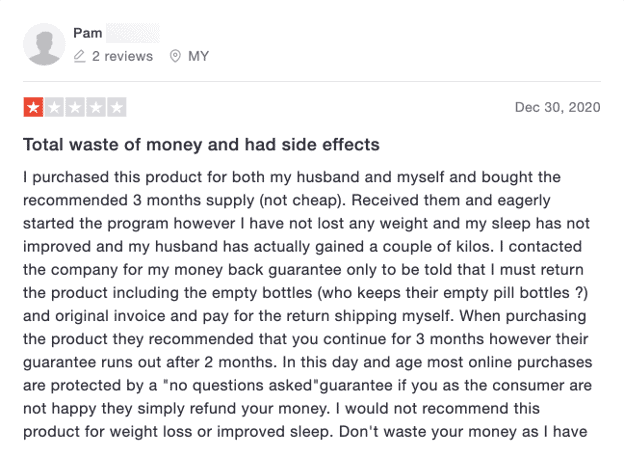 It is important to note that shipping and handling have not been a pleasant experience because of the COVID-19 pandemic. Many customers have complained that their orders take a lot of time to get processed or not shipped.
Pros and Cons
Pros
The ingredients are scientifically backed up and proven to work the way advertised.
No reported side effects.
It is vegan.
The price is reasonable.
It has a 60-day money-back guarantee.
Cons
Not FDA-approved as it is not a medicinal product (although it is made in an FDA approved facility)
Only available online through the company website.
Not suitable for children or pregnant.
It promises that you will see the real effects after three months, essentially forcing customers to get the 90-day supply.
Nebula Genomics
At Nebula Genomics, we propose a more personalized approach as, because of the uniqueness of our genes, bodies cannot respond the same to the same treatment. Having your DNA sequenced can help you decide if a supplement like Resurge is right for you.
Resurge may work as advertised for the majority of people. However, there will always be those that do not get the same results. The reason for that is found in our genes. Why risk spending money when you can get a DNA test that will tell you what it is exactly that you need?
Nebula Genomics provides reports that are updated weekly with new studies. In the Nebula Research Library you can receive personalized reports on how your genetic makeup affects your sleep quality, daytime sleepiness, Insomnia, and much more! This information may inform you on best supplements to investigate for your specific body type.
Nebula genomics offers the most complete reports backed up by the most advanced technology that includes our exclusive 30x Whole Genome Sequencing to sequence your entire DNA and offer very detailed genetic information. This information will help you decide if the ingredients found in Resurge will have a positive effect as advertised.
Interested in weight loss? You may consider Noom (subscription based weight loss programs), Nutrisystem (personalized weight loss programs), Optavia (subscription based weight loss programs with personal coaches), Perfect Body DNA (personalized weight management book), or Yoga Burn (instructor led weight loss yoga).
If you want to learn more about weight management products, you should check out these other reviews:
Weight management supplements:
Gut health:
Did you like our Resurge review? You can read more reviews on our blog and check out our complete guide to the best DNA test kit and other home tests.