This review is written with the intent to be as unbiased as possible. However, it represents the opinion of an individual reviewer and is therefore subjective. Furthermore, at Nebula Genomics we seek to educate the public about the benefits of Whole Genome Sequencing. Information about our Whole Genome Sequencing DNA test is therefore incorporated into the review.
January 26, 2021
7 Facts from our Lipozene Review
Location: Encinitas, California
Products: Lipozene and MetaboUP Plus
Costs: $29.95 per bottle of 60 weight loss capsules plus one bottle extra for free and a bottle of MetaboUP Plus
Reports: They do not offer reports since they do not offer any testing services.
How to order: Customers can order products online through the official website or through Amazon.
How it works: Customers take 2 Lipozene pills up to 3 times a day. The active fiber ingredient is intended to make you feel full
Lipozene Introduction
What is Lipozene? Lipozene is a weight loss supplement company that makes the Lipozene weight loss capsules. It is currently led by CEO Thomas Barker. The company is also copyright under another name, Obesity Research Institute (ORI). This company is run by Henny den Uijl and Sandra den Uijl.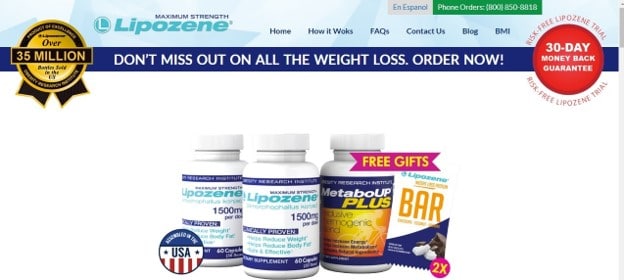 The main ingredient in Lipozene is glucomannan, which is extracted from the Konjac roots (Amorphophallus konjac), also known as elephant yam. It's also the main ingredient in shirataki noodles. The company claims the water-soluble, fermentable dietary fiber has the ability to promote weight loss. Additional clinical studies have also shown that the fiber has additional health benefits like reducing cholesterol, blood fats, and blood sugar levels.
However, the company has had its fair share of controversies since its inception in 2003. In 2020, Obesity Research Institute and Continuity Products had to settle a $4.6 million lawsuit. The plaintiffs accused them of wrongly advertising Lipozene as a "weight-loss breakthrough" that would "get rid of pounds of body fat."
The lawsuit paid every client who purchased the diet pills between August 10, 2012, and October 28, 2019, for personal use. The CEOs of Obesity Research Institute and Continuity Products, Henny den Uijl and Sandra den Uijl denied any wrongdoings. However, they agreed to change the marketing statements for the product.
Review of Lipozene Science: A fiber to help enhance weight loss
Lipozene is a weight loss supplement that claims to help its users lose weight through a pill that contains water-soluble fiber. They claim on their website that their product contains a super-fiber, Glucomannan, which has been clinically proven to help reduce weight.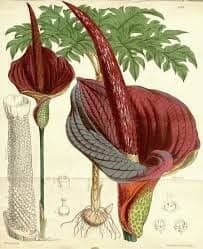 How does Lipozene work? This incredible fiber has the ability to expand 200x its size (by weight) when in water. Once Lipozene capsules dissolve in the stomach, the proprietary fiber's ability to absorb water is activated and it creates a feeling of fullness that can last for hours. In this way, it tends to make the user feel less hungry and consume fewer calories of food.
The company cites a study on their website in which two groups of people took the Lipozene drug and a placebo. They claimed the group that took the drug lost 4X more weight than the group which had the placebo. They also stated that 78% of the weight lost was pure fat. However, this study was sponsored by the company and hasn't been published in any peer-reviewed journal. So it's credibility is quite questionable.
At the bottom of the website, the company states that the people involved in the study were not given specific instructions regarding their lifestyle and eating habits. This means a few of them could have been into some other weight-loss activities like workouts. These suggestions have made quite a few consumers and health experts question the credibility of the weight loss company claims.
Some scientific studies have shown that glucomannan (the active Lipozene ingredient), although having short term effects on weight loss, is not beneficial in the long term. Due to numerous clinical trials not being able to ascertain the fact about glucomannan's relationship with weight loss, the National Institute of Health (NIH) concluded that the active ingredient has little to no effect on reducing body weight.
Other peer-reviewed studies showed limited or even no promotion of weight loss with glucomannan. Because repeated clinical trials have not been able to prove that the ingredient glucomannan causes weight loss, the National Institutes of Health (NIH) has determined that glucomannan has "little to no effect on body weight."
Statements have not been evaluated by the FDA, this product is not intended to diagnose, treat, cure, or prevent any disease.
Lipozene Review
How to purchase Lipozene
You could get the capsules either off the Lipozene website or from Amazon. However, they sell the 60-count capsule bottle and an extra bottle of the same quantity for $29.95 on the website. On Amazon, due to the different independent sellers, the prices vary depending on the quantity of the bottles (30-count and 60-count). When you ship from the website, there's a $1.35 processing fee for every purchase made.

How to use Lipozene
Is Lipozene safe? The recommended dose is two capsules, 30 minutes before eating, three times a day with a glass of water. The company claims that the drug has no side effects, although the NIH warns of some Lipozene side effects like flatulence, loose stools, diarrhea, etc.

Specifically, customers should take 2 capsules with at least 8 ounces of water 30 minutes before each meal. The product can be taken up to 3 times a day.
Lipozene Cost Reviews
The most affordable way to get the product is from their official website, Lipozene.com. On Amazon, a number of independent sellers offer Lipozene, but it doesn't have an official store on the third-party marketplace. When you buy from most vendors on Amazon, you might not get the free shipping and free MetaboUP Plus bottle that comes with your purchase when bought from the website.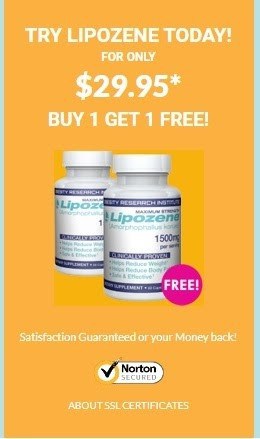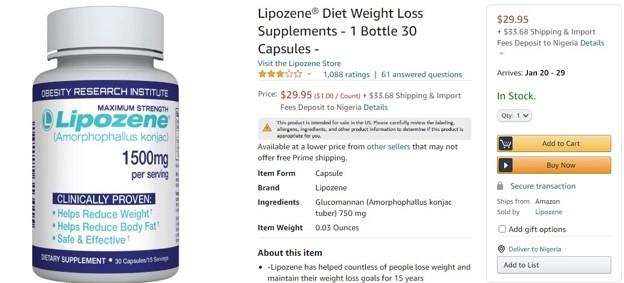 ORI claims on the website that there's a money-back guarantee if you do not notice any changes after using the product for 30 days. However, to qualify for this money-back guarantee, you have to lodge your complaint within 30 days. Also, this money-back guarantee is only valid after you get a validation number from the company.
Lipozene Privacy Review
The link to the privacy policy is located at the bottom of the company's website. They divide the information they collect from their customers into two categories: personal information and non-personal information.
Examples of personal information they could collect include name, physical address, email address, telephone number, age range, birth date, gender, etc. They could also collect non-personal information like the browser type, operating system, IP address, and the domain name from which the customer accessed the site.
They claim to use personal information collected from you for any of the following purposes: (1) to fulfill product orders and requests for information; (2) to contact you when necessary (e.g., to respond to inquiries); (3) to send information, promotional materials, and newsletters, etc. They also note that they may sell, share, or license your information with a third-party in connection with their marketing efforts. However, they claim all third-party companies are PCI-compliant.
They also make provisions for California residents in their privacy policy.
Other Lipozene Reviews
With over 1,000 customer reviews on Amazon, these products have an average rating of 3.0 and 3.6 out of 5 stars for the 30-capsule bottle and 60-capsule bottle respectively.
Does Lipozene work? While a few users commend the supplement for helping them lose weight and burn fat while they ate less, other Lipozene complaints claim to not notice any effect on their weight.
The most common causes for negative reviews are not losing weight, bottles not having the correct amount of pills, and similar logistical complaints.
Lipozene in the News
Fact check! Lipozene pays off $4.6 million class action lawsuits. The settlement resolves allegations that the company marketed false claims on its weight loss products. On December 4, 2020, people started receiving checks in the mail worth up to $60 from the Lipozene Weight Loss Pills Class Action Settlement.
Lipozene Pros and Cons
Pros
The pills are plant based, caffeine-free, GMO-free, soy-free, and gluten-free
They are affordable
Cons
Customers have complained about the deceptive nature of the claims about the pills
A lawsuit settlement was reached against deceptive claims of the company
There has not been strong evidence to link the active ingredient in the capsules with weight loss
Nebula Genomics
In some cases, your body's genetic code may explain why some supplements work better than others. Characteristics like thinness, BMI, and XX can all be associated with genetic variants and may affect how weight loss supplements affect you. Why not take our 30X Whole Genome Sequencing DNA testing kit to know the weight tendencies embedded in your genome before trying that next supplement.
While most DNA tests decode only 0.02% of your DNA, Nebula decodes 100% of your genome. With this significant difference between the DNA we test and other DNA tests, the data we provide is 10,000 times more than other DNA tests such as 23andMe and AncestryDNA.
Our test provides full ancestry DNA reporting alongside Y chromosome and mtDNA sequencing, which we offer in collaboration with Family Tree DNA. Apart from this, our test will also keep you updated about the latest happenings in the genetic world, thanks to our weekly updates.
Lastly, we know how much our customers value their privacy. This is why we treat your personal information divulged on our website with the utmost importance. Using a combination of blockchain-type protection and privacy computing, your information remains inaccessible to anyone, even to us at Nebula.
If interested in weight loss, you may want to check out weight loss programs like Noom, Nutrisystem, Perfect Body DNA, Optavia, and Yoga Burn.
Did you know you can test your metabolism at home? Learn more in our article about metabolism tests at home.
Other supplements you may be interested in include:
Weight loss:
Did you like our Lipozene review? You can read more reviews on our blog and check out our complete guide to the best DNA test kit and other home tests.