This review is written with the intent to be as unbiased as possible. However, it represents the opinion of an individual reviewer and is therefore subjective. Furthermore, at Nebula Genomics we seek to educate the public about the benefits of Whole Genome Sequencing. Information about our Whole Genome Sequencing DNA test is therefore incorporated into the review.
December 13, 2021
Edited by Christina Swords, Ph.D.
7 Facts from our tellmeGen Review
Location: Valencia, Spain
Services: Genetic testing, with separate testing options for adults and children. Provides access to genetic counseling, medical consultation, and nutrition counseling at additional costs
Reports: Personalized "Health Map" outlines predispositions to over 125 health conditions, inherited monogenic disorders, unique traits, ancestry data, and pharmacologic compatibility. Pharmacologic compatibility data is not available to users in the United States
Result delivery: Reports delivered through the tellmeGen user-friendly platform. Users can download their raw DNA data, delivered as a CSV format file 
Privacy: tellmeGen offers a high level of confidentiality. DNA kits are registered as encrypted alphanumeric codes. Connections to and from tellmeGen's web platform use SSL encryption protocols 
Cost: $149 for one child or one adult DNA test kit if purchased directly from tellmeGen. This company offers options to buy multiple adult test kits as bundles, which lowers the cost of every unit. Single test kits can be found on Amazon for approximately $130
tellmeGen Introduction
tellmeGen is an autosomal DNA testing and DNA analysis company that uses microarray-based genetic mapping to provide clients with a comprehensive health map and an ancestry test.
The company provides customers with detailed and easily digestible information regarding their genetic health and connects clients with customized genetic services. These services include genetic counseling, nutritional counselling, and medical consultations with tellmeGen doctors and geneticists. It is important to note that appointments with these specialists are not included in the price of the DNA test.
Services and Products
tellmeGen's microarray technology studies more than 650,000 SNPs (single nucleotide polymorphisms) located in the exome component of the genome. While this service does not evaluate a customer's entire DNA, it examines the portion currently known to be linked to health and ancestry data to identify genetic variants.
The tests allow customers to discover and understand a limited number of complex disease risks and predispositions to disease. tellmeGen offers separate DNA testing kits for children (ages 0-3 years) and adults. Proper documentation is required to prove parental guardianship of children before guardians can perform child DNA tests.
How to use tellmeGen
After purchasing a tellmeGen DNA test kit, clients must register their kit with their tellmegen login on www.tellmegen.com. They will find options in the top right corner of the web page listed as "create account" or "my account." Registration is done by creating a user account on the tellmeGen web platform and inputting the code associated with the individual kit. This code is located on the collection tube from the kit.
After registration, clients must follow the included instructions to provide a saliva DNA sample. The saliva sample must be as pure or clean as possible. To ensure this, tellmeGen recommends collecting it in the morning, before consuming any foods or beverages, and before the client brushes their teeth.
Alternatively, users can wait a minimum of 30 minutes after eating, smoking, chewing gum, drinking, etc. The child kit contains special buccal swabs to ensure safe and simple saliva collection.
The specimen must then be shipped to the tellmeGen testing facility in Spain. tellmeGen provides a prepaid shipping label and necessary documentation that the customer must fill out in full to ensure the specimen can pass customs.
Once mailed, there is a 4-6 week waiting time before tellmeGen results can be expected.
Review of TellmeGen Health Report
Included in the tellmeGen test results is a four part Health Map. This report begins with information on the individual's genetic predisposition to over 125 common diseases/illnesses.
The Health Map is further broken down by symptoms and genetic risk factors for predispositions. These inherited conditions are compared to the typical risk of an average person of the same race, age and gender. This information can help customers determine if they are high risk or low risk compared to the average for common diseases and seek additional health care if needed.
The following section is a diagnosis of an individual's inherited monogenic diseases. Such complex disorders are caused in part by genetic mutations and alterations and can impact personal health. For example, this section may illuminate any red flags for hereditary breast cancer or porphyria. Given that these traits are heritable, this section also discusses possible implications on the health of a customer's offspring.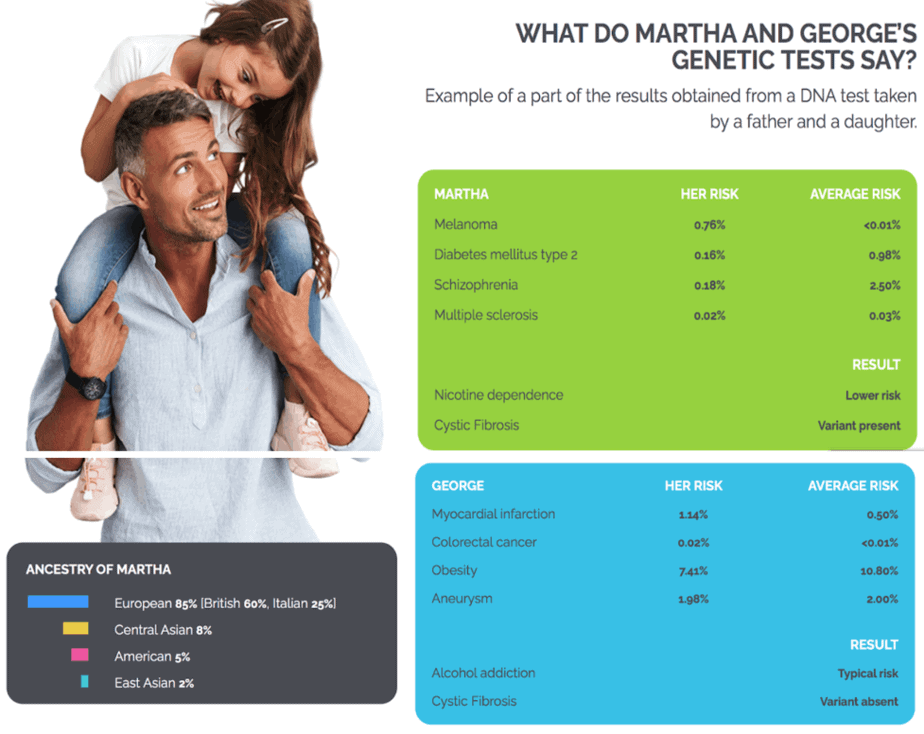 The third section of the Health Map indicates pharmacologic compatibility, which shows how the individual will biologically react to and process certain drugs. This acts as a starting point towards personalized medicine, and in conjunction with a professional medical opinion, can streamline pharmacologic healing. Unfortunately, due to FDA regulations, this portion of the report is not included for citizens of the United States. tellmeGen has indicated that this information will become available to these clients, free of charge, in the event of loosened FDA restrictions.
The last section of the personalized Health Map reveals how a customer's genes affect personal traits. These include alcohol tolerance, resistance to a particular treatment, baldness propensity, and pain sensitivity. It can be helpful information to aid the individual in understanding their body and catering to a lifestyle that helps them function optimally.
tellmeGen aims to create DNA testing in which customers can receive genetic information from anywhere, conducting DNA tests anywhere in the world with a device and sharing it with your doctor.
Review of tellmeGen Ancestry Report
The tellmeGen report also includes some basic ancestry information. The company is fairly honest in outlining that its database for this is minimal. The results display a map with ancestry percentages and data about the context of these percentages.
Specifically, the tellmeGen report can tell individuals their relation to 74 ethnic groups spread across eight broad geographical areas. tellmeGen does not include a DNA matching service to connect clients to individuals with comparable DNA, and therefore will not help in locating relatives or developing a family tree.
tellmeGen plans to upgrade its ancestry information to include more of the human genome. It states that a future version of its services will analyze Neanderthal ancestry and mitochondrial DNA, as well as Y-chromosomes in male users.  
Exploring Your Genome
tellmeGen routinely updates the databases for all portions of its report, allowing customers to continuously have new genetic information as it becomes available. These updates are included in the cost of the DNA test kit and provide customers with a consistently updated genetic analysis for the DNA portion tested by tellmeGen. If users wish, they may download their raw data from the platform as a .csv file. 
If additional information is desired, tellmeGen offers to connect clients with its in-house geneticists, nutritionists, and medical professionals to further provide health-based counseling based on DNA results. However, these services are associated with additional costs. You can learn more about how its prices compare to other companies on our blog.
Review of other tellmeGen Services
Overall, tellmeGen offers a unique and beneficial service. It recently revamped its ancestry reports design to make them faster and more readily available. However, because only a portion of DNA is evaluated, it may not be 'the most complete DNA test' as claimed by its website.
However, its focus on client health provides an extensive profile of potential health complications that rivals other DNA testing services. The availability of in-house specialists to further analyze this health testing is an additional and cohesive benefit of tellmeGen, and unique service in genetic testing kits.
Many questions regarding purchasing tellmeGen products, sample collection, accounts, and test results are answered on the company's frequently asked questions page.
Review of tellmeGen Pros and Cons
Pros
User-friendly reporting, with an emphasis on creating personalized and easily-absorbed information. Information is well organized
Very comprehensive health reporting
Focus on customer service. Expect emailed inquiries to be responded to within 24 hours
Offers virtual or in person medical consultations, nutrigenomic consultations, and access to genetic specialists
Long list of unique traits included in the report
Cons
Limited ancestry data. No relative matching service provided
Consultation and specialist access come with an additional cost, which is not specified
Review of tellmeGen Privacy and Data
The Valencian company emphasizes transparency throughout its website. This includes details on the machines and methods used to complete the DNA testing and keeping its client's personal data confidential. 
When the kit is registered to a customer's tellmegen registered account, it is done so as an alphanumeric code. This ensures that personal information is not left vulnerable. Connections to and from the website use SSL cryptographic protocols aimed at keeping data private.
Other tellmeGen Reviews
tellmeGen is generally rated highly by consumers, as seen by its 4-star rating on Amazon. Additional reviews comparing 23andMe vs tellmeGen and AncestryDNA vs tellmeGen consistently rate it as the better option for those most concerned with health evaluations.
What do consumers have to say about tellmeGen? Here are a few examples:
A five-star review from 2018 noted that the company is very professional. It included comprehensive results in their aim to get more information regarding genetic results and interaction with prescribed drugs. They also liked that the results were updated almost daily as new research becomes available.
One customer from 2019 also praised the company's excellent customer service but had difficulty with the website. They also cited long processing times and incomplete information in their one-star review. Another downside is that you cannot upload your data to certain sites such as Genetic Genie.
Nebula Genomics
Genetic research is expanding at a rate that many DNA testing companies strive to keep up with. While tellmeGen currently offers a very comprehensive health-based genetic test, the quality of its service lacks family history data and complete DNA testing. The consistent updates are useful – but only for the portion of DNA that gets sequenced and evaluated. As genetic research expands outside of this range, tellmeGen's services' efficacy may prove to be dated. 
At Nebula Genomics, customers have an exceptionally affordable 30x Whole-Genome Sequencing service. We keep up with the fast-paced field of genetic research and provide our customers with DNA sequencing of the entire genome.
Nebula Genomics also provides extensive reporting with regular updates, use-friendly tools that simplify DNA data, and complete ancestry analysis. In addition, Nebula Genomics places individuals in control of their raw data. We give the option to download data in various formats, which may then be used in alternate DNA services. Below is a concise comparison of Nebula Genomics to tellmeGen, 23andMe, and AncestryDNA. 
| | | | | |
| --- | --- | --- | --- | --- |
| | tellmeGen | 23andMe | AncestryDNA | Nebula Genomics |
| DNA testing method | Microarray-based genotyping | Microarray-based genotyping | Microarray-based genotyping | 30x Whole-genome sequencing |
| Focus on privacy | Yes | No | No | Yes (learn more) |
| Security technology used | SSL for data transfer, plus alphanumeric encryption of samples | SSL for data transfer | Unspecified | Blockchain, privacy-preserving computing |
| Continuously updated results based on new research | Yes | Yes | Yes | Yes |
| Data upload options | No | No | No | Yes |
| Tools to explore data | Yes | Limited | Limited | Yes (learn more) |
| Ancestry reporting | Limited | Yes | Yes | Deep ancestry reporting with full Y chromosome and mtDNA sequencing |
| Health reporting | Yes | Yes | No | Yes, with included tools to help analyze genes and genetic variants. |
| Cost | $149 – $369 | $99 or $199 | $99 or $119 | $0, $99, $299 |
If you want to look at additional at-home DNA tests based on the exome and beyond, you may also be interested in:
Learn more about whole exome sequencing, the importance of sequencing Y-DNA and mtDNA and things like paternity testing.
Did you like our tellmeGen review? You can find more reviews on our blog and check out our complete guide to the best DNA test kit and other home tests.