7 Facts from our Goli Review
Location: West Hollywood, California, USA
Products: Goli Nutrition Apple Cider Vinegar (ACV) Gummies (the world's first), Ashwagandha Gummies, Dreamy Sleep Gummies, and eight more health gummies. It claims its products are 100% organic, gluten-free, gelatin-free, and vegan
Costs: $19 per bottle of 60 gummies. Subscribers get 15% off
Reports: Since Goli Nutrition doesn't offer any testing or analysis, it does not publish reports
Privacy: Although the site has special protection through the use of Shopify Gateway for all online payments, it does not further clarify measures taken to protect other personal information on the website
Raw Data Access: Goli Nutrition doesn't offer DNA testing or support uploading raw files. Therefore, it does not support raw data access
Complimentary Products: Wondering if supplements might be right for your body? Get your DNA tested with Nebula Genomics to unlock genetic predispositions with Nebula's 30X Whole Genome Sequencing
This review is written with the intent to be as unbiased as possible. However, it represents the opinion of an individual reviewer and is therefore subjective. Furthermore, at Nebula Genomics, we seek to educate the public about the benefits of Whole Genome Sequencing. Information about our Whole Genome Sequencing DNA test is therefore incorporated into the review.
April 13, 2023
Pros and Cons
Pros
One of the most reputable health gummies brands
Free shipping on the website
Easier to consume than apple cider vinegar shots
Cons
Some of the health claims do not have proper scientific backing
It does not clarify its privacy methods on the website
Introduction
In this Goli review, we look at the claims and feedback of Goli Nutrition Gummies. At this time, many individuals all over the world are focusing on overall health and wellness. Health professionals and private companies often promote natural products as the next big thing in the natural health science field.
One such product is apple cider vinegar. Although it has been used for thousands of years in cooking and as a home remedy, it has recently gained popularity due to its evidence-backed health benefits.
For example, it has been associated with killing harmful bacteria, helping people lose weight, boosting immune function, improving blood sugar levels, relieving pain from indigestion and other stomach issues, and decreasing the risk of heart disease and cancer. But as healthy as this natural product sounds, it has one problem – drinking apple cider vinegar tastes awful! This has made many people choose their taste buds over the nutritional value apple cider vinegar gives.
The company
In 2017, the CEO of Goli Nutrition Inc., Michael Bitensky, finally found a way to bypass the unpleasant taste of apple cider vinegar and encourage consumers to incorporate it into their diet. Michael and his team masked the bitter taste of apple cider vinegar by combining it with beetroot, pomegranate, blackcurrant, and carrot (all derived from natural sources).
The company states that Goli Nutrition is an innovative, people-focused nutrition company driven by the belief that happiness and wellness go hand in hand. As a result, its goals are to support wellness and make health simple.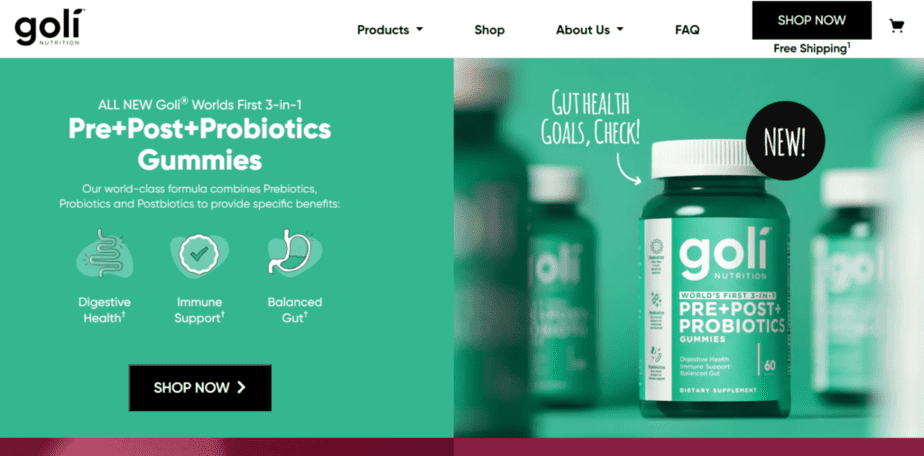 Today, Goli offers more flavors and ingredients beyond apple cider vinegar. All its different flavors are vegan and gluten-free.

The company partners with Vitamin Angels to give back to society. It has a 1-for-1 vitamin grant through its partnership with Vitamin Angels that provides a 6-month supply of vitamins to a child in need for every bottle of Goli Nutrition Gummies purchased.
To keep the quality of the gummies great, the company has a nutritional advisory board that consists of experts in medicine, health, fitness, nutrition, and much more. For example, people on the board include Mia Syn (a registered dietician nutritionist) and Dr. Nicol Korner-Bitensky (a professor at McGill University).
Review of Goli Nutrition Science: Taking the Natural Route to Healthy Living
As mentioned earlier, the benefits of apple cider vinegar are quite numerous, making it a popular natural product to aid healthy living. The process of making apple cider vinegar is one of the ways it stacks up on essential nutrients.
To make the apple cider vinegar, crushed apples are exposed to yeast, which ferments the juice turning it into alcohol. The alcohol is then fermented using bacteria to produce acetic acid (the main constituent of vinegar).
Some apple cider vinegar benefits are thought to be sourced from acetic acid. For example, acetic acid has been used as an antiseptic for thousands of years. Therefore, Goli Gummies are touted to help kill harmful bacteria.
Different studies have also shown vinegar to aid functions such as reducing blood sugar responses and managing diabetes, appetite suppressing and aiding weight loss, helping to treat skin disease, improving heart health. However, only some of these have been scientifically proven. You may also want to talk to your doctor, as apple cider vinegar may decrease potassium levels.
Another healthy constituent in apple cider vinegar is the mother (a substance made up of proteins and enzymes in unfiltered apple cider). This has also been pointed out as another beneficial health product present in cider vinegar.
Review of Goli ingredients
To ensure the gummies contain all these nutrients, Goli uses both acetic acid and the mother to make Goli Gummies. It's patented formula also includes beetroots, pomegranate, organic tapioca syrup, organic cane sugar, blackcurrant, sodium citrate, citric acid, and more. Since apple cider vinegar powder is quite low in essential vitamins and minerals, it also uses added vitamins, specifically vitamins B9 and B12.
It adds vitamin B12 to help support cellular energy production, a healthy immune system, heart health, a healthy nervous system, and improve digestion. Vitamin B9 (folic acid) is important for heart health and overall wellness.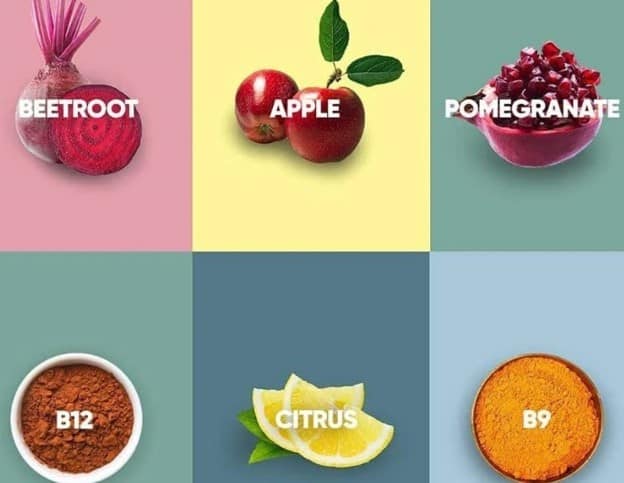 Benefits of Goli is that it also proudly claims its gummies are gluten-free, non-GMO, allergen-free, made from real fruits, 100% organic, gelatin-free, unfiltered, and vegan. They do not contain any preservatives, chemicals, corn syrup, allergens, soy, dairy, wheat, salicylates, artificial ingredients, artificial sweeteners, flavors, or colors.
The diagram below shows what each gummy contains. The company recommends taking 1-2 gummies three times a day.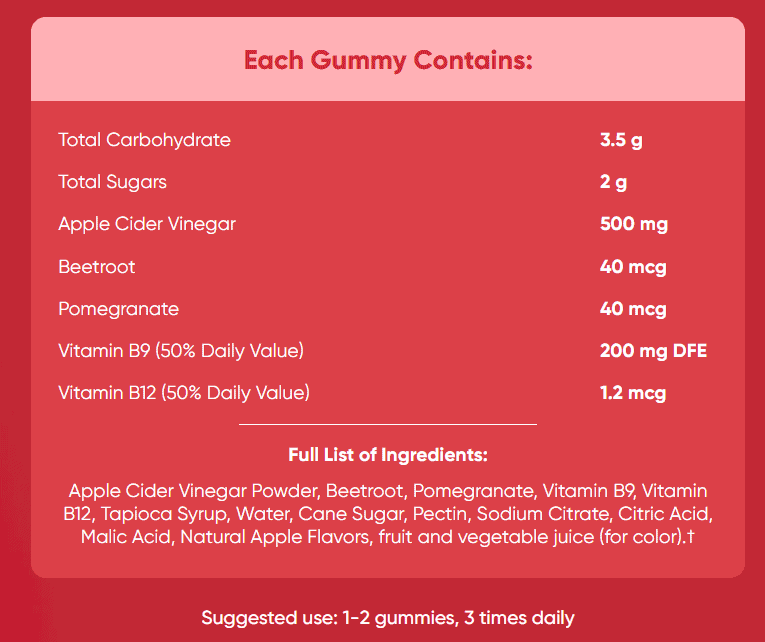 The products also contain natural flavors. For example, the ACV gummies contain natural apple flavors.
Goli Review: How to buy a bottle of Goli Gummies
There are two ways to purchase Goli's gummies: the official website ordering page or Amazon. The company also offers a 100% hassle-free refund. However, this offer is only present on the Goli.com website.
You also get access to free shipping if you purchase from the website, and there are special discounts if you buy multiple bottles.
Before purchasing the product, you fill out personal information such as your name, email address, mailing address, and card details. This information will help it to notify you when it delivers your product. It could also use this information to communicate with you in the future if you wish.
Goli Nutrition Cost Reviews
A bottle of Goli Apple Cider Vinegar Gummies and many other products costs about $19. This conforms to the price of various competitors in the market. If you subscribe to receive a refill automatically on its website, you can see that price reduced to $16.

You can also get Goli nutrition products on Amazon at similar prices. However, the official store offers free shipping and a 100% 30 day money-back guarantee.
Other Goli Nutrition stores include Target, The Vitamine Shoppe, GNC, and Walgreens.
Prices for a single bottle of the company's other products are:
| | | |
| --- | --- | --- |
| $19 | $17 | $14 |
| Apple Cider Vinegar | Women's PMS relief | Multi bites |
| Ashwagandha | Extra-strength sleep | Calm bites |
| Goli Superfruits beauty | Probiotic+ | Energy bites |
| Supergreens | | |
| Triple action immune | | |
| Dreamy sleep | | |
| Complete kids multi | | |
| Women's complete multi | | |
Goli Nutrition Privacy Review
Goli Nutrition claims that the privacy of users who use its website is of utmost importance. Therefore, it uses Shopify Gateway for all transactions. This way, it does not collect customer credit card details when performing transactions.
However, it collects other personal information such as your name, email, mailing address, etc. It claims to use this information to communicate with you, prevent risk or fraud, send you information about your shipment, and many other uses you can find on the website.
Some other information it collects includes non-personal information like your device's IP address, operating system, standard web log data, etc. It claims to use this information to analyze how people interact with websites so it can improve its marketing and advertising campaigns. It also claims to stick to these practices even when your browser sends a 'Do Not Track' signal to the website.
At Nebula, we use a combination of privacy computing and blockchain-type privacy to keep our users secure and immune to information leaks.
Other Goli Nutrition Reviews
The sweet taste of the Goli Gummies has won the hearts of lots of people worldwide, with many giving it rave customer reviews. For example, the Apple Cider Vinegar Gummy vitamins have over 360,000 reviews on Amazon (February 2023), over 70% being 5 stars, and has been positively reviewed by many third-party apps.
One notable user commented on how they didn't believe in the weight loss ability of the Goli gummies. They claimed scientific reports have shown that you need at least a tablespoon of ACV (roughly 14,300 mg) daily to experience significant weight loss. However, a Goli gummy only contains 500 mg of ACV, indicating that a customer would have to eat over 28 gummies to consume 1 tablespoon of apple cider vinegar.
Overall, Goli Nutrition's reviews are excellent worldwide. Many of its users have added it to their daily diet and seem pleased with the results. There have been very few reports of any side effects. The bottom line appears to be that if you are willing to spend the money to try the product, it may be a good addition to your daily routine!
Did you know you can test your metabolism at home? Learn more in our article about metabolism tests at home.
Since Goli products are a supplement, they are not regulated by the Food and Drug Administration (FDA). As noted on its website, it's important to remember that this product is not intended to diagnose, treat, cure or prevent any disease. Individual results may vary.
Review of Goli Nutrition in the News
In 2021, Goli expanded its offerings to ashwagandha gummies. However, in 2022, the BBB recommended that the company modify or discontinue various claims related to the new product's efficacy.
Alex Rodriguez, one of the best baseball players of all time, partnered with Goli Nutrition earlier in 2023 for a giveaway. As of January 2023, Goli Nutrition faces a lawsuit filed by Better Nutritionals, a gummy contract manufacturer that declared bankruptcy in December 2022. According to the plaintiff, Goli infringed on its patent covering a composition of apple cider vinegar gummies
Nebula Genomics
The decision to investigate dietary gummy supplements is often tricky and the choices can be overwhelming. Before starting a dietary supplement like Goli Nutrition, it may be helpful to get your DNA sequenced to inform you which supplements may be best for your genetic predispositions.
Nebula Genomics 30x WGS Sequencing is the most comprehensive way to sequence your genome. With a kit that can read 6,000,000,000 positions of your genome, you can get 1000x more information than other DNA tests offered by companies like AncestryDNA and 23andMe.
Besides this, you get a comprehensive report that shows your genome's different characteristics, from your susceptibility to certain diseases to your nutritional needs and deficiencies. We also provide lifetime access to our genome exploration tools, which offer deep ancestry reporting and mtDNA sequencing.
Nebula is also one of the few sites where you can upload raw DNA data for free to get additional analysis.
Finally, we offer you the best privacy services compared to other genome sequencing companies. Our customers' privacy and security while using our website are paramount. This is why we use a combination of privacy computing and blockchain-type security on our website to guarantee our users the safest online presence.
Other products
If you're interested in learning more about gut health and other weight loss programs and supplements, you should read these other reviews:
Weight loss:
Gut health:
Did you find our Goli review helpful? You can read more reviews on our blog and check out our complete guide to the best DNA test kits and other home tests.