This review is written with the intent to be as unbiased as possible. However, it represents the opinion of an individual reviewer and is therefore subjective. Furthermore, at Nebula Genomics we seek to educate the public about the benefits of Whole Genome Sequencing. Information about our Whole Genome Sequencing DNA test is therefore incorporated into the review.
March 8, 2022
7 Facts From our Findmypast Review
Location: London, England
Products: Family genealogy search history through DNA testing for people with British and Irish ancestry
Cost: Two different subscription tiers, Essential and Ultimate. Essential costs $15 per month or $129 if you choose to pay yearly. Ultimate costs $20 per month or $179 yearly. Data upload is free and DNA testing costs $89.
Reports: Access to records to help you build your family tree
How it works: Once you create a Findmypast account, you choose a subscription tier and upload your DNA data. You may need to order a DNA testing kit if you do not have genetic testing data
Raw Data Access: Yes
Alternative Products: Nebula Genomics 30X Whole Genome Sequencing decodes all the information on your genome. Nebula reads over six million positions on your genome to provide you with reliable results that can be used in consultation with a medical professional
Findmypast Introduction
Findmypast is a genetic genealogy service that traces ancestry from the British Isles. This company can be useful for people globally since immigration has spread the inhabitants and their descendants around the world. Whereas other DNA testing companies like AncestryDNA focus on North America records, Findmypast caters to those with origins in the British Isles.
Findmypast has a history spanning back to 1965 when the company known as "Title Research" was established. As there were no internet records, the company had to log and retrieve information on microfilm. This continued until 2003 when the company launched its first website, 1837online.com. This name was drawn from the year when civil registration began in England and Wales for the recording of births, deaths and marriages. It rebranded itself in 2006 as Findmypast after which DC Thompson acquired it in 2007.
Findmypast Review
The company is a genetic genealogy service which helps customers search records of their ancestors in the British Isles. With the various services available, you can trace your family, get advice from genealogists, and access historical records.
Available Records
1837online started out with records from the English and Wales civil registration until it added more records and rebranded as Findmypast. From collecting just records of births, marriages, and death, the company began to index other records such as censuses, military and migration records among others. Currently, Findmypast has a database containing billions of records worldwide.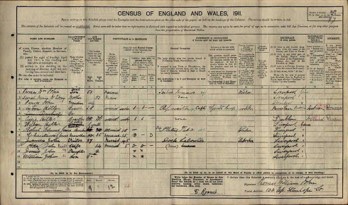 It should be noted however that almost half of the records available are from the British Isles. Thus, Findmypast is a great option for people of Irish ancestry as the website possesses more Irish records than any other genealogy website.
With this service, you can access records that are more than a thousand years old, dating back to the 9th century. You also have access to a vast British newspaper archive with pages from more than 20 different countries.
US and British military records are available dating back to the 1700s. Findmypast is also home to some otherwise scarce records such as certificates of apprenticeship, workhouse registers, and even school admission lists. Immigration lists are also available along with records of baptisms, marriages and parish records for burials from as far back as the 16th century.
Categories
The company groups the records into 8 major categories for ease of use. These categories are:
Armed Forces & Conflict
Census, Land & Surveys
Church & Religion
Directories & Social history
Education & Work
Institutions & Organizations
Life Events (BDMs)
Travel & Migration
There is also a special category for newspaper pages and regular publications.
Findmypast is the only location besides the National Archives where you will be able to find records from the 1939 register. This is of significance for those seeking information on their British ancestors from the early 20th century as the records of the 1931 census were destroyed while there was no census in 1941 due to the onset of war.
The company offers more than just family history records. Becoming a member unlocks access to webinars and other educational materials and guides to help you trace your genealogy as accurately as possible.
Family Tree Builder
Like other genealogy sites, Findmypast allows you to build your family tree. You do not need a paid subscription to access this feature.
As you build your family tree, Findmypast will give you hints based on the records it possesses to help you build your tree. It should however be noted that these hints are not always correct and you will have to examine them carefully before you accept them. The hints show up as a number next to the name of your ancestor showing how many records include someone bearing the same name as them. You can view the hints directly on the tree or from a separate hints tab from which you can view them and then decide which ones you want to accept or refuse.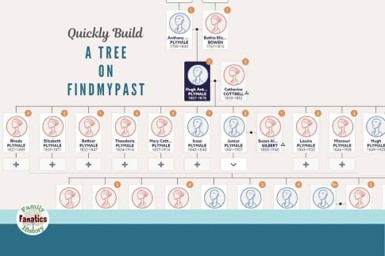 To start building your family tree, all you have to do is to input your full name along with your gender, date and location of birth. You can then decide if you want to make your family tree public or if you will like to keep it to yourself. If you already created a family tree using another website or genealogy software and don't want to begin all over from scratch, Findmypast allows you to upload your family tree using the GEDCOM format. You should however note that the hints feature does not work on family trees you upload from other services.
Viewing family trees
Whether you decide to keep your family tree private or public, you can view the family trees of other users who choose to make theirs public. Viewing other people's family trees can provide you with valuable information for building yours. As with the hints system though, you have to be careful with the information you find on other people's trees as not everyone is meticulous in building their trees.
Review of Taking a Findmypast Genetics Test
Although you can upload the results of a DNA test to the website if you have taken a genetic test somewhere else, Findmypast offers DNA tests for those without previous test results. The test kit costs $89. Once you order the test, you will activate it by entering the unique code sent to you. Next, you take a cheek-swab sample and return the test kit. The company makes the results of your DNA test available in 6 to 8 weeks.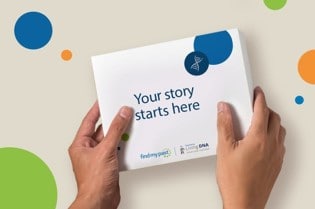 Review of Findmypast Cost
To access the genealogy tracing features, you will need to purchase a subscription plan. There are two tiers of subscription: Essential and Ultimate. Essential is recommended for family historians who are just starting and it gives you access to all the records available in the Findmypast database.
The Ultimate tier is for those who want to dig deeper into their ancestry and includes educational materials and additional content. Essential costs $15 per month or $129 yearly in the United States while Ultimate costs $20 monthly or $179 yearly. There is also a pay as you go payment option for those who are uncomfortable with paying for a subscription for a service they only use occasionally. To access records using the pay as you go option, you purchase credits and then expend a fixed number of credits for different records. You can cancel your subscription at any time.
If you're unsure about the subscription plans, you can always get free access with the 14-day free trial.
The DNA test kit costs $89.
Review of Findmypast Privacy
The company claims that protecting your personal information is a top priority. The service partners with Living DNA to provide DNA tests and makes a promise of keeping your data private. You have control over how your data is used or shared and your information is stored on secure, encrypted servers. The company uses the results of your DNA test only to find out your ancestry and you must authorize any additional use of your information. You can also request that your data and genetic sample be destroyed.
Other Findmypast Reviews
The company has a 3.1 out of 5 stars with over 1,000 reviews on Trustpilot. Many customers who gave the service low reviews cited that even though they pay a subscription, the new 1921 census records can only be accessed with additional fees. Reviewers particularly disliked having to pay per document.
Facebook reviewers similarly give the company 3.3 out of 5 stars with almost 300 reviews. The customers who gave high reviews note that the genealogist they worked with was extremely knowledgeable and helpful. Like the reviewers on Trustpilot, many people noted that the model was better before the 1921 census data, which charges a lot of extra fees.
Additional reviews are available, such as this one on toptenreviews. The author notes that it is a great site for people with known British and Irish ancestry but no support for other heritages.
Pros and Cons
Pros
Largest collection of English, Scottish, Welsh, and Irish records
Records such as the 1939 registry which cannot be found anywhere else
A large collection of newspapers and periodicals
Helpful expert genealogist available
Allows you to upload your previous family tree from other services
Cons
You don't get as much US coverage as other genealogy websites.
The hints system does not work on uploaded family trees unless you begin to add to them
Hints can be misleading if they are not carefully examined
Nebula Genomics
Nebula Genomics is one of the most comprehensive DNA tests available for health and ancestry information. Using 30x whole genome sequencing, it is able to decode 100% of your genetic data with a high degree of accuracy. Nebula Genomics whole genome sequencing is not only extremely accurate but also affordable at $299 or less.
By sequencing your DNA, you have all of your raw data at your fingertips. Reports are updated regularly based on the latest scientific discovery, meaning that you have lifetime access to new information about your genome.
| | | |
| --- | --- | --- |
| | Findmypast | Nebula Genomics |
| DNA testing method | Living DNA test | Whole Genome Sequencing (30x coverage) |
| Ancestry testing | Genealogy research and record tracing | Deep ancestry reporting with full Y chromosome and mtDNA sequencing |
| Free DNA upload | Yes | Yes |
| Reports | Family tree builder and access to historical records | Regular genetic reports based on the latest research and data |
| Cost | $89 for DNA test; Essential plan: $15/month or $129/year; Ultimate plan: $20/month or $170/year | $0, $99, $299 |
Findmypast vs Nebula Genomics
Did you like our Findmypast review? You can read more reviews on our blog and check out our complete guide to the best DNA test kit and other home tests. Don't forget to check out TheGenealogist, another UK based genealogy site!
Other companies
You may also be interested in these other review of genetic genealogy and ancestry companies:
If you want to focus on your maternal and/or paternal lineages, you can look at Genovate, YFull or YSeq, services which analyze mtDNA or the Y chromosome to determine specific lineage haplotypes. Full Genomes also offers Y chromosome sequencing and analysis.