7 Facts from our CRI Genetics Review
Location: Santa Monica, CA, USA
Products: DNA testing with health and ancestry reports
Result delivery: Results delivered through its website, typically within 6-8 weeks. Customers will receive an email when they are ready.
Data access: No option to download raw DNA
Privacy: Users must email customer service to have their data deleted
Cost: $79-$99 (with a credit card or PayPal)
Alternatives: Nebula Genomics (Whole Genome Sequencing with regularly updated reports and advanced ancestry analysis)
This review is written with the intent to be as unbiased as possible. However, it represents the opinion of an individual reviewer and is therefore subjective. Furthermore, at Nebula Genomics we seek to educate the public about the benefits of Whole Genome Sequencing. Information about our Whole Genome Sequencing DNA test is therefore incorporated into the review.
June 13, 2022
Edited by Christina Swords, Ph.D.
CRI Genetics Introduction
The Cellular Research Institute (CRI) Genetics is an Ancestry DNA Company. It was founded in 2016 by University of Toledo professors Larissa and Alexei Fedorov.
Alexei received his post-doctoral training under Walter Gilbert, a Harvard professor and Nobel Laureate working on DNA sequencing. The company claims to employ an advanced team of geneticists, anthropologists, and social scientists who have been studying DNA for over 35 years. Alexei and Larissa Fedorov both have a PhD in Molecular Genetics.
This company seeks to enlighten users with easy-to-understand DNA ancestry analysis.
Read more in our CRI Genetics review!
Pros and Cons
Pros
Detailed ancestry report
8-week-or-your-money-back-guarantee
Cons
Multiple reviews questioning the accuracy of CRI ancestry reports
Not enough transparency about analysis and research evidence behind conclusions
Some reviews indicate back-order issues
Review of CRI Genetics Tests
Much like companies such as Nebula Genomics and 23andMe, CRI Genetics offers ancestry testing and reporting through genetics science. To this end, it uses swab kits to collect DNA samples. Then, using its founders' patented DNA analysis algorithm, it provides a variety of different reports.
Ancestry + Traits ($79)
The primary offering is an Ancestry + Traits Report. This bundle has two main features:
Recent Ancestry Analysis – Users get details on their last five generations.
Advanced Ancestry Analysis – This one claims to take users back 50 generations. The information includes where their ancestors used to live and during what period.
Advanced Ancestry Timeline – A more visual detail of the time in which every ancestor entered the family line.
Basic Trait Reports – A long list of physical traits, such as red hair, predispositions, and ways to enhance how your body operates.
Ancestry + Health ($99)
The company also offers a larger bundle. This expanded bundle includes every ancestral and several health reports. The DNA health reporting consists of the following reports:
Full Trait – This one includes all the traits from the Basic Traits Report and 21 more. These extra ones include back pain, blood type, and empathy
Health and Wellness – Details on how your body reacts to substances, how to improve your senses, information on how well you respond to some medical conditions, and more
Nutrition – Information on how well your body absorbs nutrients
Allergy – Includes analyses such as "Egg, Dog, Peanut, and Grass Allergies"
Metabolism – Recommendations on diet and fitness based on your body's genetic profile on BMI and fat retention
Weight Loss – A weight loss report based on your genetic composition
All products come with an "8-week efficiency" money-back guarantee. The eight weeks begin the day the lab receives the sample.
How to Get Started
To get started, customers order a testing kit from the company's website. Unlike other services such as 23andMe, CRI Genetics DNA does not sell its test kits on Amazon.com.
Users should expect to receive their DNA collection kits within five days of purchase.
After receiving and registering the CRI kit, the user collects their sample using a cheek swab. The registering process is necessary before users mail back the sample collection kit and wait for their results (6 to 8 weeks once received).
The lab receives your DNA sample where it undergoes a quality analysis. If there is not enough DNA sample and its quality is not sufficient for analysis, CRI Genetics will ship a new kit for free. CRI Genetics Ancestry and Health reports are sent to users via email and accessed through the website's login.
Note that the company offers an option to upgrade to Ancestry + Health after receiving the CRI Genetics results of the Ancestry + Trait report. This is possible because like many genetic testing companies, it keeps your genome information file, making it easy to upgrade to its more advanced option later on.
CRI Genetics Reports in Detail
Review of CRI Genetics Ancestry Report
The company boasts a patented algorithm for its "Advanced Ancestry Analysis." Details of the algorithm are cryptic, but CRI says that the 624,000+ genetic markers are "handpicked" by the founder.
This report shows users their ancient family history that goes up to 50 generations into the past. These "oldest" ancestries are shown on a map. It also shows users the contemporary countries where their ancestors used to live.

In an example report on the CRI Genetics website, the user's oldest ancestors lived in South Asia and Europe. The report also gives a more detailed geographical breakdown by percentage. This breakdown comes with a brief description of each area.
For example, Northern Europe "was permanently settled by modern humans for the first time roughly 10,000 years ago." Users can also learn about Native American ancestry.
CRI Genetics also provides a haplogroup report in this analysis to paint a clearer picture of users' male or female lineages. It includes a different map showing ancestral migrations.
CRI Genetics also analyzes paternal lineage and maternal lineage family lines through mitochondrial DNA and Y-DNA. All users are assigned a maternal haplo analysis based on mitochondrial DNA analysis. Male users are additionally provided a Y-DNA haplogroup, which is based on markers of the Y chromosome. CRI reports the migration and lineage for this haplogroup as well. The haplogroups come with explanations. For example, the E1b1a Y-DNA haplogroup "represents the last major direct migration from Africa into Europe." The reports also tell the users whether they share their haplogroups with any famous person.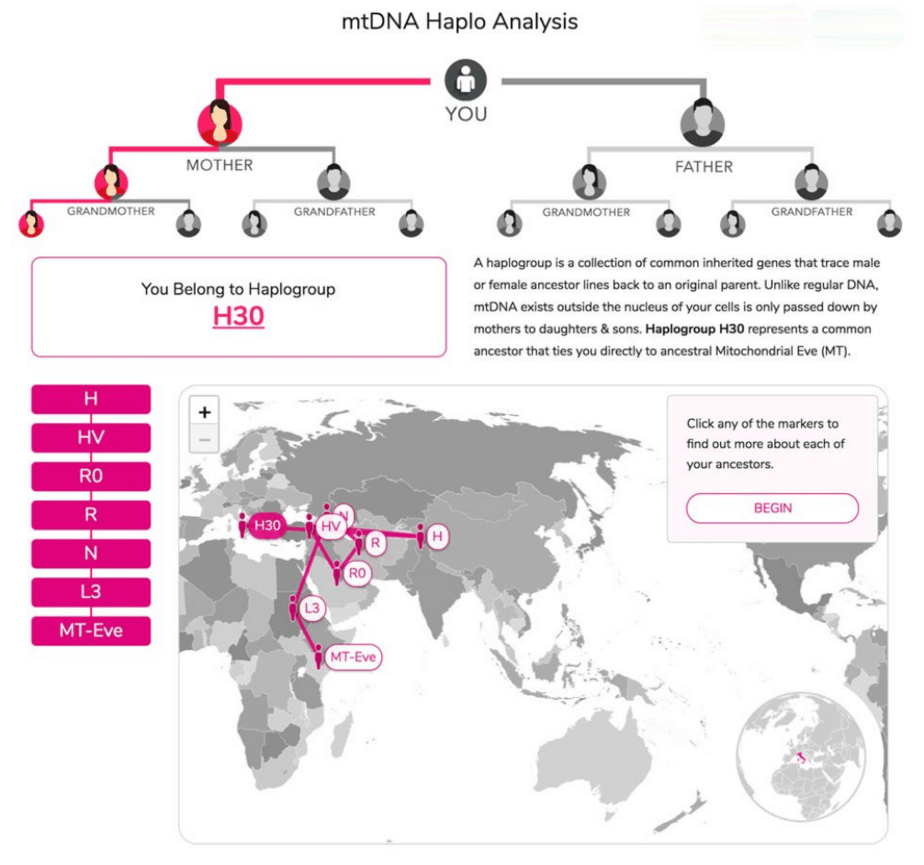 Review of CRI Genetics Health Reports
CRI Genetics also offers genome health tests for an extra $100. The site provides several example reports for users to review before purchasing the package.
In a "Bitter Taste Report," users can find out whether they are genetically predisposed to being sensitive to bitter foods. The company claims that this information is useful for dietary reasons because people who are insensitive to bitterness are more likely to eat fatty foods.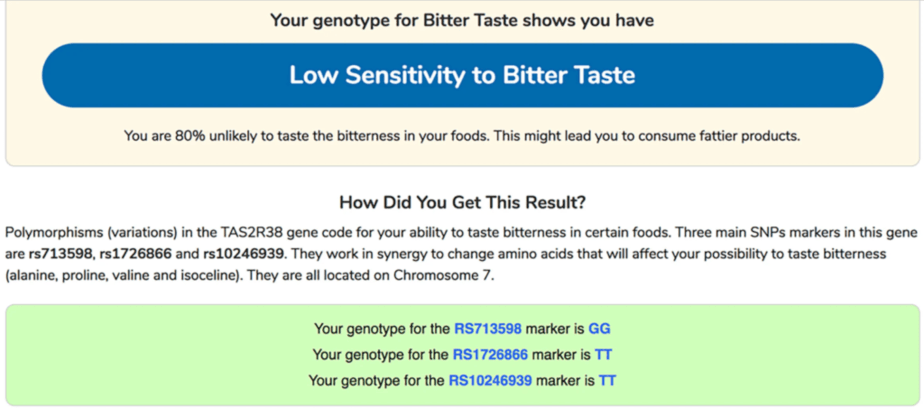 Another example of a CRI Genetics report is "Drowsiness After Eating." Several other examples are provided on the website. Users can see example reports for the following:
Food cravings – based on a genetic variant in a gene that plays a role in fat metabolism
Insulin resistance – based on a genetic variant in one gene
Lactose intolerance – based on a genetic variant in one gene
Long-term weight loss – based on genetic variants in three genes; one of these genes plays a role in insulin resistance
Triglyceride level – based on polymorphisms in two genes; not a measure of actual triglycerides, but a prediction based on genetic information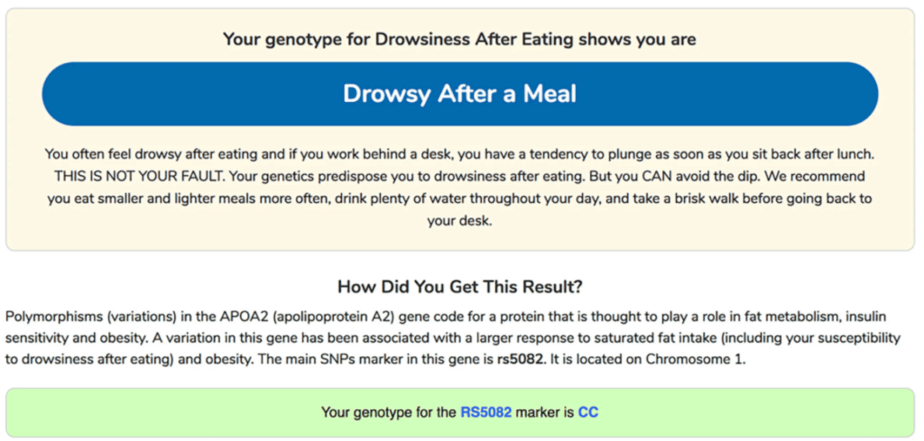 Although the company provides genotype information for the relevant SNPs, it does not cite references or research links to support their conclusions.
Review of CRI Genetics Privacy
Is CRI Genetics safe? The privacy policy indicates that users must request that CRI delete and destroy personal information. It uses secure server software to encrypt information and third parties should meet these standards.
Will CRI Genetics disclose your data to third parties? Yes, so long as the third party meets its security requirements. However, the company claims not to share any identifying information without explicit consent. For the sake of transparency, it also provides a list and description of the main third-party tracking services it uses (FB, Google, etc.).
CRI Genetics in the News
In 2019, BioNews published a news report when the CRI institute traced a Native American's DNA back 17,000 years. Specifically, it had traced the mitochondrial DNA of Darrell 'Dusty' Crawford, a member of the Blackfeet tribe, back 55 generations, with an unusually high 99 percent accuracy rate. His haplotype was traced to one of the major known Native American haplotypes in North America with little influence from other ethnicities, which is unusual.
In 2020, Health.com listed CRI Genetics as the DNA test with the best guarantee.
In 2021, CRI Genetics CEO Alex Muylar talks about the future of DNA testing and how it can be tied to heart health. He uses the example of high cholesterol. Many people are unaware of high cholesterol until they have a heart attack. Alex believes genetic testing can prevent this by detecting genetic variants that put people at risk, allowing them to take proactive steps before a potential problem becomes serious.
CRI Genetics Reviews
This company ranks 4.3 out of 5 stars on TrustPilot with over 900 reviews.
Plus, you can find more CRI Genetics reviews on:
Nebula Genomics
Unlike other services, we offer whole genome sequencing (WGS) to provide the most advanced genetic test. WGS lets us provide the most comprehensive reporting, which we update regularly based on the latest research.
Nebula Genomics offers deep ancestry reporting – we analyze every nucleotide in your DNA to provide the most complete picture of your ancestry. We also give our users access to the largest Y-DNA and mtDNA databases.
Do you have DNA test results from other testing sites like Ancestry or 23andMe results? Nebula Genomics lets you upload that data to access our expanded, detailed report based on the latest, curated research in the Nebula Library. And the best part — it is free!
But how can we do this with DNA data from other providers? We use complex statistical models to fill in the blanks left behind by typical DNA genotyping tests. This means that our expanded reports can analyze almost every genetic variant.
For users who want to go beyond typical DNA tests, Nebula Genomics offers 30x Whole Genome Sequencing (WGS). This genetic test analyzes 100% of your DNA. That means you can see 10,000 times more data than with other services that decode less than one percent of your genome!
Nebula Genomics vs other testing companies
| | | | | |
| --- | --- | --- | --- | --- |
| | 23andMe | Ancestry | CRI Genetics | Nebula Genomics |
| Type of Genome Reporting Service | Microarray-based genotyping | Microarray-based genotyping | Microarray-based genotyping | Whole Genome Sequencing (30x coverage) |
| Produced data | ~ 600,000 positions in the genome | ~ 700,000 positions in the genome | ~ 600,000 positions in the genome | ~ 3,000,000,000 positions in the genome |
| DNA data download | Can export data and use it elsewhere. | Can export data and use it elsewhere. | No access to raw DNA data | Can export data and use it elsewhere |
| Privacy-focus | No | No | No | Yes (learn more) |
| Regularly updated reports | No | No | No | Yes. Reports are updated every week |
| Ancestry Reporting | Yes | Yes | Yes | Deep ancestry reporting with full Y chromosome and mtDNA sequencing |
| Cost | $99 – $199 | $99 – $119 | $99 -$199 | $0, $99, $299 |
Other DNA testing companies
If you're interested in ancestry and genealogy services, you may also want to look at:
If you want to focus on your maternal and/or paternal lineages, you can look at YFull or YSeq, services which analyze mtDNA or the Y chromosome to determine specific lineage haplotypes. Full Genomes also offers Y chromosome sequencing and analysis.
Interested in learning about your pet's ancestry? Embark, Wisdom Panel, DNA My Dog, and Paw Print Genetics are DNA tests for dogs while Basepaws is genetic testing for your cat.
Did you like our CRI Genetics review? You can read more reviews on our blog and check out our complete guide to the best DNA test kit and other home tests.