This review is written with the intent to be as unbiased as possible. However, it represents the opinion of an individual reviewer and is therefore subjective. Furthermore, at Nebula Genomics we seek to educate the public about the benefits of Whole Genome Sequencing. Information about our Whole Genome Sequencing DNA test is therefore incorporated into the review.
March 9, 2022
7 Facts from our TheGenealogist Review
Location: Jersey, Channel Islands
Products: Subscription-based family history and genealogy search
Cost: Pricing for DNA tests range from £74.95 ($99) to £384.95 ($510). Subscriptions range from £14.95 ($20) for three months of BMD Index to £139.45 ($185) per year for the Diamond plan
Reports: Search results on your ancestry are displayed based on the information you input
How it works: Order a DNA test kit and then send your sample via mail. To make use of the ancestry search feature, you put your details into the search fields and after paying a subscription, access the records
Raw Data Access: Yes
Alternative Products: Nebula 30X Whole Genome Sequencing decodes all the information on your genome. Nebula reads over six million positions on your genome to provide you with reliable results that can be used in consultation with a medical professional.
TheGenealogist Introduction
TheGenealogist is a UK specific genealogy site that provides data for family historians trying to trace their roots. It operates on a subscription-based model and allows subscribers to search the names of their ancestors and access UK records such as census information, birth, marriage, and death indexes among others. Susan and Nigel Bayley established TheGenealogist in 2006, born of a volunteer project in 2002 that started to index the 1891 census. The company also offers DNA testing through a partner company, FamilyTree DNA and interprets the results of the test to help trace your ancestry.
TheGenealogist Review
DNA Tests
The genealogist offers a range of DNA tests that can help you trace your ancestry.
Autosomal DNA (Family Finder)
The autosomal DNA test makes use of data found within your DNA to identify where your ancestors are most likely to have come from. Both men and women can take this test and generate matches within the last five generations. This test gives you an idea of the location of your ancestors, with the results displayed in percentages.
Mitochondrial DNA
This is another DNA test that both men and women can take. The mitochondrial test helps you trace your maternal line as the mitochondrial DNA remains majorly unchanged from mother to child. The company compares the results of the test with the genealogist database and a match helps you trace your maternal ancestry. If there is however no match of your mitochondrial DNA in the database, your results are kept and the likelihood of getting a match increases as the database grows. If you eventually get a match, the company alerts you via email.
Y-chromosome DNAThe Y chromosome test can only be taken by males. Females who would like to trace their paternal line will have to ask a brother, father, or paternal uncle to take the test on their behalf. Just as with the mitochondrial DNA test, the company compares the results of the Y chromosome test with results in the continuously growing database. The Genealogist offers 3 different Y chromosome DNA tests depending on the number of markers they will match.
Review of TheGenealogist Family Search
The homepage of the genealogist website is home to a search interface where you can search for an ancestor, a family member, or an address. You are also able to select what records you would like your search to be from. Once you fill in the blank fields, you press search and then get a list of results in a fixed order. Users can filter these results by category or by specific keywords.

Review of TheGenealogist Smart Search
Smart search tools allow you to search for more information from a specific historical record. They include both basic and advanced search facilities. The kind of search you can perform depends on the type of record you are searching from. Searching from a marriage record for example allows you to find out a list of children born from the union. A birth record on the other hand can link you to either a list of siblings or a list of potential parent's marriages.
Review of TheGenealogist Save Record Options
TheGenealogist website has various handy save features that make working on the site easier. One of these is the save and print feature. This option pops up on nearly every page you are on. It allows you to either download the entire image or a crop of it. The save to research log feature is another handy feature that makes your family history research easier. The third save feature is the save to treeview feature which allows you to save a record directly to your family tree.
Review of TheGenealogist Building Your Family Tree
Like other genealogy websites, the genealogist allows you to build a family tree. This can be done on the website or through the proprietary TreeView app. Building your family tree starts from yourself, then to your parents, grandparents and so on. If you've worked on a family tree previously, The Genealogist allows you to import your family tree into the website.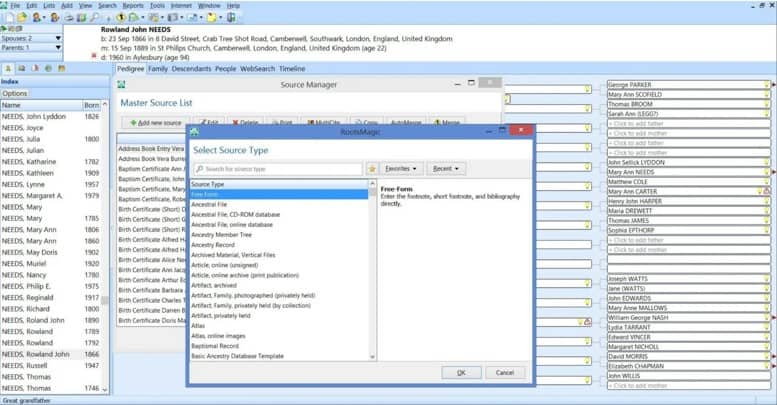 Review of TheGenealogist Records
The genealogist has a variety of records that can be explored. Some of them are discussed below.
Census Data
You can conduct a census search for information in the genealogist database. When you make a search, indexes and transcripts of census data are made available which can then be clicked to view the original document.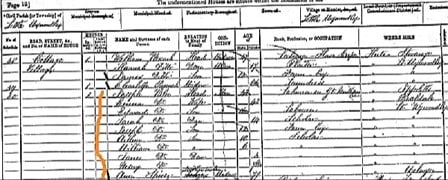 Parish records and directories
Parish records are made available and are grouped according to the county. While there are still not a large number of these records, more are being added regularly.
Specialist records
These include Navy and Army records as well as land ownership certificates and wills.
Taking a TheGenealogist Genetics Test
TheGenealogist DNA testing is handled by Family Tree DNA. After ordering the DNA test kit, it will cost you an extra £3 to ship the test kit back to the company. The results of your test arrive after about 7 weeks.
Review of TheGenealogist Cost
TheGenealogist offers 4 different subscription packages to choose from as well as a credits system for those who do not want to subscribe. The four subscription tiers are BMD index, Starter, Gold, and Diamond. The cheapest is the BMD index tier while Diamond costs the most. The more you pay for your subscription, the more features you unlock.
The BMD index is not exactly a subscription, but rather a purchase of credits. You can buy 50 credits, valid for 90 days, for £5 ($7). You should however note that buying credits only gives you access to BMD transcripts and indexes for England and Wales from 1837 to 2005.
The starter subscription tier is however available for £14.95 ($20) for three months, £28.95 ($39) for 6 months or £54.95 ($73) for 12 months. The starter subscription tier gives you access to BMD transcripts and indexes, census records, reference books, image archives, landowner records, roll of honor records, and TreeView premium features.

The Gold tier costs £38.95 ($52) for 3 months, £58.95 ($78) for 6 months and £98.95 ($131) for 12 months and includes all you get in the starter tier along with other specialist records.
The Diamond subscription is available only yearly and will set you back £139.45 ($185). It gives you access to a whole lot of other records as well as exclusive content.
If you need to purchase a DNA test, prices range from £74.95 ($99) to £384.95 ($510).
Autosomal DNA (Family Finder): £74.95 ($99)
Mitochondrial DNA: £149.95 ($199)
Y chromosome (Y-DNA37 – 37 markers): £99.95 ($133)
Y chromosome (Y-DNA67 – 67 markers): £184.95 ($245)
Y chromosome (Y-DNA111 – 111 markers): £279.95 ($372)
There are also combination packages available for a higher price. Potential customers can take advantage of the 14-day free trial.
Review of TheGenealogist Report
Results using a purchased genetic test arrive after about 7 weeks. Depending on the test taken, they will list your paternal or maternal haplogroup as well as a migratory path of where your ancestors lived. You also get a list of your living relatives as well as their contact information in case you would like to reach out to them. Additionally, you get to view your ancestral origins displayed in percentages.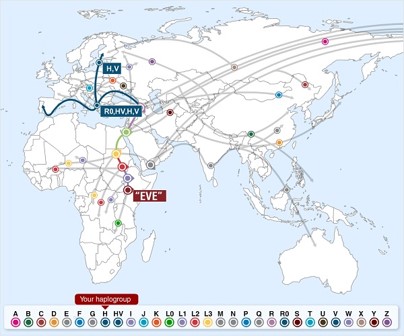 Review of TheGenealogist Privacy
The Genealogist collects your personal information and claims to store all of it on secure servers to guide against mismanagement and loss of your data. However, it doesn't guarantee that any of this will not happen to your data. The company claims that it only shares necessary data for necessary services with its sister company, S&N British Data Archive Ltd. You are able to request that any personal details be removed and deleted at any time.
Pros and Cons
Pros
Millions of records available to help you trace your ancestry
A lot of records that cannot be found elsewhere
The TreeView family tree building tool is highly convenient
You can take a DNA test to learn more about your ancestry
Cons
The service is really only useful for people with UK ancestry
Can be expensive
Nebula Genomics
TheGenealogist is a genealogy research site for customers with ancestors in the UK. Learning about your ancestry and genetic makeup can be an exciting venture. But did you know that ancestry is just one part of your genetic story?
Nebula Genomics provides extremely accurate DNA tests at affordable rates. These tests reveal genetic predispositions to things like traits and health conditions. Making use of 30x whole genome sequencing, which decodes 100% of the DNA, Nebula Genomics is able to turn out test reports on ancestry, health, diet, and exercise that are extremely accurate and detailed. It provides the most accurate test results on the market while giving you full access to how your test results are processed and used.
By sequencing your genome, you can get exclusive access to genetic information to supplement your genealogy research. Nebula Genomics also keeps you up to date with the latest innovations in genetic research with regular updates and reports.
| | | |
| --- | --- | --- |
| | TheGenealogist | Nebula Genomics |
| DNA testing method | Autosomal, mtDNA, and Y chromosome testing | Whole Genome Sequencing (30x coverage) |
| Ancestry testing | Yes | Deep ancestry reporting with full Y chromosome and mtDNA sequencing |
| Raw DNA download | Yes | Yes (FASTQ, BAM, and VCF files) |
| Compatible with other services | Yes | Yes |
| Report | Genealogy research and family tree builder | Weekly genetic reports based on the latest research and data (learn more) |
| Cost | Pricing for DNA tests range from $99-$510. Subscriptions range from $20/3 months to $185/year | $0, $99, $299 |
TheGenealogist vs Nebula Genomics
Did you like our TheGenealogist review? You can read more reviews on our blog and check out our complete guide to the best DNA test kit and other home tests.
Other companies
If you're interested in other ancestry and genealogy services, you may want to check out:
If you want to focus on your maternal and/or paternal lineages, you can look at Genovate, YFull or YSeq, services which analyze mtDNA or the Y chromosome to determine specific lineage haplotypes. Full Genomes also offers Y chromosome sequencing and analysis.