This review is written with the intent to be as unbiased as possible. However, it represents the opinion of an individual reviewer and is therefore subjective. Furthermore, at Nebula Genomics we seek to educate the public about the benefits of Whole Genome Sequencing. Information about our Whole Genome Sequencing DNA test is therefore incorporated into the review.
January 4, 2022
7 Facts from our DNA Consultants Review
Location: Longmont, Colorado, United States
Products: Up to 39 DNA ethnicity tests that include Native American DNA Fingerprint plus, Basic American Indian DNA test, DNA Fingerprint plus 18 markers ethnic panel, Cherokee DNA test, and Basic World DNA Fingerprint Tests
Ordering: Customers can order a DNA test kit directly from DNA Consultants after taking the questionnaire that helps determine the suitable ethnicity test
Reports: 16 unique reports based on different ethnicities, 8 upgrade options, 4 unique reports, and 3 special services
Data availability: No
Costs: $99-$279
DNA Consultants Introduction
DNA Consultants is a family-owned DNA testing company founded in 2003 by Donald and Teresa Yates. Mr. Yates also serves as the principal investigator of the company. A company dedicated to Native American ancestry, Mr. Yates is himself one-fourth Choctaw-Cherokee, tracing a line of his ancestry to Chief Back Fox.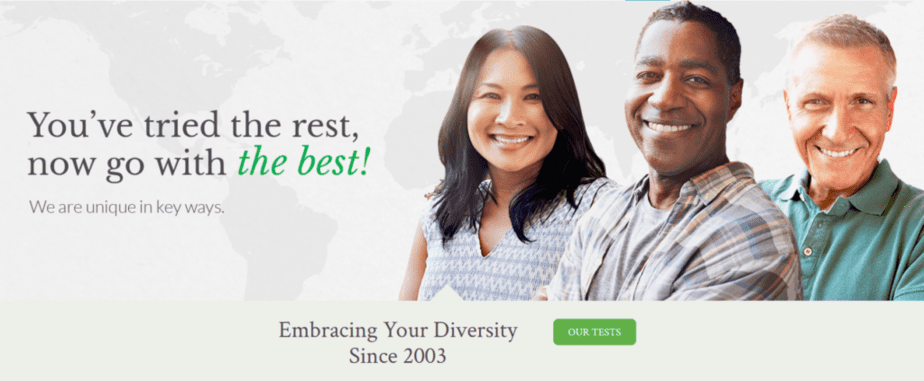 The company is currently based in Longmont, Colorado, and serves the public from anywhere in the United States. It is smaller than other commercial DNA testing companies and is the only one to offer Cherokee, Jewish and Ancient DNA tests.
Review of DNA Consultants Science
DNA Consultants has stated that its focus is to be a customer-driven ethnicity company. The company uses the best and most innovative technology to improve its test and drive reliability and accuracy. Driven through genetic genealogy, the company sequences a customer's DNA and compares their genes to millions of others in their database.
The company has some of the best-trained staff and customer service professionals with degrees in history, philology and the social sciences. These backgrounds allow them to translate DNA results into a meaningful historical story. They continuously seek to improve the test panels through improved technology and personal questionnaires that customers answer before a test is approved. The aim of the questionnaire is to ensure that customers get the best-suited test to give them an improved knowledge of their ethnicity and for personal research.

Because of their dedication to family history and sociology, this company promotes deep historical investigation through recommending books and other resources for those interested in their historical culture.
Taking a DNA Consultants Test
To get a DNA Consultants Test Kit, customers will sign up and visit the DNA Wizard to take the quiz that helps determine the most appropriate test. Next, they will go to the Test Kit section of the website and purchase the correct kit.
The kit is sent to customers the next day. They will collect a saliva sample via a cotton swab and mail it back to the company using the prepaid envelope provided. The results will be available 2-3 weeks after the sample is received at the lab.
Review of DNA Consultants Products
DNA Consultants offer 16 different ethnicity and ancestry tests that help individuals trace their roots back to various ethnicities. There are also upgrades and services available for an additional cost.
Review of DNA Consultants Basic American Indian DNA Test
This is a value-priced basic DNA test. It is used to determine if there is a notable American Indian ancestry in your DNA. DNA Consultants use a unique method of testing that is not available anywhere else as they have ATR data for more than 60 American Indian populations, including South American Indians, Cherokee, Mexicans, Apache, Lumbee, and Chippewa. Other companies only have 20 ATR data or less than, which stands DNA consultants out in the market.
This is a forensic DNA test based in part on publicly available tribal American Indian data published in J. Ng et al, "Native American Population Data Based on the Globalfiler® Autosomal STR loci," Forensic Science International: Genetics 24:e12-e13. It's important to remember that no DNA results are accepted by the Bureau of Indian Affairs to claim membership. Alone, it may be used to prove identity, biological relationships, nationality, citizenship, immigration or tribal enrollment.

The basic test is a stand alone product that sequences your DNA and reports American Indian matches, not full ancestry or family tree building. Customers who purchase this product and receive their results can upgrade to a more comprehensive product to learn more with their full results. Within two weeks of purchasing the upgrade, you will receive a complete DNA Fingerprint Plus 18 Marker Ethnic Panel uploaded to your online account.
Alternatively, customers can start with the Native American DNA Fingerprint Plus kit which examines all your ancestral lines at once, Native and non-Native, including European, to tell you which countries and ethnic groups your ancestors came from.
Review of DNA Consultants Cherokee DNA Test
With their newly released database, atDNA 10.4, DNA Consultants have access to Cherokee reference populations that can help customers determine their match extent to either admixed or official enrolled Cherokees. Using this test, customer DNA will be compared to that in the company's database containing over 50 American Indian populations from several Southern, Central, and North American countries. Your DNA is also compared with data from Navajo, Apache, Inuit, Maya, Canadian aboriginal tribes, Salishan and Lumbee.
Once you receive your test results you may upgrade to the full product with the Premium Upgrade.
Review of DNA Consultants Basic Jewish DNA Fingerprint Test
The basic Jewish DNA fingerprint is a valued-price version of the Jewish DNA Fingerprint Plus test that determines the strength of a person's matches to all the available samples of the Jewish population. It works by first checking out the chromosomes' standard location and stopping by spotlighting Jewish ancestry with 15 standard STR scores, also called CODIS markers, or your individual DNA profile. It also uses data from four Jewish markers associated with Sephardim, Khazar, Jews, and Ashkenazi.
The Jewish DNA Fingerprint Plus product, at an additional cost, will include all your ancestral lines at once, Jewish and non-Jewish, to tell you which countries and ethnic groups your ancestors came from.

Review of DNA Consultants Basic World DNA Fingerprint Test
This is the value-priced version of our flagship product DNA Fingerprint Plus. The Basic World DNA Fingerprint test looked into the standard location of a person's whole genome to comprehensively help determine your ancestry with the help of your ancestral lines. The report first summarizes the principal ancestral lines before listing the top 50 world populations from which your ancestors originate. This includes your potential 16 North American Indian tribe matches like Sephardic, Ashkenazi, Cherokee, and any other Jewish tribe that you match.
This is an autosomal DNA test, meaning that it can be taken by both men and women. Unlike other popular DNA tests, DNA Consultants use a forensic-based autosomal test that includes data from individual countries of Europe, Native American populations or such specific populations as Romani/Gypsies, Cherokee Indians, Melungeons, Israeli Jews, Sephardic Jews, Ukrainian Jews, Majorcan Jews and others. Instead of SNPs, the company relies on the STR DNA profile (alleles), which uses different sequencing techniques than most other DNA companies.
Review of DNA Consultants DNA Fingerprint Plus 18 Marker Ethnic Panel
The DNA Fingerprint Plus is the DNA Consultants' best-selling DNA test that accesses all your ancestral lines to determine the ethnic group or country that your ancestors originate from. The DNA fingerprint plus also helps to examine your profile to know if it carries 18 ethnic groups. If you are European, you will also receive your top matches together with your Megapopulations.
Megapopulations are your Top Ten broadest possible categories for your relative mix of ethnicities. The lower the number the greater the match and more likely it is you have ancestry in that population.
Review of DNA Consultants Rare Genes from History Test
This DNA test looks into your DNA for any rare genetic markers that originate from ancient civilization or world history. This DNA test explores your genetic roots by examining 33 types of rare genes to determine where your ancestors originate from. Whether your ancestor originates from Indian, Africa, the Americas, or Asia, this DNA test will help bring it to light. The test is an autosomal DNA test that allows males or females to undergo the testing.

Review of DNA Consultants Euro DNA Fingerprint Test
This DNA test helps examine a person's DNA to determine their European country of origin. Most people in America today have European origin as many ancestors immigrated from Europe, and many of them do not know the exact country of their ancestor's origin. Europe has a diverse national heritage that makes it quite diverse. This DNA test uses all the Euro data available in forensic science to determine your top European match.
Other DNA Tests and Services
There are several other products available for those searching for specific lineages. Native American DNA Ancestry Test for mitochondrial DNA (mtDNA) and Y chromosome will focus on the female and male lineages, respectively.
Specific tests for Melungeon and Irish ancestry, similar to the Native American and Jewish ancestry options, along with updates, are also available.
The company will include unlimited follow up questions with all tests but it also offers multiple tiered services for those seeking personal consultations after they receive their results. The DNA silver service is equivalent to three hours professional research time, the DNA gold service is six hours, and the DNA platinum service is 2 days. These services range in price from $295-$995.
Review of DNA Consultants Cost
The price range for a DNA Consultants ethnicity test is between $99 – $279. Legal reports which can be used for legal or administration purposes can be ordered for most tests at a higher cost.
Native American: $159-$489
Basic: $159
Basic legal: $349
Report only: $99
Fingerprint Plus: $254
Fingerprint Plus legal: $489
Upgrade: $199
mtDNA (test+report): $299
mtDNA (report only): $135
Cherokee: $139-$329
Jewish: $99-$199
Marker: $99
Basic: $159
Upgrade: $199
Rare Genes from History: $139
Euro DNA Fingerprint: $99
DNA Fingerprint Plus 18 Marker Ethnic Panel: $279
Mid upgrade (for basic tests): $149
Premium upgrade: $199
Y-DNA (test+report): $249
Y-DNA (report only): $135
mtDNA (test+report): $299
mtDNA (report only): $135
Melungeon: $99-$199
Basic: $99
Fingerprint Plus: $300
Upgrade: $199
Irish: $99
Review of DNA Consultants Reports
Each ancestry report is different based on the type ordered and ethnicity targeted. Sample reports for each test are available on the company's website. Most basic reports are 7 pages while the most comprehensive DNA Fingerprint Plus test is 16 pages. Although the level of comprehensiveness varies depending on whether you are targeting a specific ethnicity or your whole ancestry, each report follows the same outline. Thus, a Basic Native American test report is shown as an example below.
The first page of the report is a letter from the company indicating what is contained in the report and complementary products you may want to order after reading your results.
Starting on the second page, the report will indicate whether it is likely that you have a significant amount of American Indian ancestry. It then presents the world matches. Since the tests use forensic DNA testing, they will not include the percentages of ethnicity.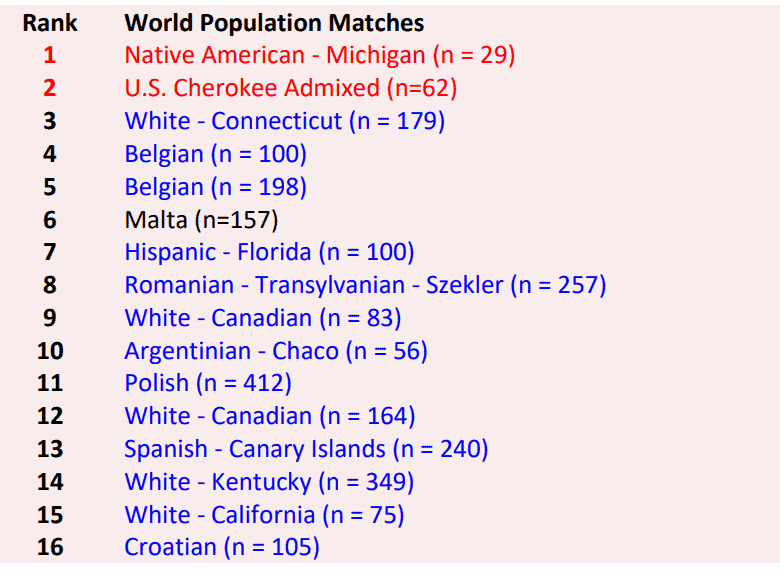 Megapopulations are also included. The DNA Consultants database contains 21 megapopulations. The lower the number the greater the match and more likely it is you have ancestry in that population. These are different groups from world population data. In this case for example, American Indian was ranked #8.
Next, the report indicates if you inherited any Native American markers identified through known migration patterns. Because of inheritance patterns it is possible that you inherited one or more markers and these might be different from what your siblings inherited.
The technical notes provide more information on which alleles were located in the sample.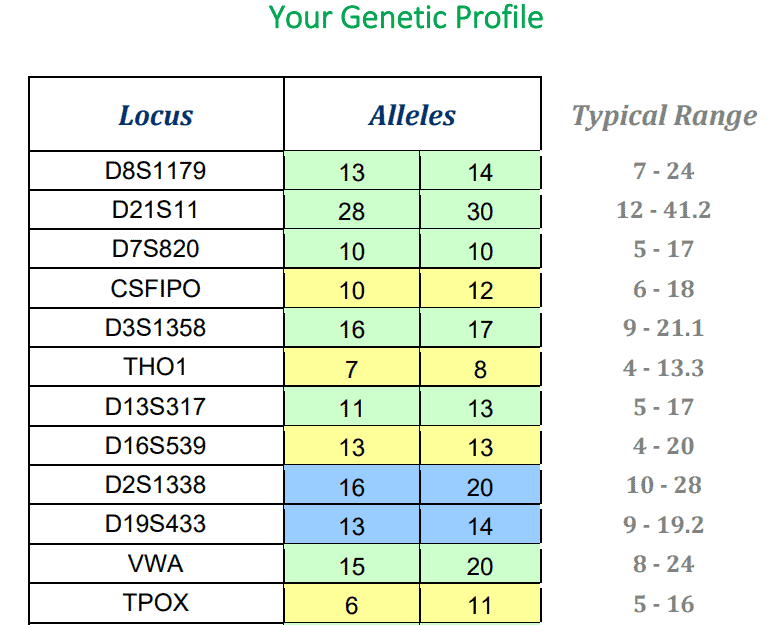 The remainder of the report includes notes, disclaimers, references, a glossary of terms, and a DNA certificate.
Review of DNA Consultants Privacy
DNA Consultants and its parent company, DNA Testing Systems, share a common privacy policy that protects customer privacy and ensures that no unauthorized party or staff access their personal information.
The company may use customer data to improve their ethnicity test panels and provide more accurate and reliable future tests. However, they do not sell the information or open customers to any risks.
Pros and Cons
Pros
Offers a wide range of specific ancestry tests
Tests are extremely easy to perform
Reports and data can be easily accessed
Cons
Does not include health tests
Customers may need to upgrade at an additional cost for full ethnic information
Nebula Genomics
While DNA Consultants offer a lot in terms of ethnicity tests, it does fall short of serving other areas of genetic testing. Users can, however, access much more comprehensive testing with Nebula Genomics.
Nebula Genomics is a genetic testing company that provides accurate, comprehensive DNA testing for users globally. The company offers 30x Whole-Genome Sequencing and sequence 100% of a patient's DNA.
The test results for Nebula Genomics are easy to analyze, and a user will not need a physician to help with reading results. They can, however, recommend the results to their doctor to help them prescribe the right treatment that they need in handling their condition.
With Nebula, customers get access to weekly updated reports based on the latest scientific discoveries so they can continue to explore their DNA as more information becomes available.
Nebula also gives users the most comprehensive view of their entire ancestry profile through deep ancestry analysis with Y chromosome and mtDNA sequencing.
| | | |
| --- | --- | --- |
| | DNA Consultants | Nebula Genomics |
| DNA testing method | STR DNA profile (alleles) | Sequences all 20,000 genes and regulatory regions |
| Ancestry reporting | Yes – comprehensive and specific ethnicity tests | Yes – deep ancestry reporting with the complete Y chromosome and mtDNA sequencing |
| Health reporting | No | Yes |
| Data access | No | Yes |
| Cost | $99-$279 | $0, $99, $299 |
DNA Consultants vs Nebula Genomics
Did you like our DNA Consultants review? You can read more reviews on our blog and check out our complete guide to the best DNA test kit and other home tests.
Other companies
You may also be interested in these other ancestry tests:
If you want to focus on your maternal and/or paternal lineages, you can look at Genovate, YFull or YSeq, services which analyze mtDNA or the Y chromosome to determine specific lineage haplotypes. Full Genomes also offers Y chromosome sequencing and analysis.