7 Facts from our Living DNA Review
Location: United Kingdom
DNA test: Ancestry and wellness reports
Data upload: Free with optional upgrades
Data access: Raw DNA data can be downloaded
Privacy: Family finding functionality exposes personal information
Pricing: Starting price is $79 in the U.S. Prices varies by country
This review is written with the intent to be as unbiased as possible. However, it represents the opinion of an individual reviewer and is therefore subjective. Furthermore, at Nebula Genomics we seek to educate the public about the benefits of Whole Genome Sequencing. Information about our Whole Genome Sequencing DNA test is therefore incorporated into the review.
July 18, 2022
Edited by Christina Swords, Ph.D.
November 4, 2021
Pros and Cons
Pros
Users can easily follow the guide instructions in the kits

Reports about the migration pattern of your ancestors with substantial amounts of historical information
Covers a higher number of subregions to show the deep ancestral lineage to the users
Cons
DNA data sharing policy is vague
There have been complaints about inaccurate results
Living DNA Introduction
Living DNA (LivingDNA) is a UK based company for genetic testing that provides health tests and fitness reports. These are tailor-made for each user based on their genetic information. The company also offers ancestry reporting across several regions worldwide.
The service was created by David Nicholson and Hannah Morden, under the parent company DNA Worldwide, and launched in 2004. In 2016, the company Living DNA was established as a separate entity. And in 2018, the company partnered with FindMyPast to incorporate British isles and Irish family history records.
The DNA testing company conducts research based on the genetic data collected from users. After registering for Living DNA, users sign-up for online surveys to contribute to this research.
How to use Living DNA
Living DNA ships its autosomal DNA testing kits all over the world. Customers order the kit online, use the cheek swabs, and ship them back to the company for testing. The swabs are then processed to generate a raw dataset and DNA test results.
The process generally takes 6-8 weeks but can sometimes take up to 12 weeks. Living DNA will send an email once the results are ready. In addition, customers can track their kit and view results online using their Living DNA login.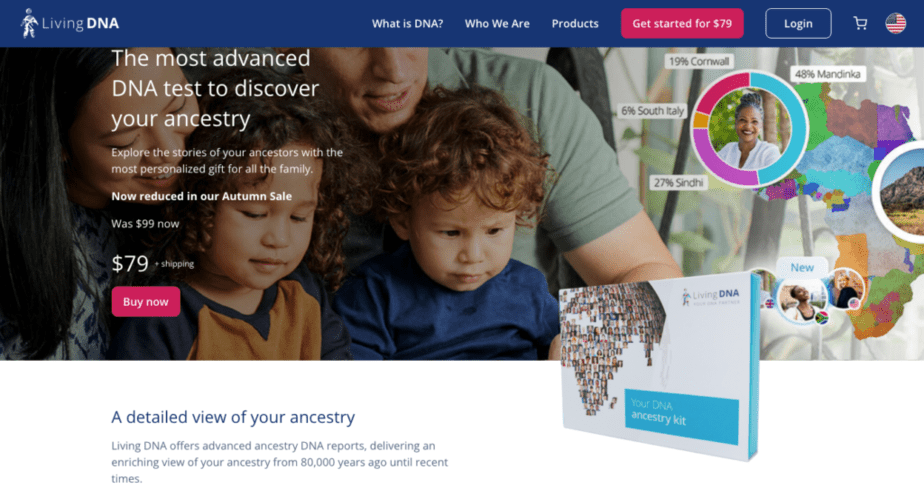 Review of Living DNA Products and Services
LivingDNA offers a product for users to explore their continental ethnic breakdown. These include 8 broader regions of Oceania, American continents, Africa, Europe, Near East, Central Asia, South Asia, and East Asia. The DNA results tell a user where their ancestors lived.
Compared to other ancestry analysis options, these basic results aren't very in-depth. However, the company does offer an Ancestry upgrade that will provide a deeper analysis comparable to other testing companies.
Living DNA offers the following products. Prices reflect shipping to the United States. International prices may vary depending on location.
Full ancestry kit ($69): This kit is reportedly the company's most advanced kit, as it reveals deeper ethnic ancestry. The user obtains access to ancestry reports across 150 regions & sub-regions. This includes a global family ancestry report tracing back 500 years.
Do you want to build your family tree? The report also features an in-depth prediction of the ancestor's migration routes from Africa tens of thousands of years ago. The test also includes ancestry results from autosomal DNA, mtDNA, and Y-DNA.
Well-being kit ($79): This kit explains how the body processes different nutrients. Users order a personalized diet and fitness suggestions depending on their genetic results.
Well-being and DNA ancestry kit ($99): A bundle including the Ancestry kit and Well-being kit.
Review of Living DNA Reports
Users get extensive reporting of their ancestors from all over the world.

Review of Living DNA ancestry reporting
LivingDNA's tools also allow you to trace back your ancestry up to 10 generations. Its DNA analysis compares your genetic signatures against a database of people from over 150 subregions in the world.
Based on their autosomal genetic information, the company reports your ethnic estimates from these subregions. Users also get access to historical and cultural information about the subregions.
You can explore your ancestry on an interactive map. Regional breakdown results based in African ancestry break down into 72 sub-regions. Conversely, a smaller region like British ancestry is broken down into only 21 sub-regions.
Maternal and paternal ancestors
The users can track down their maternal line and paternal ancestral lineage in different global regions. The company generally provides a percentage for your haplogroup, showing a breakdown of regions where the same haplogroup can be found.
The company explores your maternal lineage using mtDNA (mitochondrial DNA) via the prevalence of haplotypes and subtypes. And using the haplogroups and an interactive map, you can trace the migration map starting from your oldest ancestors.
The Fatherline results are based on Y-DNA and reported only for male users. This is because only genetic males possess Y-DNA.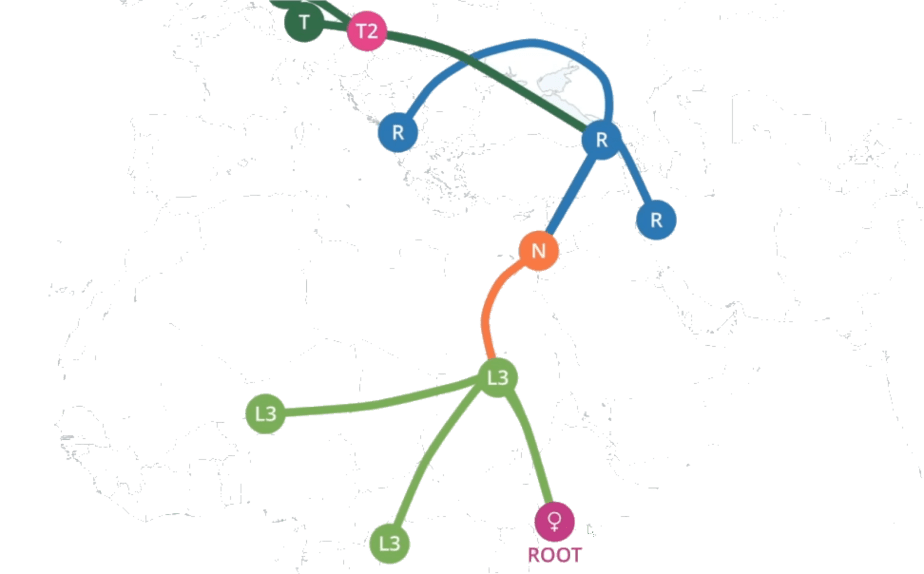 Extended family network matching
Living DNA uses your DNA results to find your genetic match with other users. As of January 2019, about 50,000 users have joined this service. This direct matching is based on your DNA, age and gender.
In addition to using the data on autosomal genes, this system uses both the Motherline and the Fatherline data. DNA matching is possible with those who are closer than the user's 7th-degree relative or their 4th cousin.
You can also connect to your matches (with whom you share no recent common ancestor) by going back to 13 generations. You can then connect with your matches by sending them messages.
Review of Living DNA wellbeing reports
Living DNA helps users to make healthy lifestyle choices based on their genetic variants. Users will understand how they respond to and process different nutrients, food types, and exercise training.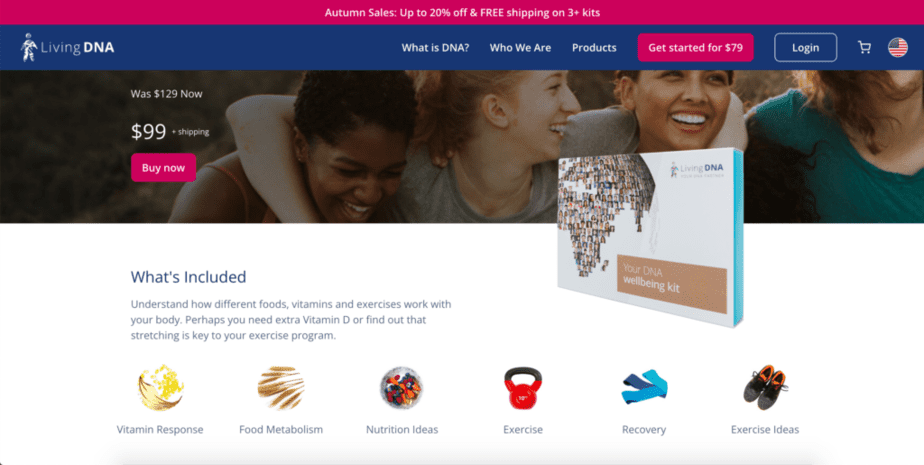 Nutrition Reports
The wellbeing report provides information on how your genes help your body process micronutrients like vitamins and minerals. Users will also learn if genetic variants make them susceptible to things like vitamin D deficiency.
Similarly, the user will know about other vitamins like vitamin A, vitamin B12, and vitamin C.
The report also describes how your body responds to proteins, fats, complex carbohydrates as well as sugars. For example, users get insight into whether they are tolerant to gluten or lactose intolerant.
They will further learn whether they have an increased risk of having celiac disease. However, these reports may not always apply correctly for the users. Overall, the company says that users learn the types of foods that are compatible with their bodies.

Personalized fitness solutions
You will be provided with professional tips on weight management as well as instructions on how to follow a balanced approach for your overall health. The company's wellbeing kit will provide you with a number of fitness tips based on your genetic makeup.
The report covers an explanation of several factors that influence your endurance. You will learn about your training ability, oxygen flow, blood vessel response, and tendon durability. Based on these insights, you can choose the exercises and equipment that should be a part of your fitness plan.
Exercise and recovery
Living DNA's results inform maximum strength capacity during training. You can then get an idea about how intense your training should be. You can also decide whether you should opt for cardio or weights for optimized potential. Then, with the help of professionals, devise your training plans.
You will get an insight into how your body is prone to injury and the company will provide recommendations on how to wind down after your exercises. This helps in devising an optimized plan for your training.

Living DNA Cost
The original price of the testing kits ranges from $99 to $179. The prices are currently reduced to $79-$99. Extra shipping charges apply.
In the US, shipping charges range from $10 for standard shipping to $40 for express shipping. You can learn more about how its prices compare to other companies on our blog.
DNA Data Access
You can download your raw DNA data from the Living DNA results portal.
Review of Living DNA Privacy and Security
According to the website, Living DNA is committed to securing the storage of its customers' data. The company makes the user anonymous before sending the data to the lab partner. The company does not sell personal or genetic data to any third party.
The Privacy Statement has not been revised since 2019. Back then, the UK was still a part of the EU, and the General Data Protection Regulations applied to Living DNA.
However, there's the UK GDPR, which is quite similar to the EU's. UK GDPR tends to be a bit more lenient than EU GDPR. Living DNA does not have any observations about this on its Privacy Statement.
You do not only share personal information with the company when you place it in a form or subscribe to a recurring service. Living DNA will also record the personal data you share when you ask them to respond to a query. If you contact them with a question via email, letter, or phone, and you provide your personal information, they will use it to send marketing material.
For the option of free DNA upload, you have the ownership right over your DNA sample. However, it is unclear how the issue of ownership over the data exactly works.
For users who participate in extended family networking, genetic results are shared with the matching people outside the EU. To prevent this, users can opt out of participating in this program.
Living DNA in the News
In 2019, the company received a moderate amount of new attention regarding the completeness and price of its new product, with CNN asking if it is the most detailed at-home DNA testing kit yet and PR Newswire highlighting its low retail price.
Living DNA Reviews
According to Trustpilot reviews, 39% of 320 customers voted it bad, and 35% voted it excellent. Complaints include incomplete, unclear, and inaccurate results. Some customers have also indicated the results are wrong or different from other consumer DNA tests they have taken.
Living DNA has its subreddit, where people write their experiences with the product and ask questions.
Nebula Genomics
In contrast to Living DNA, Nebula Genomics offers whole-genome sequencing (WGS) at a depth of 30x. This produces about 10,000 times more data than other DNA testing services, which enable superior reporting on ancestry and traits.
In particular, we enable 'deep ancestry' reporting by fully decoding mtDNA and Y chromosomes. This helps trace both the paternal and maternal ancestral links accurately. To this end, we have partnered with other organization, through whom our customers will get access to one of the world's largest databases of mtDNA and Y-DNA data.
Nebula Genomics users also have access to the regular report updates based on the latest research studies.
| | | | | |
| --- | --- | --- | --- | --- |
| Features | 23andMe | AncestryDNA | Living DNA | Nebula Genomics |
| Data upload options | No | No | Yes. A basic report will be provided. | Yes. Expanded reports are provided. |
| DNA test | Genotyping | Genotyping | Genotyping | 30x whole genome sequencing |
| Sequencing depth | 600,000 positions | 600,000 positions | Unspecified | 6,000,000,000 positions |
| Ancestry | Yes | Yes | Yes | Deep ancestry reporting with full Y chromosome and mtDNA sequencing |
| Regular report updates | No | No | No | Yes (learn more) |
| Data exploration tools | Limited | Limited | Unclear | Yes |
| Cost | $99-$199 | $99-$119 | $79-$149 | $0, $99, $299 |
Summary
Living DNA (LivingDNA) is a UK based DNA testing and reporting company with health and detailed ancestry reporting products. Its tests cost less than some competitors, such as Ancestry DNA. It has impressed many of its users with its "sophisticated" deep ancestry reporting.
However, some have complained about these family tree DNA results being vague or inaccurate. The company's privacy policy regarding its use of genetic data authority remains unclear.
Other companies
If you're looking for sites to explore ancestry, you should also look at AncestryDNA, MyHeritage, 23andMe, FamilyTreeDNA, and DNA Land.
For more DNA upload sites, you should look at:
Ancestry:
Health:
BioStatus Health (upload apps for personalized fitness and nutrition)
Dash Genomics (personalized Alzheimer's disease risk)
GeneFood (data upload and a personalized nutrition test)
Gene Heritage (inherited allele reports)
Genetic Genie (free for health reporting)
Genomapp (DNA analysis app and individual reports)
LifeDNA (upload and health reports, DNA kit and updates available at an additional cost)
LiveWello (variance reports and community sharing)
NutraHacker (DNA upload for reports on certain health conditions)
Silverberry Genomix (free upload and options to purchase additional reports)
StrateGene (detailed reports based on biological pathways)
TrueReport (personalized functional medicine)
yourDNAportal (free expanded reports on health and ancestry)
If you want to focus on your maternal and/or paternal lineages, you can look at YFull or YSeq, services that analyze mtDNA or the Y chromosome to determine specific lineage haplotypes. Full Genomes also offers Y chromosome sequencing and analysis.
Did you like our Living DNA review? You can find more reviews on our blog and check out our complete guide to the best DNA test kit and other home tests!