This review is written with the intent to be as unbiased as possible. However, it represents the opinion of an individual reviewer and is therefore subjective. Furthermore, at Nebula Genomics we seek to educate the public about the benefits of Whole Genome Sequencing. Information about our Whole Genome Sequencing DNA test is therefore incorporated into the review.
January 25, 2022
7 Facts from our iGenea Review
Location: Baar, ZUG, Switzerland
Products: Comprehensive details concerning their origins with three iGenea tests: Basic, Premium, and Expert
Cost: $199-$1499
Reports: Percentages origins, relatives, ancient tribes, and famous people
How it works: Customers order the tests online and receive them at home. They provide a saliva swab on the sample kit and mail it back. Test results are available in about 6 to 8 weeks
Raw Data Access: No access to raw data
Alternative Products:Nebula 30X Whole Genome Sequencing is a genomic profiling test that decodes 100% of the information on your genome
iGenea Introduction
iGenea is one of the major ancestry testing companies in Switzerland built for those interested in genetic genealogy. The firm was founded by Dipl. Biol. Joelle Apter. After finishing her master's degree in genetics and anthropology in 2003, she began to specialize in origins and ancestry tests after completion of her program.
She started iGenea in 2006 and has seen the brand grow into one of Switzerland's biggest. The company is based in Baar, ZUG, Switzerland and from there offer services to all countries worldwide. The company is closely associated with the larger DNA company, Family Tree DNA, using their labs and databases.

The company's goal is to provide users with detailed and comprehensive ancestry tests that cover their ethnicities and migration patterns. They sell about 3,500 tests per year using their state-of-the-art technology to sequence autosomal DNA, the Y chromosome, and mtDNA. Using a DNA database, iGenea determines your haplogroup, your ancient tribe and your region of origin. The company has consistently improved its different tests to become more encompassing. The basic test goes back to about. 2,000 years while Premium and Expert tests date back to about 100,000 years.
Taking an iGenea Test
Purchasing a DNA test kit is extremely easy, and the fact that iGenea only offers three tests makes it much simpler. Purchasing and taking all three tests follow the same process. The steps of taking the tests are as follows:
Order the test through telephone, e-mail, or via the website. The test will take a couple of days before getting to users
Collect a simple mucus sample with the provided tools and securely keep in the collector on receiving the test
Put the collector back into the enclosed envelope and mail to the company
Results will be delivered in approximately 6 to 8 weeks. Sooner if the customer resides in Europe

Review of iGenea Products
The company offers three products based on the comprehensiveness of the test.
iGENEA Basic Test
This DNA test helps you discover how your ancestors migrated on the world map and your origin percentages. It also works as a family finder that can help you discover relatives through the genealogy database, helping expand your family tree. This DNA test can be taken by both men and women to trace their maternal and paternal origin.
iGENEA Premium Test
This DNA test includes all the features of the basic test plus additional information, like more relatives. DNA profiles also help you find your ancient tribe, how your ancestors migrated on the world map (haplogroups), and your region of origin in the Middle Ages of the paternal line (men) or the maternal line (women). With an additional $10, you can even discover which famous people you are related to.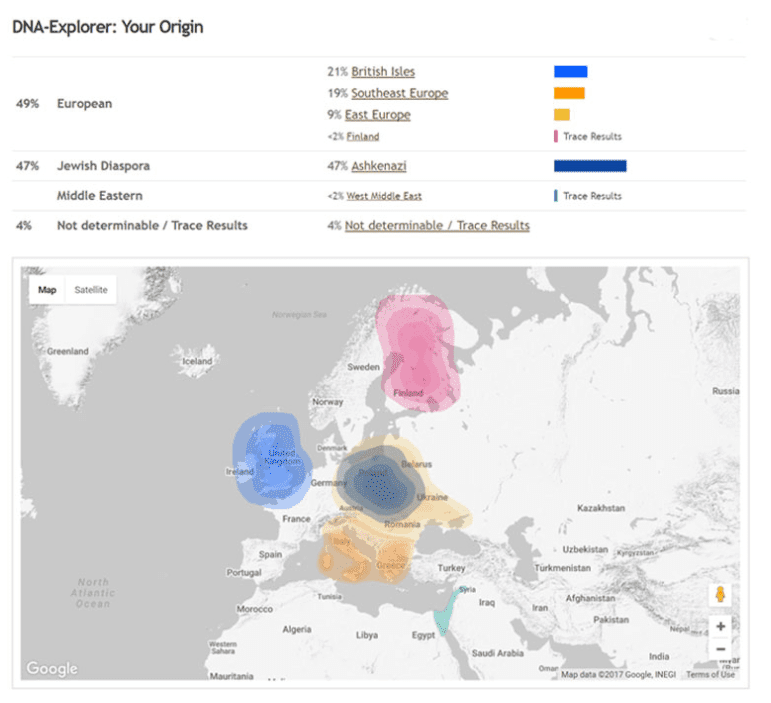 The genealogy database could help you find your relatives and get in contact with them, thereby helping to expand your family. This DNA test can be done by males and females searching for their maternal or paternal origin. If you are a biological woman searching for a pure male line, the DNA sample will be collected from a biological male in your family.
iGENEA Expert Test
This DNA test is the total package of DNA analysis. The genetic profiles include all the features of the Basic and Premium tests plus additional information.
Specifically, you will have access to all ancient tribes and all relatives in the database as well as your relation to famous people included.
Additionally, the company allows you to join a surname project for free.
Review of iGenea Cost
iGenea is relatively expensive when compared to other genetic testing companies. However, the compensates for its expensive tests with highly comprehensive and detailed results.
Basic: $199
Premium: $559
Expert: $1499
These prices include sending the sampling set, laboratory analysis, interpretation of the result, unlimited customer service, access to the database and the result, both online and in writing. The customer is responsible for additional costs for shipping their sample back to the lab.
Review of iGenea Reports
iGenea test reports come in three different forms depending on the test a user chooses. The results are easy to understand and can be interpreted by users. In each report the user will receive:
A written result with official certificate
Detailed results online
Access to the world's largest DNA genealogy database, which gives you the opportunity to contact your genetic cousins
The iGenea Basic report provides regional origins in percentages as well as a list of relatives.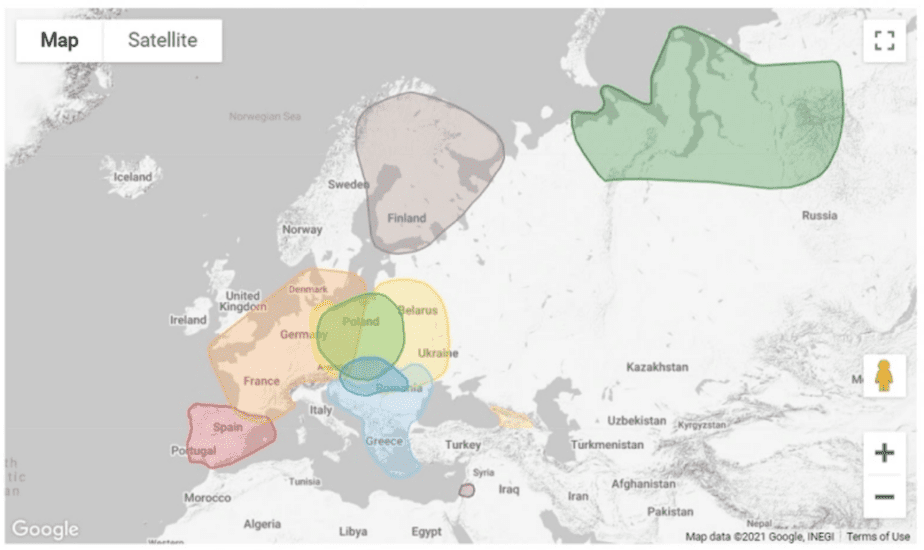 With the iGenea Premium package, customers also receive one of their haplogroups (either maternal or paternal) and ancient tribe information. There are 43 ancient tribes that include Jewish, Indigenous peoples of the Americas, Celts, and Koreans. Your DNA will almost always contain a combination of these types of lineages.
The result approximately refers to the period from 900 BC to 900 AD.

The company website includes detailed history of each of these tribes so that you can learn more about their origins and ancient migrations.
iGenea Expert includes all of the above services as well as both haplogroups (maternal and paternal lines) and access to the entire relative database and ancient tribes origins. Thus, you may find more relatives with this test than the other two offerings. Specifically, the test of the paternal lineage used with the Expert package is the most detailed test according to the current state of science.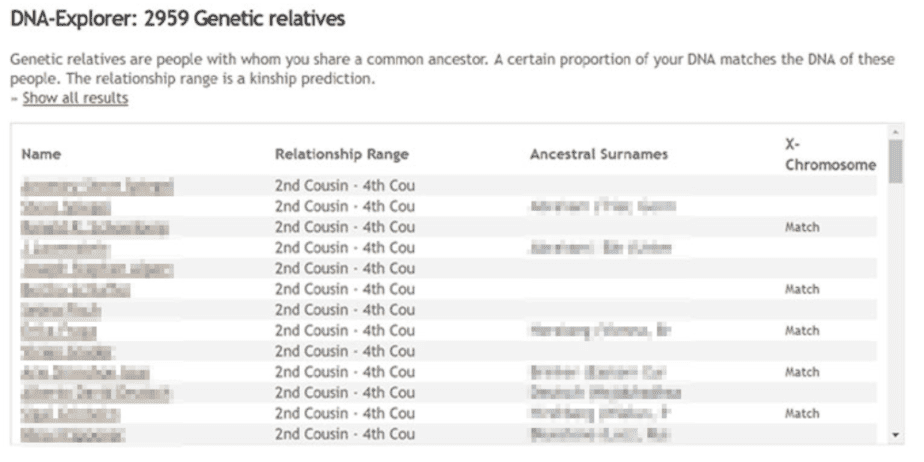 Review of iGenea Privacy
iGenea ensures that users' details are highly protected and are not open to hacks. The company promises a secured, impregnable database and affirms that it does not share customer details with unauthorized companies or parties.
iGENEA is the only DNA testing institution that separates the processing of personal data with the examination of samples to help ensure data protection.
The firm does have partnership contracts with other fime to share users' data to make the tests more accurate and highly comprehensive. Some of the firm's partners include
SRF
Bild
L'Hebdo
DieWelt
LE Temps
24 Heures
Other iGenea Reviews
Potential customers can read testimonials of others who have used the products on the company's website. As expected, these stories are positive recollections of customers who learned something new about their ancestry or found new relatives.
Pros and Cons
Pros
Comprehensive and accurate ancestry tests
Three different test options to choose from
Easy to carry out tests
Reports can be easily understood
Cons
No health or fitness testing
Expensive compared to other DNA testing companies
No access to raw data
Shipping is not included in the price
Nebula Genomics
iGenea is an accurate ancestry test that can help customers discover their ancient origins and find relatives. However, iGenea does not offer any additional services to its origin tests, which makes it quite limited in its testing services. Users who need results on other areas to see if a health condition is caused by genetics or are interested in genetic traits will need to purchase a different test.
A complimenting firm that interested users can get better information on their genetics and other conditions is Nebula Genomics.
Nebula is a genetic test company that offers 30x Whole-Genome Sequencing. This comprehensive test sequences 100% of a customer's DNA to unlock ancestry, as well as predispositions to nearly any health or trait aspect.
Nebula also provides regular updates on the most recent genetic research so that users can get the most out of their DNA sequencing. After the initial report, customers can continue to receive updated information as more research becomes available.
In addition to health and trait reporting, Nebula also provides ancestry information through complete Y chromosome and mtDNA sequencing that gives customers the raw data needed to explore their ancestry. To receive all of their DNA, customers pay just $299 or less, which is much more competitive than iGenea, which only provides ancestry information.
iGenea vs. Nebula Genomics
| | | |
| --- | --- | --- |
| | iGenea | Nebula Genomics |
| DNA testing method | Genealogical DNA for ancestry testing | 30x Whole Genome Sequencing that decodes all 20,000 genes and regulatory regions |
| Ancestry reporting | Yes | Perform deep ancestry reporting with the complete Y chromosome and mtDNA sequencing |
| Raw DNA data | No | Yes |
| Reports | Ancestry | Ancestry and genetic predispositions for health, fitness, diet, and traits |
| Report for making medical decisions | No | No but data is of the highest quality and can be used by physicians and genetic counselors |
| Cost | $199-$1499 | $0, $99, $299 |
iGenea vs Nebula Genomics
Did you like our iGenea review? You can read more reviews on our blog and check out our complete guide to the best DNA test kit and other home tests.
You may also be interested in these other ancestry tests:
If you want to focus on your maternal and/or paternal lineages, you can look at Genovate, YFull or YSeq, services which analyze mtDNA or the Y chromosome to determine specific lineage haplotypes. Full Genomes also offers Y chromosome sequencing and analysis.