Edited by Christina Swords, Ph.D.
7 Facts from our African Ancestry Review
Location: Washington D.C.
Products: ancestry testing for the present day African country of origin/ethnic tribe
Reports: Present day African country of origin/ethnic tribe for maternal or paternal lineage
Result delivery: Ancestry reports are delivered through the mail and not available online
Data availability: raw data download is not available
Cost: $210-$679
African Ancestry Introduction
African Ancestry is a genetic testing company founded in 2003 by Dr. Rick Kittles and Gina Paige. Its offices are located in Washington, D.C. The company maintains a database of over 30,000 indigenous African DNA samples. These samples are used as a reference dataset to perform DNA matching and determine the present day country of origin and the ethnic African tribe ancestry of the customer. In this way, customers can discover the African regions of their ancestors. Over the years, this company has provided ancestry information to over 750,000 people of African descent. Their aim is to give African Americans a better understanding of their family history as many long histories become lost due to historical injustices, including the slave trade.
The company provides opportunities to its customers to visit their countries of origin through the African American Family Reunion (AAFR) initiative. These trips from the United States include airfare from Washington D.C. to the location of choice (e.g. Burkina Faso, Cameroon, Ghana, Nigeria, Senegal, or Sierra Leone). Lodging, meals, ground transportation, and scheduled activities are also included. Read more in our African Ancestry review!
Review of African Ancestry DNA Tests (Updated March 2021)
African Ancestry markets two main products, one for each side of the family: the maternal DNA test and the paternal DNA test, both priced at $299. An African Ancestry test determines the present day country of origin within Africa and tribe (ethnic group). The test can trace back to 500-2000 years.
Instructions for cheek swab sample submission are provided inside the DNA test kit, which is then mailed back to the labs. The company maintains an African Lineages Database consisting of samples from over 30 countries and 400 ethnic groups. The database is used as a reference to match individuals with their African country of origin/ethnic tribe.
African Ancestry DNA results are sent back 8-10 weeks after the sample reception.
This company does not analyze autosomal DNA. The only genetic material used for analysis is mtDNA and Y chromosomal DNA.
Individuals also have the option to upload raw DNA data from other DNA testing providers. The genetic data must be a mitochondrial DNA sequence or a Y chromosome DNA sequence. This service costs $210 per lineage.
Test results include a letter that lists percentages of DNA from each area of Africa. The results also include countries of origin and ethnic tribes.
The company also returns a list of tested genetic variants. However, this does not include the complete mtDNA or Y chromosome sequence. Instead, they decode only small regions containing genetic variants specific to certain African countries of origin/ethnic tribe.
Customers also receive a certificate of ancestry, a migration map, and a general explanation of results. There is also a digital copy of the guide to African history and cultures.
All ancestry reports are mailed to the individual in the results package. No results are available online or elsewhere.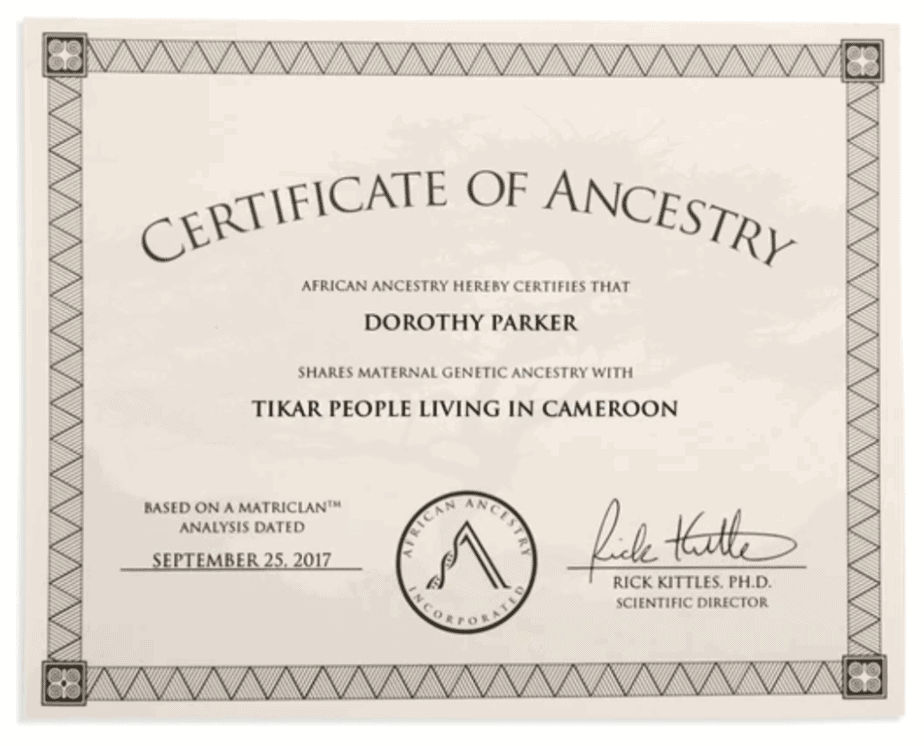 Now let's review the DNA tests in more detail.
Review of African Ancestry MatriClan Test Kit ($299)
The MatriClan test kit can be used by both men and women. The test analyzes mitochondrial DNA (mtDNA), which is inherited exclusively through the mother's side. mtDNA remains the same through the maternal lineage (grandmother, great-grandmother, etc). Therefore, these results can be shared with family members without the need of taking additional tests.
According to their website, for 92% of customers the MatriClan ancestry test identifies African heritage. The results also include HVS1, HVS2, or HVS3 designations and mitochondrial haplogroups. HVS are hypervariable segments in mtDNA that are used to determine haplogroup. Mitochondrial haplogroups are defined by differences in mtDNA that represent branch points in the mitochondrial phylogenetic tree and matrilineal inheritance. Certain HVR designations correspond to haplogroups specific to countries of Africa and ethnic tribes.
If the results are Non-African, the company can only determine a broad area of origin. In these cases, European, Asian, Middle Eastern, or Indigenous American origin can be determined.
Review of African Ancestry PatriClan Test Kit ($299)
The PatriClan test kit can only be used by men. The DNA test analyzes the Y chromosome, which men inherit from their fathers. Certain Y chromosome markers are specific to African countries and ethnic tribes, which allows for ancestral determination.
Like the MatriClan test kit, results from the PatriClan test are the same for any member within the paternal lineage. Women can also determine also their paternal lineage. This happens by having a male relative from their father's side take the PatriClan test.
According to their website, the PatriClan ancestry test identifies African heritage for 65% of customers. Like the MatriClan test kit, non-African ancestries are also included in the reporting. Y chromosome haplogroups are not provided.
Other African Ancestry Products
Other products include bundled genetic testing packages. One of these is the Family Celebration Package (contains both the MatriClan and PatriClan tests for $729). You can also purchase other gifts and apparel such as T-shirts and journals.
Review of African Ancestry Privacy Policy
Customer DNA samples are labeled with a bar code that keeps individual identity confidential. After processing, the DNA samples are destroyed at the lab.
The company does not biobank genetic material from consumers. The database that is used to analyze individuals' results is not built using customer samples but in collaboration with research projects.
Inconclusive results may occur where the country of origin/ethnic tribe cannot be determined. Inconclusive results that denote an African ancestry will be kept for up to a year for additional testing. However, this is optional, and the samples can be destroyed upon request.
The company will keep information from the individual's order form, such as contact information and financial information.
They will not share customer information unless required by law for a judicial proceeding. The terms and conditions can be found on their website.
Customers can contact customer service via email at info@africanancestry.com.
African Ancestry in the News
This company has been featured by several news outlets. In 2019, they launched a new initiative called African Ancestry Family Reunion. This initiative has the goal of culturally immersing African Americans in their African countries of origin. The service is marketed as inclusive, curated homeland journeys aiming to promote global diasporic connections.
African Ancestry also run a radio station, and maintains a Get Rooted Book List.
African Ancestry Reviews (Updated March 2021)
The company has been widely publicized through several celebrities (Oprah Winfrey, Morgan Freeman, Spike Lee, Maya Angelou, etc). Some African Ancestry DNA test reviews on their website can be found on African Ancestry com reviews.
Most customers who gave low reviews cited long (> 5 months) processing time and incomplete information.
Pros and Cons
Pros
Provides deep ancestry information for both maternal and paternal lineages when finding your roots
Offers information about the present day country and the ethnic tribe of origin in Africa
A large online community is available where users can receive support
Samples are destroyed after genetic testing
Cons
Expensive compared to 23andMe and AncestryDNA
Results are not available online for the user to download
Limited reporting on ancestral lineages outside of Africa
Only looks at mtDNA and Y chromosome DNA
Nebula Genomics
We finish our African Ancestry review with a comparison to Nebula Genomics and other DNA testing companies.
African Ancestry only provides testing kits for maternal and paternal lineages (mtDNA and Y chromosome DNA), and only looks at ancestry. They also only provide detail on a single linage (maternal or paternal) that you choose to submit. They do not analyze the entire genome and thus do not provide breakdowns of different ancestries, such as European ancestry and Native American ancestry. Detailed information is provided only if an individual has an ancestral lineage in Africa.
Nebula Genomics offers a single genetic test – whole genome sequencing. This gives the consumer 100% of their genetic information including mtDNA and Y chromosome data.
Nebula Genomics also provides ancestral tracing based on mtDNA and Y chromosome sequencing. Through our collaboration with FTDNA, we have access to the world's largest Y chromosome DNA and mtDNA database. This lets us trace your maternal and paternal lineages. Like African Ancestry, Nebula Genomics allows the upload of DNA data.
| | | | | |
| --- | --- | --- | --- | --- |
| | 23andMe | AncestryDNA | African Ancestry | Nebula Genomics |
| DNA Testing Method | Microarray-based genotyping | Microarray-based genotyping | Unknown | Whole Genome Sequencing (30x coverage) |
| Information Available | Ancestry, traits, health | Ancestry, traits, health | African ancestry (country of origin and ethnic tribe) on the either maternal or paternal side | Weekly reports based on the latest research, data exploration tools, deep ancestry |
| Weekly updates based on the latest research | No | No | No | Yes (learn more) |
| Able to upload raw DNA data | No | No | Yes | Yes |
| Tools to explore data | Limited | Limited | Limited information on the historical records of the African diaspora is provided. Information about tribes is not provided | Yes (learn more) |
| Data Access | Yes (23andMe format file) | Yes (AncestryDNA format file) | Results letter containing country of origin and ethnic tribe is provided. Printed DNA sequence showing genetic markers | Yes (FASTQ, BAM, VCF) |
| Cost | $99-$499 | $99-$149 | $299 for one lineage kit | $0-$299 |
23andMe vs. AncestryDNA vs. Nebula Genomics vs. African Ancestry
If you want to learn more about your ancestry and genealogy you should look into other DNA testing sites:
If you're looking for an at home paternity test, you should also read our review of HomeDNA.
Another company that provides mitochondrial DNA and Y chromosome sequencing is Family Tree DNA (FTDNA).
If you want to focus on your maternal and/or paternal lineages, you can look at YFull or YSeq, services which analyze mtDNA or the Y chromosome to determine specific lineage haplotypes. Full Genomes also offers Y chromosome sequencing and analysis.
Did you like our African Ancestry review? You can read more reviews on our blog and check out our complete guide to the best DNA test kit and other home tests.
Interested in learning about your pet's ancestry? Take a look at our Basepaws, Embark, and Wisdom Panel reviews!