7 Facts from our Focus Factor Review
Location: Van Nuys, California
Products: Brain health supplements
Ordering: Can be ordered from Focusfactor.com and many retailers, including Costco, Walmart, Walgreens, Target, and Amazon
Privacy: Shares personal information for purposes such as providing services and marketing
Cost: $30 – $50 per month
Reviews: Good – Excellent
Complementary products: Nebula Genomics (DNA test that decodes 100% of DNA and provides the ability to explore genetic markers for longevity)
This review is written with the intent to be as unbiased as possible. However, it represents the opinion of an individual reviewer and is therefore subjective. Furthermore, at Nebula Genomics we seek to educate the public about the benefits of Whole Genome Sequencing. Information about our Whole Genome Sequencing DNA test is therefore incorporated into the review.
April 19, 2022
Pros and Cons
Pros
Clinically tested and has data to backup its claims
Over 20 years of operation, the company has developed a great reputation
Offers mental clarity products that are safe for children
You can save money through bundling
Cons
It can be tough to know the specific ingredients that work for you
You need a subscription to use the app
Testing was performed in-house
Cost can be higher than similar products marketed as multivitamins
Focus Factor Introduction
Focus Factor, a subsidiary of the Synergy CHC Corporation, is an American company that manufactures home health brain supplements for improved cognitive function. For almost two decades, Focus Factor has aided customers worldwide in improving their memory, attention, and focus. The company designs the products to help remove every day "brain fog" and it claims to have sold millions of bottles for nearly 20 years.

Focus Factor's products target individuals from all walks of life, from office workers to athletes. They even have a range of products for children. The company's signature product, Focus Factor Original, has been rigorously tested to verify its efficacy in improving brain function.
The company has developed an app called Brain Hub to further aid its customers in improving their brain help. The app contains a library of mindfulness and brain health activities such as brain games, guided meditation, audio books, and tracking to see how your health has changed over time. Although the app is free to download, there is a monthly fee to use the services.
The Science behind Focus Factor
Focus Factor's supplements contain nootropics which are chemicals that influence the nervous system. Caffeine, which helps boost short-term memory and assist learning, is one of the most popular nootropics. Focus Factor works by carefully selecting nootropics to provide maximum health benefits with minimal side effects. They also contain a blend of minerals and vitamins to help nourish the body and improve general personal care.
Focus Factor has carried out a clinical trial in a double-blinded, placebo-controlled study to develop a patented formula claiming to give results within six weeks of starting the product. This clinical study showed that subjects who took Focus Factor for six weeks had a 44% better memory recall than those in the placebo group. Factor Nutrition Labs, LLC, the company that develops and markets the product, sponsored this study. It would be helpful to have an additional medical review of this study.
Scientists have mainly tested these products with healthy adults. To date, there is no evidence to show that they are beneficial for those with natural cognitive decline with age.
Review of Focus Factor Products
These products are designed to improve memory, concentration, and focus. Most of the supplements have a dosage of 4 capsules daily: two in the morning and two in the evening, both at meal times. While users can take all four pills at once, it may cause digestive discomfort.

When taking these supplements, there are a few things that you should keep in mind. One of the first is that you may have to wait for up to six weeks before you begin to experience the effects. You should also ensure that you consume healthy meals with appropriate nutrients. Foods such as fish and vegetables contain nutrients that support brain development and most people should include them in their diet. Failure to consume the right diet may prevent you from seeing results on time. 
You should also ensure to use the correct dosage and products. Adults should stick to adult supplements while children should take those meant for them.
Review of Focus Factor Original
This is Focus Factor's first and best-known nootropic supplement. Nootropics are a class of substances that can boost brain function. The proprietary blend contains a variety of nootropics and vitamins, all having different effects on one's brain health. Some of the main ingredients in Focus Factor are:
Vinpocetine – This is most useful for students and people that need to remember facts quickly. It helps to develop the brain's memory recall functions
Bacopin – This is an extract of the Bacopa monnieri plant. People have been using it for centuries in the traditional treatment of mental issues 
B-complex Vitamins – These are necessary for the metabolism of glucose, which the muscles of the brain need  
Choline – This compound assists the memory formation and function of the brain's acetylcholine system
Ginkgo biloba extract – This extract may help memory problems associated with certain mental health conditions such as Alzheimer's disease and schizophrenia.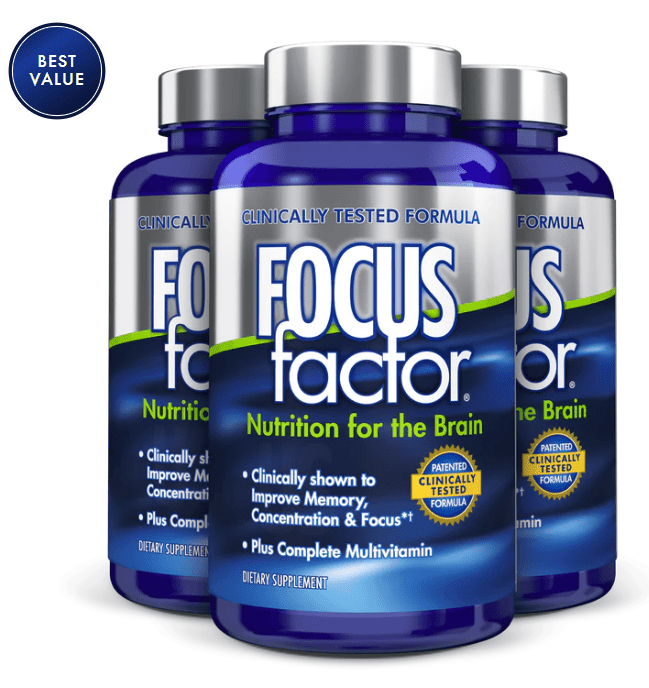 Other ingredients in Focus Factor include amino acids, omega-3 fatty acids, and other vitamins and minerals.
Focus Factor Extra Strength
This supplement contains the same ingredients found in the Original but with higher concentrations of key nutrients. In addition to the higher doses, a few ingredients added to boost its efficacy include Ginkgo biloba, which some believe improve memory, and Gamma-aminobutyric acid, L-glutamine, and N-acetyl tyrosine.
Review of Focus Factor Gummies
The gummies are for those who may have difficulties swallowing pills or would just like a tasty alternative. However, you should note that they do not contain the same number of nootropics and vitamins as the pills. Those they contain are also less concentrated. However, the gummies contain certain ingredients not in the original that have been found to ease the process of learning new things.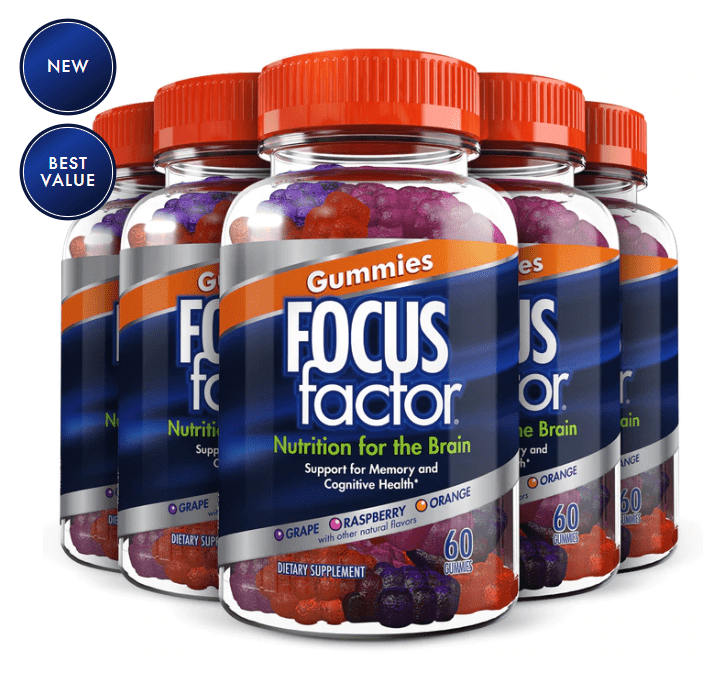 Review of Focus Factor Brain and Vision
This differs from the Original in that it contains ingredients that promote eye health. These ingredients, Lutein and Zeaxanthin, are antioxidants on the retina that help to keep the eye safe from infections and damage. 
Review of Focus Factor Kids
The Focus Factor Supplement for kids age 4 and up contains a reduced number and concentrations of nootropics and vitamins to make them safe for consumption. The tablets are also chewable with a berry flavor to make them more enticing and easy to take.
While the adult supplements contain up to 15 different nootropics, the formula for kids has just three. They are also gluten and dairy-free without any synthetic flavors or colors.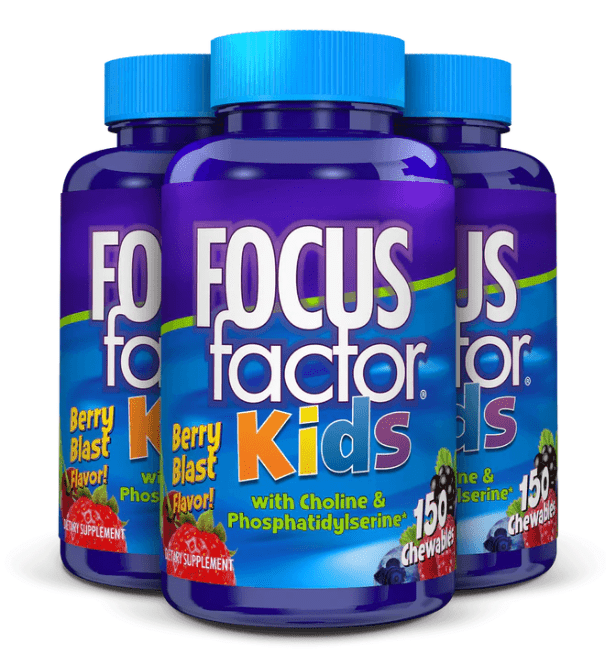 Focus Factor Kids Extra Strength
Just like the Extra strength supplements for adults builds on the Original, the ones for kids also build on the regular ones. They have the same chewable, berry-flavored pills with no artificial flavors and colors and are still gluten and dairy-free. However, they contain a higher mineral concentration and a rearrangement of the nootropic concentration to give children a mental boost. Like the regular supplements for kids, they are suitable for children aged four and above.
Review of Elderberry Immunity Gummies
These immunity gummies contain elderberry, which not only has an interesting flavor, but some believed it can treat the symptoms of flu. Other ingredients include antioxidants like zinc and vitamin C to help boost the body's immunity.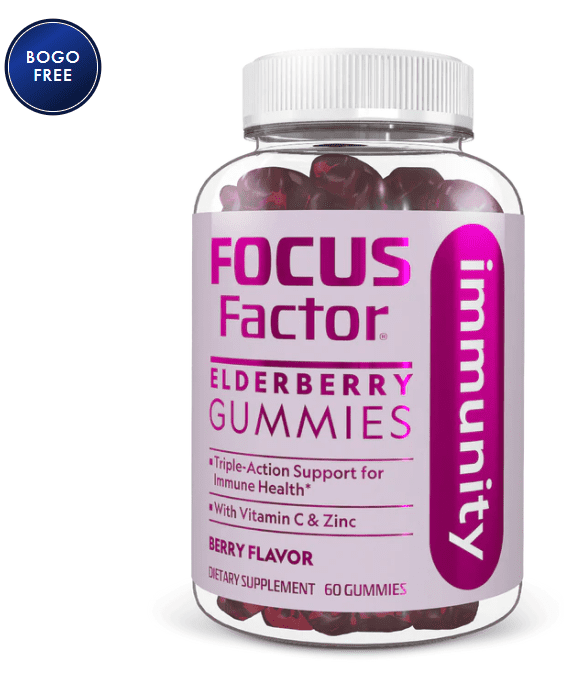 F29 Focus and Energy Shots
For those who do not want the hassle of taking a supplement every day, there are three different types of energy drinks and energy shots at regular, extra, and maximum strength, which differ only by caffeine content. These energy drinks are sugar-free and give you a temporary energy boost. They contain nootropics and vitamins which help users focus.
Brain Hub App
Focus Factor also offers an app to help users track and solidify their mental performance progress. The app contains games that will help you test your thinking and mental skills. It also includes breathing and meditation exercises as well as a mood tracker.
Focus – These games test your attention span and ability to see through certain situations. 
Memory – These involve a test of your short and long-term memory. You will be required to memorize and recall both audio and visual information.
Math – These contain arithmetic problems and calculation exercises.
Problem Solving – These games test your engagement with your environment. They are similar to games like Pacman and Tetris. 
Language – These include games where you will be required to unscramble letters to form words or to fill in gaps in sentences with appropriate words.
Meditation and Breathing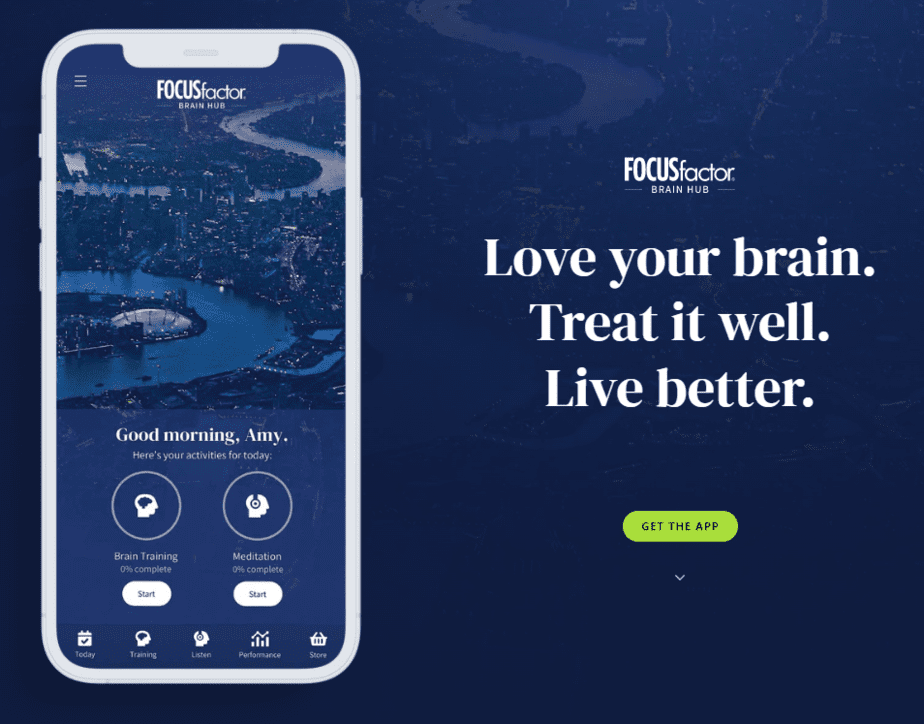 The Focus Factor app offers daily meditation for its subscribers. These are often no longer than 10 minutes allowing you to complete them before you leave for work or during your lunch break. The meditations are on various topics, and you can choose whichever one interests you.
Breathing exercises are also offered. However, these can be scaled and can go on for as little as a minute or as long as an hour. You receive cues on your screen guiding you on your breathing.
Review of Focus Factor Costs
These brain supplements vary in price. Focus Factor Original costs $25 per bottle containing 180 tablets each. This is equivalent to $0.139 per tablet. The price increases if you choose to get smaller bottles. For example, a bottle containing 60 tablets costs $15 which is equivalent to $0.25 per tablet.
There are ways to save on the products. As noted above, you can buy large bottles for a discount. Additionally, the cost also depends on if you are subscribed or not. You receive a 10% discount on most products when you set up to have the product shipped every 30 days. You also get a discount if you choose to bundle products. For instance, the price of the Original formula with 180 tablets is reduced from $25 to $23.50 per bottle if you choose to order 3 bottles at a time.
Shipping and handling, although swift, is only free on orders over $50. If paying less than this, it will cost $6.95 to arrive in 5-7 business days. You may also pay $14.95 for expedited shipment. If you live outside of the United States, international shipping is similarly $14.95, but it might take up to four weeks to arrive, depending on your location.
Review of Focus Factor Privacy Policy
Keeping up with standard practice for most consumer product companies, Focus Factor does not have any unique mechanisms to protect user privacy. The website uses cookies to help optimize your experience on the website. You can select an option at the bottom of the website to prevent Focus Factor from selling your information. Regardless, Focus factor will share your information with law enforcement when requested and other companies owned by them.
Other Focus Factor Reviews
Focus Factor products are sold on Amazon. Generally, they all have between a 4-4.5 star rating out of 5 stars. Some of the more popular products, including the Extra Strength and kids versions have over 6,000 ratings. The Original formulation has over 1,000 ratings.
For the Extra Strength version, many reviewers note that they believe the product was working and that they were noticing an increase in memory and a difference in their cognitive abilities. However, others claim that they saw no effects, even after taking the product for over 6 months. Others reported side effects such as weight loss.
There is also some controversy over the price and effectiveness of the products when many of the ingredients can be found in a much cheaper multivitamin. Additionally, several customers note that the tablets are large and difficult to swallow and there are mixed reviews concerning customer service.
Nebula Genomics
It can be difficult to know if supplements for things like brain health are right for you and you should always talk with your doctor before adding supplements to your diet. A complimentary way to learn more about your body is through genetics.
Nebula Genomics uses 30x gene whole-genome sequencing to read 100% of your DNA, making it one of the most sophisticated sequencing procedures available. This, paired with Nebula's extensive research collection, allows you to receive more detailed findings than other DNA testing organizations that only decode 0.02 percent of the genome. Nebula was developed by a genetics professor from both Harvard and MIT to make whole-genome sequencing accessible to everyone at an affordable price.
Customers receive regular updates on the results of their DNA testing from Nebula. This includes genetic predispositions to mental declines such as Alzheimer's and dementia. Unlike other genetic firms that offer different test kits for various disorders, Nebula Genomics provides you with all of the information gathered from your genes in one bundle.
Did you like our Focus Factor review? You can read more reviews on our blog and check out our complete guide to the best DNA test kit and other home tests.
Other companies
Similar products designed to improve memory include Prevagen and Neuriva. Although Focus Factor is not marketed to help with aging, several supplements such as Elysium Health and Tru Niagen are.
You may also be interested in these other supplement products: