7 Facts from our Neuriva Review
Recommended dose: One capsule daily at bedtime for optimal results.
Active ingredients: Phosphatidylserine (PS) and coffee fruit extract (Coffea arabica)
Costs: $33 for a 30-capsule bottle, plus shipping & handling
How to Order: Online stores and other retailers
How it Works: You order straight from the seller or other retailers; there is no commitment or discounted subscriptions
Who can take this: Adults 18 years and older
Complementary products: Nebula Genomics is the leading company in DNA testing. We can get a full picture of your brain and its functions. This provides a complete description of how your body will respond to a supplement like this one.
This review is written with the intent to be as unbiased as possible. However, it represents the opinion of an individual reviewer and is therefore subjective. Furthermore, at Nebula Genomics we seek to educate the public about the benefits of Whole Genome Sequencing. Information about our Whole Genome Sequencing DNA test is therefore incorporated into the review.
October 17, 2022
Edited by Christina Swords, Ph.D.
Pros and Cons
Pros
Neuriva pills are produced by Schiff, a trusted company of quality products
A simple formula can be great for beginners
Phosphatidylserine has proven efficacy in helping long-term brain health
Easy to find
No side effects
Cons
Having only two ingredients may mean it misses out on other useful ingredients
It is a bit pricey compared to other products
Studies on whole coffee fruit concentrate are not rigorous enough
Introduction
The dietary supplement, Neuriva, is designed to improve optimal brain function and sold by the company Schiff Vitamins. This Neuriva review will examine if Schiff Vitamins is making misleading claims about its two-ingredient blend. Specifically, the nootropic supplement (substances that claim to enhance cognitive function) is a capsule that promises to act in five specific areas: Focus, Memory, Learning, Accuracy, and Concentration.

Schiff Vitamins, the manufacturer of Neuriva, has created a blend of two main ingredients that have proven efficacy in increasing cognitive performance naturally.
Schiff claims that the product contains clinically proven naturally sourced ingredients to prevent memory loss caused by aging. However, no clear research shows the quality or effectiveness of Neuriva as a brain support supplement.
According to Schiff Vitamins, Neuriva is elaborated from clinically proven, decaffeinated, and GMO-free natural ingredients to help support brain performance. The product comes in two forms:
Neuriva Original Brain Performance
Neuriva Plus Brain Performance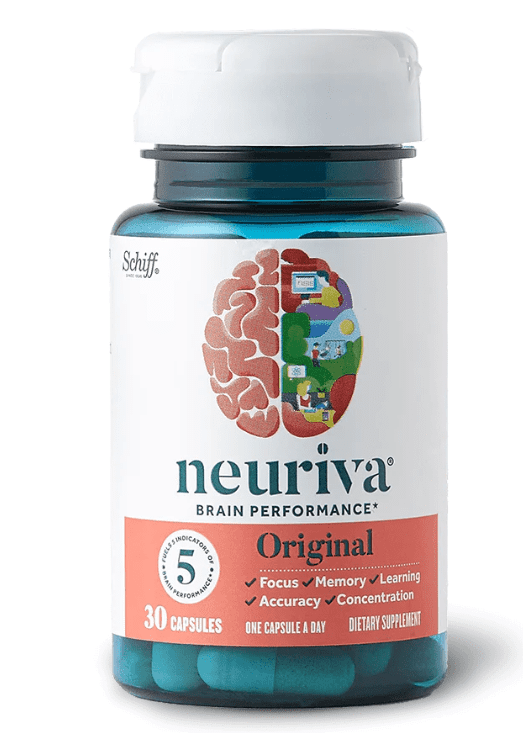 The company's online store also includes other Neuriva brain health supplements, including:
Original Gummies
Original Gummies Plus
Brain Performance De-Stress
Schiff Vitamins was founded in 1936 when Eugene Schiff, a Hungarian immigrant, started his first drug store. The store has evolved to become more than a pharmacy and is now, in partnership with Reckitt Benckiser, a manufacturer of dietary supplements, one of which is Neuriva.
When you purchase the product from the website, you get a 10-digit code to redeem in the BRAIN GYM app.
Specialty blend
The company's blend of the two ingredients is marketed as having the following benefits:
Enhanced memory functions
More positive learning
Accuracy
Improved focus
Heightened concentration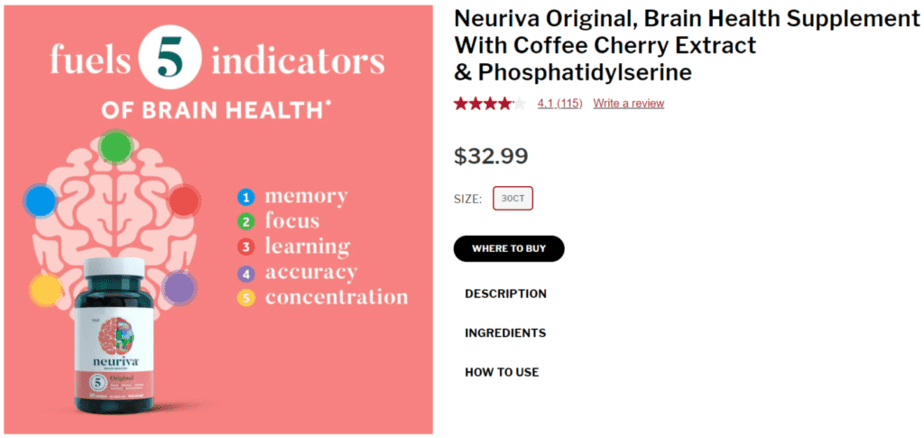 Your brain, like the rest of your body, ages and loses sharpness in accuracy, focus, memory, learning, and concentration. It happens differently to each person. Nebula Genomics provides insight into the potential loss of brain function and cognitive decline as you age. This information is crucial to determine how well supplements like Neuriva will work on you.
The Science Behind Neuriva
The fact that Neuriva Original is made up of only two ingredients is surprising. This goes over well with users who do not enjoy putting concoctions of too many ingredients into their bodies. But, with only two components, some may feel that the supplement is missing out on other science-backed substances that may help the brain perform better.
It is also true that when a product is made of only two ingredients, you must take the time to research if the constituents live up to their claims. More importantly, when you consult with your physician, you can better determine if the components have the potential to do more harm than good.
Neuriva Ingredients
Neuriva Original is Schiff's flagship brain health supplement. The other products include one or more additional ingredients to the central blend.
In this Neuriva review, we will look at all the ingredients found in all the supplements to better understand what might work for you.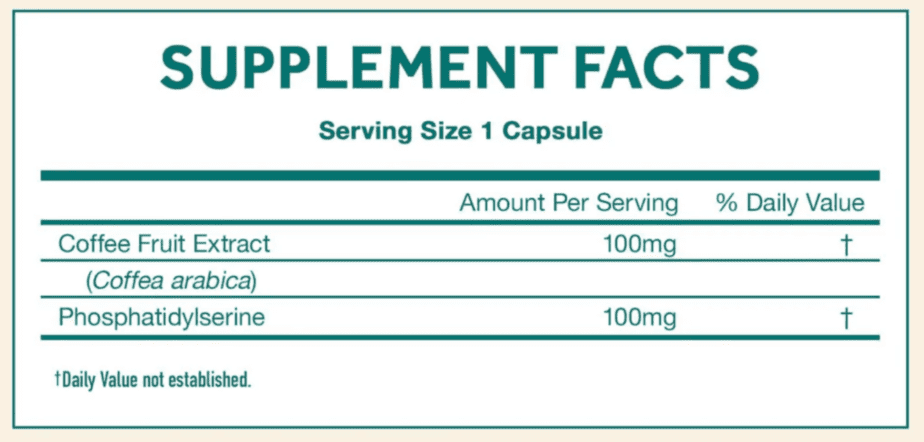 Plant Sourced Phosphatidylserine
Phosphatidylserine is a phospholipid present in brain cells and cell membranes. This fatty acid covers and protects these cells and carries messages with one another. It is essential to maintain brain health and a good memory.
People who consumed soy-derived phosphatidylserine saw a noticeable improvement in their mental agility, awareness, and short-term memory. A study performed on elderly Japanese subjects showed improved brain performance and memory. More research is needed to confirm the results of this study.
As we age, phosphatidylserine levels decrease, bringing on brain and memory issues associated with aging. It stands to reason that adding this phospholipid to your diet should boost your agility in these areas.
The use of this substance has even been considered for the treatment of Alzheimer's, but, again, much more research is needed to prove its efficiency. Experts also suggest that phosphatidylserine may treat multiple sclerosis and muscle soreness & stress.
The phosphatidylserine supplement added to Neuriva is Sharp-PS®, a Food and Drug Administration (FDA)-approved cognition supplement.
Coffee Cherry (Coffee Fruit Extract)
Most of us are familiar with coffee beans, but not too many know about coffee fruit. During the coffee-making process, manufacturers discard the coffee cherry or fruit. This is the part that surrounds the coffee beans.
Experts have recently discovered that the fruit from the Coffea arabica plant has tremendous health benefits. Now, companies promote it as a superfruit and featured in many supplements, teas, and health drinks.
Coffee fruit extract contains polyphenols, which, according to studies, stimulate the production of Brain-Derived Neurotrophic Factor (BDNF). This particular study showed an increase of 143% BDNF levels with whole coffee fruit concentrate powder.
BDNF is a neurotrophic protein that appears to promote the health of your brain cells. It helps them grow, mature, and multiply. Therefore, higher levels of brain derived neurotrophic factor (BDNF) will reduce cell death and increase cell regeneration. Besides this, it can also improve memory and cognition by stimulating more nerves .
Neuriva only uses the skin and rind and not the entire coffee fruit extract for its brain performance supplement. This fruit's effectiveness in promoting healthy brain cells and other benefits is not backed up by sufficient studies, meaning that more clinical trials are needed.
Other ingredients in this original formula include: rice bran, capsule (hypromellose, carrageenan, titanium dioxide, pectin), microcrystalline cellulose, and silicon dioxide.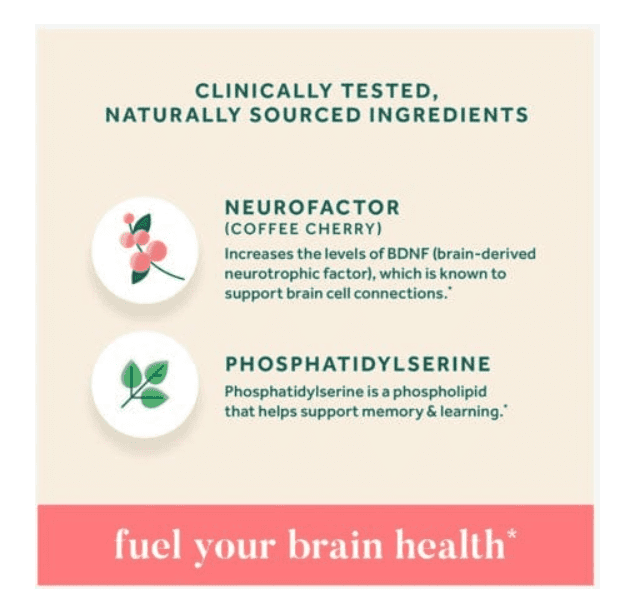 Other Ingredients
Other Neuriva products have a set of other ingredients to help boost their action. Neuriva Plus, which fuels six (one more than the original) indicators of performance, has the following additional components:
Vitamin B6: In general, Vitamin B6 is essential for the proper functioning of cells. Besides keeping cells healthy, it helps create blood cells, and with metabolism.
Folate: This member of the B complex's importance lies in its ability to help produce DNA and RNA, make red and white blood cells in the bone marrow, and convert carbs into energy.
Vitamin B12: This vitamin also helps keep blood cells healthy. Besides this, it helps make DNA.
Neuriva De-Stress is a version made of coffee fruit extract and these other two:
L-Theanine: People use this amino acid to reduce stress and relax. It is usually found in green and black teas. According to research, it can be useful for the treatment of anxiety.
French Melon Concentrate (Cucumis melo) Fruit: A melon extract that is rich in antioxidant enzymes that may relieve fatigue and stress.
Review of Neuriva: Brain Performance at its Peak
Neuriva is an over-the-counter, subscription-free product with a few incentives and perks.
How does the program work?
Schiff is a company that sells health enhancement products. In the case of Nueriva, we did not find any subscription plans. Instead, users enter the website, go to the online store, and purchase in retail stores. No doctor's prescription is needed, and you should take it at night before bed.
Schiff does have a rewards program where users sign up and receive some perks, such as early announcements on new products, coupons, and partner offers. There appears to be no cost for joining the program.
Schiff has also enabled a mobile app for users to help in their brain health program. The Neuriva Brain Gym app allows users to train their brains, diagnose, and track progress.
Review of Neuriva Cost
You can purchase Neuriva online through the Schiff Vitamins website, other online stores like Amazon and eBay, and drug stores all over the country. Each formula comes in 30-count and 7-count bottles.
The cost for the capsules is fair and, depending on the results, worth the price. There is no money-back guarantee, but you can change your mind within 30 days of your purchase. Goods must be returned in their original package, unopened, and not damaged.
There is a returning shipping fee applied. Also, opened, used, or no longer in sellable condition containers will get a 15% restocking fee.
You can also purchase the product in other retail stores such as:
Walmart: $32.99 (30 ct)
Amazon: $22.79 (28 ct)
Plus, gift cards are also available.
Is Neuriva safe?
All of the ingredients in Neuriva are natural and safe. Clinical trials do not report any significant Neuriva side effects. The claims on product's benefits are not FDA-approved, and this product is not intended to diagnose, treat, or prevent any disease.
You should always ask your health care professional for advice before using this or any other supplement. Furthermore, accurate information on how well this product and its concentration will work on you largely depends on your DNA.
Do not use this product if you are:
Pregnant or nursing
Under 18 years of age
Suffer from any health disorder
Review of Neuriva Privacy
Although there is no subscription service, you can create an account on the site, which is required to earn rewards, check out faster, and get exclusive offers. This means that the site will collect personal information directly from you.
Automatically, the site collects device and usage information from cookies and other tracking technologies. The site also collects information from third-party sources, which means it may target you on social networks without you even visiting the site.
This information is used mostly for marketing purposes and offers. Schiff Vitamins will not sell your information to third-party sellers but will share it with affiliates and service providers for business transfers and when required by law.
Neuriva in the News
Neuriva hit some headlinesin 2019, but not for a good reason. A law firm was set to sue the company for misguided allegations about the product's effectiveness.
Other Neuriva Brain Performance Reviews
Does Neuriva work? On the site and other online stores, Neuriva brain performance original reviews are pretty positive with many users who recommend Neuriva. Customers on Amazon ranked the original formula 4.3 stars with over 3400 reviews.
Neuriva Plus reviews also rank the product as 4.2 stars, with over 7800 rankings. Neuriva gummies have similar rankings and reviews.
We also found a few customer reviews that indicated that the product did not work for them. Like many other products, this supplement is not a one-size-fits-all.


Prevagen vs Neuriva
| | | |
| --- | --- | --- |
| | Prevagen | Neuriva |
| Ingredients | Vitamin D and apoaequorin | Phosphatidylserine and coffee fruit/coffee cherry extract |
| Side Effects | none reported | none reported |
| Dosage | 1 capsule per day | 1 capsule per day |
| Cost | $40 per month | $33 per month |
Nebula Genomics
Your brain is the master control of your body. Therefore, it is important to take good care of it. How well Neuriva brain supplements will work to boost an aging brain may depend partly on genes. Nebula Genomics provides a complete assessment of your raw DNA to help you decide if brain supplements may be right for you before spending your money.
Our state-of-the-art 30X Whole Genome Sequencing provides all the information you need to create a full assessment of what type of brain supplement will work best for you. We also offer regularly updated reports and a host of genome exploration tools so you can continue to explore your DNA for a lifetime.
You may also be interested in this article on the genetics of brain age or in how your genes determine your total brain volume.
One of the components of Neuriva is being tested for Alzheimer's. Learn how heredity determines the predisposition for a person to develop Alzheimer's and Parkinson's.
Other companies
If this article was helpful, you might also be interested in green tea, Focus Factor, Prevagen, or Mind Lab Pro—other dietary supplements with claims of memory-boosting power.
Other supplements that may help you age well include:
Or you could check out these other anti-aging products:
Did you find our Neuriva helpful? You can read more reviews on our blog and check out our complete guide to the best DNA test kit and other home tests.