This review is written with the intent to be as unbiased as possible. However, it represents the opinion of an individual reviewer and is therefore subjective. Furthermore, at Nebula Genomics we seek to educate the public about the benefits of Whole Genome Sequencing. Information about our Whole Genome Sequencing DNA test is therefore incorporated into the review.
December 9, 2020
Edited by Christina Swords, Ph.D.
7 Facts from our Thryve Review
Location: Sunnyvale CA, USA
Products: Thryve Gut Health Test (Gut Health Test, Thryve Digital report in-app, Personalized Food Plan), 5 Specialized Probiotic Supplements
How it works: customers take a gut microbiome test and receive probiotic recommendations
Ordering: gut test and supplements can be ordered at thryveinside.com
Reports: reports reveal gut microbiome composition and its impact on health
Cost: Gut Health Test ($99), Supplements ($39 / month for each option)
Complementary products: Nebula Genomics (whole genome sequencing with weekly updated reports and advanced ancestry analysis)
Thryve Introduction
This is a review of Thryve, an American health service and wellness company providing gut health testing and personalized probiotic recommendations. They were founded in 2016 and were formerly known as Quantbiome.
Thryve offers a variety of products meant to complement Thryve's gut health reports. The results include the types of bacteria found in your gut and that play a role in digestive health. From the type of gut bacteria found, Thryve gives comprehensive actionable insights based on current microbiome research. These insights include dietary recommendations and custom probiotic suggestions (available for purchase from Thryve).
However, it is important to know that most probiotic supplements aren't currently regulated by the Food and Drug Administration.
Some evidence exists that understanding your microbiome can allow you to develop a personalized health program. With this information, personal goals like weight loss, better digestive health, increased energy, and better mental clarity are possible.
Review of Thryve Products
The Thryve Gut Health Program bundles both the Thryve microbiome test – the Gut Test ($99) and a mix of their special probiotic supplements. While the test determines which supplements Thryve recommends, products can be purchased individually from Thryve.com.
Note: Some reviews claim the Gut Health Test automatically registers customers for their personalized probiotic subscription. If you do not want this, be sure the subscription is paused or cancelled.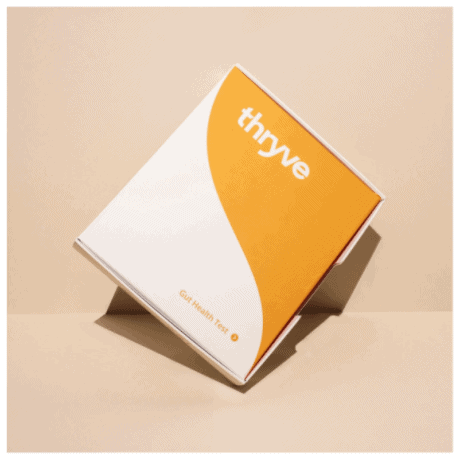 Gut Health Test
Thryve's Gut Health Test is similar to the other gut microbiome tests we have reviewed before (BIOHM, Viome). Customers mail a small stool sample to Thryve, who characterize the bacterial strains present within the sample. This data is analyzed and a Gut Health Report, Food Plan, and probiotic product recommendations are generated.
Probiotic Supplements
Thryve offers 5 different probiotic supplements for purchase individually ($39 for one month's worth), or as part of a subscription ($35 per month for each supplement). They are designed for and Thryve marketing addresses five different needs:
| | | |
| --- | --- | --- |
| Product | Purpose | Species of bacteria |
| Ketone Booster | Enhance your weight loss routine by burning fat with natural energy. | Actobacillus reuteri Tr1 (ADR1), Lactobacillus casei, and Lactobacillus fermentum, and vitamins |
| Healthy Gut | Revamp your digestive health and achieve optimal wellness. | Lactobacillus rhamnosus, Lactobacillus paracasei Th2, Bifidobacterium lactis, vitamins, and prebiotics |
| Ultimate Immunity | Supercharge your immune system and improve overactive immune symptoms | Lactobacillus paracasei Th1, Lactobacillus plantarum, Lactobacillus reuteri Tr1 (ADR1), vitamins, and prebiotics. |
| Endless Energy | Increase energy levels without the use of stimulants | Lactobacillus acidophilus, Lactobacillus rhamnosus, Bifidobacterium lactis, and vitamins C and D |
| Mood Enhancer | Boost your immunity and mood through gut bacteria | Actobacillus plantarum, Lactobacillus paracasei, Bifidobacterium breve, and others |
Each of these supplements contain a different probiotic blend. According to Thryve, each has been tested clinically and showed some evidence of being effective. This will be discussed in The Science section.
Review of Thryve Science
Many researchers are working to understand the connection between the bacteria in the gut and human health in real time. However, microbiome research is extremely complicated and there are still many unanswered questions.
There is solid evidence showing that probiotic supplements can help balance a person's microbiome by introducing good bacteria into the gut. This may lead to a variety of physical health and mental health benefits. However, there are still a lot of things we don't know about the microbiome and using probiotic supplements. Below is a quick review of what is known and what needs more research, published in the British Medical Journal in 2018.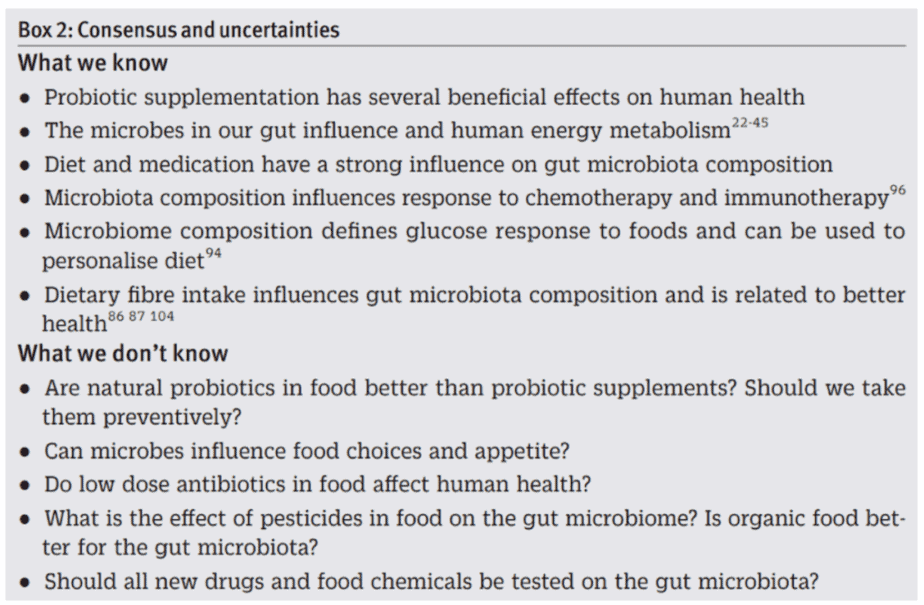 Review of Thryve Gut Health Test
Thryve identifies the bacteria within a sample by sequencing and analyzing the RNA contained in the sample. This is similar to, but distinctly different from, DNA sequencing, and has been covered in our Viome review. In short, it is an inexpensive and efficient way of identifying a wide range of bacterial strains, but requires more careful sample handling than some other techniques. Still, it is a common technique and is used by most microbiome testing services.
Review of Thryve Probiotic Supplements
Many companies offer probiotic supplements, often in the form of oral pills. This method is a convenient way for most people to take many supplements. But this is not necessarily true for probiotics. (In fact, fecal transplants are considered one of the best ways to populate a person's gut microbiome.)
Probiotics supplements are essentially collections of helpful gut bacteria. The goal of taking a supplement is to have the bacteria move past the stomach and into the gut and intestinal tract. For living bacteria, this is not so simple.
If the shell of the pill dissolves before it exits the stomach acid, it is likely that many of the bacteria will die before they reach the gut. Thryve advertises that their plant-based casing is better than other probiotic supplements at passing through the stomach. We were not able to find further details about this claim.
Another problem some supplements have is getting the bacteria to stay in the gut. Thryve claims their product adheres to the gut better than other probiotics. We were again unable to verify these claims.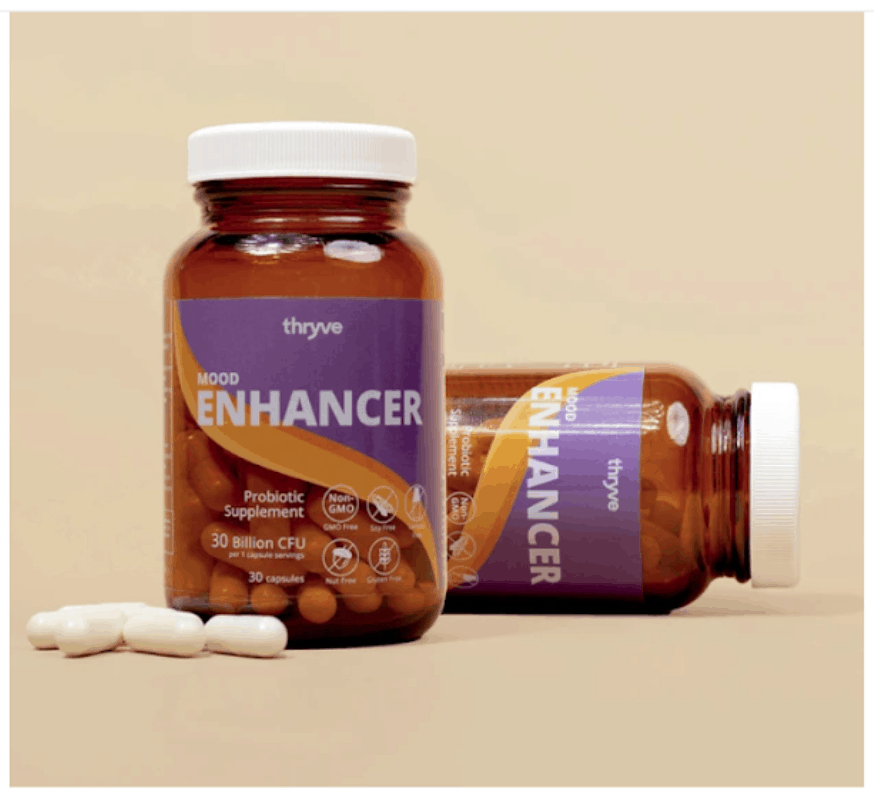 Thryve offers multiple pre-made supplements including Thryve Mood Enhancer and Thryve Inside (Endless Energy).
Another issue that probiotic supplements can have is keeping the bacteria within the supplement alive. Since the FDA does not regulate these sorts of products, it is hard to know the quality and quantity of living bacteria within a supplement. However, Thryve claims that their supplements do not need to be refrigerated and have a long, stable shelf-life. Because Thryve probiotic product statements have not been evaluated by the Food and Drug Administration the products are not intended to diagnose, treat, cure or prevent any disease.
An interesting feature is the personal probiotic blend that can be ordered after one takes the Gut Health test. It is a blend of probiotic strains contained in their other five off the shelf supplements. These personal blends can be ordered as part of a subscription.
There is often a stigma attached to health supplements. Because they are not regulated by the FDA, there is generally very little oversight regarding how they are produced and what they contain. Also, producers of supplements are not necessarily held accountable for their claims. For this reason it is recommended that consumers be careful with which producers they choose to trust.
As an alternative to supplements, there are many natural, diet-based ways of affecting your microbiome. Thryve's $99 Gut Test includes diet recommendations to help grow and maintain a healthy microbiome. Proprietary software summarizes the features of over 4,000 microbes in scientific literature and maps them to 1,000 food ingredients and over 500 supplements.
Review of Thryve Sample Collection
Collecting and sending a sample for Thryve to analyze is not complicated and consists of three steps.
Activating your kit
Activating your kit is crucial as it links your online profile with your submitted sample. A 5-digit code is included in your kit which you input on the Thryve website.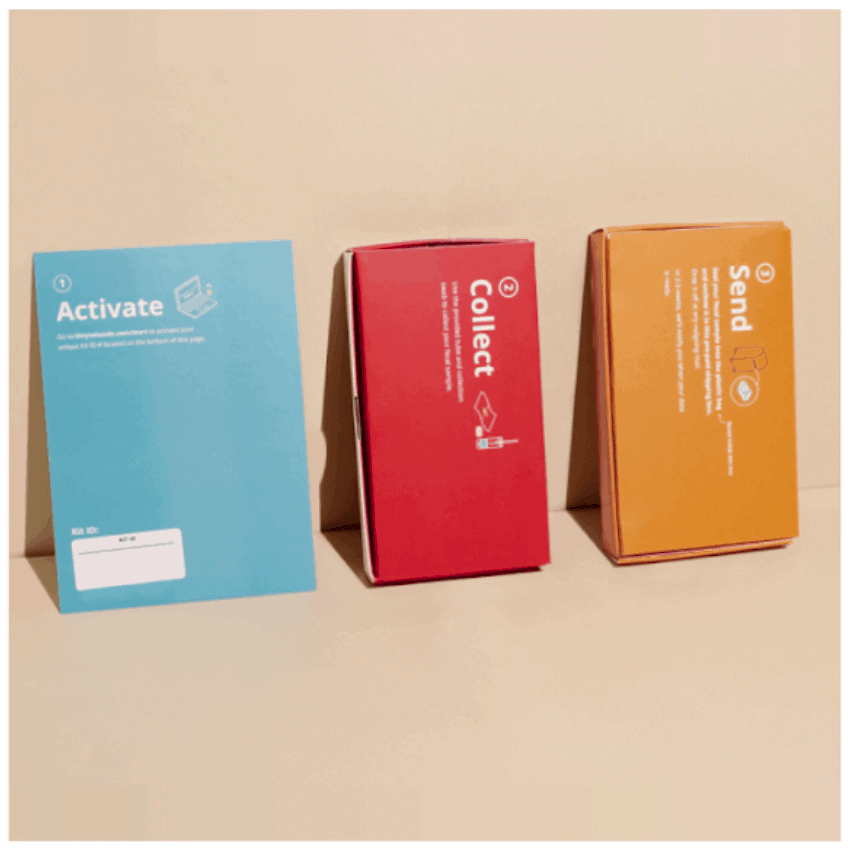 The contents of a Thryve Gut Health testing kit includes everything you need to get your sample tested.
Collecting your sample
Depending on how you feel about certain things, collecting a sample may not be the most pleasant. However, the process is not particularly complicated. Thryve provides the following instructions:
After your first bowel movement, wipe normally. Use the dry swab to lightly run over the toilet paper (roughly a rice-sized sample).
Place the cotton swab inside the primary tube and stir vigorously for 20 seconds or until the collection liquid turns color. Close the tube and shake for 5 seconds
It is comforting to note that in the event that you lose your sample before you mail it, each kit includes a spare sample tube. If you lose that too, you can contact their customer services department directly.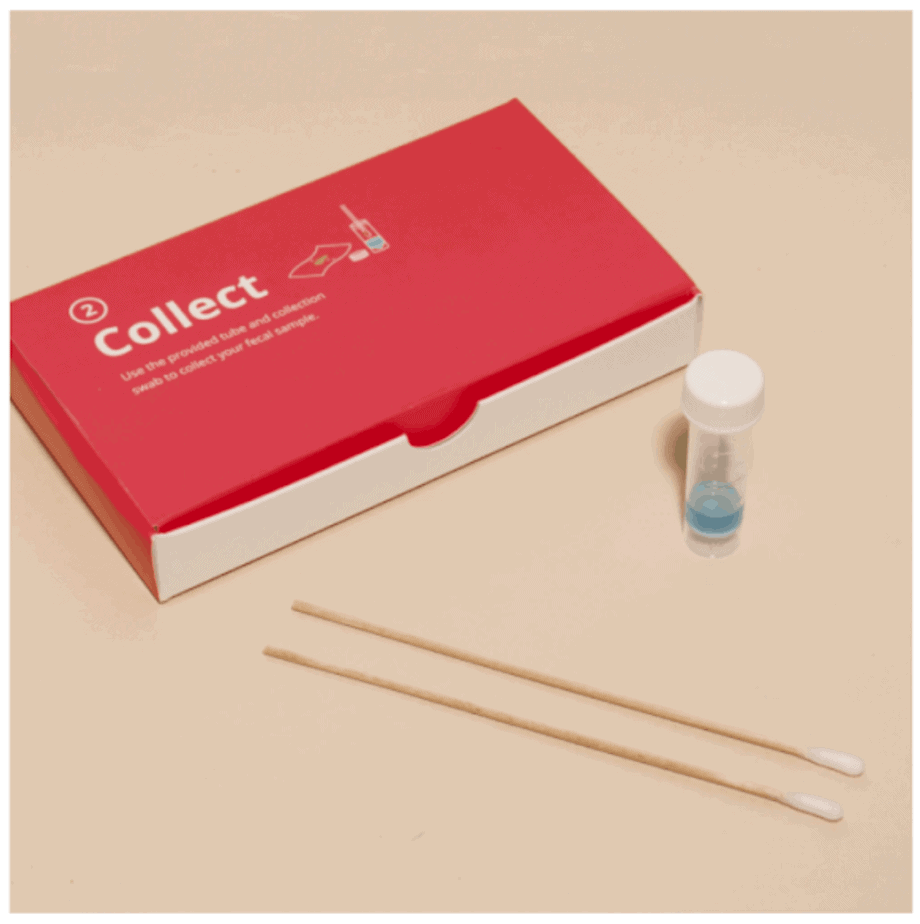 A small fecal sample is obtained with the provided swabs and placed in the vial. Thryve's own stabilizing fluid helps preserve bacterial cells until the lab is able to test your sample.
Sending your sample
For customers in the United States, Thryve provides a postage-paid box to return your sample.
For international customers, return shipping is not included. Thryve does provide instructions and recommendations for how to return your sample.
Review of a Thryve Report
Thryve reports are returned via their app.
Thryve provides a video on their website which walks potential customers through the kind of information they can expect from a report.
Thryve reports are generated based on their large library of microbiome information collected from thousands of research papers on the internet. Like most companies in this field, the exact way they utilise this information is not available. What is known is that Thryve uses their proprietary software to analyze every single microbiome research article and grades the data with their research confidence algorithm.
Thryve also provides a Wellness Score to quantify your gut health. From their website:
"In our wellness score algorithm, we compare the amounts of probiotics, beneficial, commensal and pathogenic bacteria from our customer's gut microbiome test to the American Gut Project results. From this comparison, we can calculate their gut microbiome diversity, which is the richness of bacterial genus or species (amounts of different bacteria) that characterizes the gut microbiome in individuals. We also consider the abundance of gut bacteria, including the percentage of beneficial bacteria, proteobacteria, and more."
As there is not a significant amount of health information in the reports, it appears that the true value of the report is in the personalized supplements and supplement recommendations.
Thryve in the News
Thryve Reviews
Thryve gut health reviews are generally positive, with most customers being happy with the service and products.
Poor Thryve reviews are generally related to difficulty communicating with customer service, receiving the wrong item, or receiving additional products that they did not intend on ordering.
Thryve reviews on TrustPilot: 4/5 with 139 reviews
Thryve reviews on DNAtestingchoice: 5/5 with 75 reviews
Review of Thryve Pros and Cons
Pros
Simple process
Provides diet recommendations as well as supplement recommendations
One of the least expensive options
Offers a convenient subscription plan for supplements
Personalized probiotic blends available based on your test results
A lot of thought has been put into preserving samples during shipping
Cons
No direct consultations
International customers must pay for return shipping
Much of the microbiome analysis seems tailored to selling their own supplements
Supplementing your diet with probiotics is still a new, and not FDA regulated field
Some customers find supplements cause stomach discomfort
Nebula Genomics
We finish our Thryve review with a look at Nebula Genomics.
Personal genetic testing is very different from learning about your gut's microbiome. However, both can help you and your health care providers make informed decisions about your diet and improve your health.
Health and wellness often involve multiple systems. Having the opportunity to analyze your entire genome, you are setting yourself up to answer overall health questions as they arise.
You can sequence your entire genome with Nebula Genomics 30x Whole Genome Sequencing service. This process results in far more information than many other leading genetic testing companies. With Thryve, you are limited to potentially answering one health question. With Nebula Genomics, you have the power to use your genome to unlock questions that involve your entire genetic makeup.
Even though your genome stays the same, research is constantly evolving. The Nebula Library is a collection of reports based on the latest genetic discoveries. It is updated weekly with over 150 genome-wide association studies (GWAS) and new reports added with each update.

If you are interested in ways to improve your gut health, you may want to check out these alternative products:
For other at home tests, you should look at:
Another supplement that you might be interested in is Tru Niagen or Elysium Health, which are supplements that may be able to slow down aging!
Other reviews include Curology (personalized skincare), Plexaderm (skin anti-aging), Yoga Burn (weight loss) and Medishare, which may be able to help with emergency health bills through cost sharing ministry.
Did you like our Thryve review? You can read more reviews on our blog and check out our complete guide to the best DNA test kit and other home tests.