7 Facts from our OlaWell Review
Location: Beverly, MA, USA
Products: OlaWell Gut Microbiome Kit: One-time food intolerance check and Annual Wellness Subscription
Cost: One-time cost of $199 or $359.88 per year for a subscription
Reports: Gut profile, insights, and wellness factors for the gut microbiome tests
How it works: Customers create their accounts, receive their chosen test at home, and activate the kit. They provide a swab sample and return it to the lab using the prepaid shipping material
Counseling available: No
Alternative Products: Nebula Genomics offers 30X Whole Genome Sequencing that decodes 100% of your DNA and offers reports on diet and much more!
This review is written with the intent to be as unbiased as possible. However, it represents the opinion of an individual reviewer and is therefore subjective. Furthermore, at Nebula Genomics we seek to educate the public about the benefits of Whole Genome Sequencing. Information about our Whole Genome Sequencing DNA test is therefore incorporated into the review.
March 2, 2023
Pros and Cons
Pros
Price is on par with other tests
Subscription option to track progress
Uses gut microbiome to evaluate food sensitivities
Cons
No third-party reviews online
Long wait times (4-8 weeks)
Only available in 46 states
Introduction
OlaWell offers DNA kits that sequence and analyze the user's gut microbiome to evaluate the effect of the food customers eat. By recommending specific foods that can improve the microbiome overall and identifying sensitivities, the company helps customers make food choices that make them feel good.
Users having issues with digestion or gut-related issues may find OlaWell helpful as it tests for intolerances in over 200 foods. The aim is to help customers get relief from digestive issues fast through balancing gut bacteria, not by analyzing everything in a diet. Overall, the company believes optimizing the microbiome will help people live healthier and longer.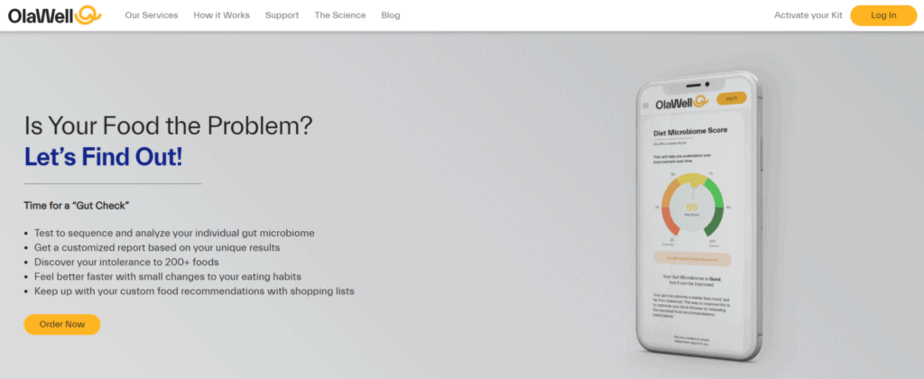 Customers can also subscribe to the company to get updated health guides on how to manage what they eat. The subscription plan includes food intolerance and wellness reports.
OlaWell was founded in 2012 by Preston W. Estep III, Ph.D. He is also the Director of Longevity at Harvard Personal Genome Project (PGP) and author of "The Mindspan Diet." The PGP focuses its studies on the role of the microbiome, genetics, and diet in wellness and longevity. OlaWell's headquarters are in Beverly,, Massachusetts, USA.
These tests are only available in the United States of America. Due to regulations, they are not available in NY, NJ, MD, and RI.
Review of the Science Behind OlaWell
OlaWell sequences over 50,000 different bacteria in the gut microbiomes to provide actionable information about an individual's food tolerance. The microbiome is a collection of millions of bacteria in the human body and is a complex ecosystem involved in many different metabolic, immune, and energy conversion processes.
Food intolerance is the difficulty in digesting certain foods, causing symptoms such as stomach pain, bloating, diarrhea, skin rashes, and itching. Research suggests that an abnormal gut microbiome can increase food intolerance while maintaining a healthy gut microbiome can decrease these effects. It may also be important for overall wellness.
On its website, OlaWell uses the example of the Japanese, who typically have much longer lifetimes (100+ years) than those in western nations. Although there are a number of factors contributing to that statistics, experts believe their diet is a key component. They also tend to have extremely low risk of heart disease, most cancers, Alzheimer's disease, and obesity.
OlaWell compares customers' initial microbiome profiles against established profiles from ideal diets, like the Japanese one. Using this information as a baseline, the company makes dietary recommendations designed to shift the customer's microbiome profile closer to the ideal. A proprietary algorithm drives the computation of these recommendations.
Review of OlaWell Products
The main OlaWell product is the Gut Check plan that includes a single kit used to test gut microbiomes. Customers get a customized report with recommendations based on their test results. The Wellness Subscription plan adds additional reports related to a healthy life.
Review of OlaWell Gut Check
With OlaWell's food intolerance test kit, users receive gut microbiome analysis and profile. The kit is used once. The test provides users with an intolerance profile for more than 200 food substances. This helps users find relief from digestive symptoms caused by food intolerances without tracking everything they eat.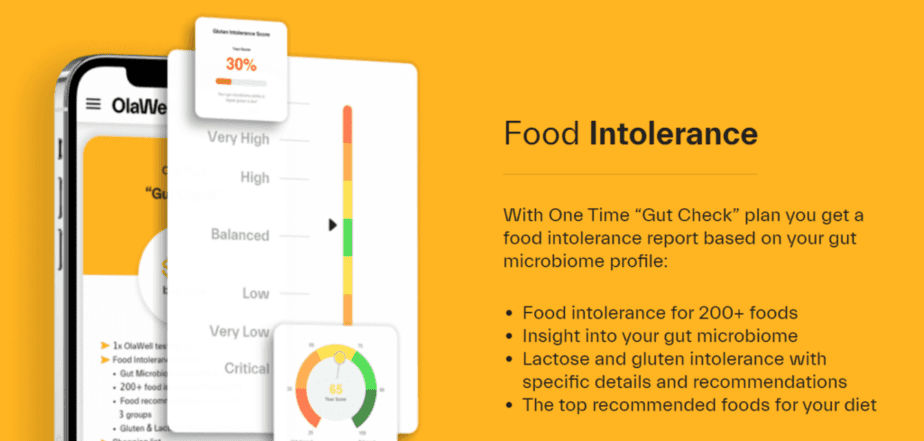 Food recommendations are divided into three groups and the report also includes lactose and gluten intolerance information with specific details and recommendations. The test provides users with a plan that would help them create a balance between their health and eating habits and may recommend avoiding these substances entirely.
Review of OlaWell Wellness Subscription
This service further guides users on what they should eat and how they can maintain stable health with a minimal change in diet.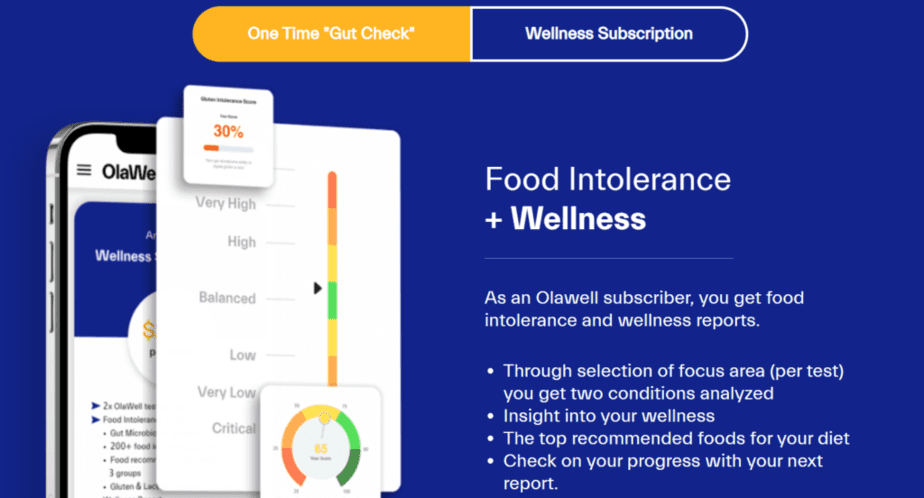 With an OlaWell wellness subscription, users get access to an additional level of analysis and wellness insights. For instance, users who subscribe get personal food recommendations that are more impactful through analysis of two conditions instead of one. Customers can choose from weight, digestion, mood, or immunity management.
The subscription also covers testing every 6 months so that customers can track their progress.
Review of Taking the OlaWell Test
Users should follow the included directions for how to collect and process a sample for the test. Generally, users will take a fecal sample by using the swab to collect a small amount of material from used toilet paper after the first bowel movement of the day.

It comes with printed instructions on how to collect the sample correctly as well as a swab used for taking a small amount of sample. After collection of the sample, users are to return the envelope with the return address on it.
Results are usually available within 4-6 weeks of the sample arriving at the lab. In certain cases, the wait time can exceed 8 weeks.
Review OlaWell Cost
One-time Gut Check: $199
Annual Plan Wellness Subscription: $29.99 per month ($359.88 per year)
The test is not covered by insurance and customers cannot use HSA (health savings account), or FSA (flexible spending account) cards as payment.
Review of OlaWell Report
The OlaWell report is designed to be actionable and easy to understand. Once you have submitted your sample to the company, wait for the report to be sent to your device.
Results summary and details
The first part of the report shows a results summary with the most important numeric values.

The numbers are color coded for easy recognition with green being good, yellow being moderate, and red being bad or needs improvement.
The next sections of the report provide detail on the three major pieces of information given in the results summary.
Diet Microbiome Score: This score shows if you have been having a balanced meal based on your diet choices. A score of 25 to 75 means that your food choice is not balanced. The lower the score, the worse your diet imbalance.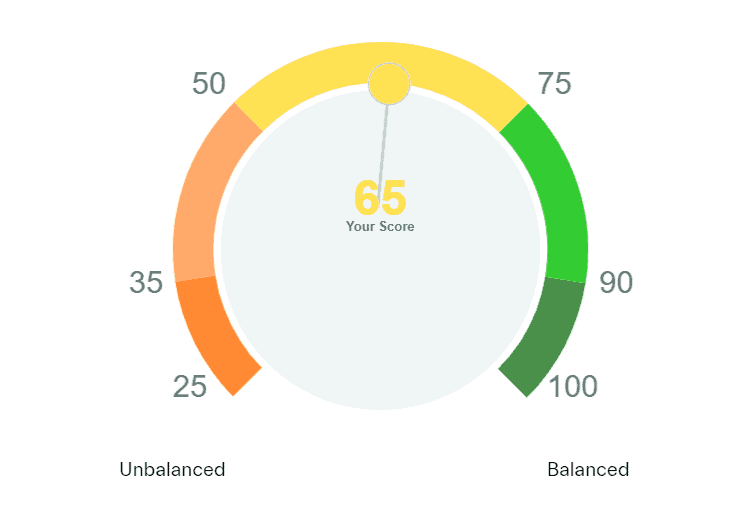 A score from 75 to 100 is an acceptable to excellent food range balance. The higher the score the better your food balance for your gut.
Gut Microbiome Composition: This provides a score on your gut microbiome composition ranging from Critically Low to Balanced to Critically High. The two ends of the score spectrum are very bad, while the balanced is the best position. Your report will show your category for each bacteria tested.
Food Intolerances: This is where you will find the 200+ food and food ingredients tested for whether they negatively influence your gut microbiome balance. From here, you can designate items to place on your digital shopping list.

Each food is categorized as Good, Acceptable, or Bad.
Review of OlaWell Other features
The next part of the report highlights the popular food intolerances of lactose and gluten.

A low score below 50 means that your gut microbiome has a low ability to digest the material. The higher the score, the better the gut microbiome can digest either lactose or gluten.
The report also suggests five foods that improve the levels of bacteria that digest lactose and gluten.
Customers can receive their raw data as FASTQ and CSV files upon request.
Review of OlaWell Privacy Policy
The company ensures that data integrity is maintained and users' personal details are kept safe, secure, and used properly in line with US privacy law and information security (Secure Sockets Layer (SSL) technology encryption technology).
The company collects information when users order or register on its website, including name, address, mailing address, phone number, and credit card info. The company stores and uses personally identifiable information for general commercial purposes, such as providing goods and services. OlaWell will not sell or rent your personal information to any other company or organization.
Physicians and their authorized representatives have access to the account portal to access protected health information in accordance with the Health Information Portability and Accountability Act (HIPAA). This access is limited to treatment and other authorized purposes.
In preparation for research projects, the company may review limited Protected Health Information to draft research protocols, identify prospective research participants, or for similar purposes. This information is not removed from the premises.
OlaWell uses data for as short a time as possible to provide its services. It keeps data for the time that it has a relationship with the customer or if needed by a legal agency. Once this period is over the company will either destroy, archive, or anonymize the data.
If you have questions, contact details are available on its website.
Nebula Genomics
OlaWell is a microbiome testing company that specializes in food sensitivities. Its aim is to help users understand their gut health and choose foods that best support their optimal diet. The company uses a proprietary AI system to create recommendations based on current microbiome population and the world's best diets.
To identify the gut bacteria, OlaWell uses microbiome sequencing. If you're thinking that you want to explore your genome, you may be interested in Whole Genome Sequencing.
Nebula Genomic uses 30x whole genome sequencing technology to decode all 20,000 genes in the human genome. Results also come with ancestry reporting and genome exploration tools.
Nebula is not a microbiome company and thus does not report on gut microbes. However, it offers a comprehensive test for any genetic predisposition related to disease, traits, and health. This includes issues that may be causing your digestive issues. We also provide customers with regularly updated reports on the latest genetic discoveries.
For only $299 or less, customers will get access to their entire genome, allowing you to continue to ask more questions as more research is conducted.
| | | |
| --- | --- | --- |
| | OlaWell | Nebula Genomics |
| Sample collection | Fecal sample | Saliva test |
| Testing | Microbiome sequencing | Whole genome sequencing |
| Reports | Gut analysis and food recommendations | An extended genetic report that is updated regularly |
| Counseling | No | No, but data is of the highest quality and can be used by physicians and genetic counselors |
| Cost | $199 or $358.88 per year (subscription) | $0, $99, $299 |
Other tests
Did you like our OlaWell review? You can read more reviews on our blog and check out our complete guide to the best DNA test kit and other home tests.
You may also be interested in these other tests for the microbiome: