This review is written with the intent to be as unbiased as possible. However, it represents the opinion of an individual reviewer and is therefore subjective. Furthermore, at Nebula Genomics we seek to educate the public about the benefits of Whole Genome Sequencing. Information about our Whole Genome Sequencing DNA test is therefore incorporated into the review.
February 22, 2022
7 Facts from our Ixcela Review
Location: Bedford, Massachusetts, United States
Products: A home microbiome test and 3 programs: Kickstart Assessment, Complete Package Program, and Personalized Accounting, plus supplements
Cost: $499-$1999 for the programs; supplements start at $30/90 days
Reports: The blood test provides details on 5 health categories based on 11 metabolites
How it works: Customers create their accounts and receive their chosen test at their home. They provide blood samples and send the package to the lab. Results are available through the online portal in approximately 10 days.
Counseling available: Yes, expert dietician consultations are included with each program
Alternative Products: Nebula Genomics offers 30X Whole Genome Sequencing that decodes 100% of your DNA and offers reports on diet and much more!
Ixcela Introduction
Ixcela is a gut microbiome testing company that provides customers with a full analysis of their gastrointestinal health, diet health, immune health, fitness health, and metabolism. Customers can use the information provided in consultation with dieticians to help customers make health decisions and meet their nutrition goals. Whereas most companies require a stool sample for this type of analysis, Ixcela is the first company to use a dried blood sample collected through a pinprick method.
Drs. Erika Ebbel Angle and Wayne Matson co-founded founded Ixcela in 2012. Erika is the current CEO of the company and pilots all innovations to enhance testing. She received her Ph.D. in Biochemistry in 2012 from Boston University School of Medicine and holds a B.S. in chemistry from MIT. Wayne Matson is the Chief Scientist of Ixcela and is known as the "father of modern metabolomics." They are supported by a team of interdisciplinary scientists.
The health and wellness company's goal is to go beyond diagnosis and therapy. Specifically, it aims to promote "internal health" through measurement and control of the microbiome, a key indicator of gut health.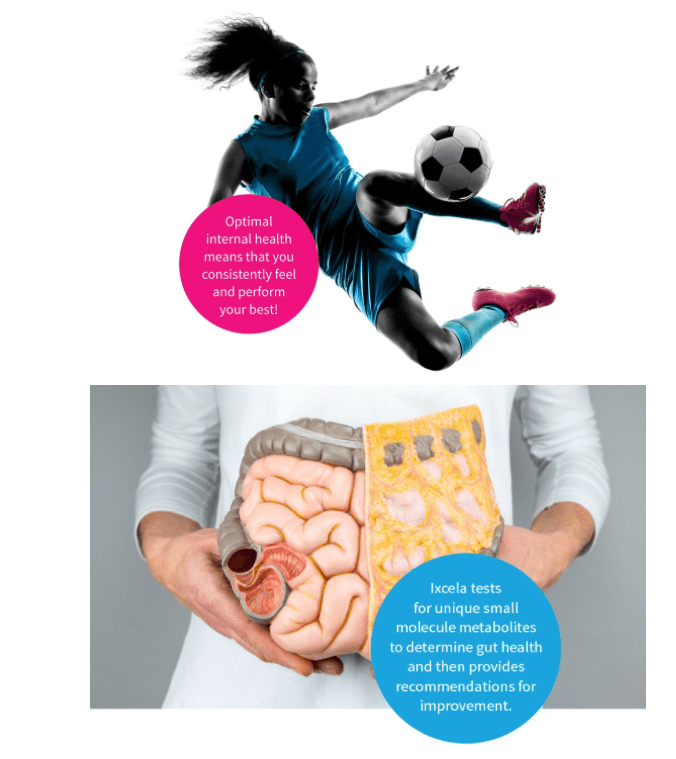 Ixcela is based in Bedford, Massachusetts. It offers its services to people in the United States and neighboring countries.
The Science Behind Ixcela
Ixcela seeks to handle gut health and other related issues more innovatively and personally. It focuses its approach on restoring "Internal Health". The company runs on advanced technology to fully analyze a person's gut, fitness, immune system, and diet dispositions. The firm does not just perform tests. It also has programs that a patient needs to subscribe to get supplements that help them boost their health based on the demand of their report.
The motivation behind this test is based on scientific studies that link bacteria in the gut to other body systems and demonstrate impact on overall health, including brain performance, immune function, energy level, and improved sleep. Many patients are never able to pinpoint the cause of certain distressing stemming from the digestive system. Drs. Angle and Matson founded Ixcela to help customers better understand what their body needs for long term care.
The testing method and analysis is based on decades of research into the metabolites in the microbiome. Using a pinprick, the analysis identifies key metabolites present in the blood. The result is a health assessment tool that provides nutrition, supplement, mindfulness, and fitness recommendations. The test also includes a consultation with a registered dietician.
Taking an Ixcela Test
An Ixcela test is extremely easy to take. Customers choose a program online and then receive the test kit at home. The test requires about 5 drops of dried blood via finger prick that you will send back to the lab for analysis. You will get your results on your online account in approximately 10 days.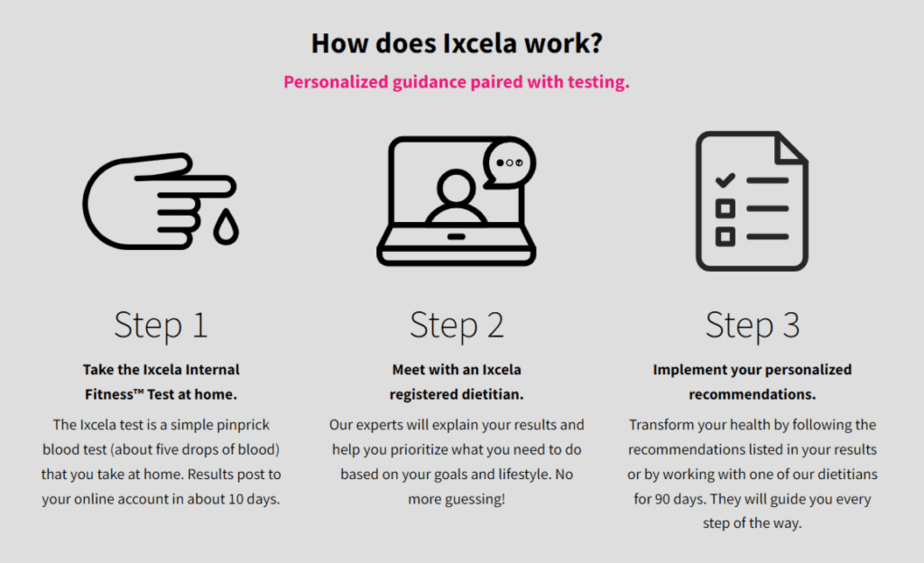 After results are posted, the company connects you with a registered dietician that will go over the results and provide recommendations.
Review of Ixcela Products
The Ixcela blood test measures specific metabolites in the gut to provide you with a customized wellness plan to help you look and feel great. The 11 metabolites tested are Indole-3-Acetic Acid, Indole-3-Lactic Acid, Indole-3-Propionic Acid, Kynurenine, Serotonin, Total Indoxyl Sulfate, Tryptophan, Tyrosine, Uric Acid, Xanthine, 3-Methylxanthine.
Kickstart Assessment Program
This program helps you understand your body's requirements and guidance on how to get started. Each individual gut health and body system are unique. Ixcela is a health assessment tool that helps check your internal fitness to provide you with specific supplements, mindfulness, simple nutrition, and fitness guidance that will keep you healthier for a long time and make you feel better.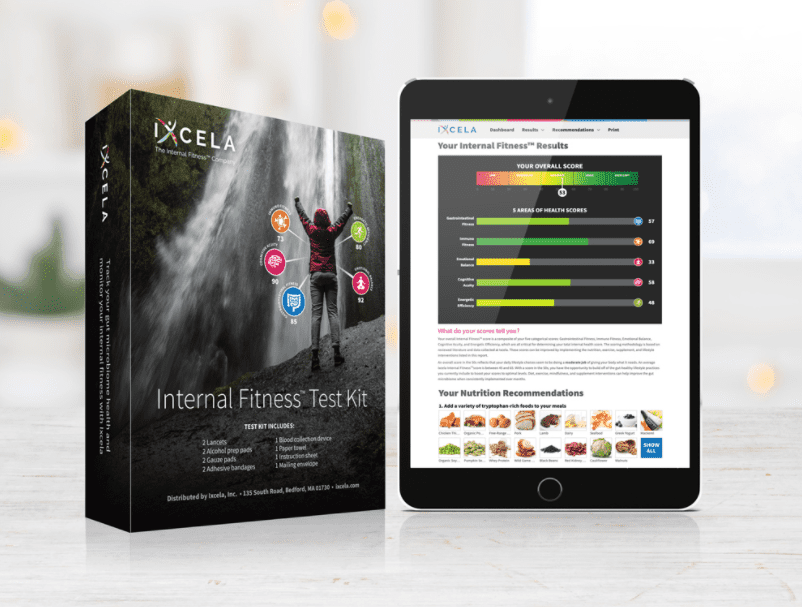 The program includes:
One Ixcela test kit
One private 60-minute session with an Ixcela expert
This program is ideal for 18 years and above, people who seek self-improvement, and people who want a personalized plan for their health. It is also used by people who want a wellness coach or nutritionist to use their Ixcela results to provide insight into their body's needs.
Complete Package Program
This program provides the same guidance as the kickstart assessment program, plus weekly messaging to help you implement changes. This is a 90-day program that includes test support, weekly emails, and tracking the changes in the person's health with the person's before and after testing record.
The program includes:
Two Ixcela test kits (initial and 90-day follow up)
Two 60-minute and one 30-minute sessions with an Ixcela expert
90-day access to 1:1 weekly messaging
90-day supply of Ixcela supplements
90-day access to the Ixcela recipe, mindfulness, and exercise libraries
This program is ideal for people who are already changing their habits but need some help and guidance and people who want to improve their health. The company also recommends it for people who would love a regular text or email from a dietician to answer their questions.
Personalized Accountability Program
This program is the most comprehensive option available. It provides the same guidance as the other programs and also includes step-by-step instruction for 90 days.
This program includes:
Two Ixcela test kits (initial and 90-day follow up)
A dedicated Ixcela Expert to curate weekly recommendations and provide guidance for 90 days (30-minute Zoom check ins, email, or text alerts)
90-day supply of Ixcela supplements
90-day access to the Ixcela recipe, mindfulness, and exercise libraries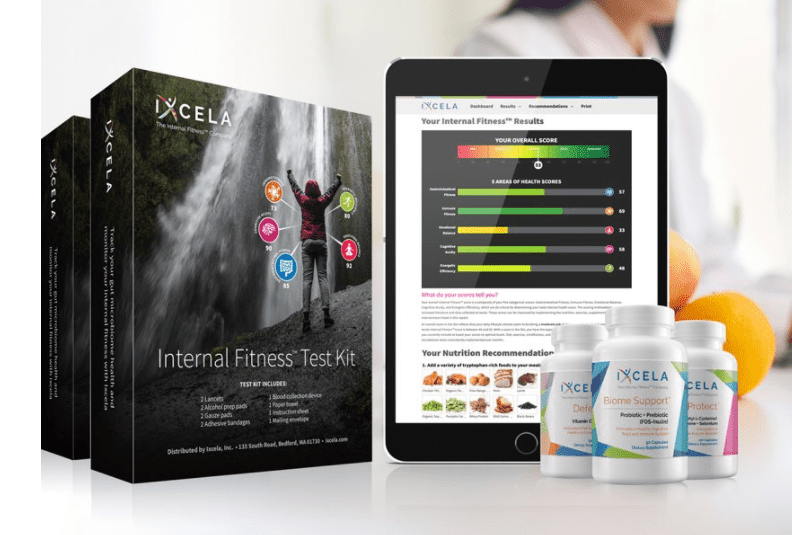 This program is ideal for people with chronic digestive issues that want an alternative to elimination diets, which can be costly and time consuming. This can also be a good choice for those who have tried other options but are not getting the results they want or for those who work better with a dedicated professional.
Ixcela Supplements
Ixcela Supplements are a number of safe premium drugs that help boost your diet, metabolism, and overall health. They are designed to help you get the best out of your test and any other programs that the organization offers. The supplements are all approved by the FDA. To get the best out of a supplement, it is important that you go for the Ixcela test to know exactly which ones will work for you.
The different supplements available include:
Balance (5-HTP + Vitamin B6)
Biome Support (17-Strain Probiotic + Prebiotic)
Defend (Vitamin C + Zinc)
Night (Low-Dose Melatonin)
Power (Vitamin B Complex)
Protect (NAC (N-Acetyl L-Cysteine) + L-Methionine + Selenium
Review of Ixcela Cost
Ixcela costs are competitive and available to customers worldwide. The supplements sold by the firm are usually attached to the program choice that a patient wants. However, you can also buy the supplement without opting for the test.
2-Day FedEx shipping is free for U.S. customers with the included prepaid envelope. Tests can be shipped internationally, but the customer is responsible for the international shipping fees, which must be expressed due to the sample. The company estimates that total international shipping costs are approximately $300.
Gut tests:
Kickstart Assessment Program: $499
Complete Package Program: $999
Personalized Accountability Program: $1999
Supplements:
Ixcela Balance (5-HTP + Vitamin B6): $69.99 for 90 days, $23.33 per month
Ixcela Biome Support (17-Strain Probiotic + Prebiotic): $109.99 for 90 days, $36.66 per month
Ixcela Defend (Vitamin C + Zinc): $49.99 for 90 days, $16.66 per month
Ixcela Night (Low-Dose Melatonin): $29.99 for 90 days, $10 per month
Ixcela Power (Vitamin B Complex): $44.99 for 90 days, $15 per month
Ixcela Protect (NAC (N-Acetyl L-Cysteine) + L-Methionine + Selenium: $74.99 for 90 days, $25 per month
Review of Ixcela Reports
Reports cover a vast area of a person's health and are almost 40 pages long. The major test result is on 11 metabolites. These metabolites are tested along with the 5 major categories: Gastrointestinal Fitness, Immuno Fitness, Emotional Balance, Cognitive Acuity, and Energetic Efficiency.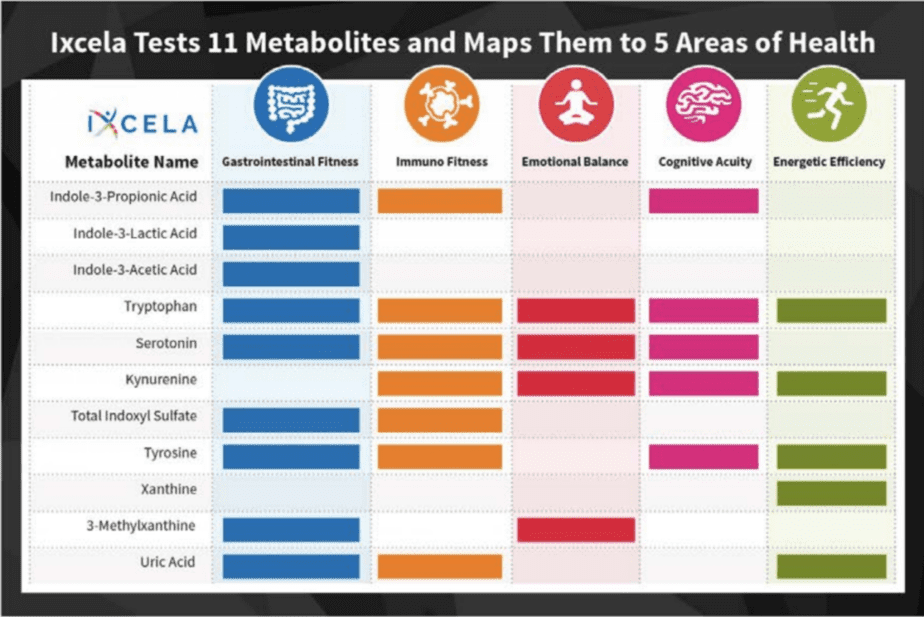 Each section provides numerical results and a detailed explanation of what the metric means to you and your health. There are also highlights of room for improvement with all diet types.  
Scores
The first section of the report provides your overall score and the individual scores from each of the five categories that went into that metric.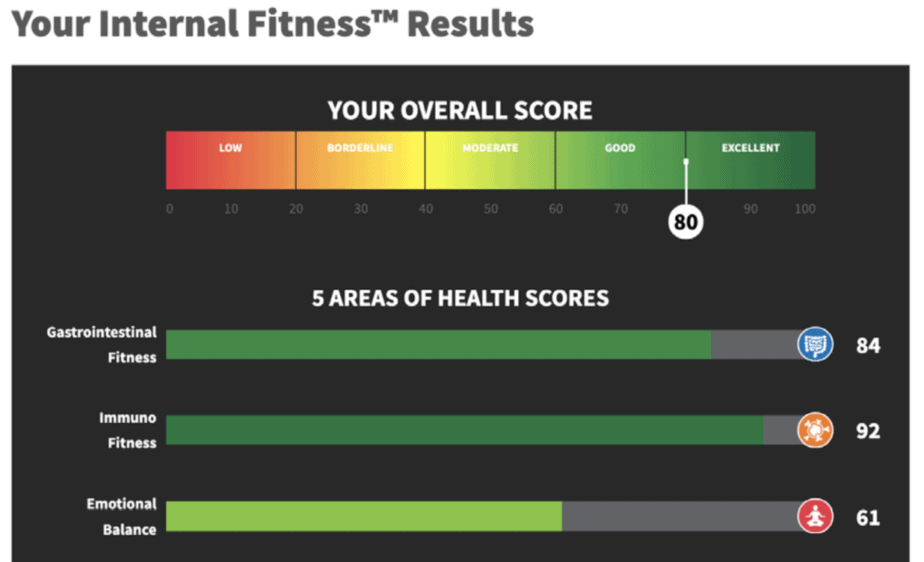 If you take the gut health test more than once, you will receive a plot of your changes in these metrics over time. This feature is designed to help you monitor your progress and determine how well certain changes are working.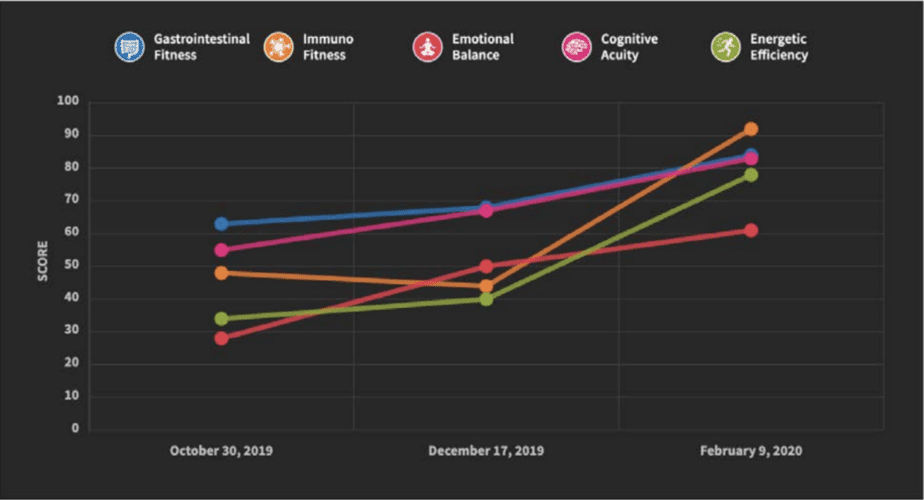 Metabolic levels
The next section of the report goes into details of your metabolic levels. Specifically, it will tell you which of the 11 metabolites tested are above, below, and at optimal levels. 
Recommendations
The following section provides an overview of your recommendations. Generally, this includes a 1-page summary of your results, recommendations, and supplements.
The rest of the report focuses on your recommendations. This is divided into nutrition, mindfulness, and fitness.
These dietary recommendations are based exclusively on your metabolite results. For example, the report will recommend adding fermented foods, like fermented pickles, to the diet if certain metabolites are not within the optimal range.

Each section includes not only the recommendations, but additional tools in each category such as top recipes in nutrition, mindfulness resources, and a fitness tracker.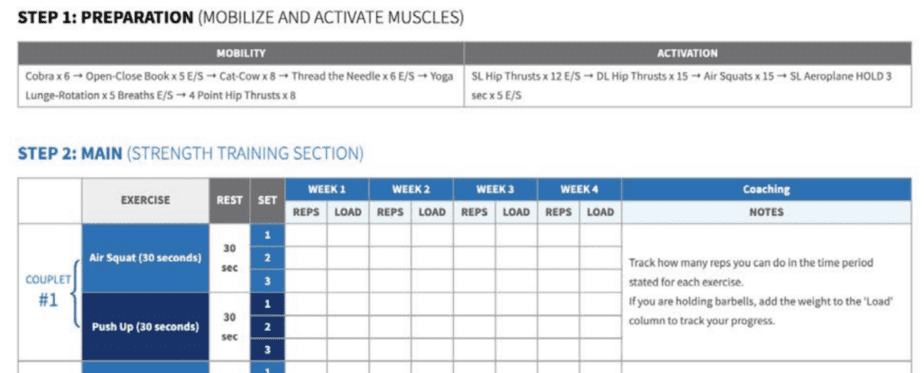 The final section of the report provides examples of recipes, mindfulness, and exercises included in the Ixcela libraries. All customers have access to these resources for 90 days. You can upgrade your account for continued access.
Review of Ixcela Privacy
Ixcela offers users great privacy and ensures that their data are totally safe and secured. The website does collect some Personal Data from users, including usage, names, and contact information. This information is necessary to process the services requested.
You generally do not have to upload your ancestry report as the firm only requires your blood sample and helps you get the right diet and treatment for you. Ixcela does not share your details or blood samples with any unauthorized entity. If you decide to close your account after completing your test, all your details will be cleared and deleted.
Other Ixcela Reviews
The company has been reviewed by several other online blogs and magazines. These outlets include Boston Magazine in February 2018 and PurWow in May 2018. Although neither reviewer found the information completely transformative, both agreed that the product is interesting and agreed that the advice made sense based on their health goals.
Ixcela in the News
The company and its leaders have been profiled in several high profile platforms.
In August 2019, company CEO and co-founder Dr. Erika Ebbel Angle gave a TEDxFargo talk about the gut microbiome.
In 2021, Dr. Angle was interviewed by Reader's Digest. The article focused on 12 signs of poor gut health that may not be obvious without an official diagnosis.
Pros and Cons
Pros
Different programs to choose from based on how much support you desire
Sells its own supplements to better health
Consultation with a dietician is included with all programs
Cons
Does not offer genetic testing
The most 1:1 support program can be expensive
Reviewers note that results confirm most of what they already suspected
Nebula Genomics
Ixcela is one of the health organizations dedicated to gut, fitness, and metabolic health. The company has three programs that patients can choose from to enhance their gut and overall health. Each program is expertly designed to help customers achieve their desired fitness, appropriate diet, and exercise routine.
However, it is important to note that Ixcela is not a genetic testing company. The information constructs diet, mindfulness, and fitness recommendations based on a measurement of the metabolites in your blood. This is an alternative to traditional microbiome testing, which sequences the type of microbes in your stool. The goal of both these tests is to provide an assessment of certain nutrients and other aspects missing from a health routine.
On the other hand, a genetic test provides extended information on genetic predispositions that could serve as a great alternative if customers want to go beyond their gut health for a lower price.
Nebula Genomics offers a comprehensive test that highlights predispositions related to diet, fitness, and metabolism. With 30x Whole-Genome Sequencing, Nebula sequences 100% of your DNA to get to the root cause of every biological inclination. The test is incredibly accurate and comes with other additions that include ancestry reporting and genome exploration tools. Regularly updated reports ensure that you will not miss the latest genetic research.
For only $299 or less, customers will get access to their entire genome, allowing them to continue to ask more questions as more research is conducted.
Ixcela vs. Nebula Genomics
| | | |
| --- | --- | --- |
| | Ixcela | Nebula Genomics |
| Testing method | Blood test for gut metabolites | Sequences all 20,000 genes and regulatory regions |
| Reports | Recommendations on gut health | An extended genetic report that is updated regularly |
| Ancestry reporting | No | Performs deep ancestry reporting with the complete Y chromosome and mtDNA sequencing |
| Counseling | Yes | No, but data is of the highest quality and can be used by physicians and genetic counselors |
| Cost | $499-$1999 | $0, $99, $299 |
Ixcela vs Nebula Genomics
Did you like our Ixcela review? You can read more reviews on our blog and check out our complete guide to the best DNA test kit and other home tests.
Interested in gut health? You may like these other reviews:
For general health and wellness, you can also look at:
You may also be interested in virtual health care such as that offered by PlushCare, Teladoc, and Lemonaid Health!