7 Facts from our Onegevity Review
Location: New York City
Products: Onegevity is a leading health intelligence platform for wellness. The staff includes professionals in various health fields, including genetics, blood work, microbiome, and physiology
Ordering: Tests can be ordered online through the Thorne website
Costs: $39 (Agebio) and $349 (Gutbio). Other products TBA
Reports: The test report reveals information about your body system. It provides personalized recommendations on lifestyle, nutrition, and dietary supplementation through artificial intelligence
Privacy: The company is committed to protecting the privacy and security of your information
Complementary Products: Nebula offers 30X Whole Genome Sequencing. We provide our customers and patients with advanced sequencing technology. Our kit reads out over 6,000,000,000 positions in your genome (~ 100%)
This review is written with the intent to be as unbiased as possible. However, it represents the opinion of an individual reviewer and is therefore subjective. Furthermore, at Nebula Genomics we seek to educate the public about the benefits of Whole Genome Sequencing. Information about our Whole Genome Sequencing DNA test is therefore incorporated into the review.
June 15, 2023
Disclaimer: Onegivity was absorbed by the company Thorne since the writing of this article.
Pros and Cons
Pros
At-home testing
Easy sample collection
Easy-to-understand report
Suitable personalized recommendations based on gut microbiome
Cons
Some might find the stool sample uncomfortable
No raw DNA upload
Introduction
Onegevity is the leading consumer health intelligence company and platform for wellness. To that end, it offers various at-home test kits that allow individuals seeking better health to examine their health status with lower healthcare costs. The company also combines a multi-omic artificial intelligence (AI) platform to provide patients with science-based, consumer-friendly, personalized health insights to living healthier. This machine learning will then recommend a suitable lifestyle, customized nutrition, and dietary supplements predicted to optimize an individual's health.
The company employs experts in many health fields and dimensions, including genetics, blood work, physiology, microbiome, etc.
Its interdisciplinary approach to problem-solving, in addition to the adoption of artificial intelligence, medicine, and science, allows it to offer suitable solutions for customers looking to improve health outcomes.  Its services can give you a complete health assessment and personalized actions to assist you in making health decisions. 
The founders
Paul Jacobson is the CEO and co-founder of Onegevity. He's also the CEO of Thorne Research, a health, wellness research, and fitness company based in New York. Furthermore, he's a member of the board of directors of Drawbridge Health and Co-Chair of the Board of Directors of Progenics Pharmaceuticals, Inc. 
The scientific founders are Drs. Joel Dudley and Chris Mason. Dr. Joel Dudley and Dr. Chris Mason are pioneers in AI-based diagnostics.
Onegevity leverages parent company Thorne's network of physicians to offer convenient testing and powerful analytical tools to improve health outcomes. Consequently, the aim is to provide resources that enhance preventive healthcare and bring down expenses for patients in the long term.
Onegevity Science
Once the company's artificial intelligence (AI) platform activates your test, you'll be asked to answer specific questions about your medication history, exercise routine, habitual diet, plus other essential factors that can affect your health, metabolism, hormones, and lifestyle. These metrics are designed to improve health with the best science.
The company provides an at-home microbiome test (Gutbio) and integrates it with the information you provided. In brief, advanced Whole-Genome Shotgun Sequencing identifies and counts all microorganisms in your gut, including gut bacteria, archaea, viruses, yeast, fungi, and parasites. The Gutbio test will also be used to 'map and track' your health and compare your results to those of other customers. Finally, an easy-to-read report is provided based on AI-driven recommendations for lifestyle, nutrition, and dietary supplementation.
Furthermore, additional options include the biological age test (Agebio), where customers can upload existing Quest Diagnostics Lab blood work, or the performance test (Performbio), which uses stool, blood testing, and saliva samples.
Cutting-edge metagenomic sequencing and artificial intelligence analyze the data and provide personalized recommendations to live healthier. 
Onegevity Review
How to take a Gut Health Test
When you receive your test kit, you must collect a small stool sample. Afterwards, you will mail it back to the company with pre-paid postage.
It'll take about four weeks to your test results and recommendations online. When the results are ready, you'll see them on the company's website, where you can download them. In the report, you'll find details of every microorganism found in your sample. 
You'll also receive personalized supplement recommendations for diets and lifestyle habits. Following this recommendation will help improve gut health and whole-body wellness.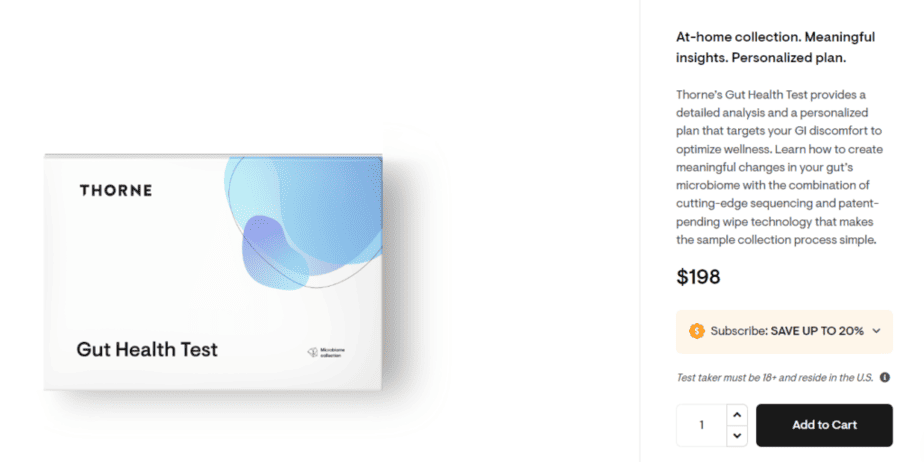 How to take an Agebio Test
NOTE: This product now goes by the name "Biological Age Test" and is offered by Thorne Tech.
After purchasing your test, you will receive an email with a lab order requisition form. You must complete a health profile form before visiting the lab for collection.
You must find a lab near you under the test results tab in your account and schedule your visit.
Thorne recommends fasting for at least 12 hours before your visit and bringing your lab requisition form with you.
After your blood draw, the sample processing will typically take three to ten days. Once the lab has processed your sample, your results will be immediately analyzed using the longevity health intelligence platform.
Thorne Tech will notify you by email when you can view your results through your account.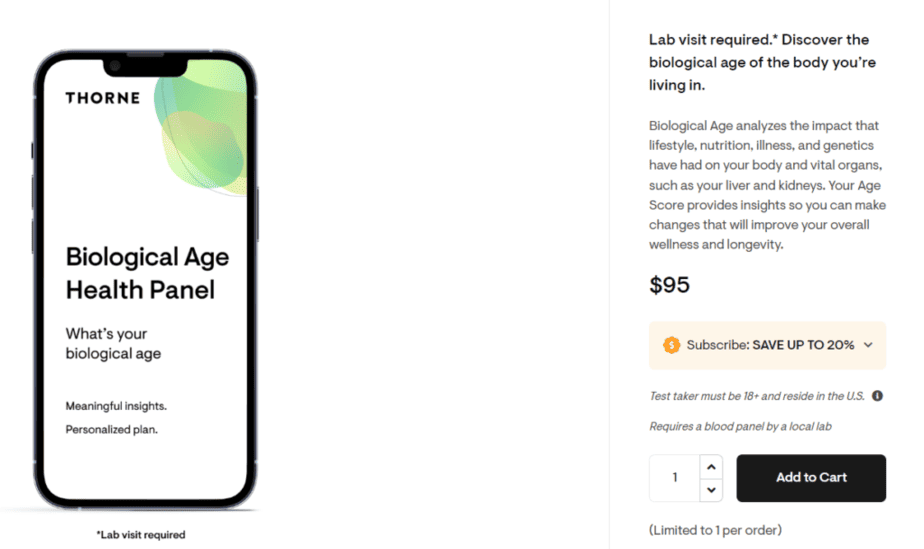 How to take a Performbio Test (No longer available)
Customers must take a small stool sample, two dried blood spot cards, and two saliva samples. This test will measure performance indicators such as energy, recovery, performance drive, gut metabolism, diversity, and inflammation biomarkers. This information will then be integrated with sleep, stress, mood, training, and nutrition questionnaire data.
Onegevity Cost Reviews
There are about three different test kits available from Onegevity, each for various purposes. Individuals experiencing constipation or diarrhea, frequent heartburn, excessive gas, bloating, abdominal pain, or nausea, or with a family history of IBS or IBD, will be particularly interested in the Gut Health test, which sells for $198. Markedly, this test will examine the microbiome in your gut and provide a suitable recommendation for GI discomfort.
If you want to live healthier for longer, have a family history of disease risk, have underlying health conditions, or are just generally interested in public health issues, you should consider a Biological Age Test. It will reveal your overall biological age, which describes how your body is aging and is separate from a person's chronological age in years. 
This kit costs $95 to upload existing lab data. With it, the company suggests it can help you reverse your aging clock.
Onegevity Report Reviews
Onegevity reports use artificial intelligence to generate suitable personalized recommendations for individuals after identifying all the microorganisms causing a particular symptom in their test results, in addition to the answers provided to the questions on the website by the patient. Both patients and healthcare professionals can use the report. 
A Gut Health report contains two sections consisting of results and personalized recommendations:
Results include:
Inflammation risk (Did you know you can test inflammation markers at home? Learn more in our article about at-home inflammation tests).
Constipation risk
Diarrhea risk
Diversity
Micronutrients
Probiotics
Pathogens
Keystone phyla
Community breakdown
Personalized recommendations for customized health routines: supplements, exercise, etc.

For the risk sections, results will include a score, an interpretation of the score, and also the identity of the microorganisms in your gut that went into calculating the score.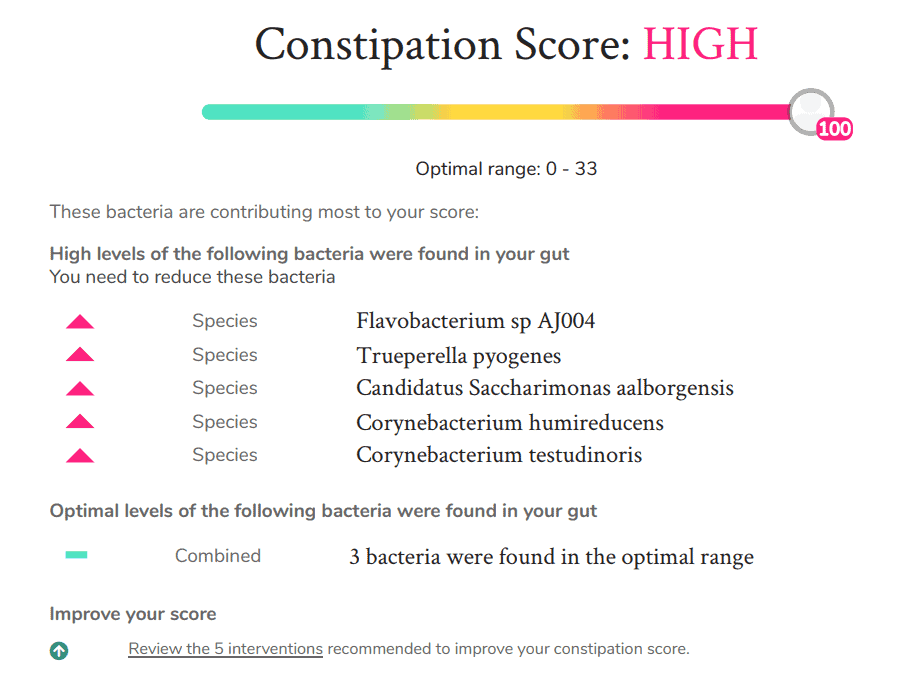 Other sections, such as the diversity section, will analyze your gut and compare your score to that of other customers.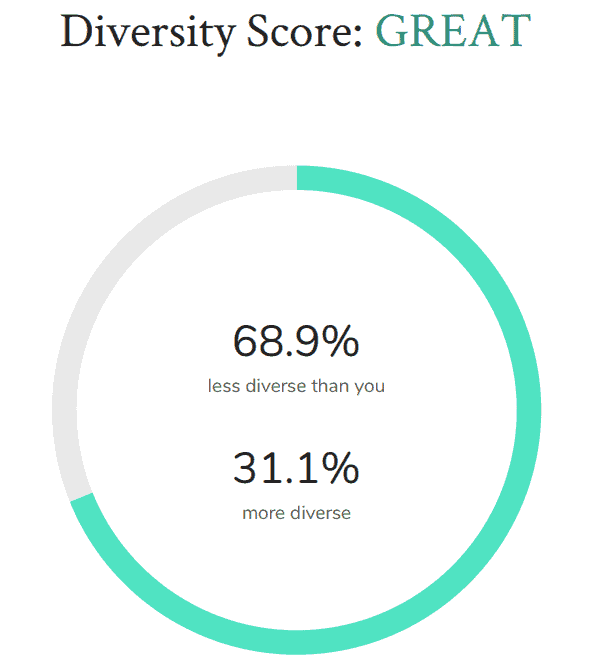 Additionally, more sections will provide information on the number of certain types of microorganisms and whether they are within an optimal range.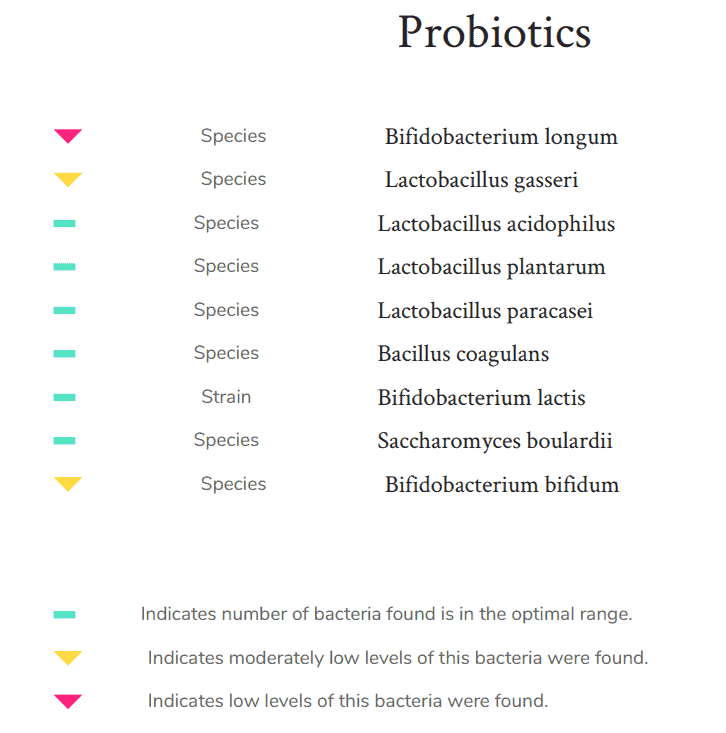 Onegevity Privacy Review
Onegevity upholds the privacy of its patients. To put it another way, it treats all the information patients provide on its website with all forms of confidentiality.
A section of its privacy statement reads, "Onegevity Health, LLC ("Onegevity Health"), commits to safeguarding the privacy and security of the information entrusted to us from healthcare practitioners, patients, and customers who use our websites (collectively the "Website"), any subdomains of such Websites or any related sites, applications or online services offered by Onegevity Health (collectively, the "Services")."
Furthermore, some other information you'll find in the privacy statement section includes the "acceptance of privacy statement," "what the privacy statement covers," and "Automatically Collected Information and Anonymous Information."
Other Onegevity Reviews
Most customers review the Gutbio test positively. You can take some time to read what people are saying about it on Twitter #Onegevity.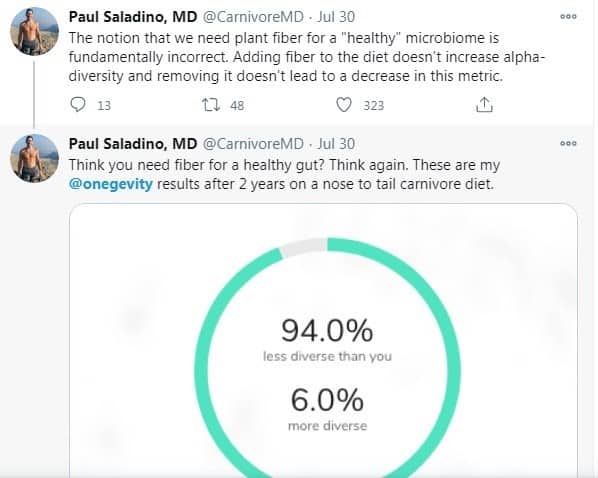 Onegevity in the News
In 2019, Onegevity announced that it acquired global licensing rights to Mount Sinai's Lab100, a clinic and personal health research lab that also uses precision diagnostics.
As has been noted, in February 2021, Onegevity merged with Thorne, making it its parent company.
Nebula Genomics
At Nebula Genomics, we decode 100% of your DNA using Whole Genome Sequencing. This is more than what other DNA tests like 23andMe and AncestryDNA do. Therefore, we can provide the most comprehensive and reliable personalized recommendations for our patients. 
With Whole Genome Sequencing (WGS), we decode all 6.4 billion DNA base pairs in the human genome.
Gut microbiome tests like Onegevity only provide a snapshot of one issue: digestive health. On the other hand, Nebula Genomics can give you in-depth genetic information about these conditions, plus much more. With regular updates and data exploration tools, you can analyze your data on almost any health issue at any time. Since new discoveries are coming out all the time, you can continuously learn more about your DNA – instead of settling for a single report such as that offered by companies like Onegevity. 
Onegevity vs. Viome vs. Nebula Genomics
| | | | |
| --- | --- | --- | --- |
| | Onegevity | Viome | Nebula Genomics |
| Testing Method | Blood, stool, and saliva | RNA from gut microbes (stool sample), human RNA (blood sample) | 30x Whole Genome Sequencing |
| Reporting | Microorganisms that may cause a particular digestive problem. Personalized recommendations, which include lifestyle, nutrition, and dietary supplementation | Gut microbes present, proprietary "health scores" | Genetic predisposition |
| Ancestry Reporting | No | No | Deep ancestry reporting with full Y chromosome and mtDNA sequencing |
| Options for raw DNA upload | No | No | Yes |
| Focus on Privacy | Yes | No | Yes (learn more) |
| Cost | $39 / $349 | $149 / $349 | $0 – $299 |
If you're interested in at-home lab tests, you may also be interested in:
You may also be interested in virtual healthcare, such as that offered by Teladoc and Lemonaid Health!
Did you find our Onegevity review helpful? You can read more reviews on our blog and check out our complete guide to the best DNA test kit and other home tests.