This review is written with the intent to be as unbiased as possible. However, it represents the opinion of an individual reviewer and is therefore subjective. Furthermore, at Nebula Genomics we seek to educate the public about the benefits of Whole Genome Sequencing. Information about our Whole Genome Sequencing DNA test is therefore incorporated into the review.
February 10, 2022
7 Facts from our Atlas Biomed Review
Location: Greater London, United Kingdom
Products: The Atlas Biomed DNA test and Atlas Microbiome test
Cost: £165 – £199 (~$223-$270)
Reports: DNA sequencing that focuses on either health or microbiome
How it works: Customers create their account and purchase the test, which is delivered to their door. They provide saliva samples and send packages to the lab. Results are available through the online portal about 4-8 weeks after the samples arrive at the lab.
Raw data available: Yes; Customers can download the raw data on their accounts
Alternative Products: Nebula Genomics offers 30X Whole Genome Sequencing that decodes 100% of your DNA and offers reports on diet and much more!
Atlas Biomed Introduction
Atlas Biomed Group is a genetic test firm based in the United Kingdom. It offers genetic tests with its two flagship products; Atlas Biomed Listen to Your Genes DNA test and Atlas Biomed Listen to Your Guts Microbiome Test. The company was founded in 2016 by a team of bioinformaticians, doctors, scientists and IT experts. Its Scientific Board of Advisors are international academics.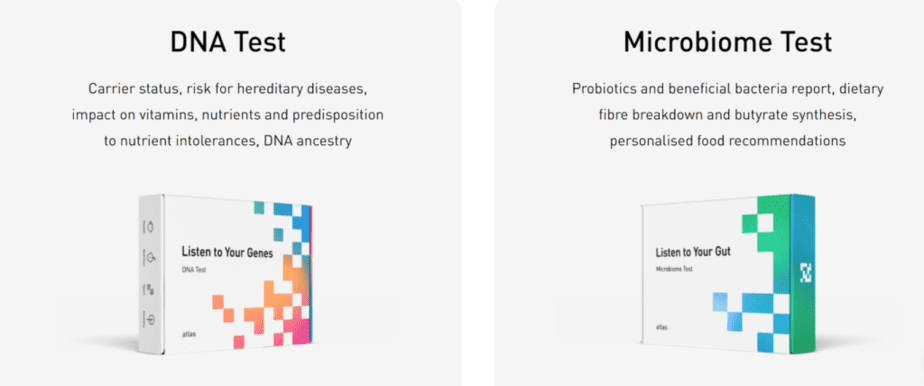 The company founders are Andrew Perfilyev and Sergey Musienko, and both have continued to play a major role in the company.
Currently, the tests offered by this company are not available in the United States. They are available in Austria, Belgium, Canada, Germany, Denmark, Finland, Hungary, Ireland, Italy, Luxembourg, the Netherlands, Norway, Poland, Russia, Sweden, Turkey, and the United Kingdom.
The Science Behind Atlas Biomed
Atlas Biomed aims to offer users comprehensive and accurate reports concerning disease risk management. The firm performs a vast test on your genes and helps you discover disease risks and vulnerabilities that you could be exposed to. It also helps you discover how you may respond to nutrition plans by analyzing your genes. The information can help you know the best diet to go for and be assured of maximum results. Also, you have the option to learn more about your gut and microbiome with the microbiome test.
The company's DNA test provides a detailed genetic profile of your health, nutrition, physical activity and geographical ancestry with over 400 traits. The company recommends combining the results with your lifestyle and the microbiome test for a complete view of your genetic health.
The microbiome test provides information on the type and amount of bacteria present in a customer's gut. This information is useful to detect whether a person has enough good bacteria for immune and digestive processes. This test uses a more accurate method, called 16S rRNA sequencing technology, to detect bacteria, rather than traditional methods of growing bacteria in petri dishes.
The company claims its DNA test is 99.9% accurate using DNA microarray technology from Illumina in a certified EU lab. It should be noted that the tests are not for informational purposes only and cannot be used to diagnose any disease or health condition.
Taking an Atlas Biomed Test
Customers order their testing kits through the company's website using the secure payment portal and the kits arrive at the shipping address provided. Customers provide a saliva sample in a test tube and mail it back to the company using the preaddressed box.
Customers receive an email when results are available 4-8 weeks after the sample arrives at the lab through an online portal.

The microbiome test follows a similar procedure except that customers will provide a stool sample and the company will analyze the DNA of the bacteria present.
Review of Atlas Biomed Products
Atlas Biomed offers two products: A DNA test and a microbiome test.
DNA Test
Atlas Biomed offers a genetic test and analyses of your DNA. The Atlas Biomed DNA test covers the following areas:
Disease risk
Carrier status
Nutrition
Athletic predisposition
Ancestry
Personal traits
In total, the DNA test contains 401 reports. The most comprehensive category is the health test, which includes 20 disease risks, carrier status for 322 hereditary conditions and 16 other health-related traits. There are also 21 reports on nutrition, 12 on sports, 3 on ancestry, and 12 on other traits.

Microbiome Test
This test will show the right food you need in your diet for your microbial health. The microbial test is extensive research on the various foods ideal for beneficial bacteria and your essential microbial function.
With the help of this test, you would add some food to your diet that promotes microbial diversity making it more resistant to invading bacteria.
This test will also research the performance of your microbial and give you a customized food guide to enhance your nutrient combination. With a personalized food recommendation, you would learn to strengthen butyrate production, which helps to prevent inflammation and support the gut lining wholeness.
Reasons to Get The Microbiome Test Even When Eating The Right Foods?
The food you eat daily forms the composition of your guts bacteria, and as such, every individual has different microbial profiles. Your microbiome risk profile can also be influenced by stress, environment, and antibiotics. So even if you avoid taking away food and only eat fresh food, your microbiome might lack the capacity to break down necessary dietary fiber or blend in specific vitamins.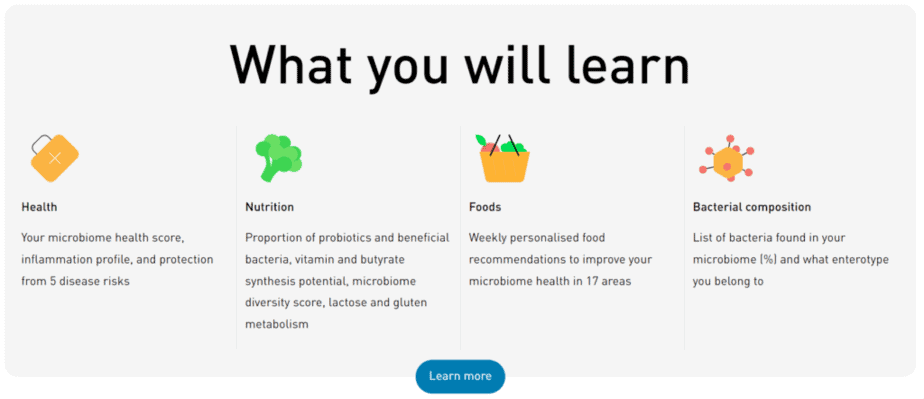 However, external risk factors that influence gut bacteria can cause some species to die off. In a case like this, diversity is necessary to prevent pathogenic organisms from taking over while other bacteria perform the functions of the dead species.
In summary, the Atlas Biomed Microbiome Tests find out the following
Know how microbes protects you from disease
Understand how diet affects gut bacteria
Optimize microbiome vitamin synthesis
Dietary fiber breakdown and butyrate synthesis
Personalized food recommendations
Probiotics and beneficial bacterial report
Lactose and gluten metabolism
Anti-inflammatory potential
Review of Atlas Biomed Cost
Atlas Biomed tests are straightforward, and you can easily find out all you need to know about your wellness, fitness, and health and microbiomes with a combined amount less than £400 (~$493). The Atlas Biomed DNA Test costs only £165 (~$223), and it gives information and reports about your health, nutrition, exercise and fitness, ancestry, and other important traits.
The Atlas Biomed Microbiome costs £199 (~$270) and provides information concerning your microbes and how they help protect you from disease and other important benefits.
Review of Atlas Biomed DNA Reports
In total, Atlas Biomed DNA test provides reports on more than 360 conditions, with 401 reports. You will get the information you need related to your health, sports, nutrition, ancestry, and microbiome. Atlas Biomed reports are easy to read and understand.
Ancestry DNA testing: Atlas Biomed DNA test helps to determine the origin of your ancestors and their migration pattern. It searches over 150 populations to determine your ancestry composition and the neanderthal genes found in your DNA. It also helps unravel your maternal or paternal haplogroups.
Health: The DNA provides you with 353 reports, with the majority coming from hereditary disease risks that can be passed down to children and 20 from disease risks that are influenced by genes and lifestyle.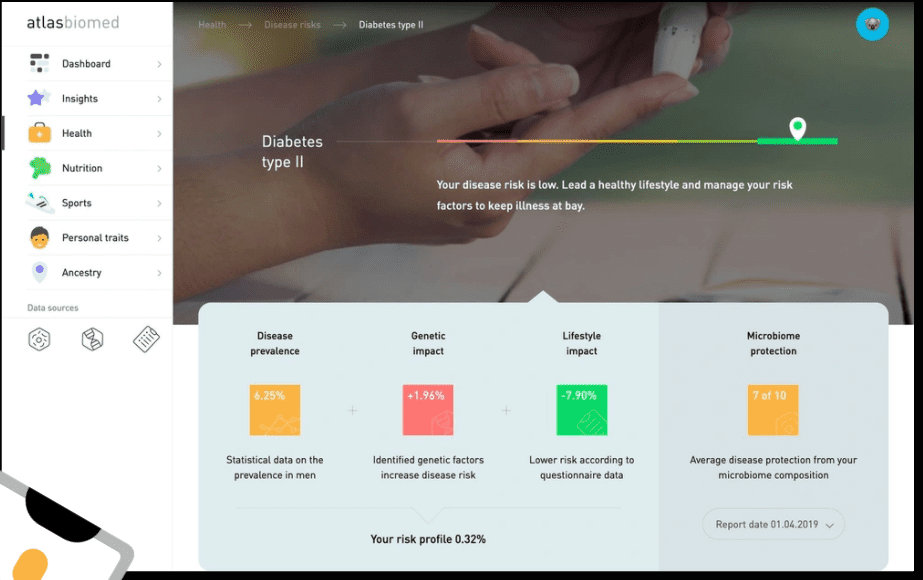 From their online dashboard, customers can toggle through the different sections of the report. For example, in the health section, they can look through their predisposition risk to conditions such as type 2 diabetes. The report provides a color-coded scale where red is high risk, orange is average risk, and green is low risk of developing the condition.
Reports also include the disease prevalence, whether your genetics increase or decrease your risk (genetic impact), and whether the answers to the lifestyle questionnaire increase or decrease your risk (lifestyle impact). If you also took the microbiome test, you will receive an additional category called microbiome protection, which tells you the average disease protection from your microbiome composition.
Review of Atlas Biomed Microbiome Reports
The microbiome reports are composed of four sections that focus on health, vitamins & minerals, bacteria, and the microbiome.
Generally, the report provides microbiome scores from 1-10, where 1 is considered below average and 10 is significantly above average. The report will include scores for microbiome diversity and butyrate production potential as well as gluten/lactose metabolism and inflammation potential.
Each section is color coded as either red, yellow, or green. Red indicates a rating below average, orange is average, and green is above average. Customers who see ratings in red or orange in certain categories can follow recommendations provided to improve their microbiome and their overall health.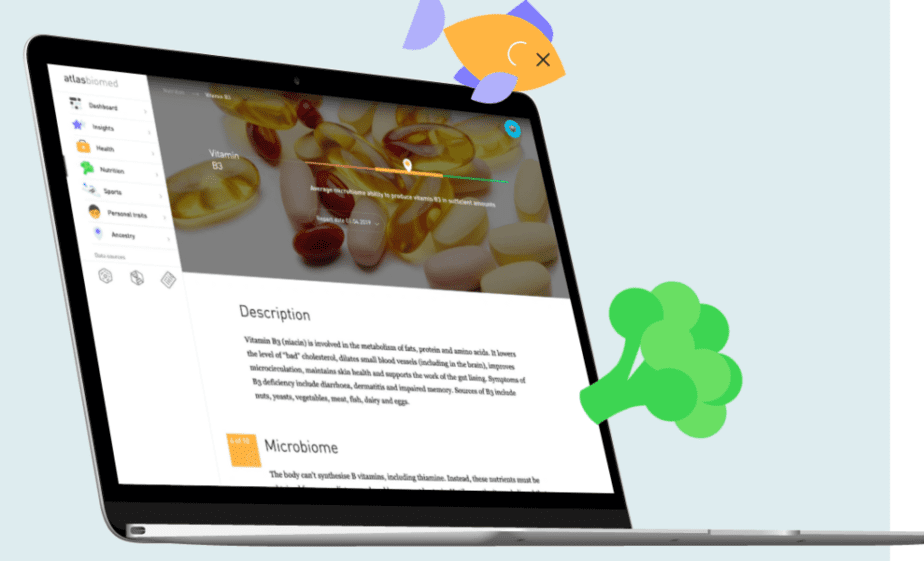 Dashboard
The dashboard also includes simple, actionable recommendations based on your results. 
Health: This section includes disease protection, which describes the ratios of bacteria in the gut that can influence protection from protection from obesity, type 2 diabetes, Crohn's disease, ulcerative colitis and coronary heart disease.
Customers also receive information on the type and amount of bacteria in the gut that can synthesize important components of maintaining the gut lining. This section will include personalized recommended foods to help balance the microbiome
Vitamins & Nutrition: This section includes information on your bacteria's ability to produce the necessary vitamins and minerals that go into vitamin synthesis, dietary fiber breakdown, and butyrate, which is essential for a healthy gut lining.
Bacteria: Most microbiomes fall into one of three categories. This section of the report provides information on bacterial diversity, which is a key indicator for overall health. This section also describes "Nationality". The latter indicates what type of diet you most likely eat based on the types of bacteria present.
Microbiome: This program allows you to track changes in your microbiome. Because it is influenced by lifestyle factors, customers are encouraged to retake the test at regular intervals to track how their factors are changing.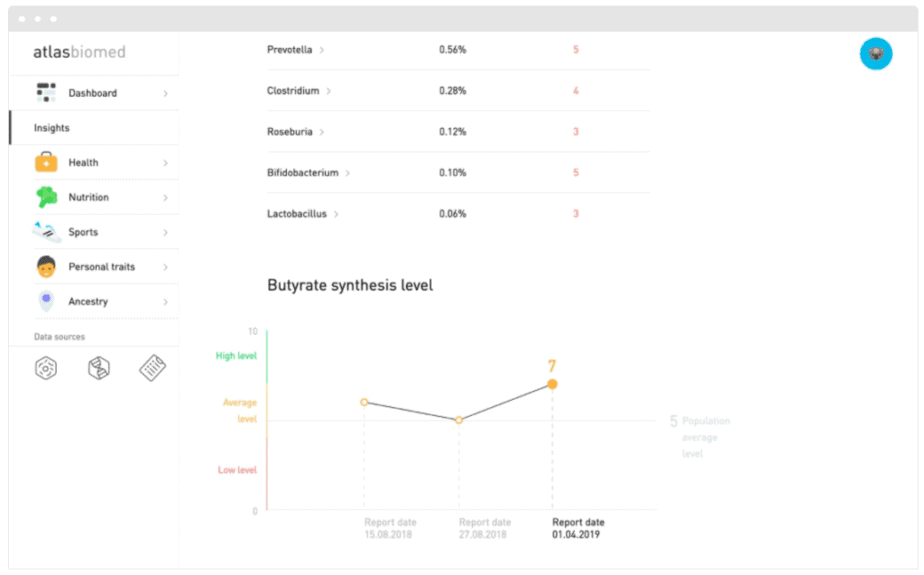 Review of Atlas Biomed Privacy
Atlas Biomed offers users high-level privacy. The company states its rights to use customers' data and share them with third-party firms to provide better services. It, however, does not allow unauthorized access to its customer data and prioritize the security of sensitive details.
The moment you sign up for and use the company's services, they have the right to use your medical history to research and develop their technology. However, you can be assured of 100% protection. You can also delete your account and wipe off your data from their database if you seek to stop using the company's services.
Other Atlas Biomed Reviews
Atlas Biomed has a 4.4 out of 5 star rating on TrustPilot with over 50 reviews. Most customers agreed that they had a great experience, found the reports easy to read, and saw significant changes in their health when following the dietary recommendations. Most customers reviewed the microbiome test.
The company's microbiome test is available on Amazon UK. On this site, the test has a 4.3 out of 5 stars with over 20 reviews. Many customers were pleasantly surprised by the detail of information provided.
Pros and Cons
Pros
Comprehensive test and report on your DNA
Dedicated test for your microbiome health
User-friendly app with easy to understand interface
Free consultation with a nutritionist
Cons
Focuses on SNPs and microbiome
Expensive relative to other companies
Not available in the United States
Nebula Genomics
Atlas Biomed sequences some of your genes to offer better information concerning your health, fitness, microbiomes, and other essential traits. It also provides limited reports on ancestry and ethnicity. However, the company does not offer whole genome sequencing, which is the gold standard when it comes to decoding your genome and getting 100% of the health information held in your genes.
Nebula Genomics carries out 30x Whole-Genome Sequencing to provide full and accurate information on your DNA. This means that you get to find out more about your ancestry, health, metabolism, and a range of other traits with a single sequencing.
Nebula Genomics' testing method makes it one of the few standouts globally that provide extremely comprehensive analyses of a person's entire genome. Plus, whole genome sequencing with Nebula is affordable with sequencing 100% of your DNA costing $299 or less.
| | | |
| --- | --- | --- |
| | Atlas Biomed | Nebula Genomics |
| DNA testing method | Microarray analysis and microbiome testing | Sequences all 20,000 genes and regulatory regions |
| Ancestry reporting | Yes | Performs deep ancestry reporting with the complete Y chromosome and mtDNA sequencing |
| DNA upload | No | Yes |
| Data access | No | Yes |
| Report for making medical decisions | No, the result is for personal use | No, but data is of the highest quality and can be used by physicians and genetic counselors |
| Cost | £165 – £199 (~$223-$270) | $0, $99, $299 |
Atlas Biomed vs Nebula Genomics
Did you like our Atlas Biomed review? You can read more reviews on our blog and check out our complete guide to the best DNA test kit and other home tests.
Other companies
Other companies that offer microbiome and gut health testing include:
You may also be interested in virtual health care such as that offered by Teladoc and Lemonaid Health!