7 Facts from our Viome Review
Location: Head Office in Bellevue, Washington, USA. Viome's laboratory is CLIA-certified and located in Los Alamos, New Mexico, USA
Products: "Gut Intelligence," "Health Intelligence," and "Full Body Intelligence" services
How it works: Uses RNA sequencing technology to identify and analyze gut microbes and use that information to assess and improve gut health
Ordering: At Viome.com or online retailers like Amazon and Walmart
Reports: The three tests return microbial gene expression results. "Health Intelligence" also reports on the expression of a selection of the customer's genes, and "Full Body Intelligence" adds oral microbiome into the mix. From this information, several personalized nutrition recommendation reports are provided
Cost: "Gut Intelligence" – $149, "Health Intelligence" – $229, "Full Body Intelligence" – $349
Complementary products: Nebula Genomics (Whole Genome Sequencing with weekly updated reports)
This review is written with the intent to be as unbiased as possible. However, it represents the opinion of an individual reviewer and is therefore subjective. Furthermore, at Nebula Genomics we seek to educate the public about the benefits of Whole Genome Sequencing. Information about our Whole Genome Sequencing DNA test is therefore incorporated into the review.
December 22, 2022
Edited by Christina Swords, Ph.D.
Pros and Cons
Pros
Taking samples is fairly simple (though some customers may find the stool sample to be particularly unpleasant)
The mobile apps make searching through Viome results easy
Each test provides lots of recommendations and metrics
Cons
The validity of the Viome results provided is questionable
Customers may not find some of the metrics useful
Proprietary metrics and data analysis may make it difficult for medical professionals to interpret results
Costly, especially considering that Viome recommends customers retake the test every few months
Introduction
Viome is a health testing company that provides at-home testing kits focusing on gut and digestive health. Chiefly, it does this by analyzing the microbiome to provide optimal health recommendations. At this point, Viome's Gut Intelligence, Full Body Intelligence, and Health Intelligence Test Kits are available in selected countries only. This also excludes New York in the United States and the province of Newfoundland in Canada.
The company was founded in 2016 to provide commercial gut microbiome testing that results in personalized diet and wellness recommendations. The company also tests gene expression in human cells. This test measures the expression of several thousand genes and the company specifically markets it as a good addition to the gut microbiome analysis.
The microbiome
A person's microbiome consists of all microorganisms living in and around the human body (like bacteria and archaea). Markedly, it defends against pathogens, digest indigestible material, and promote intestinal health. Recent studies suggest that the gut microbiome is also linked to the immune system and various brain functions. However, research in this field is reletively recent, and a number of experts caution consumers that many tests "can only provide limited information for now" and may not be ready to make robust recommendations for optimal health.
Experts have demonstrated that fecal microbiota (the ones sent to Viome) are distinct from mucosal-associated microbiota. In other words, the microbiome analysis of your stool sample may not be an accurate representation of all the microorganisms in and around you.
Each Viome test includes sample collection tools, written instructions, and prepaid return-shipping labels. The company produces the Viome test kits and also sends them to its CLIA-certified lab.
Customers can expect results within four weeks. Results are delivered to customers through Viome's secure platform from any device or through their mobile app.
Review of Viome's Science: RNA Sequencing
Viome differs from other gut health test services (and genetic sequencing services) in that it uses RNA rather than DNA in its analyses. Viome refers to it as advanced metatranscriptome sequencing.
DNA contains all of a person's genetic information, and in general, each cell in the body has the same genetic information. However, different body areas only need to use (or express the genes from) certain bits of the DNA sequence. For this purpose, cells use DNA as a template to make smaller bits of RNA, which go on to make only the needed molecules.
By sequencing RNA, Viome selects and sequences only a small part of the human genome. Specifically, this method selects the "active" regions of the genome that are expressed. The company sequences the microbe RNA present in the customer's gut as well as some of the genes in the customer's mitochondria and blood.
RNA sequencing has some interesting advantages but also comes with some drawbacks. Markedly, it can be difficult to extract and sequence high-quality RNA from samples. Additionally, RNA sequence databases (especially for microbes and bacteria) are not comprehensive and, in some cases, can't accurately differentiate between the RNA of several microbes within the same sample. These issues can complicate and even compromise the accuracy of a customer's results.
Review of Viome Gut Microbiome Testing
The main service offered by Viome is the "Gut Intelligence" test, an at-home gut microbiome test. Overall, the human gut contains an enormous range of bacteria and microbes (= microbial richness) that perform a wide range of tasks in the body. Each person's gut microbiome is unique, and the specific microbes present are linked to the person's diet and overall health.
The goal of the Viome gut test is to identify the customer's active gut microbes, diagnose the customer's gut health (including gut lining health which is important for the absorption of nutrients and immune response and other gut issues), and ultimately make diet recommendations based on the results.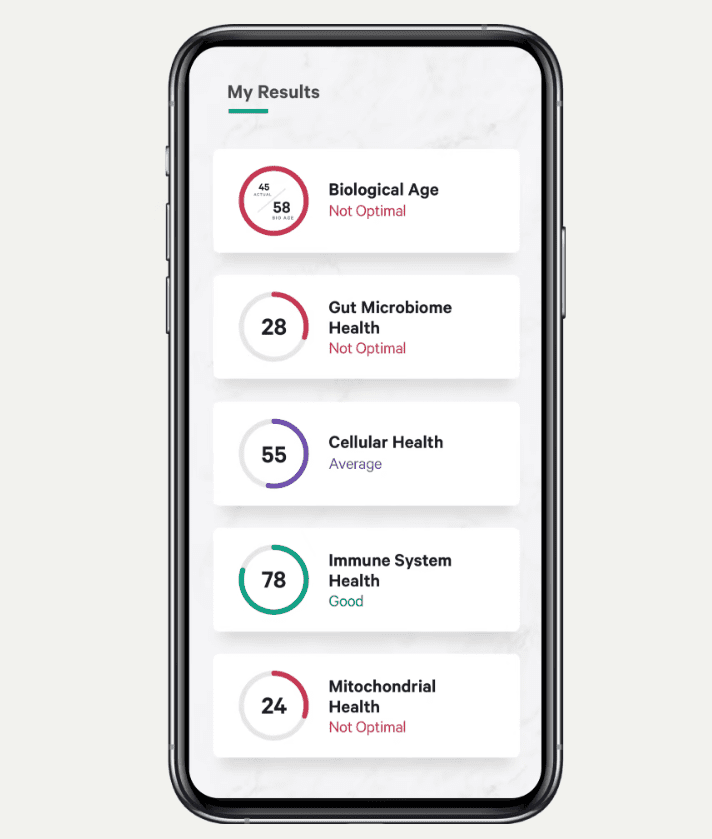 The Gut Intelligence Service analyzes the customer's stool test to determine the bacteria and microbes living within the customer's gut. Then, these results are fed into Viome's proprietary Artificial Intelligence (AI). Then machine learning algorithms give customers over 20 different health insight scores evaluating things like digestive efficiency, inflammatory activity, and metabolic fitness.
The Science behind Microbiome Testing
Unlike some diagnostic testing, gut microbiome testing is still very new and highly complex. Accordingly, the presence or absence of certain microbes in a sample is not enough to make any strong statement about an individual's health. Viome's algorithms cross-reference large collections of microbiome data coupled with other customers' personal information to make its recommendations.
It's important to note that according to section 38 of Viome's Terms of Service, "THE SERVICE IS NOT A SUBSTITUTE FOR, AND DOES NOT PROVIDE, MEDICAL ADVICE OR CLAIM TO DIAGNOSE, TREAT, CURE, OR PREVENT ANY DISEASE OR ILLNESS. THE SERVICE AND THE INFORMATION ON VIOME WEBSITE ARE PROVIDED … WITH THE UNDERSTANDING THAT VIOME IS NOT ENGAGED IN RENDERING MEDICAL ADVICE OR RECOMMENDATION AND IS NOT TO BE USED FOR THE DIRECTION OF OR CARE OF INDIVIDUAL PATIENTS UNLESS OTHERWISE EXPLICITLY SPECIFIED OR AGREED."
Review of Viome Human Gene Expression Testing
Viome offers "Full Body Intelligence" and "Health Intelligence" services to complement its Gut Intelligence test. The customer provides a blood sample from which scientists sequence thousands of active genes, both from the blood itself and the mitochondria. This product provides far less information than the Full Genomic Sequencing offered by Nebula Genomics.
The idea is that RNA sequencing could instead characterize only the active portions of the customer's genome. Viome claims its product is a good alternative to DNA tests and can help understand the customer's energy levels.
The mitochondria are the part of a cell that package and provide the cell with energy. They have their own RNA sequence, and by looking at certain expressed mitochondrial genes, Viome creates several metrics like Mitochondrial Health and Biological Age. Likewise, they sequence RNA from the customer's blood and analyze it to provide additional metrics like Cellular Health and Stress Response.
The metrics reported are all Viome's proprietary metrics, meant to give qualitative or a broad-strokes idea of the customer's health. Additionally, they are provided with the understanding that "THE SERVICE AND THE INFORMATION ON VIOME WEBSITE IS PROVIDED FOR EDUCATIONAL, INFORMATIONAL, AND ENJOYMENT PURPOSES ONLY," and are not to be taken as medical advice.
Taking a Viome Test
Viome offers three at-home test kits.

Both Viome kits include the Gut Intelligence test (stool sample). The Health Intelligence kit also sequences the customer's RNA in their blood sample.
Inside the package, customers will find an activation code that is needed to register a customer's kit to their online account. They are also required to answer a health and lifestyle-related questionnaire. These responses allow the Viome health team to provide personalized support and health recommendations. It is important to note that the company's Terms of Service state that "while this information might point to a possible diagnosis or treatment, it should always be confirmed and supplemented by specific medical and clinical testing results."
All tests require a stool sample (which some customers may find unpleasant), while the "Health Intelligence" test also requires a small blood sample. The "Full Body Intelligence" requires stool, blood, and saliva samples. After the samples are taken, customers then use the provided postage-paid shipping label to return the samples to Viome's lab to be analyzed.
Afterwards, Viome analyzes the data using its proprietary AI algorithms, which output your health and wellness results and recommendations. Results are made available through the company's website and mobile app. Overall, customers receive their results in two to three weeks after the lab receives the kit.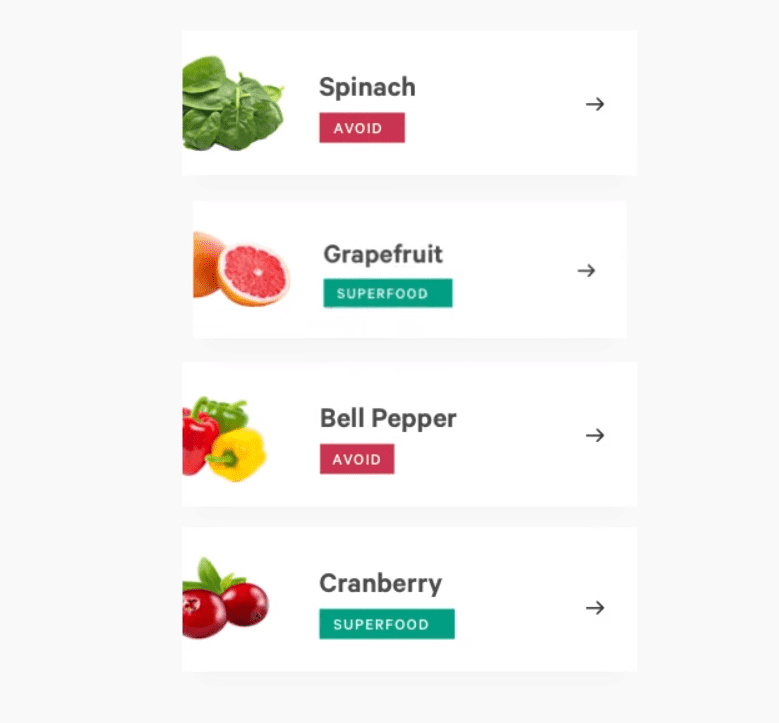 While a typical report includes personalized recommendations regarding a wide variety of healthy foods and a large list of the microbes living in your gut, they do not make your raw data available or give much detail about how their recommendations are arrived at. We discuss this in more detail further below.
Review of Viome Products
Viome offers three products to assess your gut microbiome health and mitochondrial health.
Gut Intelligence Test
| | | | |
| --- | --- | --- | --- |
| Test | Measures | Collection Method | Price |
| Gut Microbiome | RNA of the microbes living in your gut | Stool Sample | $149 |
Health Intelligence Test
| | | | |
| --- | --- | --- | --- |
| Test | Measures | Collection Method | Price |
| Gut Microbiome | RNA of the microbes living in your gut | Stool Sample | $229 |
| Cellular | RNA of the cells in your blood, including mitochondrial cells | Finger Prick Blood Draw | |
Full Body Intelligence Test
| | | | |
| --- | --- | --- | --- |
| Test | Measures | Collection Method | Price |
| Gut Microbiome | RNA of the microbes living in your gut | Stool Sample | $349 |
| Cellular | RNA of the cells in your blood, including mitochondrial cells | Finger Prick Blood Draw | |
| Oral Health | Microbes in the mouth | Saliva | |
Currently, the tests are only available in certain countries and most of the United States, excluding New York. Home microbiome tests, including those listed on Viome's website, are not FDA approved.
Viome also offers two subscription plans to help customers incorporate personalized prebiotics, probiotics, and supplements into their routines based on their results.
The Precision Probiotics and Prebiotics plan is $60 per month. It includes pre- and probiotics, gut health results, and a free retest each year. The Complete Plan, at $179 per month, is similar to the lower tier plan but uses the Full Body Intelligence Test.
Review of a Viome Report
Overview
Viome emphasizes the diet recommendations each test provides. Reports come with a long list of foods grouped into four categories (Superfoods, Enjoy Foods, Minimize Foods, and an "Avoid" list of foods) as well as Gut Health metrics. However, they may use different data to make these recommendations.
The number of foods and metrics included is quite large. In particular, the example reports given on the Viome website for just Food Recommendations and Gut Health add up to 75 pages, which may be somewhat overwhelming. In general, the search function can help customers sort through all of this information.
Some insights include a personalized action plan for an individual's diet based on their gut microbe results. For this purpose, the action plan provides sections on:
Superfood list
Enjoy foods list
Minimize foods list
Avoid foods list
Supplement list
Review of the Viome Gut Intelligence Test
In addition to food recommendations, Viome helps with weight loss and other health goals. To achieve these, the Gut Intelligence test gives science-based qualitative assessments of gut-specific health and "pathways" like the activity level of a customer's Methane Gas Production Pathway. An example of this result is shown below.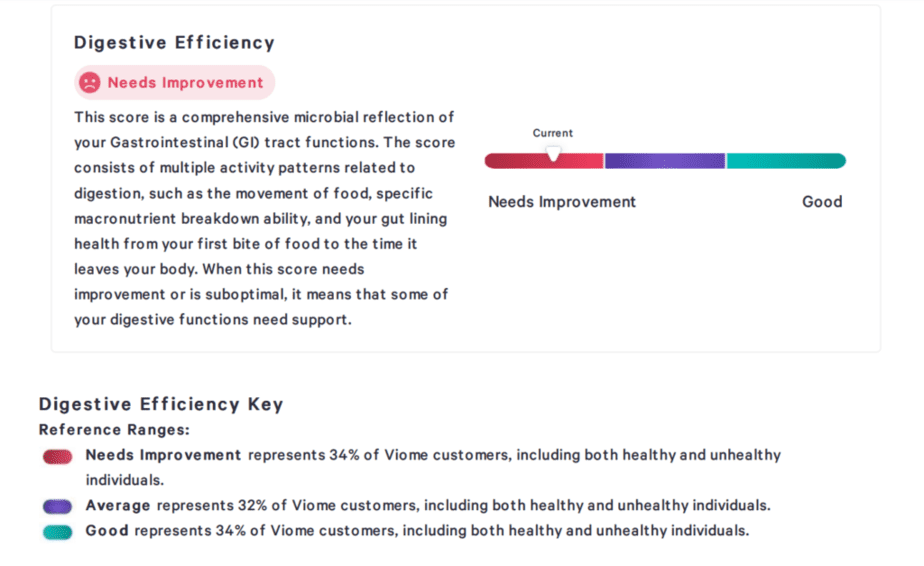 These results allow customers to approximate how "good" these metrics are compared to other customers' results. However, since these are proprietary metrics, it is difficult to know what "good" means exactly.
An example of one of these metrics is the Intestinal Barrier Health score. This score could help customers diagnose a leaky gut, in which a compromised gut barrier leads to a bloodstream infected with harmful material, specifically toxins and bacteria.
Review of the Viome Health Intelligence Test
The Health Intelligence report includes everything in the Gut Intelligence test as well as a selection of additional mitochondria and cell-based metrics. Below is a sample of the Cellular Health results.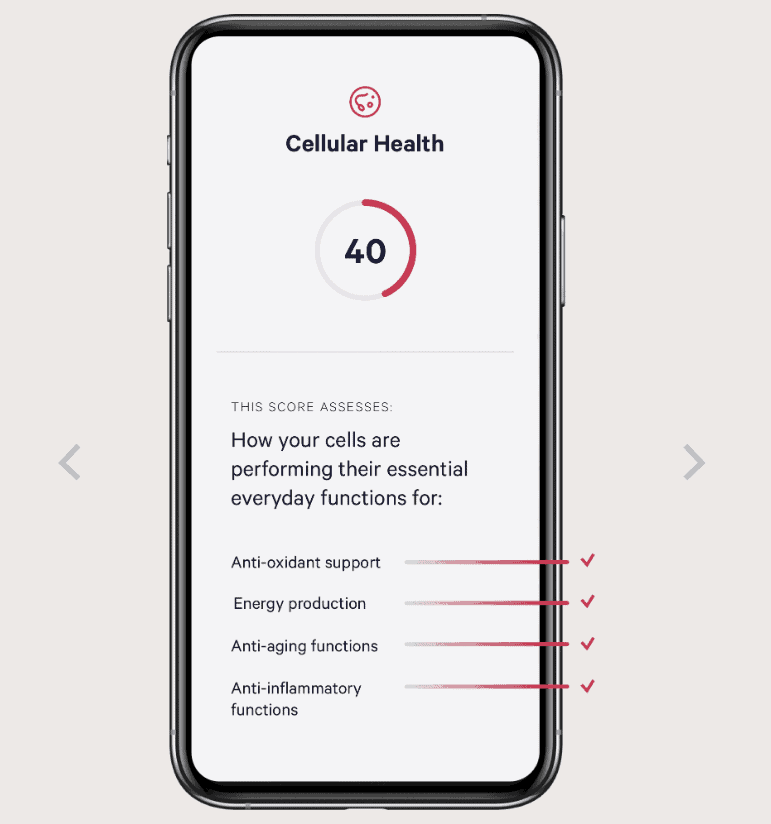 Potential customers should note that most of these metrics are reported as the percentage of other Viome customers they tested. Since these metrics are calculated using Viome's proprietary algorithms, it's unclear what "better" means exactly.
Review of Full Body Intelligence Test
The Full Body Intelligence Test is the most comprehensive test Viome offers. Overall, it looks at the entire body, including gut microbiome and mitochondrial health, allergens, and detoxification pathways. The cost of this test is $349 and includes all three tests (gut, cellular health, and oral health) in one package.
Patients taking this test must additionally provide saliva with their blood and stool samples.
Payments and Insurance
Viome tests cost between $149-$349 and in general are not covered by insurance. The company accepts credit/debit and PayPal.
Review of Viome Privacy Policy
By submitting samples, customers agree to "transfer and assign to Viome and its assigns and successors all right, title, and interest in and to the Samples, Self-Reported Information, analysis, Test Results, Sample Data, Test Data, and other data derived therefrom."
Viome's privacy policy describes how it will use customers' data. In particular, it collects "Sensitive Data" in the initial questionairre. In brief, this may include medical facts, records, racial or ethnic origins, political or religious beliefs, or sexuality. In this situation, personal information is not shared with insurers or any third-party groups without the customer's explicit consent.
In general, data will be de-identified and made anonymous. Data provided by the customer is used for the purposes of service and quality improvement, research, or other business operations. In particular, the Viome diagnosis algorithm will use your test and your questionnaire answers to help analyze other customers' tests.
Viome in the News
Other Viome Reviews
Viome Gut Intelligence test reviews on Amazon: 3.2/5
Viome has provided services to over 100,000 customers, yet only some have provided Viome testing reviews for the product. Among the positive reviews, many customers describe being satisfied with a large number of recommendations and were occasionally surprised by some of the suggestions. On the flip side, many customers were disappointed with receiving generic diet advice, longer than described wait times, and poor customer service.
Nebula Genomics
Services offered by Nebula Genomics and Viome are very different. However, customers interested in their gut and cellular health may also be interested in their predisposition to certain illnesses and sensitivities that a Nebula Genomics test can provide. Nebula Genomics offers the most affordable 30x Whole Genome Sequencing service.
Similar to Viome, the Nebula Genomics test does not provide medical advice. However, our Whole Genome Sequencing data is of the highest quality and can be used by physicians and genetic counselors. Individuals who believe they are at risk for a genetic disorder should consult a healthcare provider before taking DNA sequencing tests.
| | | |
| --- | --- | --- |
| | Viome | Nebula Genomics |
| Testing method | RNA from gut microbes (stool sample), human RNA (blood sample) | DNA; Whole Genome Sequencing (all 20,000 genes and regulatory regions) |
| Reporting | Gut microbes present, proprietary "health scores" | Genetic predispositions |
| Ancestry reporting | No | Yes |
| Data access | No data that can be accessed | Yes (FASTQ, BAM, and VCF files) |
| Cost | $149 / $349 | $0, $99, $299 |
| Aid for making medical decisions | No, and data is minimally useful in consultation with physicians | No, but our data is of the highest quality and can be used by physicians and genetic counselors |
Nebula Genomics vs. Viome
Other tests
Interested in gut health? You can compare these gut health testing companies with our other product reviews:
For general health and wellness, you may also be interested in these other at-home lab tests and products:
Did you like our Viome review? You can read more reviews on our blog and check out our complete guide to the best DNA test kit and other home tests.