This review is written with the intent to be as unbiased as possible. However, it represents the opinion of an individual reviewer and is therefore subjective. Furthermore, at Nebula Genomics we seek to educate the public about the benefits of Whole Genome Sequencing. Information about our Whole Genome Sequencing DNA test is therefore incorporated into the review.
December 17, 2020
This company has discontinued and the products reviewed in this article are no longer available. This post is for historical information only.
7 Facts from our Psomagen Review
Location: Rockville, Maryland.
Products: Gene and Gut biome test, which analyzes your gene and microbiome profile, and the Gutbiome+ test, which analyzes your microbiome profile and gives dietary suggestions based on your microbiome profile.
Costs: The Gene and Gutbiome test kit had a list price of $279, but it now sells for $129. The Psomagen Gutbiome+ test kit also had a price tag of $229 at launch. However, you can get it for $149 on their website.
Reports: The Gene and Gutbiome test informs you about the different genes and how they influence your food intake, physical traits, and other behavioral traits you show. The Gutbiome+ test reveals more about your gut health and gives dietary recommendations on how you can improve your gut health.
Privacy: Psomagen claims they use your data only to communicate with you and provide any services you requested of the site. Although HIPAA does not cover the agency, they claim the data you submit is subject to the General Data Protection Regulation ("GDPR")
Raw Data Access: You can access your raw data upon request.
Complementary products: The Nebula 30X WGS sequencing kit is a comprehensive DNA test that analyzes over 6,000,000 positions in your genome and reads every letter of your DNA over 30 times.
Psomagen Introduction
This is a review of Psomagen, a genetic testing company that focuses on the relation between gut health and genetic traits. Psomagen Inc. (formerly known as Macrogen Corp.) is a subsidiary of Macrogen Inc., which is a leading biotechnology company in South Korea owned by Jeong-Sun Soo, MD, Ph.D. The company achieved many feats in native Korea, such as being the first to clone a mouse back in 2001 and creating an anti-aging drug.
In 2004, Macrogen Inc. created their U.S. branch and named it Macrogen Cor. while further expanding to other countries. The U.S branch established different research facilities in New York and Massachusetts over the next seven years.
These research facilities partnered with seasoned researchers from universities like Stanford University, John Hopkins University, and the University of Virginia. They also partnered with the National Institute of Health and NRGene, a genomic data company. Furthermore, they have participated in global medical projects such as TOPMed, TEDDY, and so many others.
In 2019, the company rebranded and changed its name to Psomagen Inc. They coined the name from three words with the 'P' taken from 'psyche' (mind), soma taken from the Greek word for body, and gen, which is the short form of the word 'gene.'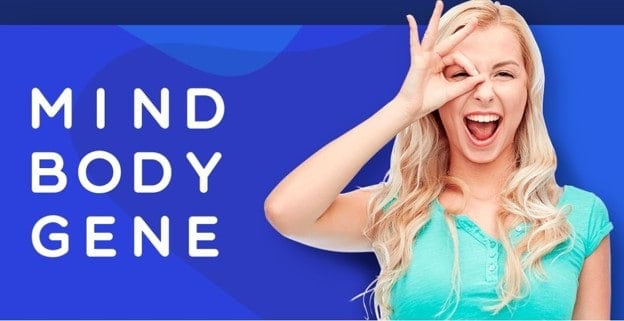 In October 2019, the company decided to expanded its services to include personal genetic testing into its scope of operations. They launched the Gene and Gutbiome, a personal DNA and gut microbiome test, and the Gutbiome+, an exclusive gut microbiome test.
They also purchased the patents of uBiome (one of the biggest companies in RNA gene sequencing services) in December 2019. The hope was that the Psomagen uBiome combination would increase their credibility in the microbiome sector.
In 2021, Psomagen created a new brand called Kean Health, which serves to optimize at home gut testing.
The founder and CEO of the company is Jeong-Sun Seo, MD, Ph.D. They have two known Chief Financial officers by the name of Kyung Kang and Hyonyong Chong. The CEO of Psomagen USA branch is Ryan Kim.
Psomagen Science: The Genes and the Gut
Unlike some other companies like Viome, Psomagen uses DNA for its gut testing and genetic testing. For the gene aspect of the test, they use your saliva to obtain a DNA sample.
DNA is the genetic information of every human being. Every single cell in the body of an individual has the same DNA. The scientists at Psomagen examine your saliva sample (for the DNA test) to discover the genes they normally test for and how these genes will likely affect your preferences for different traits.
They divide these traits into five classes (Food, Physical, Personal, Sensory, and Other traits). By analyzing the different alleles of genes found in your DNA, Psomagen links it to these traits.
For the Gutbiome test in both kits, you submit your fecal sample. They use this sample to test for the microbial diversity of your gut. It is a well-established fact that we have both beneficial and harmful microorganisms in our guts. Psomagen can provide the relative amounts of these microbes.
The science behind this test analyzes the percentage of both types in our bodies and how they relate to our overall health. They also examine and explain in their reports how the bacteria population in the gut relates to other body characteristics like weight, mood, and food metabolism. Finally, they provide suggestions on how to improve your health by improving your bacterial profile.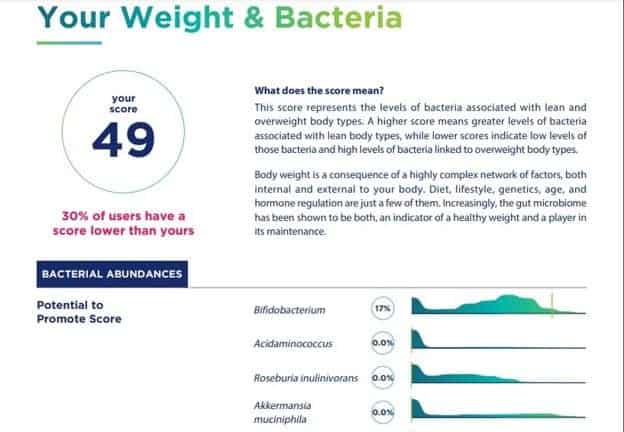 The basis of their reports is to link the genes and microbiomes to different traits and diseases (such as insomnia) in the body.
Psomagen Review
Let's take a closer look at the Psomagen products in our review.
How to take a Psomagen test
After clicking on the 'Purchase Kit' section at the top of the MyPsomagen website, it leads you to a cart checkout page where you specify the quantity of any of their two products that you want. If you're a former uBiome customer, you can sign up to get a special offer just above the 'Checkout' button.
You can purchase your kits without opening an account. At this point, you only need to submit your name and some other personal information like your e-mail. However, you have to open an account before you can register your kit. You also need to keep the kit barcode and the USPS tracking number on the kit for registration.
After getting the kit, you then collect your samples. The sample collection for the Gene and Gutbiome tests are different. The Gene test uses saliva collection, while the Gutbiome uses a fecal swab. Those who buy the Gene and Gutbiome test kit will do both.
The box contains a set of instructions regarding the sample collection printed on it. After taking your sample, the company advises you to return it within 48 hours. You might also have to fill a lengthy survey (which is optional).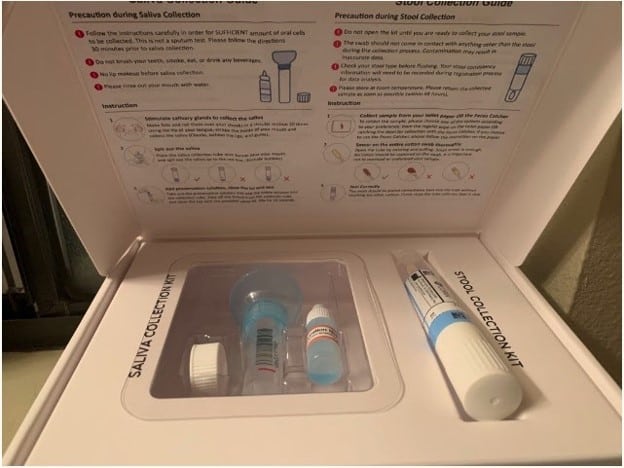 You should get your report in about three weeks after sending it in. You can also request the raw data sample through email. You can use this raw data sample on DNA interpretation sites to learn more about your DNA. At Nebula, we do it free of charge.
Psomagen Cost
The two products of Psomagen have very reasonable price tags. Many users have lauded them for the affordability of their products, especially the Gene and Gutbiome test, which is a 2-in-1 pack.
The Gene and Gutbiome test costs $129 on their website and Amazon, while the Gutbiome+ test costs $149 on their website. It usually sells for $99 on Amazon, but is currently unavailable as of December 2020.
There have been some complaints that the gene section of the test doesn't give anything that you can't get for free on other websites.
Psomagen Reports Review
For the Gene and Gutbiome test kit, you get a single report incorporating both the gene and gut health test results.
The report gives an introduction about genes in the starting pages of the report. The report also informs you about your genotype. Then, it moves on to the different genes you have and the alleles found on your chromosomes. After this, they explain the implications of these genes on various traits like food (e.g., a particular gene could be liable for your high fat intake), physical traits (a gene could be responsible for your full beards), and many others.
After this section, the report provides the gut microbiome results. This section informs you about your microbiome profile diversity, the gut type, the abundance of different types of bacteria in your gut, and your probiotic profile.
It also informs you about how your bacterial profile is linked to different characteristics like mood, constipation, bloating, vitamin B production, and many more. It provides suggestions on how you can improve or decrease the affected bacterial population as the case may be.
The Gutbiome+ test simply does what the Gutbiome test does and more. The report starts by introducing the taxonomy of microbes and the difference between the Gutbiome and Gutbiome+ test. It then tells you all about your gut type and other factors like how your bacterial profile affects your lifestyle status, metabolic supply, and different subtopics under these characteristics. In the end, it then gives a complete rundown of all the bacteria types found in your gut and their abundances (in percentages).
Psomagen Privacy Review
You can find Psomagen's privacy statement at the bottom of the home page or on the checkout page. They clearly state that HIPAA does not cover the company as they do not submit the transactions electronically. However, they claim to be covered by the rules of the General Data Protection Regulation (GDPR).
They inform users that the information collected during use of the website is only that which you submit when ordering a product or opening an account on the website. This includes your name, your email address, and any other information required.
This rule holds with exception to a few other details such as your device's Internet Protocol ("IP") address, your device's operating system identification numbers, date and time stamps of transactions and others collected automatically during your use of the website.
They claim that they do not divulge your data to anyone except when bound by law, and they do not reveal the processes used in data security.
Other Psomagen Reviews
As mentioned earlier, Psomagen offers two products: the Gene and Gutbiome test and the Gutbiome+ test. The Gene and Gutbiome test is for those who want to know about their genes and the microbial genes in their gut all at once. The company believes that your DNA tells a story about you, the things you like, the habits you exhibit, and so much more.
What the Gene and Gutbiome test does for you is to help you identify the genes that are responsible for several different traits you show regarding food, social behaviors, personal attractions, and sensory organs.
In the Gutbiome part of the test, the scientists carry out a 16S metagenomic sequencing on your stool sample to determine your microbe profile, metabolism, nutrition utility, lifestyle status, gut type and provide you with a full probiotics profile. The company recommends you take this test regularly as the gut profile tends to change.
Overall, this product has received good reviews on Amazon, with many customers lauding its price tag in relation to the amount of information it offers. However, a few customers complained about not getting any specialized information regarding their gut health and dietary suggestions.
The Gutbiome+ is only for testing for digestive health. This means you only have to send in your stool sample. Apart from including everything that the Gutbiome test gives, Gutbiome+ also gives deeper analysis and better reporting and dietary suggestions on your gut health. Research has shown that gut health is essential as it links with various conditions like diabetes, colon cancer, and many more.
Learn more about colon cancer genetic testing in our special hereditary cancer series!
The customer reviews for the Gutbiome+ test were good on Amazon, having a 5-star rating.
Psomagen in the News
Psomagen Inc. launches its two new at-home DNA testing kit products
Psomagen purchases bankrupt uBiome patents
Pros and Cons
Pros
The company offers a good bargain in their Gene and Gutbiome test kit
Tests are comprehensive in regards to gut health
Access to raw data
Cons
The data security process is obscured
The time of collection varies a lot among customers
Guidance as to what the results mean could be more precise
Nebula Genomics
At Nebula Genomics, we give you the most comprehensive whole-genome sequencing results for the most affordable price. Unlike companies like Psomagen, 23andMe, and AncestryDNA, which only read approximately 0.02% (600,000 positions) of your DNA, we read approximately 100% (6,000,000,000 positions) with our 30X WGS Sequencing kit.
Once you buy our kit, you get access to our genome exploration tools, which answers many questions regarding how your genes affect health, wellness, and various other traits. Bundled in with your one-time payment for this kit is lifetime access to your data and our regularly updated blog, which keeps you updated about the latest happenings in genetic research.
Our tests also provide deep ancestry reporting better than that of 23andMe and AncestryDNA tests.
We value our customers' privacy. This is why we use a combination of blockchain and privacy computing on our website. This combination will prevent your confidential data from ever getting hacked on our website.
Psomagen vs. Nebula Genomics
Psomagen
Nebula Genomics
Testing Method
Saliva for Gene test and stool for Gutbiome and Gutbiome+ test using next generation sequencing platforms
30X Whole-genome sequencing
Ancestry reporting
No
Deep ancestry reporting with full Y chromosome and mtDNA sequencing
Reporting
Tests for your genes and bacterial profile and relates it to how they affect your human trait
Genetic predispositions
Security used on the website
Site is secure, and its certificate is issued by DigiCert
Blockchain, privacy-preserving computing
Data Upload options
No
Yes
Focus on Privacy
Obscure
Yes (learn more)
Tools to explore data
No
Yes
Cost
$129 for Gene and Gutbiome test.
$149 for Gutbiome+ test
$0 – $299
Psomagen vs Nebula Genomics
If you want to get more information about your raw DNA file, you can upload your DNA raw data to our website, and we'll analyze it for FREE.
Other tests that can help you get your gut health analyzed include:
You may also be interested in virtual health care such as that offered by PlushCare, Teladoc, and Lemonaid Health!
Did you like our Psomagen review? You can read more reviews on our blog and check out our complete guide to the best DNA test kit and other home tests.