7 Facts about from our Sun Genomics Review
Floré Location: San Diego, California, USA
Products: Gut microbiome testing, custom-formulated probiotic supplements
How it works: Customers take a gut microbiome test and receive probiotic recommendations
Ordering: Gut test and supplements can be ordered at sungenomics.com
Reports: Reports available through the app, which includes diet and recipe tips
Cost: Gut Health Test ($169), Supplements ($79 per month)
Complementary products: Nebula Genomics (whole genome sequencing for $299)
This review is written with the intent to be as unbiased as possible. However, it represents the opinion of an individual reviewer and is therefore subjective. Furthermore, at Nebula Genomics we seek to educate the public about the benefits of Whole Genome Sequencing. Information about our Whole Genome Sequencing DNA test is therefore incorporated into the review.
May 18, 2023
Edited by Christina Swords, Ph.D.
Pros and Cons
Pros
Simple process
Whole Genome Sequencing of bacteria samples
Offers a convenient subscription plan for supplements
Personalized probiotic blends available based on your test results
Supplements come in an attractive bamboo container
Cons
Information and reports on the customer's microbiome seem secondary. Very little information available about what's included.
Fairly expensive compared to competitors
Powdered supplements may not be effective
Supplementing your diet with probiotics is still a new and not FDA-regulated
Introduction
Sun Genomics is a direct-to-consumer probiotic and gut health company. The founder of Sun Genomics, Sunny Jain, started the company in 2016 to advocate for health through personalized science. Frustrated by the one-size-fits-all probiotic supplements available in pharmacies and supermarkets, Sunny created a custom probiotics and the Floré gut health test kit startup that could offer personalized probiotic solutions to consumers.
The flagship health product of Sun Genomics Inc. is a consumer product: Floré. Above all, it focuses on the gut microbiome and personalized probiotic formulas. Sun Genomics claims that it is a first-of-its-kind, customized probiotics startup.
Floré by Sun Genomics is one of several companies in the probiotics market that sells personalized probiotic supplements.
By sequencing the organisms in the customer's stool samples, the company identifies their unique gut microbiome and then gives them personalized recommendations.
Floré also distinguishes itself in this market by being one of the only custom probiotic supplements with Kids, Tots, and Baby testing and formulations.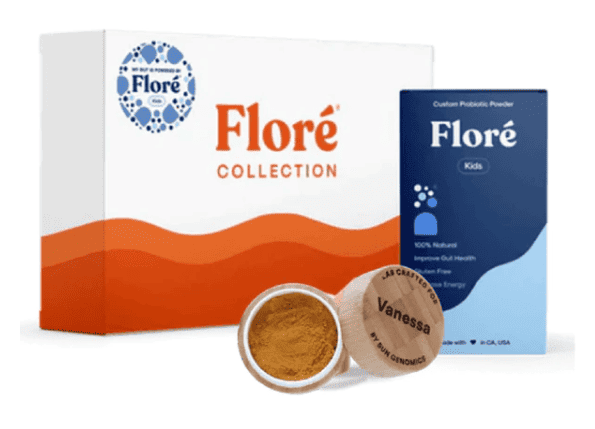 Floré collaborates with Arizona State University to study the connection between Autism/Asperger's syndrome. One of its products (Floré Research Edition) helps collect data for research while also improving customers' gut health.
In the summer of 2020, Sun Genomics raised a series A funding round led by Pangaea Ventures in addition to investments from Danone Manifesto Ventures, SOSV, Human Longevity, and Nascita Ventures.
Review of Sun Genomics Products
Floré by Sun Genomics is, first and foremost, a provider of probiotic supplements. Floré provides standalone microbiome testing and an app to quantify consumers' gut health, but the real value is the Sun Genomics customized probiotic system.
Custom Probiotic System and Gut Testing
Testing and custom supplement gut microflora test programs come in four different formats based on age:
| | | | | |
| --- | --- | --- | --- | --- |
| Product | Ages | Includes | Supplements | Monthly subscription |
| Floré Adults(1 month) | 13+ | Gut testing, probiotics | One-a-day pills | $79 |
| Floré Baby(3 months) | 0-1 | Gut testing, probiotics | Powder, reduced concentration | $79 |
| Floré Tots | 1-3 | Gut testing, probiotics | Powder, reduced concentration | $79 |
| Floré Kids(3 months) | 4-12 | Gut testing, probiotics | Powder, reduced concentration | $79 |
Customers can have their gut tested without committing to the supplements for $169. If they choose, they can order customized probiotics later.
Sun Genomics Standalone Products
After the first three months, Floré recommends re-testing so that it can create a new formula for you. However, if you are satisfied with your existing formula, you can simply keep the monthly subscription running. Floré also sells a standard immune system improvement formula that includes vitamins, probiotics, and other ingredients.
| | | |
| --- | --- | --- |
| Product | Includes | Price |
| Floré Defense | 1 month of vitamin and probiotic supplements | $39 |
Floré Research Edition
Finally, Floré offers a Research Edition in conjunction with Arizona State University for those diagnosed with Autism Spectrum Disorder (ASD). Customers must meet the following criteria to participate:
Participants must be clinically diagnosed with ASD by a medical professional (and provide official documents)
Participants must not have taken antibiotics in the last two months
Participants must not have had any changes in medications, nutritional supplements, or therapies in the last two months or plans to change them during the first three months of probiotic treatment.
The Research Edition costs $350 for three months. In this case, participants are asked to participate for six months. During this time, they will submit samples twice (three months apart). Then, customers receive daily probiotic supplements.
Review of the Sun Genomics Science
Many researchers are working to understand the connection between gut bacteria and human health. However, microbiome research is complicated, and many questions remain unanswered.
There is solid evidence showing that probiotic supplements can help balance a person's gut microbiome by introducing good bacteria. In particular, evidence shows this could help with digestive health, improve the immune system, and even help with mental health. However, there are still many things we don't know about the microbiome and using probiotic supplements. Below is a quick review of what we know and what needs more research, published in the British Medical Journal in 2018.
What we know
What we don't know
Probiotic supplements can be beneficial to human health

Gut microbes affect metabolism

Diet and medication strongly affect microbes

Microbiome composition influences response to chemotherapy, immunotherapy, and glucose response
Are food-based probiotics better than supplements?

Should probiotics be taken as a preventative measure?
Review of Sun Genomics Gut Health Test
Floré performs whole genome sequencing (WGS) of bacterial DNA in your sample. This microbiome profiling tests the entire genome sequence and works in a similar fashion to what we do at Nebula Genomics.
Review of Sun Genomics Floré Precision Probiotic Supplements
Many companies offer probiotic supplements, often in the form of oral pills. This method is a convenient way for most people to take many supplements, but this is not necessarily true for probiotics.
Probiotics supplements are essentially collections of helpful gut bacteria. When taking a supplement, the bacteria are meant to pass through the stomach and into the gut and intestinal tract. As we described in our Ombre review, since probiotic supplements contain living bacteria, this task is not so simple and is an active research area.
Floré's adult probiotic supplements come in standard pill form. However, the probiotic supplements designed for Kids, Tots, and Babies are powdered and can dissolve into drinks. In traditional adult formulations, living bacteria are delicate, and stomach acid may kill much of the helpful bacteria before they enter the gut. However, the designers expect the powdered formula for babies and children to easily survive the digestive tract since their stomachs are not as acidic as adults'.
Another issue some probiotic supplements have is shelf-life. Since the FDA does not regulate these sorts of products, it is hard to know the quality and quantity of living bacteria within a supplement. Floré ships its supplements in a temperature-controlled package.
The company recommends that supplements be kept cool (though Floré claims its supplements can survive 30 days with no refrigeration). This may not be the case with the powdered supplements.
Solutions
The powdered supplement also comes in the attractive bamboo container. This one was crafted for Vanessa, who is presumably a "baby, tot, or kid". The powdered supplements have a reduced concentration of probiotics.
Floré advertises that the probiotics in powder form are "lyophilized," a type of freeze-drying technique for the long-term storage of bacteria. It does not share the details of its technique, but it is worth noting that in many cases, freeze-dried bacteria have a long shelf-life when kept refrigerated. They can, however, die within a week at room temperature.
There is often a stigma attached to health supplements. Because they are not regulated by the FDA, there is generally very little oversight regarding who produces them and what they contain. Also, producers of supplements are not necessarily held accountable for their claims. For this reason, experts recommend that consumers be careful with which producers they choose to trust.
Review of Sun Genomics Test Process
The Floré process is similar to other microbiome testing companies. First, customers register their gut microbiome test kit online. This ensures Floré is able to connect you with your results and custom probiotics.
Next, customers collect their fecal samples. Detailed instructions are included in the kit. Floré also provides a helpful how-to video (there is a special video for the Research Edition).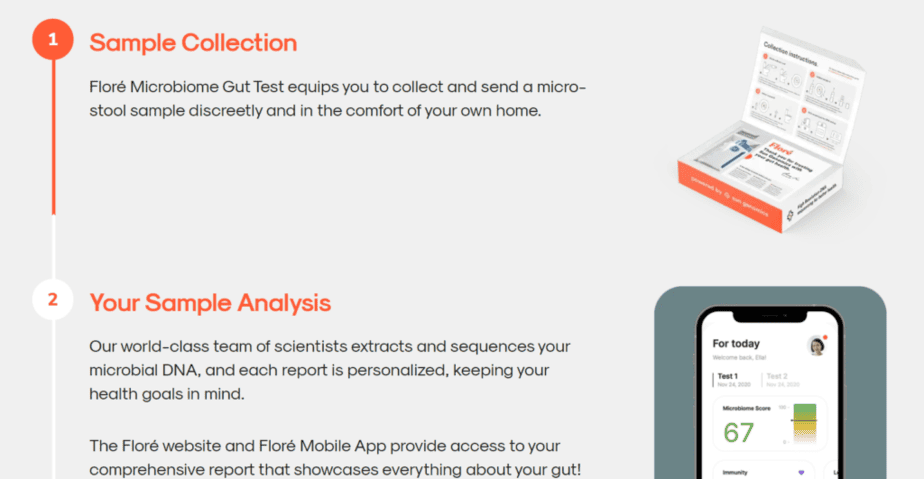 Completing a gut health test is simple, and Floré includes instructions on how to do it.
Once customers collect their stool sample, they mail it to Floré using the included return packaging. After 6-8 weeks, Floré will share the results of the gut test with customers on its app and web portal.
Customers get several gut health scores, information about the microbes found in the sample, recipes, and diet suggestions. The gut health scores compare the customer's microbiome to what Floré considers a healthy and diverse microbiome. It is worth noting that the way Floré derives its score is a proprietary process and should be taken only as an estimate of gut microbiome health.
From the results, Floré develops a personalized probiotic blend for the customer and sends it directly to their registered address. Customers should be aware that many Floré products include auto-renewal for testing and probiotic products.
Sun Genomics Reviews
There are not many Floré reviews on the web, but the few available are generally positive. For example, the company has a 4.6 star rating on TrustPilot with over 200 reviews. Most reviews cite the simplicity of ordering and refilling their probiotics with or without a subscription as a major positive. Very few reviews mentioned the products for children and babies.
Nebula Genomics
We finish our Sun Genomics review with a look at Nebula Genomics.
Personal genetic testing is very different from learning about your gut's microbiome. However, both can help you and your healthcare providers make informed decisions about your diet and improve your health.
Improving health and wellness often involve multiple systems. By having the opportunity to analyze your entire genome, you are setting yourself up to answer overall health questions as they arise.
You can sequence your entire genome with Nebula Genomics 30x Whole Genome Sequencing service. This process provides far more information than other leading genetic testing companies. With Floré, you are limited to potentially answering one health question. Nebula Genomics gives you the power to find answers to questions about your whole genetic make-up.
Even though your genome stays the same, research is constantly evolving. The Nebula Library is a collection of reports based on the latest genetic discoveries. It is updated regularly with over 300 genome-wide association studies (GWAS), and new reports are added with each update.
Other companies
If you are interested in ways to improve your gut health, you may want to check out these alternative products:
Another supplement that you might be interested in is Tru Niagen or Elysium Health, which are supplements that may be able to slow down aging!
Other reviews include Curology (personalized skincare), Plexaderm (skin anti-aging), Yoga Burn (weight loss), and Medishare, which may be able to help with emergency health bills through cost sharing ministry.
Did you find our Sun Genomics review helpful? You can read more reviews on our blog and check out our complete guide to the best DNA test kit and other home tests.