7 Facts from our Patient Choice Direct Review
Location: Indianapolis, IN, USA
Products: A pharmacogenetics (PGx) test that analyzes 35 genes and how they help metabolize around 180 medications
Cost: $299
Reports: The test results are delivered to a HIPAA-compliant patient portal for the patient and their healthcare provider to review
How it works: Customers collect their sample and send it back to the laboratory using a pre-paid return label. Results are typically available within 7-14 days after the sample arrives at the lab
Counseling available: No
Other Products: Nebula Genomics offers 30X Whole Genome Sequencing that decodes 100% of your DNA and gives reports on diet and much more!
This review is written with the intent to be as unbiased as possible. However, it represents the opinion of an individual reviewer and is therefore subjective. Furthermore, at Nebula Genomics we seek to educate the public about the benefits of Whole Genome Sequencing. Information about our Whole Genome Sequencing DNA test is therefore incorporated into the review.
June 20, 2023
Pros and Cons
Pros
At-home pharmacogenetics
In-house laboratory testing
HIPAA-compliant patient portal for secure and confidential access to results
Cons
Currently only offering pharmacogenetics
Results must be interpreted and put into action by a physician
Only covered by insurance if a medical necessity
Going through insurance takes longer to process than self-paying
Introduction
Patients Choice Direct offers a pharmacogenetics (PGx) test that analyzes your unique genetic makeup to determine how your body metabolizes medications. It provides insight into 35 genes and their impact on around 180 medications.
The results include the most common medications for various conditions. Patients with chronic conditions, on multiple medications, a history of adverse drug reactions, or starting a new treatment regimen may benefit most from this test.

Unlike other pharmacogenetic tests, customers can order online and receive the kit at home. They do not need to order through a physician. However, the website notes that while patients will access their results online, only a physician should interpret them. Patients should never change medications without approval by their doctor.
Patients Choice Direct has operated an in-house laboratory since 2013 to ensure faster and more accurate results, with a CLIA Certification and CAP Accreditation. The results are delivered to your HIPAA-compliant patient portal for review with your healthcare provider.
The Science Behind Patients Choice Direct
Pharmacogenetic testing analyzes a patient's DNA to identify genetic variations affecting drug metabolism. By understanding a patient's genetic profile, healthcare professionals can better predict how they will respond to certain medications and adjust the type and dosage of treatment plans accordingly. For patients, this could mean lower overall healthcare costs and less trial-and-error in finding medications.
This analysis is a rapidly growing field expected to become a standard part of personalized medicine.
Patients Choice Direct uses innovative molecular diagnostics in their in-house laboratory to process pharmacogenetic kits accurately, providing patients with faster results and greater peace of mind.
Review of the Patients Choice Direct Pharmacogenetic Test
The pharmacogenetic (PGx) kit is a one-time test that evaluates your unique genetic makeup to understand better how your body responds to and metabolizes certain medications.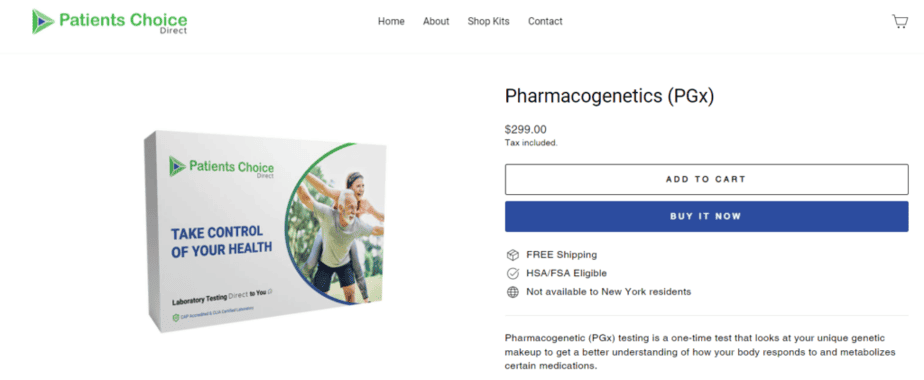 People with certain conditions may find this test particularly useful for honing in on the most effective medication at the appropriate dose. This includes those with cardiovascular disease, diabetes, mental health conditions, multiple sclerosis, and pain management.
The 35 genes analyzed focus on how people may respond differently to medications. For example, some people have genetic variants that cause them to metabolize certain medications slowly. Slow metobolizers tend to have these substances build up, causing a standard dose to be too high. On the other hand, fast metabolizers have the medications go through their bodies too quickly potentially suggesting a higher dose is needed.
Overall, an individual patient may need normal dose, lower dose, higher dose, or alternative medication.
The table below lists the genes covered in the analysis.
| | | | | | |
| --- | --- | --- | --- | --- | --- |
| 12q15 | ABCB1 | ANKK1 | APOE | CACNA1C | COMT |
| CYP1A2 | CYP2B6 | CYP2C18v | CYP2C19 | CYP2C8 | CYP2C9 |
| CYP2D6 | CYP3A4 | CYP3A5 | DPYD | DRD2 | F2 |
| F5 | G6PD | GRIK1 | GRIK4 | HLA-B | HTR2A |
| HTR2C | MTHFR | NAT2 | NUDT15 | OPRM1 | SLC6A4 |
| SLCO1B1 | TPMT | UGT2B15 | UGT2B7 | VKORC1 | |
Review of Taking a Patients Choice Direct Test
With test kits delivered right to your doorstep, patients can select their preferred test and pay online, making it an affordable alternative to the typical physician-ordered process.
Once ordered, the test kit is shipped to the patient's home. The kit includes everything needed to collect and return your sample to the laboratory.

Customers collect their sample using the provided cheek swabs and return it using the pre-paid return label to ship it back using FedEx.
Finally, you receive your results in your HIPAA-compliant patient portal. This makes it easy for you and your healthcare provider to review the results at your convenience.
Review of Patients Choice Direct Cost
The regular price for a Patients Choice Direct's Pharmacogenetic (PGx) test is $299, which includes tax.
The test is HSA/FSA eligible.
Additionally, patients may be elegible to use their insurance. Medicare, Medicaid, or commercial insurance may pay when there is a medical neccesity.
Using insurance will typically delay shipping since their is an extra step that needs to be completed by a physician. In brief, the patient completes an online form and the company contacts the listed physician. Then, the physician completes the necessary information in an online portal.
Review of a Patients Choice Direct Report
The Patients Choice Direct report provides detailed genetic information, allowing healthcare providers to make informed treatment decisions. The report includes genetic information on 32 enzymes, two transporters, and one receptor, including well-known genes like CYP2D6 and HLA-B.
The report uses a color-coded system to describe the patient's metabolism type for each medication.
Red = poor metabolizer. Body breaks drug down slowly, increasing risk of side effects
Yellow = intermediate metabolizer. Body breaks drug down slower than usual, slight increase in side effect risk
Green = normal metabolizer
Blue = rapid metabolizer. Body breads drug down too quickly, reducing effectiveness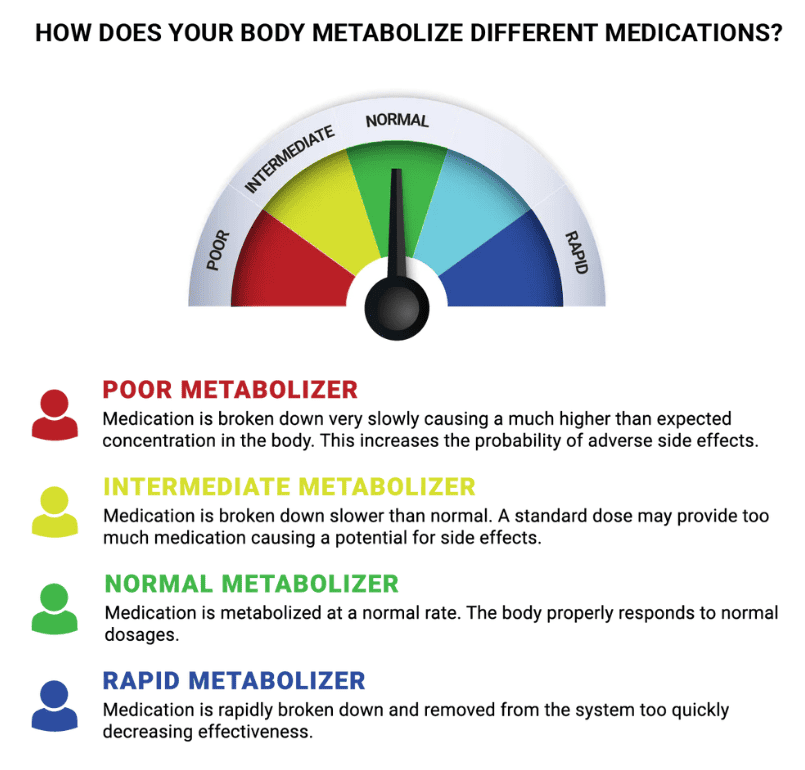 A patient's current medications will be listed in the report. Patients Choice Direct uses the DNA analysis to determine how the patients metabolizes these medications and provides recommendations for physicians.

In the sample above, the patient is taking Coreg (Carvedilol), Metoprolol (Lopressor®), and Simvastatin (Zocor®) for cardiovascular disease. According to their genes, they should take Coreg in the standard dose. However, they may want to consider a lower dose of Metoprolol and an alternative to Simvastatin since they are metabolized slower in this patient.
The report also includes a list of all potentially impacted medications divided into categories of "Standard Precautions", "Use with Caution", and "Consider alternatives".
Review of Patients Choice Direct Privacy Policy
The privacy policy of Patients Choice Direct states that it collects personal information, including device and order information, from individuals who visit or make purchases from the website. It collects this information to provide services and fulfill contracts with its customers.
The company can share health in a number of venues. Markedly, it can share health information with professionals who are treating you, to run its organization and bill for services, when needed to help with public health and safety, for research, and to comply with the law.
Other Patients Choice Direct Reviews
There are no reviews on the company's website. Also, the company has no reviews on third-party sites such as Trustpilot or Amazon.
Nebula Genomics
Patients Choice Direct offers a single test kit on pharmacogenetics shipped directly to the patient. Results are usually available within two weeks and should be shared with a healthcare professional.
On the other hand, Nebula Genomics covers much more than 35 genes. We provide a comprehensive test highlighting predispositions related to diet, fitness, disease, and much more. With 30x Whole-Genome Sequencing, Nebula sequences 100% of your DNA to get to the root cause of every biological inclination. This includes the same genes and variants analyzed in things like pharmacogenetic testing.
The test is incredibly accurate and includes other additions, including ancestry reporting and genome exploration tools. Regularly updated reports ensure that you will not miss the latest genetic research.
Nebula is not a diagnostic test, but the results are of the highest quality and can be used in consultation with health care professionals.
For only $299 or less, customers will get access to their entire genome, allowing them to continue to ask more questions as more research is conducted.
Patients Choice Direct vs. Nebula Genomics
| | | |
| --- | --- | --- |
| | Patients Choice Direct | Nebula Genomics |
| Testing method | Cheek swab | Saliva sample |
| Report | 35 genes to analyze about 180 medications | Sequences of all 20,000 genes and regulatory regions |
| Results | Interpreted by a healthcare professional | Genetic predispositions that can be interpreted by the customer |
| Ancestry reporting | No | Performs deep ancestry reporting with the complete Y chromosome and mtDNA sequencing |
| Counseling | No | No, but data is of the highest quality and can be used by physicians and genetic counselors |
| Cost | $299 | $0, $99, $299 |
Did you like our Patients Choice review? You can read more reviews on our blog and check out our complete guide to the best DNA test kit and other home tests.
If you are interested in pharmacogenetic tests you may want to also check out these other companies: