7 Facts from our Incite Health Review
Location: Melbourne, Australia
Products: CNSDose
Cost: $195
Reports: Personalized prescription drug recommendations based on genetic analysis
How it works: Customers order the test in collaboration with their physician, take a cheek swab sample, and review the report with the ordering doctor
Counseling available: No
Other Products: Nebula Genomics offers 30X Whole Genome Sequencing that decodes 100% of your DNA and offers reports on diet and much more!
This review is written with the intent to be as unbiased as possible. However, it represents the opinion of an individual reviewer and is therefore subjective. Furthermore, at Nebula Genomics we seek to educate the public about the benefits of Whole Genome Sequencing. Information about our Whole Genome Sequencing DNA test is therefore incorporated into the review.
January 31, 2023
Pros and Cons
Pros
Facilitates shared decision making with physicians
Personalized reports with regards to medications
Simple, easy to collect sample at home
Cons
Postage only available in Australia
Currently only offers reports for mental health
Introduction
Incite Health uses advanced genetic guidance to guide medication treatment. This field is called pharmacogenetics. Generally, it uses genes to determine how you will react to certain medications, allowing a clinician to have better insight into what to prescribe.
This goal of this method is to cut down on trial and error when determining the best course of treatment. Incite Health currently focuses on mental health conditions such as major depressive disorder and anxiety.
Customers can order the at-home test online and the company sends results directly to the customer's nominated physician.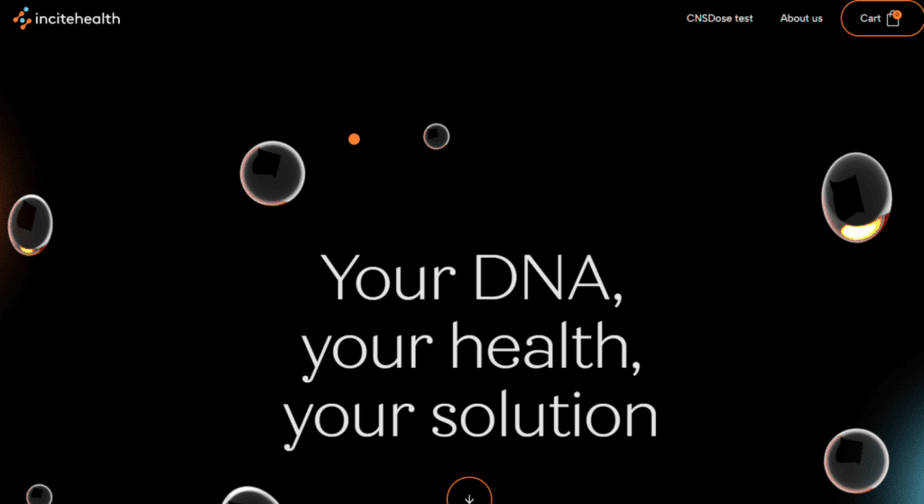 Incite Health was founded in 2015 and is based in Melbourne, Australia. Ajeet B. Singh, who is currently the Chief Psychologist, co-founded the company with Harris A. Eyre. Dr. Singh started the company after experiencing a patient with depression who seemed to show no improvement, even after counseling and being on the maximum dose of antidepressant.
Therefore Dr. Singh wondered if this patient's genetically high metabolism meant that he needed to be taking above the maximum dose. He prescribed this and the patient saw their symptoms improve.
Overall, Dr. Singh wanted to expand access to personalized medicine, which he believes can help people like this patient sooner. This led to the founding of Incite Health.
The Science Behind Incite Health
Incite Health is a DNA testing and pharmacogenetics company. It relates how genes affect the way our body processes medications. Specifically, it tests genes important for liver metabolism and the blood-brain barrier, which can affect medication uptake.
The genetic guidance on medication choices and dosing has the potential to reduce side effects and increase medication adherence. Since the report is based on genetic insights, each one is personalized towards the individual patient.
On its website, it advertises services that it expects to add soon, including mental health support, reproductive health, and sexual health.
Review of Incite Health Products
Currently, Incite Health offers the CNSDose test, an at-home DNA collection kit that analyzes 15 genes important for liver metabolism and the blood-brain barrier. Overall the goal is to fast track finding the best mental health treatment.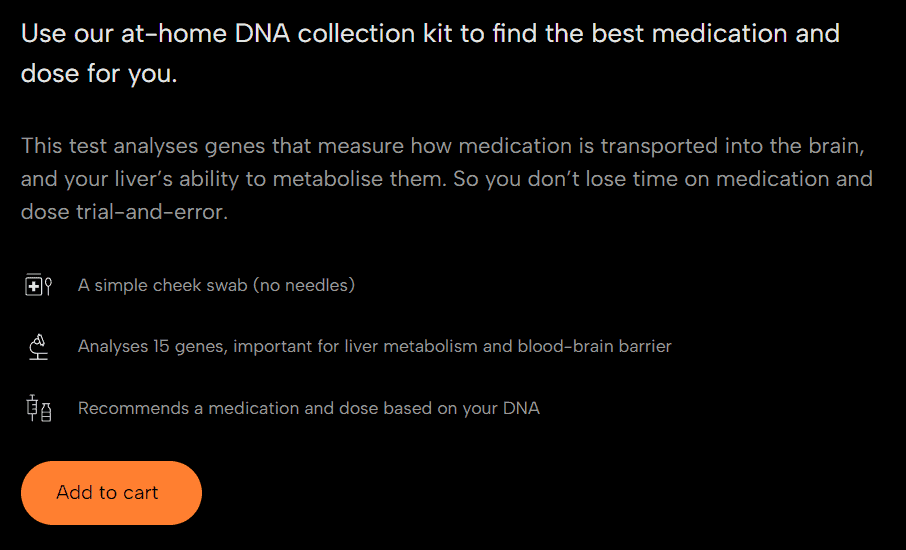 The results recommend mental health medication type and dose.
You can read about some of the most popular antidepressants Lexapro and Zoloft on our blog.
Review of Taking an Incite Health Test
Customers can order the DNA test online.
The kit includes:
Instructions
Two cheek swabs
A plastic bag to put collected DNA samples in
Test requisition form
Pre-paid return envelope
Customers must include a licensed physician on the test requisition form. This doctor will receive the results. They then follow up with their clinician when the results are ready. It should also be noted that the pre-paid return envelope is for mailing in Australia only.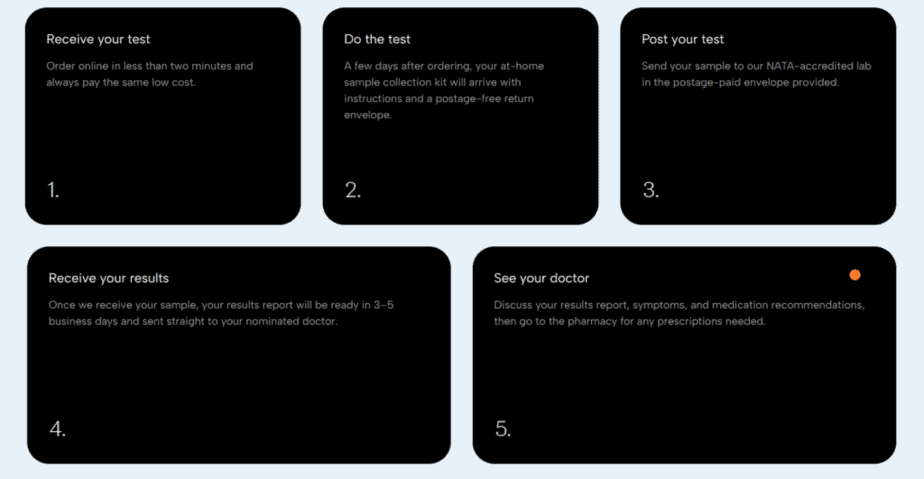 Patients collect their sample via a simple, quick, and pain free cheek swab. Afterward, they send the sample to the company's partner laboratory for genetic analysis. The company sends the report back to the ordering physician.
The report's goal is to allow the patient and the physician to engage in shared decision making, which is why the report is written in easy to understand language.
Review of Incite Health Cost
The DNA test costs $195.
Review of an Incite Health Report
While this company does not offer medications, it does provide medical recommendations that your clinician can interpret. It specializes in providing sample collection kits for analysis and generating medication guides based on genetics.
CNSDose Review: Antidepressant Report
The report includes simple and actionable strategies that Incite Health developed to offer users premium health services.
The first page of the report gives a high level summary as to which genes the analysis discovered that may affect the patient.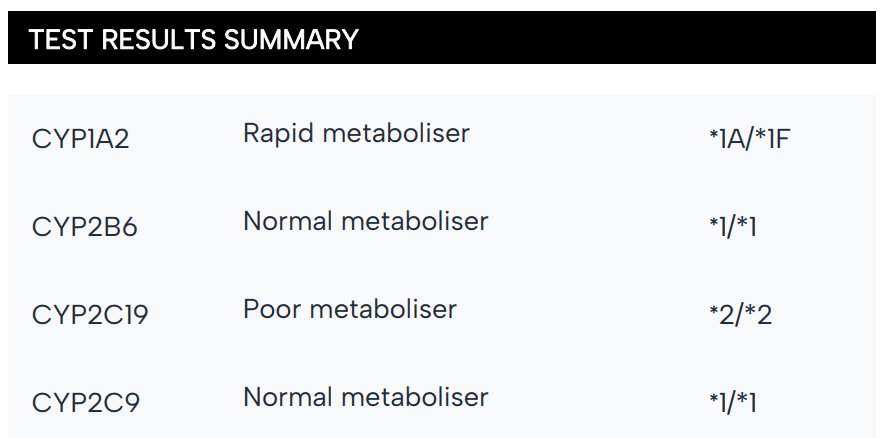 Secondly, the report labels each gene as a rapid, normal, or poor metabolizer.
The remainder of the report is divided into six sections:
Current medications
Medication assessments
Medication alerts
Pharmacogenetic results
How to use this report
Disclaimers
CNSDose Review: Current Medications
The current medications section includes a list of current medications as provided by the treating physician. For each medication, the report highlights any known gene-drug interactions (based on the DNA test) and drug-drug interactions. An exclamation point in a red circle indicates major prescribing alerts while a yellow circle indicates moderate prescribing alerts. In contrast, no color is normal prescribing alerts.
Furthermore, a blue triangle will indicate additional precautions to consider. These are divided into contraindication (any reason a person should not receive a medication), lifestyle (what should the person do or avoid), blackbox, PIM, and anticholinergic.

After the table, a detailed description of each alert and precaution is provided.
CNSDose Review: Medication Guidance
The following section contains psychotropic medication guidance based on a combined analysis of the patient's hepatic and blood brain barrier. By comparison this is the bulk of the report.
Firstly, customers will see medications divided into clinical categories:
Alzheimers
Anti-ADHD agents
Antidepressants
Antipsychotics
Anxiolytics & Hypnotics
Mood stabilizers / Anticonvulsants
Other Psychotropic
Non-psychotropic
For each medication listed, customers see the results in the form of a color coded table.
Like the current medications section, the report highlights the major and moderate alerts with a red or yellow circle respectively and classifies them as either gene-drug or drug-drug interaction. If there are no alerts or precautions associated with a medication, the report will instead recommend a dosage. It also includes precautions.
The report highlights medications with major gene-drug prescribing alerts in detail.
The remainder of the report summarizes the information contained above and also provides additional guidance for moving forward.
Markedly, it groups medication alerts into one section. These include therapies with significant drug-drug or drug-gene interactions, as directed by FDA, CPIC, or DPWG guidelines. These are intended as the most important drugs a prescriber should note and possibly avoid.

The report concludes with sections on the exact pharmacogenetic results the lab produced, instructions for how to use the report, and disclaimers.
Review of the Incite Health Privacy Policy
Incite Health states that it considers a patient's privacy its responsibility. Therefore, it does not sell information to third parties with customer consent unless required to by law. The company also notes it strictly follows government regulations and accreditation criteria. For the most part it uses personal information only to provide the service, process the DNA sample, and create the report.
It removes identifying information including name, address, birthdate, and prior medications, from the samples once it delivers the report. Samples are kept for 12 months under a lab identification number. This is done for the purpose of ensuring results are accurate if issues arise. Customers can specifically request their samples are destroyed sooner by contacting the company.
Data is protected by physical, electronic, and administrative safeguards in accordance with the Privacy Act 1988 and the Australian Privacy Principles. Additionally, the company uses Shopify to process orders, which is protected with SSL encryption.
Other Incite Health Reviews
Since this product is only available through the company website in collaboration with physicians, there are no third party reviews.
The company includes two testimonials on its website from patients who discuss how using CNSDose allowed them to treat their conditions in light of multiple failed attempts. You can listen to Don and Heidi's testimonials on the Beyond the Medicine Cabinet podcast.
Incite Health in the News
In 2021, The Carlat Psychiatry Podcast featured Incite Health on the episode, "A Genetic Test that Didn't Fail".
Additionally, CNSDose is also recommended by the U.S. Department of Veterans Affairs Health Administration Review.
Nebula Genomics
Incite Health and its product, CNSDose, is a service-oriented company that employs top innovative genetic technology. In general, it helps users and their doctors prescribe the best mental health medication with less guesswork. Pharmacogenetic tests like this one advise medications based on the patient's genetics and also how their body naturally metabolizes various medications. Thus, this information often leads to prescription changes and dosing adjustments that would not have been known otherwise.
As has been noted with Incite Health, genetics is a powerful way to improve health by making changes that align with genetic tendencies. Mental health prescriptions is one very specific use. To explore your entire genome, you will need genetic sequencing. Nebula Genomics offers a comprehensive test that highlights predispositions related to diet, fitness, metabolism, disease, and much more.
With 30x Whole-Genome Sequencing, Nebula sequences 100% of your DNA to get to the root cause of every biological inclination. Furthermore the test is incredibly accurate and comes with other additions that include ancestry reporting and genome exploration tools. Regularly updated reports ensure that you will not miss the latest genetic research.
For only $299 or less, customers will get access to their entire genome, allowing them to continue to ask more questions as more research is conducted.
| | | |
| --- | --- | --- |
| | Incite Health | Nebula Genomics |
| Testing method | Cheek swab | Saliva sample |
| Reports | Pharmacogenetics for mental health conditions | An extended genetic report that is updated regularly |
| Physician needed | Yes | No |
| Ancestry reporting | No | Performs deep ancestry reporting with the complete Y chromosome and mtDNA sequencing |
| Counseling | No | No, but data is of the highest quality and can be used by physicians and genetic counselors |
| Cost | $195 | $0, $99, $299 |
Other tests
Did you find our Incite Health review helpful? You can read more reviews on our blog and check out our complete guide to the best DNA test kit and other home tests.
You may also be interested in these other DNA companies that offer pharmacogenetics: