7 Facts from our GeneSight Review
Location: Ohio, USA
Products: Clinical genomic test for psychotropics
Reports: Gene-drug interactions for psychiatric medication
Result delivery: Reports are delivered by a doctor, typically within days
Privacy: Data not deleted per default; users must email customer service
Cost: The majority of users pay less than $330; some are covered by insurance, some may pay more
This review is written with the intent to be as unbiased as possible. However, it represents the opinion of an individual reviewer and is therefore subjective. Furthermore, at Nebula Genomics we seek to educate the public about the benefits of Whole Genome Sequencing. Information about our Whole Genome Sequencing DNA test is therefore incorporated into the review.
July 25, 2022
Edited by Christina Swords, Ph.D.
Pros and Cons
Pros
Specifically tailored to psychiatric medication
Offers a diagnostic test with sign-off from doctors
Insurance may cover the test
Can save patients trial and error for selecting medications
Cons
More expensive than whole genome sequencing
A lot of personal is collected and shared
Can't upload genomic data from other providers
Introduction
GeneSight is a diagnostic DNA test from Myriad Genetics. Reports focus exclusively on genes relevant to psychotropic medications. In 2016, Myriad Genetics acquired Assurex Health, an informatics-based precision medicine company providing treatment decision support to healthcare professionals with mental health patients.
The company offers DNA testing to better understand drug interactions for mental health conditions. This can help patients find the proper treatment and save months or years of a painful trial and error process to find effective medication for difficult conditions.
GeneSight's product is backed by seven peer-reviewed studies and clinical trials, including one study that showed higher remission rates among those who took the test.
As a clinical pharmacogenomics test, it works differently than other DNA tests like 23andMe and AncestryDNA. The GeneSight test focuses exclusively on analyzing gene-drug interactions to identify the best treatments for mental health conditions.
GeneSight markets its test for people who require treatments for conditions including:
Depression or major depressive disorder
Mood disorders
The original GeneSight test is exclusively a clinical test although the company now offers an at-home option. For the former, DNA samples are collected at a doctor's office or medical center and the results are reviewed by the medical staff. In either case, patients can follow up with a doctor to discuss the genetic information received in the results and clinical decisions.
According to the GeneSight website, 1 million individuals have taken the test.
The Science behind GeneSight
The company claims that its test is backed by more scientific evidence than any other pharmacogenomics test. It mentions seven clinical studies on its homepage.
Pharmacogenomics refers to the use of genomic sequencing to produce more effective prescriptions. This branch of science claims that genes may affect the way some medicines work in the body. For example, according to this study, while most patients with major depression respond to antidepressants, 10-30% show little to no improvement. In this case, GeneSight seeks to analyze gene-drug interactions to identify the most effective psychotropics.
This field has been growing for quite some time, and the research supporting the use of genetics to prescribe psychotropics for certain conditions has been debated. There is only scarce evidence for some mental disorders, but for others, there has been more success connecting genomics to drug metabolism.
A 2015 review by The Carlat Report of GeneSight's clinical evidence concluded that the evidence at that point was not entirely convincing, but intriguing. The author suggested that psychiatrists reserve the test for patients who have unsuccessfully tried multiple medications.
A similar conclusion arose in a STAT News report of a different pharmacogenetic service. In an editorial published in JAMA Psychiatry, authors suggest that diet and demographic information may be more important than genetics in determining drug metabolism – leading to their conclusion that the test may not warrant the GeneSight testing cost.
However, more recently, GeneSight has published more studies. Sponsored by Assurex Health Inc., GeneSight completed a 12 Week, Randomized, Double-Blind, Controlled clinical trial in 2017.
A similar service, Genomind, also focuses on genetic testing to help medical providers treat mental health disorders.
Review of GeneSight Testing
Step-by-step instructions are provided on the website. The process begins with a cheek swab to collect a DNA sample. This can be done at the doctor's office or at home using a patient collection kit instead. The doctor then sends the sample to the lab for analysis.
From the moment GeneSight receives a sample, it completes analysis within 36 hours. After the sample processing, it sends the Genesight test results to the doctor who ordered the test. The doctor can then consult with the company to understand the report before communicating the results to the patient.
GeneSight does offer a my GeneSight provider login portal for registered healthcare professionals. Here, medical professionals can use their GeneSight login to access their patient reports either online or on a mobile app.
GeneSight Genetic Counseling
GeneSight's test must be ordered by a health care professional after genetic counseling. The cost of this genetic consultation is not included in the price of the service.
Health insurance will typically cover genetic counseling, but it depends on tested genes. Otherwise, such appointments (without testing) could cost hundreds of dollars.
GeneSight helps patients to find a healthcare professional in their area to order the test and guide treatment. It recommends consulting with a psychiatrist or primary care physician for professional medical advice before seeing a company-provided professional.
Review of GeneSight Report Details
GeneSight offers two tests with separate reports: The Psychotropic and the MTHFR test. The former is the most detailed report. The company provides sample reports for patients to review before purchasing.
Psychotropic test
GeneSight Psychotropic is a pharmacogenomic test. The GeneSight test analyzes how your genetic variations may affect how your body reacts to medications for depression, anxiety, ADHD, and other mental health conditions. It provides your clinician with information about dosing recommendations, which medications may be less likely to be effective or others that may have an increased risk of side effects based on your genetic makeup.
The 12-page sample report, updated in 2021, begins with five pages of results for five different types of psychotropics, examples of which can be found in the table below.
| | | |
| --- | --- | --- |
| Drug Type | Drug Name | Brand Name |
| Antidepressants | Desipramine | Norpramin |
| | Sertraline | Desyrel |
| | Trazodone | Zoloft |
| Anxiolytics & Hypnotics | Lorazepam | Ativan |
| | Eszopiclone | Lunesta |
| | Alprazolam | XanaxAnti |
| Antipsychotics | Asenapine | Saphris |
| | Chlorpromazine | Thorazine |
| | Aripiprazole | Abilify |
| Mood Stabilizers | Divalproex | Depakote |
| | Lamotrigine | Lamictal |
| Stimulants | Dexmethylphenidate | Focalin |
On each of these pages, the report bins individual medications into separate categories. The categories are:  "Use as directed," "Moderate gene-drug interaction," or "Significant gene-drug interaction." Medications in the latter two categories may not be effective or may require additional considerations other than what is recommended on the label.
Sample report
In this sample report, we can see that the patient can use Pristiq as directed. The patient may have moderate gene-drug interactions with Desyrel and significant interaction with Zoloft. These classifications are unique to the patient.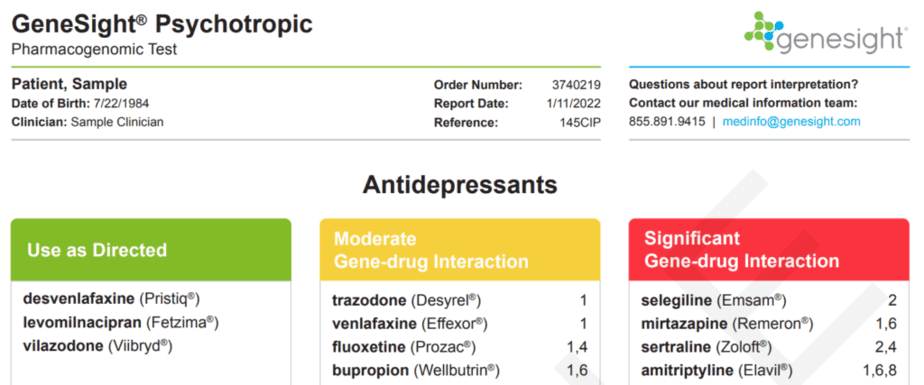 Codes
For more detailed information, the report provides numbered codes next to each drug. For example, we can learn more about the possible interaction with Zoloft with codes (2) and (4).
According to a key at the bottom of the page, we see that lower doses may be required (2) and that the drug may be less effective (4).

The other three reports have the same structure. We can see that the patient can take a number of mood stabilizers as directed, but may want to stay away from Tegretol, or only consider it as a last resort.

This page also has an extra box for drugs with "no proven genetic markers." This is how GeneSight shares that Neurontin, Topamax and lithium are not compatible with its report.

Genes
The next section of the report details the patient's "pharmacodynamic genes." These genes may affect how the body responds to a medication. In this case, the patient has a genetic variant (ADRA2A). 
This polymorphism, according to GeneSight, may moderately decrease a patient's response and remission rates to certain ADHD medications. Understanding this information may help doctors better target and treat ADHD.
The third section of the report looks at the patient's "pharmacokinetic genes." These genes may affect how the body metabolizes drugs. In this case, the patient has a genetic variant (CYP2D6). This genotype, according to GeneSight, may make the patient a "poor metabolizer" of some drugs.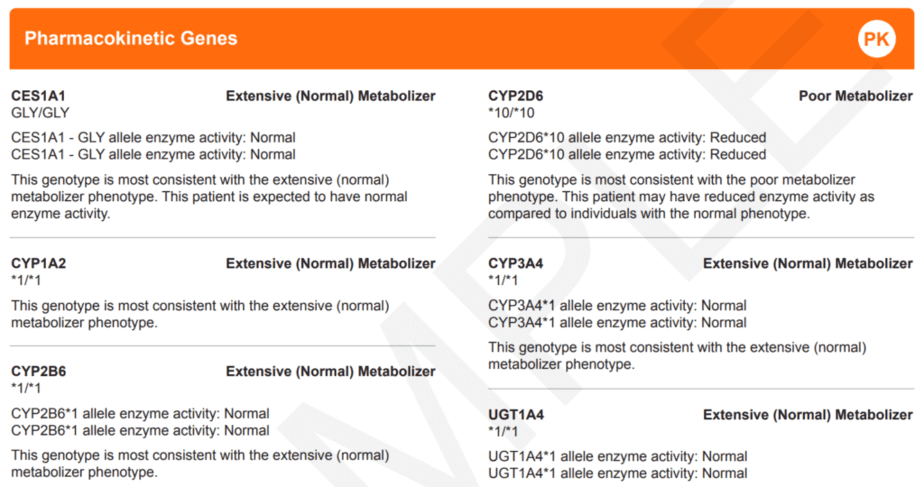 The report then moves on to pages detailing which drugs interact with which genes. This analysis is again broken into sections, "Use as directed," "Moderate gene-drug interaction," or "Significant gene-drug interaction."
Filled circles indicate interaction, and empty circles indicate that the patient's genotype is "normal." The patient in the sample report may have poor metabolism due to a variant in gene CYP2D6. According to GeneSight, this results in potential impacts to most medications.

The final page of the report just provides a record of test information. It also indicates that the test was reviewed and verified by a clinical scientist. GeneSight reiterates that "all psychotropic medications require clinical monitoring." In other words, the report does not replace a doctor but can help a doctor prescribe the proper medication.
MTHFR test
MTHFR is an enzyme that plays an important role in the development of neurotransmitters through the conversion of folic acid into its active form, l-methylfolate. Neurotransmitters are important components of our mental state, such as mood. Therefore, variations in this enzyme can lead to underlying mental health issues.
When a patient orders this test, they will receive the Genesight report indicating "Normal folic acid conversion", "Reduced folic acid conversion", or "Significantly reduced folic acid conversion".
The report also indicates the genetic variant detected that led to this conclusion.

Review of GeneSight Costs
According to GeneSight, the majority of patients pay $330 or less. The company claims that it will call patients if their total amounts more than $330. It is worth noting that this may not include copays for medical visits. The reported cost is only for the GeneSight test itself and it depends on your insurance provider.
Medicaid or Medicare: Traditional plans cover the GeneSight testing in full
Medicare Advantage: Typically $330 or less. The company claims to contact patients if costs will exceed $330
Employer/commercial providers: Typically $330 or less. The company claims to contact patients if costs will exceed $330 (same as Medicare Advantage)
No insurance: More than $330, typically. Some patients may qualify for financial assistance.
After GeneSight receives the DNA sample, it calculates a patient's out-of-pocket cost. GeneSight submits insurance claims after processing samples.
Patients then receive an explanation of benefits from their insurance company before finally receiving a bill.
Review of GeneSight Privacy & Data
Is GeneSight safe? Myriad Genetics has a Notice of Privacy Practices that explains what personal information the company collects from patients. According to this notice, GeneSight collects email addresses, names, addresses, phone numbers, etc. It also collects personal and family health history, insurance, employment, and demographic information.
The company uses data for promotional and marketing efforts, such as social media advertising. Patients can request that their data be deleted.
Will GeneSight disclose personal data to third parties? This company will share personal information with certain third parties and the Law when required. However, Myriad insists that these third parties must comply with its privacy policy.
GeneSight in the News
In 2018, Time Magazine wrote an article featuring the benefits users had found in testing themselves for the effectiveness of different medications through GeneSight. The note claims that the tests are not entirely accurate and had only been tried in a small sample for a short period. Very importantly, it makes it clear that the test is not intended to guide doctors to prescribe medications but to shy away from those that have negative side effects.
NPR reported about genetic tests for drugs now being covered by some insurers in 2019.
In February 2021, Myriad Genetics announced that the peer-reviewed journal Psychiatry Research demonstrated that the GeneSight Psychotropic test is more effective than single-gene testing at predicting patient medical outcomes.
In May 2021, IPM launched the GeneSight Pharmacogenomics Program for Depression and Anxiety as part of its offer as a full-service, middle-market PBM.
The ongoing pandemic has taken its toll on Americans' anxiety. The GeneSight Mental Health Monitor found out that, despite this, 1 in 5 people say they will not seek treatment.
GeneSight Reviews
Because GeneSight is a clinical testing company only available through a doctor's office, public reviews are not generally available online.
The Carlat Report GeneSight review noted that "We'd conclude that there's very little reliable evidence that it works" based off usual standards for drug prescription
Some Reddit threads are available that discuss the benefits and risks as well as customers pleased with the results.
Nebula Genomics
With 30x Whole-Genome Sequencing (WGS), Nebula Genomics decodes 100% of your DNA for only $0 – $299. WGS lets us provide the most comprehensive reporting and regular research updates to empower users with information. In contrast, GeneSight sequences just a few dozen genes and charges more than $330.
Although Nebula does not offer a diagnostic test, our Whole Genome Sequencing data is of the highest quality and can be used by physicians and genetic counselors. Users with Nebula results can bring their genome data to healthcare professionals or genetic counselors for further consultation. If you have a known genetic disorder in your family history, please consult with your healthcare provider first.
Here is how GeneSight compares with other DNA testing companies.
| | | | | |
| --- | --- | --- | --- | --- |
| | 23andMe | AncestryDNA | GeneSight | Nebula Genomics |
| Type of genome reporting service | Microarray-based genotyping | Microarray-based genotyping | Unclear which technology is used | Whole-Genome Sequencing (30x coverage) |
| Produced data | ~ 600,000 positions in the genome | ~ 700,000 positions in the genome | Gene-drug interactions for a dozen of genes | ~ 3,000,000,000 positions in the genome |
| Compatible with other sites | Can export data and use it elsewhere | Can export data and use it elsewhere | Not compatible with other services | Can export data and use it elsewhere |
| Works with insurance | No | No | Yes | No |
| Regular Updates | No | No | No | Yes (Nebula Research Library) |
| Ancestry Reporting | Yes | Yes | No | Deep ancestry reporting with full Y chromosome and mtDNA sequencing |
| Cost | $99 – $199 | $99 – $119 | Often less than $330 – will notify you if more | $0, $99, $299 |
Alternative pharmacogenetic products similar to GeneSight include Genomind, GeneCept, and CNSDose. Plus, ClarityX DNA offers tests for mental health medications as well as other conditions. You may also be interested in reviews focused on antidepressants like Lexapro and Zoloft to treat depression.
Other companies
If you are looking for clinical genetic testing, take a look at
Pathway Genomics offers a clinical grade test specifically for psychiatric drugs.
Did you like our GeneSight review? You can read more reviews on our blog and check out our complete guide to the best DNA test kit and other home tests.