7 Facts from our ClarityX DNA Review
Location: Miami, Florida, United States
Products: Mindwell and MAX RX tests
Cost: $399-$499
Reports: Patient's predicted reactions to up to 265+ of the most commonly prescribed FDA approved medications
How it works: Customers create their accounts and receive their chosen test at their home. They take a cheek swab sample and send it back to the ClarityX DNA laboratory. Results are available on the patient portal in 7-10 days
Counseling available: Yes
Alternative Products: Nebula Genomics offers 30X Whole Genome Sequencing that decodes 100% of your DNA and offers reports on diet and much more!
This review is written with the intent to be as unbiased as possible. However, it represents the opinion of an individual reviewer and is therefore subjective. Furthermore, at Nebula Genomics we seek to educate the public about the benefits of Whole Genome Sequencing. Information about our Whole Genome Sequencing DNA test is therefore incorporated into the review.
October 18, 2022
Pros and Cons
Pros
Personalized pharmacogenetic results
Emphasis on mental health genetic testing
Clinical guidance based on FDA
Easy to understand report
Cons
No option for genetic testing beyond medications
Only covers a small part of the human genome
Expensive and not covered by insurance
Introduction
ClarityX DNA provides a tool that analyzes genetic variations related to how one responds to medications. It explores pharmacogenetics' power to provide users with precision medication recommendations for 265+ of the most commonly doctor prescribed FDA approved medications. One of the company's tests focuses on mental health conditions while the other one expands to other therapeutic areas such as cardiovascular disease and diabetes.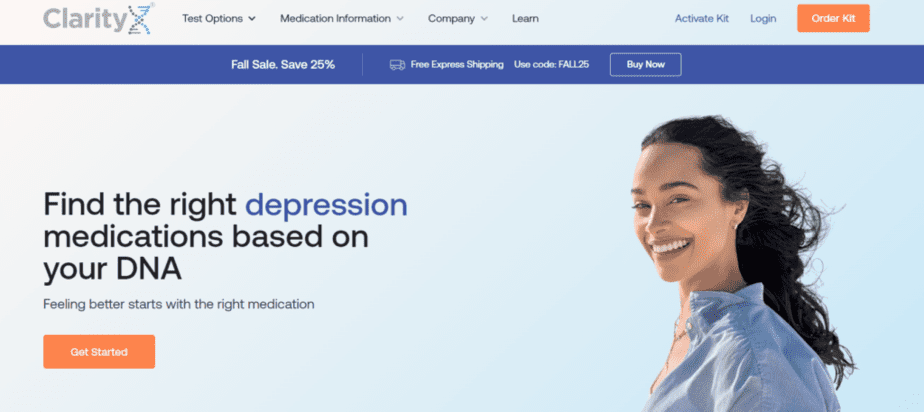 The two testing options are Mindwell (mental health) and the Max Rx (mental health plus 21 therapeutic areas).
ClarityX DNA was founded in 2021. It believes that one size does not fit all and that individualized personal medicine is the future of healthcare. Its tests are specifically aimed to help you find the right medications based on your DNA through genetic testing for medication.
Each genetic test kit comes with a one-on-one session with a clinical pharmacist who is certified in pharmacogenomics.Its labs are CLIA-certified COLA-accredited and it uses up-to-date clinical guidance from key scientific and governing organizations including Clinical Pharmacogenetics Implementation Consortium (CPIC) and the Federal Drug Administration (FDA) to build its personalized reports. Its headquarters is located in Miami, Florida.
The Science Behind ClarityX DNA Testing
ClarityX DNA uses the science of pharmacogenetics to ensure that patients are prescribed the right medications by letting them know which drugs will react positively and negatively as treatment.
Pharmacogenetics has to do with the varying responses of humans to drugs. Simply put, pharmacogenomics determines crucial genetic variations that may affect how an individual responds to drugs. In other words, it has to do with how an individual's genetic makeup affects his responses to drugs.
This is part of precision medicine as an individual's genes must be considered first before administering any medication. This test helps medical practitioners to work on exactly what the problem is, saving time, adverse effects, money, and other resources.
A disclaimer is included at the bottom of the ClarityX website:
The tests offered through the ClarityX platform are not intended to diagnose or treat disease. Our tests are not intended to be a substitute for seeking professional medical advice. Do not make any changes to your current medications or dosing without consulting your healthcare provider.
Review of ClarityX DNA Products
ClarityX DNA performs two different pharmacogenetic tests, one for mental health only and one for mental health and 21 other conditions. These products help you understand how your DNA can impact your medications. These results can help guide your doctor to the most effective treatments without side effects. This can reduce the time and money you spend on finding the best therapy for your condition.
You can take the ClarityX DNA test even if you are not currently diagnosed with a condition or taking medications. In the case that you are recommended for treatment in the future, you can share these results with your doctor to help get the best medication and dose from the start.
ClarityX Mindwell test
Today, the number of people suffering from mental illnesses is rising. Getting the medication that works best for you could be difficult because it can take a long trial and error process to find the best treatment with minimal side effects. This is when pharmacogenetics comes in.
The Mindwell test analyzes how you will respond to 130+ FDA approved mental health medications based on your genetic profile. Some of the benefits of this product include analysis of your current medications, personalized risk management profile including MTHFR variant, and individualized medication dosing guidelines.

This test is based on the following therapeutic areas:
ADHD/ADD
OCD
Opioid withdrawal
Sleep disorder
ClarityX Max Rx test
In addition to the mental health medications, this product also tests for genetic variants that influence your response to 265+ FDA approved medications for 21 other conditions. This product is designed to give you a complete overview of which prescription medications work for you.

This test focuses on the the following therapeutic areas:
All mental health conditions in the Mindwell test
Pain management
Overactive bladder
Cardiovascular
Gastrointestinal
Diabetes
Anesthesia
Antifungals
HIV
Urologicals
Atrial Fibrillation
Pain management
NSAIDs
Gynecology
Rheumatology
Review of Taking a ClarityX DNA Test
Taking ClarityX DNA tests is quite simple and this section will highlight the steps to help you understand them.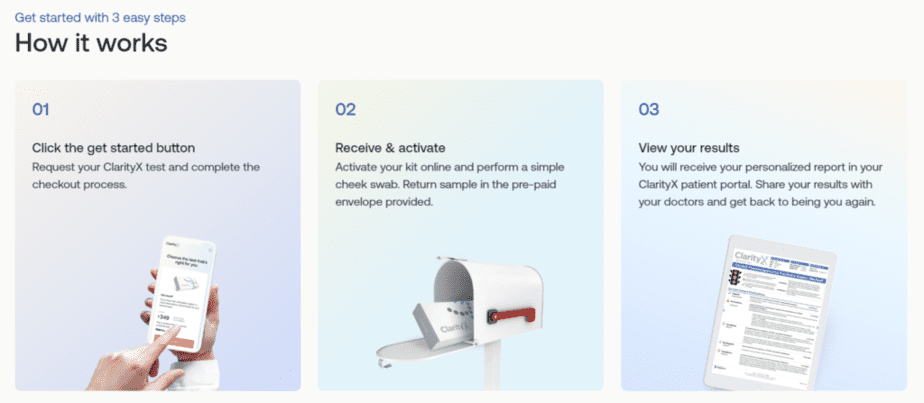 Customers purchase the desired test and receive it at their home. A network of physicians in the company will review and authorize the order for home genetic testing. This service is available in all 50 states.
Then, they should activate the kit online and collect a DNA sample using a cheek swab. Finally, they will follow the packaging instructions and send it back to the ClarityX DNA lab. Patients receive their personalized test results on the ClarityX patient portal 7-10 days after the sample arrives at the lab.
Customers can also take advantage of a one-on-one personalized session with a clinical pharmacist who is certified in pharmacogenomics.
Review of ClarityX DNA Costs
Mindwell Tests: $399 ($299 with Fall 2022 code)
MAX RX Tests: $499 ($374 with Fall 2022 code)
The company offers free shipping. ClarityX DNA does not accept insurance.
Review of ClarityX DNA Reports
The ClarityX DNA reports are divided into four sections:
Current medication analysis
Response to hundreds of FDA-approved medications
Individualized medication dosing guidelines
Personalized risk management profile
The reports for the two products are almost identical except that the Mindwell includes only the mental health conditions while the Max Rx includes the other therapeutic areas. Both reports help you find and avoid medications that may cause side effects based on your DNA through genetic testing for medication. Below, we will use the Mindwell sample report as an example.
Sample report
The first part of the report analyzes the current medications (if any) the customer is taking. It lists them out and assigns each a red, yellow, or green color code:
Red: This medication has potentially reduced efficacy, increased toxicity, or the patient has an increased risk for this condition
Yellow: Guidelines exist for adjusting dosage, increased vigilance or the patient has a moderate risk for this condition
Green: This medication can be prescribed according to standard regimens or the patient's risk for this condition is not increased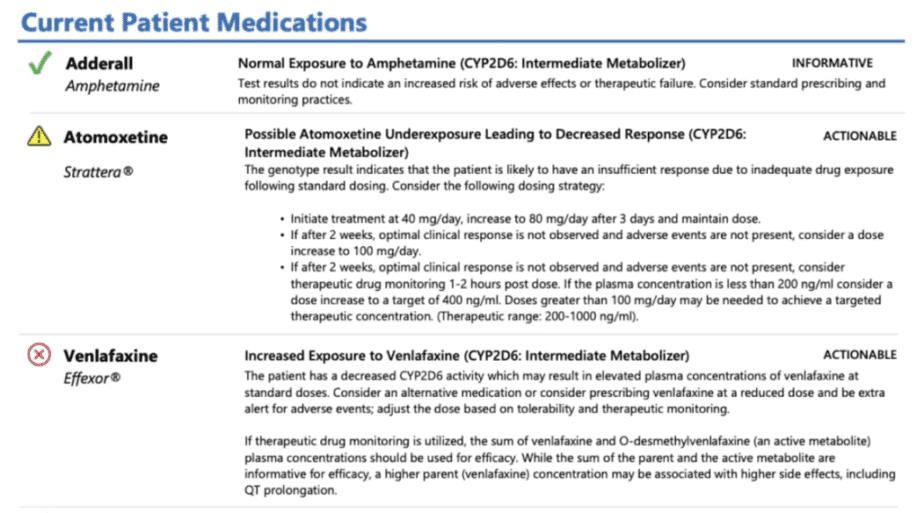 For each medication the report also includes relevant clinical details a doctor can use to recommend medication. You can view a full list of the medications tested for before ordering through the company's medication directory.
The second part of the report predicts a customer's response to hundreds of other items. It helps patients and doctors determine genetically optimal medication.
Each medication is classified as either "standard precautions", "use with caution", or "consider alternatives".

Next, the report provides individualized medication dosing guidelines for the medications. A doctor can use this information as clinical guidance for prescribing medications.
The final part of the report describes a customer's personalized risk profile. This section focuses on the risk of individualized conditions and helps assess genetic risk and potential preventative measures.

Review of ClarityX DNA Privacy Policy
The privacy policy is covered by ClarityX DNA's parent company, PRECISION SCIENCES, INC. The information required when using this company's services includes your name, email address, user ID, and password. It also includes your genetic information. This data is used to provide its services and does not sell your information to third-parties without your explicit consent.
Similar to other services, the company may share aggregate data that is not identifiable to any individual and will share data with law enforcement as required by law.
ClarityX DNA does not keep, store or use genetic data in any way, other than decoding specific sequences related to drug metabolism to process the report. The company destroys your sample once it is processed.
It also notes that it uses reasonable technical, physical and administrative measures to safeguard Personal Information and is in full compliance with HIPAA and GINA requirements.
Other ClarityX DNA Reviews
Because these products are considered clinical tests that a physician must review before ordering they are not available on third-party sites like Amazon.
The company includes reviews on its website which have a 4.5 star rating for both Mindwell and Max Rx with 100 reviews for both. Most customers felt the tests were useful, thorough, and easy to order and use.
Nebula Genomics
ClarityX DNA Pharmacogenetic testing helps patients enjoy more specified profiling and medication recommendations based on genetic responses to medications.
If you're interested in genetic testing, you should also look into services that decode more aspects of your genome. The most comprehensive view involves 30x whole genome sequencing, a method that decodes 100% of your DNA.
This comprehensive test, offered by Nebula Genomics, reveals genetic predispositions to diseases, traits, diet, and much more. The sequencing is accurate and comes with additions, including ancestry reporting and genome exploration tools.
Unlike ClarityX DNA, we are not a clinical testing company. However, the results are of the highest quality and can be shared with a medical professional to help guide treatment plans in combination with other recommendations.
Nebula Genomics also provides customers with regularly updated reports on genetic discovery so that they remain up to date with significant developments and groundbreaking research.
For only $299 or less, a fraction of what clinical tests cost, customers will get access to their entire genome, allowing them to explore nearly any genetic predisposition discovered today or in the future.
ClarityX DNA vs. Nebula Genomics
| | | |
| --- | --- | --- |
| | ClarityX DNA | Nebula Genomics |
| Testing method | Analyzes very specific genes related to drug metabolism | Sequences all 20,000 genes and regulatory regions |
| Sample collection | Cheek swab | Cheek swab |
| Reports | Patient's predicted reactions to 265+ of the most commonly prescribed FDA approved medications | An extended genetic report that is updated regularly |
| Ancestry test | No | Performs deep ancestry reporting with the complete Y chromosome and mtDNA sequencing |
| Counseling | Yes (one-on-one session with a clinical pharmacist) | No, but data is of the highest quality and can be used by physicians and genetic counselors |
| Cost | $399-$499 | $0, $99, $299 |
Looking for more pharmacogenetic companies? Genesight, Genomind, and Incite Health offer personalized genetic testing for mental health medications. 4U Health, 24Genetics, GeneTrait Laboratories, myDNA, Patients Choice Direct, and Veritas Genetics offer even more options.