7 Facts from our GeneTrait Laboratories Review
Location: Columbia, MO
Products: Genetic panels for pharmacogenetic testing
Cost: Not available online
Sample collection: Cheek swab
Turnaround time: 3-5 days
Raw data: No
Alternative Products: Nebula Genomics offers 30X Whole Genome Sequencing that decodes 100% of your DNA and gives reports on diet and much more!
This review is written with the intent to be as unbiased as possible. However, it represents the opinion of an individual reviewer and is therefore subjective. Furthermore, at Nebula Genomics we seek to educate the public about the benefits of Whole Genome Sequencing. Information about our Whole Genome Sequencing DNA test is therefore incorporated into the review.
May 9, 2023
Pros and Cons
Pros
Various tests for focused pharmacogenetics
Easy to read report
Forensic level testing at parent company for a 99.9999% accuracy
Cons
Must order and collect sample during an appointment
Cost depends on insurance
Introduction
GeneTrait Laboratories is a PTC Laboratories, Inc. division specializing in pharmacogenetic testing services. The company was founded in 2009 and has since been committed to enhancing personalized medicine through genetic testing. The parent company, PTC Laboratories, Inc. was founded in 1996 as a DNA testing company and continues to process more than 40,000 samples per year. 
GeneTrait Laboratories' goal is to help doctors make better-informed patient care decisions. For this purpose, the company's services help identify genetic variants that may impact medication response, allowing doctors to make more effective medication choices with fewer side effects.
With over two decades of genetic testing experience, GeneTrait Laboratories provides pharmacogenetic testing services to assist doctors in understanding which medications may work best for their patients based on their genetics. Furthermore, this service can help remove the expensive, time-consuming, and painful trial-and-error process of prescribing medication. 
GeneTrait Laboratories pharmacogenetic testing looks at medications related to mental health, pain management, cardiology, and others. Markedly, it uses over 60 genetic locations to develop a genetic profile for one person, with a forensic approach that provides an accuracy level of 99.9999%. 
The laboratory is CLIA-compliant and also holds accreditations from multiple organizations. GeneTrait Laboratories' staff chiefly consists of leaders in the genetic testing community, including Dr. Judith Miles, M.D., Ph.D., who serves as the Medical Director.
The Science Behind GeneTrait Laboratories
GeneTrait Laboratories looks at DNA to identify genetics that can influence their response to medication. This information then provides personalized medication management recommendations to the patient's doctor.
The genetic variants analyzed can affect various factors related to medication response such as how quickly a medication is metabolized, how effective it is at treating a particular condition, and whether it is likely to cause side effects. 
Specifically considering medication metabolism genetic testing may indicate whether a patient needs a higher or lower dose.
The testing process involves studying specific genes influencing medication response, using techniques such as PCR (polymerase chain reaction) and sequencing. Trained genetic counselors then review the results and provide medication management recommendations based on the genetic profile.
Review of GeneTrait Laboratories Products
GeneTrait Laboratories, a genetic testing service provided by PTC Laboratories, offers several types of pharmacogenetic tests.
| Test | Genes tested | Metabolism/risk factors |
| --- | --- | --- |
| Pain management | 6 | opiates, NSAIDs, methotrexate, and tricyclic antidepressants |
| Cardiac | 11 | antiplatelet, antiarrhythmics, ARBs, statins, NSAIDs, plus elevated risk of heart disease, thrombosis and other cardiac and stroke related conditions |
| Psychotropic | 6 | anti anxiety, SSRI/SNRIs, antipsychotics, benzodiazepines, and tricyclic antidepressants, plus elevated risk of hyperhomocysteinemia |
| Surgery | 8 | antiplatelet, opiates, and NSAIDs, plus elevated risk of thrombosis and hyperhomocysteinemia |
| OB/GYN | 8 | antiplatelet, opiates, NSAIDs, and tricyclic antidepressants, plus elevated risk of thrombosis and hyperhomocysteinemia |
| Anti-ADHD | 6 | many common medications related to attention-deficit/hyperactivity disorder, plus elevated risk of hyperhomocysteinemia |
Patients can also request a Full Panel, which includes the psychotropic, pain management, cardiac, and surgery panels.
Taking a GeneTrait Laboratories Test
Whereas patients can collect samples for many genetic tests at home, a patient's doctor must order a pharmacogenetic test. A technician collects the sample at the doctor's office, which then ships it to the lab. The company performs the analysis within 3-5 business days.
Finally, the ordering physician will receive the results and consult with the patient at the next visit.
Review of GeneTrait Laboratories Cost
The testing costs are not provided on the website. Therefore, patients who are interested in the panels should contact the company directly. Medicare, most medicaid, and most private insurance companies will cover the test. However, patients are encouraged to reach out to their insurance to determine their responsibility.
Review of a GeneTrait Laboratories Report
The GeneTrait Laboratories report is provided through MedTrait® Laboratory Report for medication metabolism and risk factor assessment. As has been noted, the company provides the results directly to the doctor and they will discuss it with their patient.
MedTrait considers several variables including pharmacogenetics, drug interactions, duplicate therapy awareness, demographics, and lifestyle factors while providing clinical guidance for doctors.
In brief, the report is divided into three sections:
Highlights on the first page: At-a-glance information on what the doctor needs to know
Details
References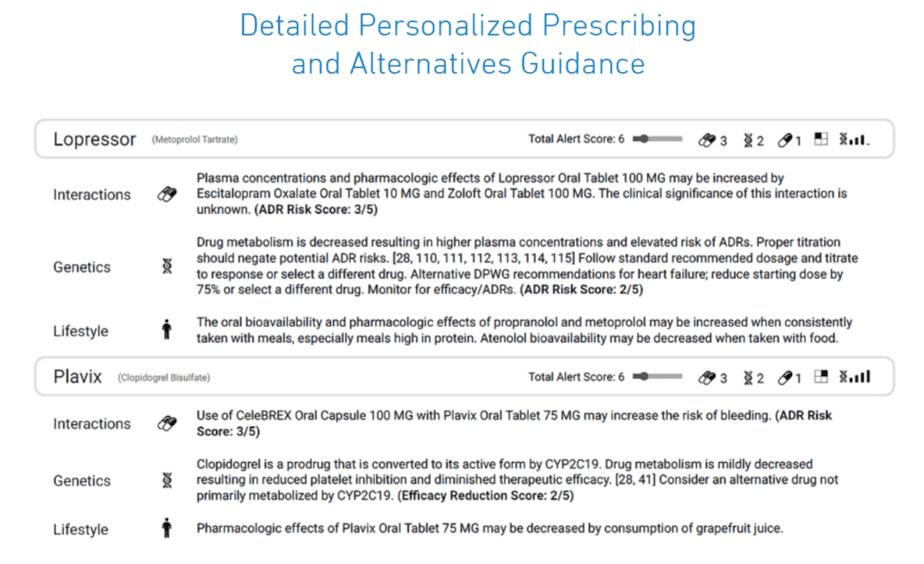 While the highlights page provides only the most vital prescribing information, the following pages discuss details related to all medications the patient currently takes.
The score also takes into account drug interactions, genetics, and lifestyle.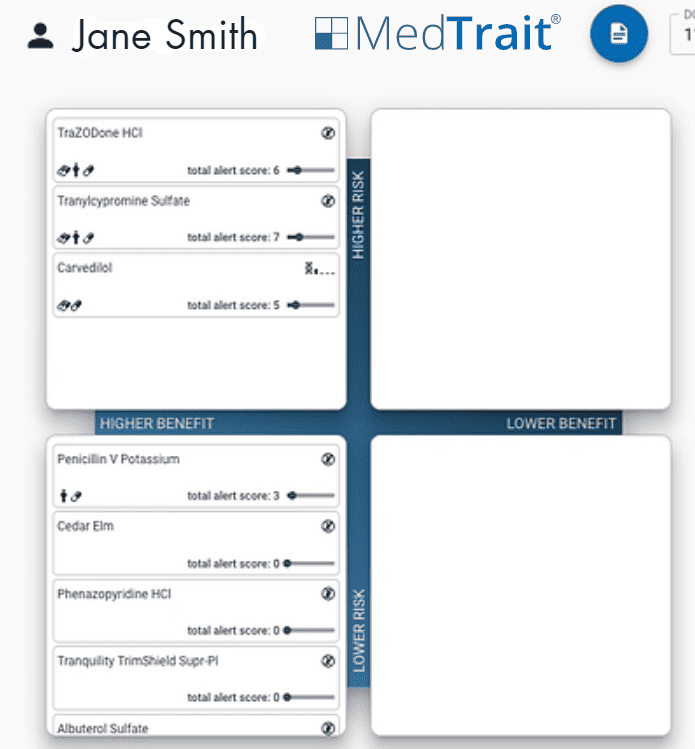 Then, the report interprets the results and arranges medication in an easy-to-read grid. The four quadrants represent higher risk, lower risk, higher benefit, and lower benefit.
Review of GeneTrait Laboratories Privacy Policy
GeneTraits Laboratories does not have a privacy policy on its website. However, the policy provided by its parent company, PTC Laboratories notes that it does not sell or share information with any third parties. 
It also claims to only collect information that it will use to provide the services requested.
Other GeneTrait Laboratories Review
GeneTrait Laboratories does not have reviews from third parties such as Amazon, Trustpilot, and the Better Business Bureau (BBB). They also remain unrated on dnatestingchoice.com. However, their Facebook reviews page shows a few 4.6 star ratings, although most are close to ten years old.
Nebula Genomics
GeneTrait Laboratories offers a range of options for pharmacogenetics testing. This specific field of genetics focuses on a patient's predisposed reactions to medications. Much of the research is based on whether medications can cause certain side effects in some individuals and how well or poorly they metabolize medications. 
On the other hand, Nebula Genomics offers whole genome sequencing, providing a comprehensive view of an individual's genetic makeup. Nebula is not a pharmacogenetics company. Instead, customers can receive the test kit at home and collect and send back their own sample.
Nebula provides a comprehensive DNA test highlighting predispositions related to health, disease, traits, and more. With 30x Whole-Genome Sequencing, we sequence 100% of your DNA to get to the root cause of every biological inclination. The test is also incredibly accurate and includes other additions, including ancestry reporting and genome exploration tools. Additionally, regularly updated reports ensure that you will not miss the latest genetic research.
Nebula is not a diagnostic test, but the results are of the highest quality and can be used in consultation with health care professionals.
For only $299 or less, customers will get access to their entire genome, allowing them to continue to ask more questions as more research is conducted.
GeneTrait Laboratories vs. Nebula Genomics
| | | |
| --- | --- | --- |
| | GeneTrait Laboratories | Nebula Genomics |
| Testing method | Cheek swab | Saliva sample |
| Sample collection | At a doctor's office | At-home |
| Reports | Pharmacogenetics for a range of specialties | Genetic predispositions covering health, disease, traits, and more |
| Ancestry reporting | No | Deep ancestry reporting with the complete Y chromosome and mtDNA sequencing |
| Data upload | No | Yes |
| Counseling | No | No but data is of the highest quality and can be used by physicians, and genetic counselors |
| Cost | N/A – may be covered by insurance | $0, $99, $299 |
Did you like our GeneTrait Laboratories review? You can read more reviews on our blog and check out our complete guide to the best DNA test kit and other home tests.
Other companies
If you are interested in more pharmacogenetic options you may want to check out: