Edited by Christina Swords, Ph.D.
7 Facts from our Genomind Review
Genomind location: King of Prussia, PA, USA
Products: Prescription pharmacogenomic testing for mental health treatment
Ordering: Must be done through a licensed clinician (Genomind can help)
How it works: Clinician orders test, patient performs sample collection at home and sends sample to Genomind, Genomind sends genetic results for interpretation
Reports: Online portal and Neuroflow app containing Gene Variations Summary, Gene Drug Interaction Summary, Diagnosis-Specific Summary
Cost: Professional PGx EXPRESS ($399 with insurance, $2000 with no insurance), Mental Health Map ($599)
Complementary products: Nebula Genomics (the most affordable whole genome sequencing)
Genomind Introduction
This is a review of Genomind, a genetics testing company designed to help clinicians find effective treatments for patients suffering from mental illnesses. Founded in 2009, Genomind uses a world class genetics lab to perform pharmacogenomic testing, helping determine a treatment plan for patients that works best for them. This method takes into account how a prospective treatment will affect the patient as well as how the patient's body will affect the drug.
The sample collection is performed by the patient at home using a common cheek swab technique. The sample is sent to Genomind, who analyzes the sample and sends the results to the patient's clinician.
Genomind analyzes 24 genes linked to mental health conditions and uses this information to narrow down treatments from over 130 different medications. The results come as three Summary Reports and are available to the patient and their clinician via their online portal and Neuroflow app. Expert consultation is available for clinicians to help interpret the results and make treatment recommendations.
Recently, Genomind has released a commercial product, the Mental Health Map, which does not require a prescription or clinician's approval. It is designed to inform customers of the "mental health predispositions", but is not a diagnostic tool.
Review of Genomind Science: Your DNA and Mental Health
For many people suffering from mental health issues, finding an appropriate long term medication plan can be a frustrating exercise of trial and error. Often a patient must test the treatment response of many medications before finding they are not treatment resistant, and experience minimal adverse effects. In some cases, patients also experience remission rates leading them to try different treatments. If genetics could inform treatment options, patients could experience both time and cost savings.
Pharmacogenomics: Matching your prescription to your body
The efficacy of specific medications are known to be affected by age, gender, and environment, among other variables. However, much of this knowledge is anecdotal, or fully understood. Pharmacogenomics is a personalized medicine approach that seeks to find the reason behind these differences.
Genomind uses "pharmacogenomics" to create personalized treatment plans for patients with mental health disorders. The idea is that a patient's genetic variants are their body's blueprint, so the way their body is affected by certain drugs and how certain drugs are affected by their body should be encoded there. While the idea is not controversial, the state of the evidence based field of pharmacogenomics is relatively new and controversial.
Our GeneSight review discusses the state of pharmacogenetic testing (a slight variation on pharmacogenomics). From our previous review;
"This field has been growing for quite some time, and the research supporting the use of genetics to prescribe psychotropics has been debated, depending on the condition. For some mental disorders, there is only scarce evidence, but for others, there has been more success connecting genomics to drug metabolism."
As of October 1, 2020, United Healthcare (UHC) has stated, "the use of pharmacogenomic multi-gene panels to guide therapy decisions is proven and medically necessary for antidepressants and antipsychotics" when all of three criteria are met:
The individual has a diagnosis of major depressive disorder or anxiety;
The individual has failed at least one prior medication to treat their condition; and
The multi-gene panel has no more than 15 relevant genes.
Genomind cites white papers they have published in peer reviewed journals on their website in support of positive clinical results from pharmacogenetic testing and pharmacogenomics.
This has significant bearing on how insurance companies consider pharmacogenetics. As always, potential customers interested in using the results of any genetic testing to make medical decisions should do so in close consultation with their own doctors and health care professionals.
As for the Mental Health Map, "A complete evidence summary review document, with references, is available with purchase of the product." Since the Mental Health Map is not a diagnostic tool, it does not need to be FDA approved.
Review of Genomind Products
Genomind provides two main products; Professional PGx EXPRESS (formerly Genecept Assay) and Mental Health Map. Only the Mental Health Map is available without a prescription.
Review of Professional PGx EXPRESS
Genomind offers two options in their Professional PGx EXPRESS line of products. Both test designs offer genetic testing and precision medicine analysis to help with treatment recommendations for patients suffering from mental illness, especially diseases such as treatment-resistant depression or patients with mood and anxiety disorders. The two options differ in the number of genes that are analyzed.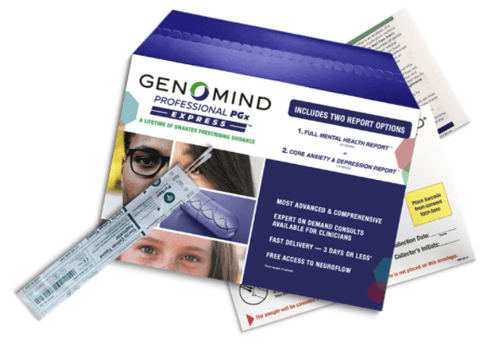 Full Mental Health Report (24 genes): Includes 24 key genes used to inform treatment for a range of psychiatric conditions such as depression, anxiety, attention deficit hyperactivity disorder (ADHD), bipolar disorder, substance abuse and more.
Core Anxiety and Depression Report (15 genes): Includes 15 key genes used to inform treatment decisions for anxiety and depression.
Both tests offer the same services and reports, but differ in how comprehensive the analysis is. The following are included with both tests:
Genetic implications for 130 mental health medications
3 Report Summary Views for your Clinician
Patient Level Report Access on Patient Gateway
Expert Consultation for Your Clinician
Genomind® Professional PGx Rx MetaType™ Card
Ordering the test
Both products can be ordered by the patient or their clinician, but can only be ordered by a clinician after prescribing the test to a patient. This is relatively unique, as most genetic testing companies do not diagnose or claim to offer medical advice. Since Genomind's goal is to provide health recommendations and treatment to customers, ordering the test must be done by an accredited professional.
Genomind bases their analysis on FDA prescribing information, consensus expert guidelines, and data derived from hundreds of studies showing that variations in these genes may inform treatment decisions.
Taking the test
Taking the test is comparable to other genetic testing services. The main differences are in obtaining the test (a prescription is required), and the results and recommendations after the patient's sample is analyzed.
The test itself can be broken into 3 steps:
Sample collection: a cheek swab is taken either at home by the patient, or in clinic.
Shipping: prepaid overnight shipping is provided so the patient's sample can be returned to Genomind's CLIA, CAP and New York State certified lab quickly and easily.
Testing and analysis: genetic testing specific to the patient's test package is done twice to ensure accuracy.
Once the lab analyzes the patient's sample, an online report is generated and delivered to the patient's clinician within 3-5 days. Results are also made available to patients through Genomind's online portal.
The final step is interpreting the data and using it to inform treatment. Genomind has certified MDs, PhDs, and PharmDs available to discuss the results with the patient's clinicians. This can be done over the phone, and is available for every patient.
Review of Mental Health Map (NEW)
The Mental Health Map is designed to identify genetic predispositions associated with 7 Core Genetic Mental Health Capabilities. These capabilities are defined by Genomind as Stress and Anxiety, Mood, Focus and Memory, Substance Use and Habits, Sleep, Social Behavior, and Eating Behavior.
It is crucial to note that the Mental Health Map is not meant to be a diagnostic tool, and does not inform on prescription medications.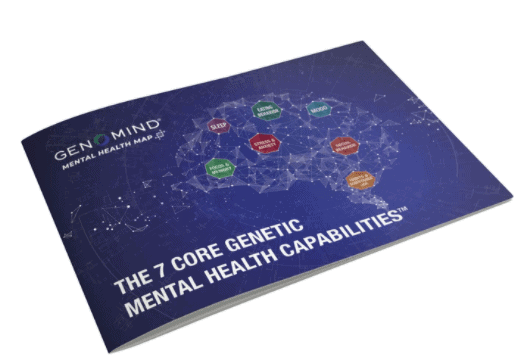 What's Included
Analysis of 38 "genetic mechanisms" that impact your mental health care and wellness
7 reports that identify your "predispositions"
Genetically-based recommendations and resources
30-minute consultation with a Genomind advisor
A 24 page guide to the "7 Core Genetic Mental Health Capabilities"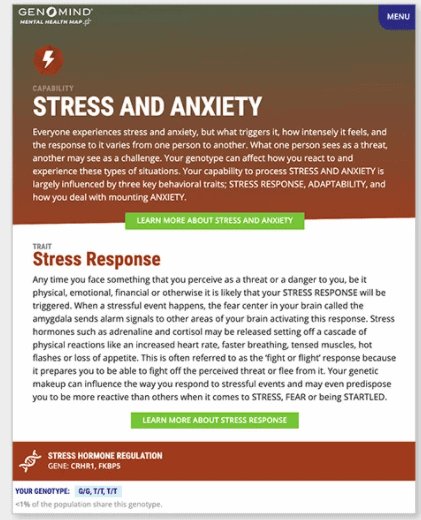 Review of a Genomind Report
For an average consumer, the results offered by Genomind Professional PGx EXPRESS may seem lacking. For example, there is no ancestry or family history information, and very little access to genetic data. This limited nature of results is because Genomind is made specifically for clinicians, to help them make treatment plans for patients with mental illness. Health practitioners will receive individual genetic profiles and access to Genomind's staff of PhD scientists and pharmacists. Genomind provides several examples of their reports.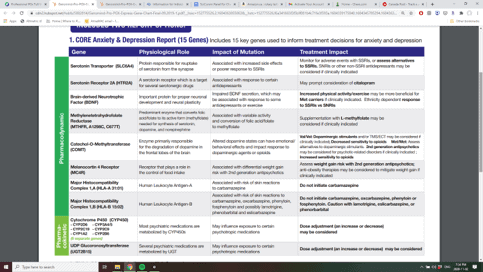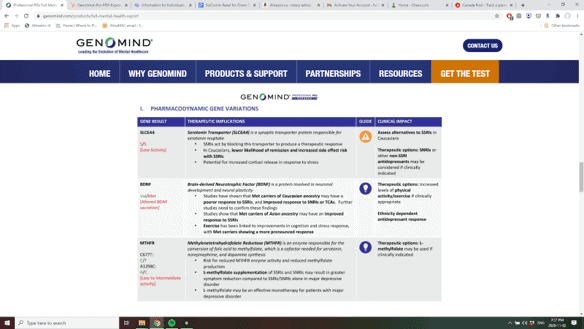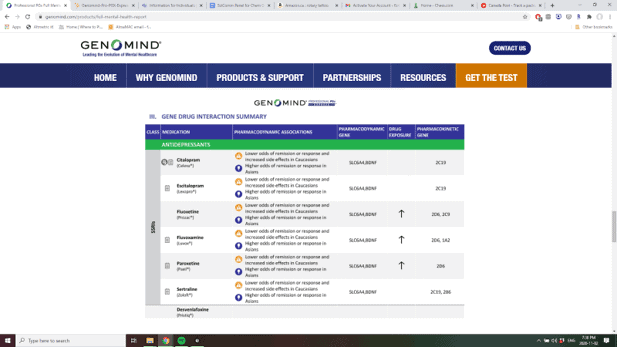 Genomind in the News
Genomind Reviews
Product reviews for the Professional PGx EXPRESS are difficult to find since the product is not available without a prescription. However, most reviews fall into the following categories:
Completely satisfied with the service
Results of dubious value and validity
Issues with cost, billing, and getting insurance to cover the test
Genomind provides a testimonial on their website of how the doctor of a veteran with PTSD was able to better treat them. Dr. Pollack uses Genomind to help deliver better clinical outcomes patients with PTSD and says that they have seen genetic patterns with other diseases, such as transcranial magnetic stimulation, as well.
The Mental Health Map has generally positive reviews from customers leaving comments, but it is a new product, so there are a limited number of reviews.
Genomind Reviews on Amazon: 4.8/5 stars with 12 reviews since June 27, 2020
Genomind Reviews on Google: 3/5 stars with 15 reviews
Genomind Reviews on Better Business Bureau: Issues with cost etc. discussed here
Nebula Genomics
We finish of Genomind review with a look at Nebula Genomics.
Genomind's Mental Health Map offers similar insights available by many commercial genetic testing products. However, Genomind does not provide customers with the same freedom to download their own data and use it with different services.
For example, Nebula also allows customers to sequence the genes that could suggest a predisposition to some mental health complications. Additionally, the freedom to take your data to different sequence assessment services makes Nebula worth considering as an alternative to Genomind. Is mental health genetic? For more details on how your genes relate to various mental health concerns, you can read our blog posts on schizophrenia, depression, and anxiety.
| | | | | |
| --- | --- | --- | --- | --- |
| Service | 23 and Me | GeneSight | Genomind | Nebula Genomics |
| Sample collection | Saliva | Cheek swab | Cheek swab | Cheek swab |
| DNA testing method | Microarray-based genotyping | Unknown | Unknown | Whole Genome Sequencing (30X coverage) |
| Information available | Ancestry, traits, health | Gene-drug interactions for a dozen genes | Gene-drug interactions for a dozen genes | Weekly reports based on the latest research and data (learn more) |
| Compatible with other services | Yes (23andMe file format) | No | No | Yes (FASTQ, BAM, and VCF files) |
| Cost | $99, $199, or $499 | $330+ | $399-$4000 / $599 | $0 – $299 |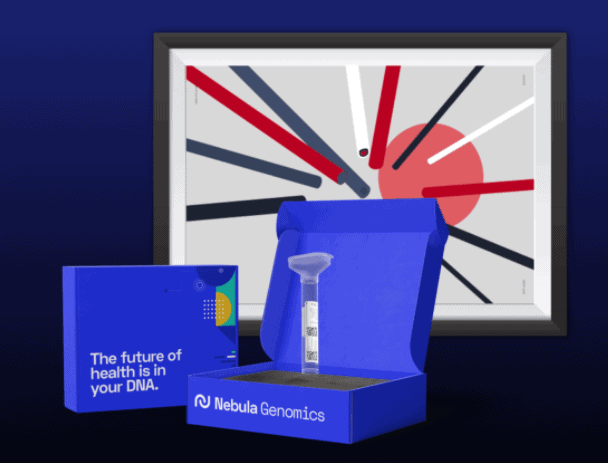 Many services will provide consumers with genetic testing and data access, but Nebula Genomics is unique in that we offer a 30x Whole Genome Sequencing service that sequences 100% of your DNA. The other services compared above use DNA microarray technology to profile your genome, characterizing only some of your genome. For example, it is common for microarray sequencing to characterize ~ 500,000 positions, which is less than 0.1% of the whole human genome.
For more information on genetic sequencing technology, check out our Intro to DNA Testing Methods.
You can read more about antidepressants to treat mental illness in our Lexapro and Zoloft reviews.
Other clinical genetic testing companies include:
Pathway Genomics offers a clinical grade test specifically for psychiatric drugs.
You may also be interested in these other articles:
Did you like our Genomind review? You can read more reviews on our blog and check out our complete guide to the best DNA test kit and other home tests.