7 Facts from our Inagene Review
Location: Toronto, Ontario, Canada
Products: Two pharmacogenetic test options
Cost: $228-$531
Reports: Easy-to-understand medication recommendations
How it works: Customers order an Inagene Personalized Insights™ Kit online and collect a cheek swab sample. Then, they send it back to the Inagene lab in Toronto. The results are shared on a secure online portal
Counseling available: No
Other Products: Nebula Genomics offers 30X Whole Genome Sequencing that decodes 100% of your DNA and gives reports on diet and much more!
This review is written with the intent to be as unbiased as possible. However, it represents the opinion of an individual reviewer and is therefore subjective. Furthermore, at Nebula Genomics we seek to educate the public about the benefits of Whole Genome Sequencing. Information about our Whole Genome Sequencing DNA test is therefore incorporated into the review.
July 11, 2023
Pros and Cons
Pros
Personalized insights
Convenient access
More genes and variants than other pharmacogenetics tests on the Canadian market
Fast turnaround time
Cons
Customers outside of Canada must pay for shipping
Only looks at targeted regions in the DNA
Introduction
Inagene is a Canadian personalized medicine company that markets its products as making it easy for patients, individuals, and healthcare practitioners to find the safest and most effective treatment options. Its pharmacogenetic tests help patients and their doctors understand how genes affect certain medication responses.
Its genetic analysis is performed in its CLIA-accredited Toronto laboratory, the only Canadian pharmacogenomics lab accredited by the CLIA, which upholds the highest quality control and accuracy standards.
The company is also dedicated to genetic research and is passionate about using its tests to promote discoveries on drug dependency and addiction risk.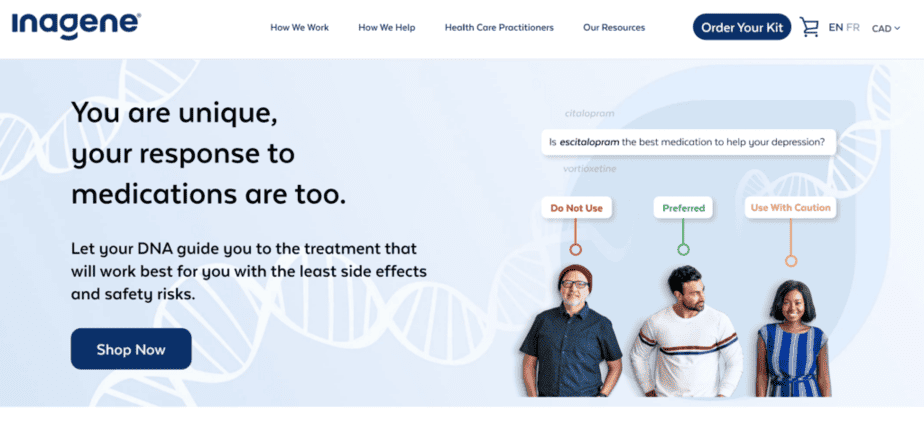 With over 30 years of experience in genetic research, diagnostics, and commercial health care experience, the company has been a part of the growing technology that supports personalized healthcare. Its Personalized Insights™ PrecisionRx ULTRA test is one of the most comprehensive pharmacogenetic tests available, providing valuable insights into the patient's predicted response to hundreds of medications.
The Science Behind Inagene
Inagene uses pharmacogenetic testing to analyze how an individual's genes affect their drug response. Pharmacogenetics is  a field of science that studies how a person's genetic information affects their medication response.
In brief, its tests identify genetic variants that impact how a person metabolizes certain medications, allowing healthcare professionals to personalize medication prescribing for optimal efficacy and minimal side effects. In other words, patients can avoid the trial and error that often comes with finding the most effective prescriptions. This is based on the fact that almost everyone has gene variants that affect medication response. 
The test determines whether a person is an intermediate, poor, normal, or ultrarapid metabolizer of a drug. When doctors take this information into account, they may discover that a patient needs a dose different than the standard or needs an alternative due to high risk of side effects.
Review of Inagene's Tests
Inagene offers two genetic tests focused on pharmacogenetics and marked under the Personalized Insights™ brand. There are also two bundle kits available, one that combines the two pharmacogenetic tests and the other that includes a genetic health test.
These tests are for anyone interested in understanding which medications will work best for them. It's important to note that cannabis recommendations, included in the Pain and Mental Health test, are preliminary.
To see whether the pharmacogenetic test covers a particular medication or therapeutic area, Inagene provides a handy chart on its website that indicates which test includes which medication. The most comprehensive test has over 200 medications.
Tests
Pain and Mental Health
This test kit provides a predicted response to over 140 medications commonly used to treat pain and mental health conditions (including cannabis/cannabinoids).

The results test 58 genes and cover over 20 relevant conditions such as ADHD, anticonvulsant, depression, and anxiety. Additionally, the reports are updated every six months to provide customers with the most up to date discoveries.
PrecisionRx
The Personalized Insights™ PrecisionRx test kit includes personalized recommendations for over 150 medications commonly used drugs across multiple therapeutic areas.
The test looks at 38 genes and covers conditions related to Anesthesia, Cardiology, Endocrinology, Gastroenterology, Immunology, Infectious Disease, Neurology, Oncology, Pain & Mental Health, Respirology, and Urology. Like the pain and mental health test, the report updates every six months.
Bundles
PrecisionRx ULTRA
This package includes both the Personalized Insights™ Precision Pain & Mental Health and the Personalized Insights™ PrecisionRx reports at a discounted price.
In total, that means that the bundle tests 80 genes and reports on over 220 medications. Health conditions in both tests are covered. Additionally, the report updates every six months.

Inagene + dnaPower
This test bundle is a collaboration between Inagene and dnaPower, a genetic health and wellness testing company.
You can read more about dnaPower in our review!
By purchasing this package, customers receive an Inagene's Personalized Insights™ PrecisionRx ULTRA and dnaPower's totalPower test. The latter includes testing for over 240 genetic variations related to health, nutrition, and fitness. Results also come with a 45-minute consultation with a nutritionist.
Review of Taking an Inagene Test
Customers start by ordering an Inagene Personalized Insights™ Kit online, which contains a medical-grade cheek swab. After collecting the sample, which should only take five minutes, and registering their kit, they send it back to the Inagene lab in Toronto, where it's analyzed. Due to international shipping regulations, only customers in Canada can use the prepaid envelope. Customers from all other locations must pay for shipping the sample back to the lab.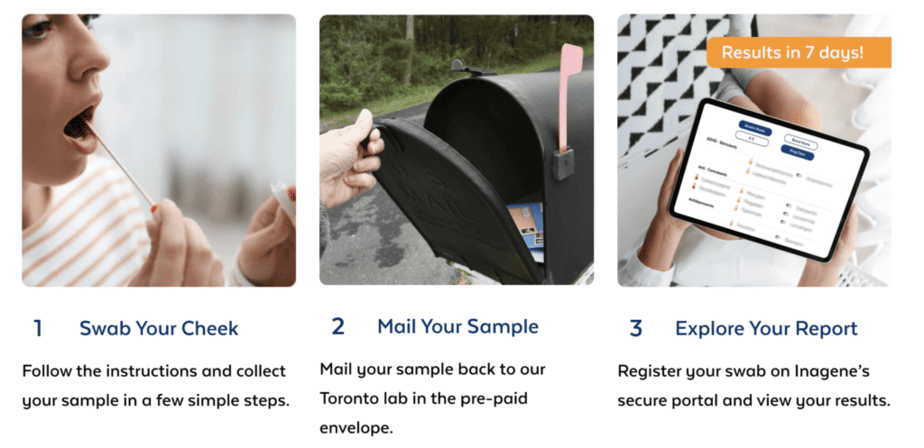 Customers receive their results within 7 days through their online portal. who can easily share them with their healthcare team to discuss a personalized treatment strategy that works for them.
Review of Inagene's Cost
Costs vary depending on the test.
Pain & Mental Health or PrecisionRX: $228
PrecisionRx ULTRA: $304
Inagene + dnaPower: $531
Testing may be covered by some private insurance companies as an optional benefit. If submitting to insurance, most insurers require that a physician orders the test, instead of the individual.
Review of an Inagene Report
Inagene Diagnostics Inc. provides personalized recommendations through their Personalized Insights™ report, which analyzes an individual's genetic variants that impact medication responses and predicts their response to over 225 common medications.
Below, we will look at a PrecisionRX Ultra sample report, which includes both of Inagene's individual tests.

The report has seven sections. The first section contains a guide on how to read and interpret the results.
The next section is "Important Test Insights". It contains two lists of medications not broken down into any other categories: "Medications classified as: Do not use" and "Medications classified as: Use with caution".
The third section is "Your Report Overview". This section includes a high-level summary of the test results. Here, the report categorizes medications into four categories based on the identified drug-gene interactions: "Do not use" (red X), "Use with caution" (yellow exclamation point, "Use as directed" (green check mark), and "Use as directed/preferred" (green star).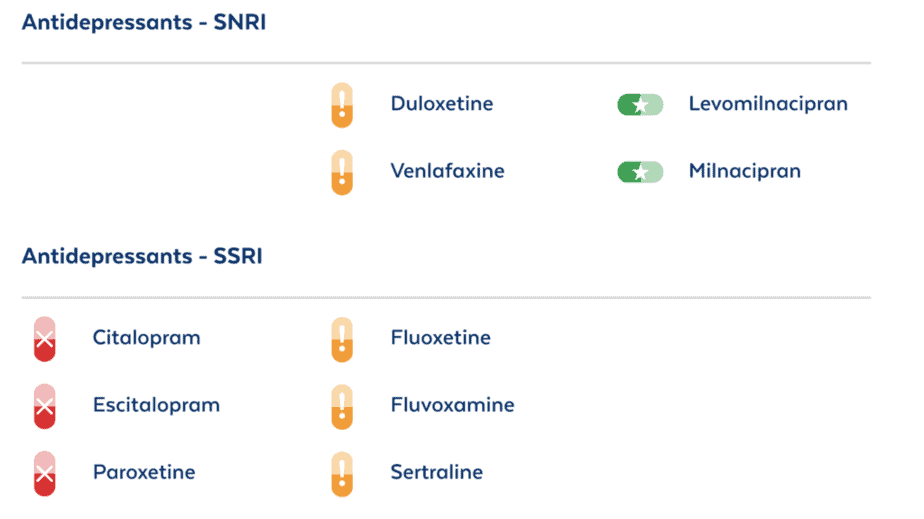 The sample results above show three antidepressant drugs labeled as "Do not use", five as "Use with caution", and two as "Use as directed/preferred".
Customers can sort their results in this section by generic or brand name, drug class, or alphabetically.
The following report section is "Your Detailed Recommendations". This section reveals details based on the individual's genetic profile.

It provides details for each medication. If the medication is in the "Do not use" or "Use with caution" categories, it will include the gene variant discovered and the recommendation.
The final sections of the report contain specific information for cannabis, opioids, and test results.
It also provides additional features such as the ability to search for specific drugs, download a customized report, and share the report with healthcare teams.
Review of Inagene Privacy Policy
Inagene Diagnostics Inc. (Inagene) destroys DNA samples after testing and encrypts the DNA results. Customers may provide consent to have their DNA samples stored at Inagene.
The company does not disclose personal (name, address, etc.) or personal health information to third parties without the customer's consent unless it is required by law or anonymous. It may also release aggregated or anonymous results to medical or research institutions with customer permission. Furthermore, it only collects information needed to provide its service.
Inagene will also obtain informed consent to test customer DNA and additional consent if the customer wants to share their results with someone like a healthcare professional.
Other Inagene Reviews
Inagene has generally positive testimonials on its website and YouTube channel from customers who say that the test helped them quickly find the most effective medication. The website says that 95% of Inagene users believe this test should be taken before starting any medications for pain or mental health conditions.
Many testimonials focus on patients continuing to have real problems with their conditions while on standard medications. They then go on to share how Inagene helped.
Some products are available on Amazon's Canada-based website. The Pain and Mental Health kit has a 4.7 star rating with seven reviews. All the customers who reviewed the product found the process easy and informative.
Nebula Genomics
Inagene provides pharmacogenetic testing for personalized medication prescribing. Medication response is just one way to explore the human genome. In contrast, Nebula Genomics offers whole genome sequencing, a comprehensive way to look at the entire genome.
With 30x Whole-Genome Sequencing, Nebula sequences 100% of your DNA to get to the root cause of every biological inclination. While we do not offer pharmacogenetic interpretation, whole genome sequencing gives you access to every variant inclusive of health, wellness, traits, and much more. The test is incredibly accurate and includes other additions, including ancestry reporting and genome exploration tools. Regularly updated reports ensure that you will not miss the latest genetic research.
Nebula is not a diagnostic test, but the results are of the highest quality and can be used in consultation with health care professionals.
For only $299 or less, customers will get access to their entire genome, allowing them to continue to ask more questions as more research is conducted.
| | | |
| --- | --- | --- |
| | Inagene | Nebula Genomics |
| Sample collection | Cheek swab | Saliva sample |
| Testing method | Genetic variants in up to 80 genes | Sequences of all 20,000 genes and regulatory regions |
| Results | Reports on gene-drug interactions for over 220 medications | Genetic predispositions covering the whole genome |
| Ancestry reporting | No | Performs deep ancestry reporting with the complete Y chromosome and mtDNA sequencing |
| Counseling | No | No, but data is of the highest quality and can be used by physicians and genetic counselors |
| Cost | $228-$531 | $0, $99, $299 |
Did you like our Inagene review? You can read more reviews on our blog and check out our complete guide to the best DNA test kit and other home tests.
Other companies
You can also check out these other companies that offer pharmacogenetic testing: