7 Facts from our Nutrisystem Review
Location: Fort Washington, PA
Products: Direct-to-consumer weight loss meal kits
Privacy: Share aggregate or de-identified information for marketing, advertising, shipping, billing, and other purposes
Cost: Prices range from $9.09/day to $25.32/day for women and $7.79/day to $22.73/day for men, dependent on the type of plan and order option
Availability: Available in all US states
Reviews: Generally good
This review is written with the intent to be as unbiased as possible. However, it represents the opinion of an individual reviewer and is therefore subjective. Furthermore, at Nebula Genomics we seek to educate the public about the benefits of Whole Genome Sequencing. Information about our Whole Genome Sequencing DNA test is therefore incorporated into the review.
November 3, 2020
Pros and Cons
Pros
Direct-to-consumer meals for weight management
Relatively large menu selections
Convenient ordering with little to no food prep needed
Access to coaches, dieticians, and diabetes counselors as part of a healthy lifestyle
Plans for vegetarians and people who do eat meat
Cons
A majority of meals are processed and frozen
Not designed to be a permanent diet
Could be a high cost depending on the current grocery bill
Not recommended for people with food allergies
Introduction
Nutrisystem is a food delivery service that specializes in personalized weight management. The company was founded in 1972 by Harold Katz. On the website, it claims to have helped millions of people lose weight in its over 45 years of existence. Individuals choose a meal plan and receive pre-portioned meals and snacks delivered to their homes.
The website claims that customers can lose up to nine pounds during their first two weeks on Nutrisystem.
The company started its direct-to-consumer marketing under Michael Hagan in the early 2000s. Before that, it was a diet center called Shape Up, a liquid protein diet franchise, and finally, a food company.
Currently, Nutrisystem offers three plans: Basic, Uniquely Yours, and Uniquely Yours Ultimate. Different versions of these three plans are available for men, women and plans for people with diabetes. There is also a vegetarian meal plan option.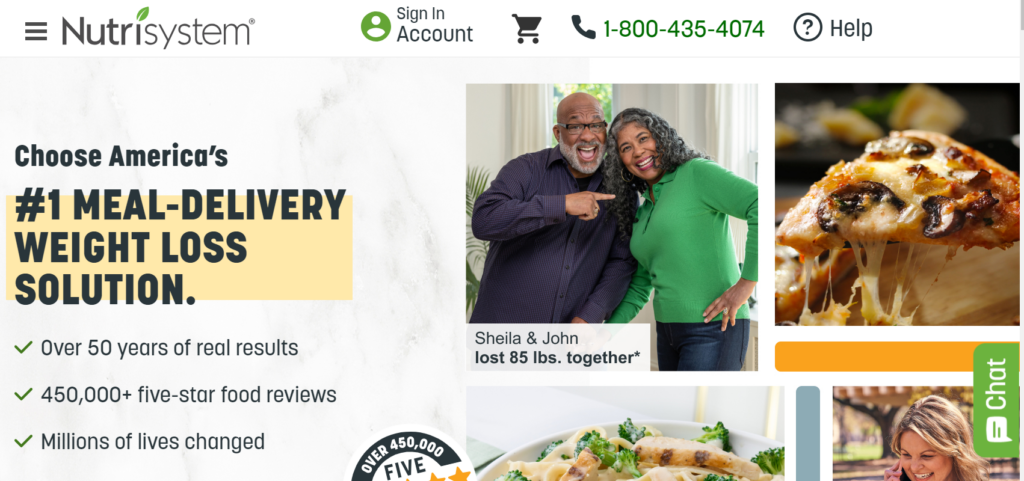 Nutrisystem foods are available in all 50 states and Puerto Rico. There is free shipping on every order in the Continental U.S., while standard shipping and handling rates apply to orders to Alaska, Hawaii, and Puerto Rico. 
The plan can be purchased from stores such as Amazon, Walmart, and QVC. Customers used to be able to buy Nutrisystem Costco gift cards, but that product is no longer available. You can still redeem these cards if you purchased them earlier.
About the Nutrisystem Science
The Glycemic Index
The weight loss plans are based on diets high in carbohydrates with a low glycemic index value. These carbohydrates break down slowly in the body and help keep blood sugar steady. They also result in a feeling of fullness. Therefore, individuals who eat low glycemic-value foods tend to have steadier blood sugar levels and smaller appetites, which the company claims results in weight loss for its customers.
In a study sponsored by Nutrisystem, Inc and performed by an independent contract research organization, overweight men and women saw an average weight loss of 15.4 lbs. in the first two months, much more than in the control group.
Other nutritional information
All Nutrisystem plans include a mix of nutrients, lean protein, high fiber, and no artificial sweeteners or flavors. It also offers gluten-free food.
The plans align with national guidelines for total fat, healthy fats, saturated fat, trans fat, sodium, carbohydrates, fiber, protein, and added sugars.
U.S. New Report notes that it may help women lose up to 13 pounds and 7 inches overall in the first month, and men can lose up to 18 pounds and 8 inches overall in the first month. It also notes that this is unsurprising since the plans are based on calorie restriction.
Review of Nutrisystem
The company delivers pre-packed Nutrisystem food directly to a consumer's home and provides information for fresh food to purchase on nutrisystem.com. In addition to online ordering, customers can pick up Nutrisystem at Walmart, Target, and Sam's Club. To start a diet, a customer enters the website using their Nutrisystem login, chooses a plan, selects Nutrisystem meals and snacks, and waits for them to be delivered. The auto-delivery option allows customers to receive a planned shipment every 4 weeks.
You can receive special offers by simply editing your delivery type. With 4-week plan order auto-delivery you receive a special discount off the regular one-time rate and with this offer you are automatically charged and shipped your plan once every 4 weeks until you cancel. This offer is only available to residents of the United States who are at least 18 years of age or older. You will save on meal plans by paying two shipments with one order or even paying for three shipments at a time. You'll only physically receive one shipment at a time.
All plans include support and counseling options from trained weight-loss coaches, registered dietitians, and certified diabetes educators available seven days a week. With the NuMi® app, customers can access personalized meal plans and grocery guides. They can also follow weekly challenges and potentially win prizes for tracking their progress.
Review of Nutrisystem Subscription Plans
Basic Plans
Nutrisystem and Nutrisystem D (plans specific for persons with diabetes) offer 4 variations of the Basic plan: Nutrisystem for women, Nutrisystem for Men, Nutrisystem D for women, and Nutrisystem D for men.
A basic plan provides meals for 5 days of the week. All meals and snacks in this plan are non-frozen nutrisystem menu items. Customers receive the Chef's Choice option for the first week in which the company selects meals, snacks, and nutrisystem shakes each day designed to jumpstart weight loss. This first week of non-customizable meals is only required for the customer's first order, but may be purchased for future orders.
The following weeks include Nmeals and snacks, 2 Flex meals, and fresh groceries. Flex meals are meals customers can make at home to practice with healthy food recipes. Customers can choose their meals during checkout.
The main difference between the women's and men's basic plans is that women receive four meals (breakfast, lunch, dinner, and snack) a day while men receive five meals (breakfast, lunch, dinner, and two snacks) due to larger calorie requirements for men. Both men and women eat a total of 6 times a day on these plans — the remaining meals and snacks are purchased separately.
The Nutrisystem D basic plans for men and women work the same way as the original basic plans. The biggest difference is the types of foods in the Nutrisystem D plans are tailored to persons with diabetes, including foods that lower A1C.
Uniquely Yours Plans
Uniquely Yours plans include everything covered in the Basic plans plus more menu variety like frozen meals. There are separate Ultimately Yours plans for men, women, and persons with diabetes.
The Uniquely Yours (Plus) plans include a personalized menu option with many food choices. Customers complete a six-question survey and receive a plan matched to body type, weight loss goals, and food preferences. Nutritionists provide personalized food recommendations and customers have the option to review nutritionists' recommendations and make changes during checkout.
Uniquely Yours Ultimate Plans
Uniquely Yours plans include everything covered in the Basic plans plus an additional 2 days of meals for a complete week of food. There are separate Ultimately Yours Ultimate plans for men, women, and persons with diabetes.
Vegetarian Plans
The Vegetarian plans are similar in style to the basic plans except with vegetarian menu selections Nutrisystem offers separate vegetarian plans for men and women. Vegetarian plans cannot be personalized as with the Uniquely Yours and Uniquely Yours Ultimate plans.
Customers will receive free protein shakes with any 4-week plan, first shipment only.
Review of Nutrisystem Cost
How much does Nutrisystem cost? Plans cost $9.09–$25.32 for men and $7.79–$22.73 for women depending on the type of plan and ordering option. A single shipment includes 28 days of meals.
Basic
Uniquely Yours
Uniquely Yours Ultimate
Nutrisystem for Men cost
(full price)
$509.07/shipment ($18.18/day)
$599.98/shipment ($21.43/day)
$709.07/shipment ($25.32/day)
Nutrisystem for Women cost
(full price)
$436.34/ shipment ($15.58/day)
$527.25/shipment ($18.83/day)
$636.34/shipment ($22.73/day)
Men (monthly auto-delivery)
$279.99/shipment ($10.00/day)
$329.99/shipment ($11.79/day)
$389.99/shipment ($13.93/day)
Women (monthly auto-delivery)
$239.99/shipment ($8.57/day)
$289.99/shipment ($10.36/day)
$349.99/shipment ($12.50/day)
Men (Get a 50% discount when you pay for 2 months)
$509.07/2 shipments ($9.09/day)
$599.98/2 shipments ($10.71/day)
$709.07/2 shipments ($12.66/day)
Women (Get a 50% discount when you pay for 2 months)
$436.34/2 shipment ($7.79/day)
$527.25/2 shipment ($9.42/day)
$636.34/2 shipment ($11.36/day)
Nutrisystem and Nutrisystem-D
| | |
| --- | --- |
| Men (full price) | $599.98/shipment ($21.43/day) |
| Women (full price) | $527.25/shipment ($18.83/day) |
| Men (monthly auto-delivery) | $329.99/shipment ($11.79/day) |
| Women (monthly auto-delivery) | $289.99/shipment ($10.36/day) |
| Men (Save 50% when you pay for 2 months) | $599.98/2 shipments ($10.71/day) |
| Women (Save 50% when you pay for 2 months) | $527.25/2 shipment ($9.42/day) |
Nutrisystem Vegetarian
Customers can also take advantage of Nutrisystem promo codes from sources such as RetailMeNot and Groupon. Seasonal promotions may also offer Nutrisystem BOGO offers and 50 off plans free. Other promotions may offer 4-week plans with free shipping. With the start sale, get 50% on the full retail price of both shipments.
With the money back guarantee, customers can call 1-800-727-8046 within the first 14 days of their first shipment and send the remaining food back for a full refund, less shipping.
How to cancel Nutrisystem: You will continue to receive auto-delivered food until you cancel your order. You may cancel your auto delivery program any time before 6:00 p.m. ET the day before your order is scheduled to be processed.
Review of Nutrisystem Privacy
The company protects customer information from unauthorized disclosure with industry-standard technology associated with online transactions. The company collects personal and contact information, credit card information, and voluntary survey responses from its customers. They share information with third-party vendors for shipping and billing purposes and may share aggregate statistics regarding website use such as traffic patterns and sales.
They may also make email addresses available to other businesses for marketing purposes. Customers can opt-out of having information shared with marketing companies under email preferences on the website.
For more information, their privacy policy is available on their website.
Other Nutrisystem Reviews
Nutrisystem reviews on U.S. News (3/5)
Nutrisystem reviews on Influenster (3.7/5)
Review of Nutrisystem's DNA Testing Kit
Nutrisystem sells a DNA testing kit called DNA Body Blueprint. The results provide individuals with Nutrisystem diet plans tailored to their unique genetic profile to help them lose weight. Results from the report are designed to be used with their nutrisystem programs, but the purchase of a plan is not required to buy the DNA testing kit.
Taking a Nutrisystem DNA Body Blueprint DNA Test
Customers order their kit online. They follow the instructions in the kit to collect a cheek-swab sample and send it to certified labs in a prepaid envelope.
Review of a Nutrisystem DNA Body Blueprint Report
Customers are notified when their results are available online through a secure link. They receive a DNA report with weight loss programs tailored to their genes. The report contains details as to which foods are best for a customer's body and dietary recommendations. Nutrisystem's DNA report is for health and eating purposes only, it does not provide ancestry or other insights into the genome.
The Nutrisystem DNA report is broken down into six sections:
Personalized Nutrition Plan: Insight into how your body responds to food and which foods are best for healthy weight loss diet and weight maintenance. This section includes a personalized meal planner and grocery store guide.
Food Breakdown: Information about how your body processes food, and recommendations based on DNA results.
Eating Behaviors: Insight into predispositions to foods such as sugar, coffee, and overeating in general. This section includes personalized action plans that will help you make lasting healthy changes in your life.
Metabolism: Explains how your DNA affects your body's ability to lose and maintain weight. This section includes a recommended action plan.
Fitness: How your genes affect which physical activities are best for you, so you can get the very best results from your fitness routine.
Vitamins & Minerals: A full report on how your body processes essential vitamins and minerals.
Nutrisystem DNA Body Blueprint DNA Test Cost
The Nutrisystem DNA testing kit costs $99.99. Promotion is available which drops the cost to $79.99. The price includes the kit, a DNA report, and a personalized nutrition plan.
Nutrisystem Privacy Policy
According to their privacy policy, customer data is de-identified and assigned an ID number when they register their kit online. Nutrisystem's lab partners are only provided the ID number with each kit. The company will save customer personal and DNA information unless the customer requests it to be deleted. They not sell your personal information.
You can reach Nutrisystem customer service through the Nutrisystem phone number: 1-800-585-5483.
Nutrisystem DNA Body Blueprint Reviews
Jenny Craig vs Nutrisystem
Note: Jenny Craig went out of business in May 2023. This section is for historical purposes only.
Both Jenny Craig and Nutrisystem are similar pre-packaged food subscription services that aim to help customers lose weight. They reduce the time and effort put into meal planning so either may be ideal for a busy or traveling individual. In both programs, users can choose from a variety of subscription options based on their personal goals. While there are some differences in the menu selection, both company's offerings are pretty similar. The largest difference between the two companies is the personalization level and the price.
| | | |
| --- | --- | --- |
| | Nutrisystem | Jenny Craig |
| Subscription | Yes | Yes |
| Delivered to your door for free | Yes | Yes |
| Meal plan options | 3 | 8 |
| Personalized | No | Yes |
| Physical location | No | Yes |
| Price | $257-$418 per month | $390 – $675 per month |
Nebula Genomics
We finish our Nutrisystem review with a look at Nebula Genomics.
At Nebula Genomics, our goal is to empower you to discover more about your genome including your nutritional health. This can help you determine the best foods for your genetic makeup before purchasing a diet program like Nutrisystem.
Nutrisystem offers its own DNA testing kit to assist customers in designing their diet plan. The report provides an in-depth analysis of how your body processes foods and which foods are best for your health goals.
While Nutrisystem focuses solely on nutrition and weight loss, Nebula Genomics provides insights into many other genetic traits. Nebula Genomics offers the most comprehensive genetic testing through whole-genome sequencing. With our new 30x Whole Genome Sequencing service, we determine 100% of your DNA. You can examine genes of interest, identify relevant mutations, and search for genetic variants. You can even view your sequencing data from your own computer. Results also include data access, weekly reports, ancestry analysis, and exploration tools.
If you have already participated in 23andMe or AncestryDNA, you can upload your DNA data for free and get an expanded DNA report. We use a process called imputation to fill in the blanks left by typical DNA tests.
As a customer, you have access to hundreds of traits and curated research studies through the Nebula Research Library, allowing you to stay up-to-date with the most cutting-edge research as it comes out, including research on nutrition, and what it means about you and your DNA.
Furthermore, we offer the most affordable 30x Whole-Genome Sequencing service! This genetic test reads 100% of your DNA. That is 10,000 times more data compared to tests like 23andMe or AncestryDNA!
Summary
Nutrisystem is one of many companies offering at-home meal delivery. Unlike competitors, the company has a long history and focuses on weight management and diet plans.
Does Nutrisystem work? Reviews suggest that the programs do lead to short term weight loss due to small portion control and reduced calories in prepackaged meals. There is currently no information as to whether long term weight loss ultimately results from these diets. Alternatives to include Weight Watchers and Jeannie Craig.
Although the nutritional value of the meal plans appears to encourage weight loss, at least in the short-term, the cost of these pre-packaged meal plans may be prohibitive.
The Body Blueprint DNA testing kit provides information on how genetics affect a customer's ability to gain or lose weight and can be used to help individuals choose their diet. The reports are limited to nutrition insights and weight loss plans.
You could also look into supplements that may help you loose weight like Hydroxycut, Iaso Tea, Leptitox, and Resurge.
If you are interested in genetic testing that will help you achieve your health and fitness goals, there are a lot of products to choose from. You can learn more about your options on our website including:
Diet:
Fitness:
General Health:
Did you like our Nutrisystem review? Take a look at our reviews of
You can find more reviews on our blog and check out our complete guide to the best DNA test kit and other home tests!
Alternative products that you might want to consider are Weight Watchers and Jenny Craig.