This review is written with the intent to be as unbiased as possible. However, it represents the opinion of an individual reviewer and is therefore subjective. Furthermore, at Nebula Genomics we seek to educate the public about the benefits of Whole Genome Sequencing. Information about our Whole Genome Sequencing DNA test is therefore incorporated into the review.
May 2, 2023
Pros and Cons
Pros
Personalized DNA testing for nutrition, fitness, brain health, and more
totalPower includes a 45-minute personal health consult with a nutritionist
Report includes 170 pages of personalized health insights
Provides a summary and action plan for immediate impact
Cons
Most consultations cost extra although it is included with totalPower
Relatively high price
7 Facts from our dnaPower Review
Location: North Vancouver, BC, Canada
Products: Four genetic tests for health and wellness
Cost: $220 – $367
Reports: 200+ variants that relate to over 170 preventative health insights
How it works: Customers create accounts and order their DNA testing kit online. Then, they provide a DNA sample via cheek swab and mail the sample back to the lab
Data upload option: Yes (23andMe data only)
Alternative Products: Nebula Genomics offers 30X Whole Genome Sequencing that decodes 100% of your DNA and offers reports on diet and much more!
Introduction
dnaPower is a personalized DNA testing for health and wellness founded by Dr. Lois Nahirney in 2008. Generally, it was one of the first companies worldwide to offer personalized DNA testing for health and wellness.
Dr. Nahirney was inspired to start the company after she experienced a range of health issues in her 40s and discovered that her genetic makeup played a role in her health problems. As a result, she saw the potential of DNA technology to help people make better, data-driven decisions about their health.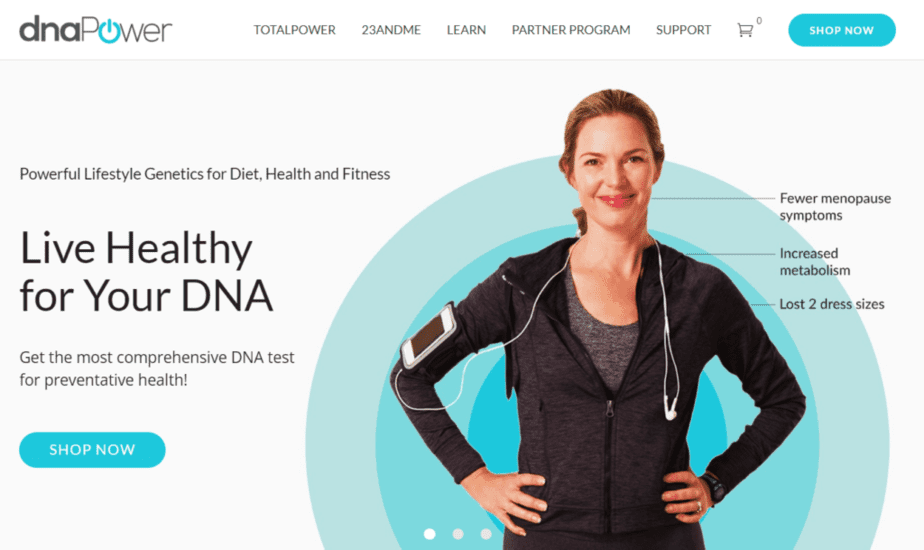 The company was a pioneer in applying leading-edge gene research to develop custom gene panels. dnaPower started by offering genetic testing for diet and fitness and has since expanded its testing to include other areas of health, such as hormone balance, mental health, and skin health. It believes personalized testing and professional support will help its customers make better, data-driven decisions about diet, exercise, and lifestyle.
Markedly, the company has a team of genetics, nutrition, fitness, and wellness experts who work together to provide personalized support to its clients. At the present time, testing includes an action plan and the option to purchase a 45-minute personalized phone consultation (included free with the totalPower combination kit).
Review of the Science Behind dnaPower
dnaPower analyzes the most important genes for preventative health. It uses polygenic scores, which combine the predictive power of a group of genes, rather than a single gene, to provide a complete picture of an individual's health. It designs its custom gene panels to target the most important genes for nutrition, fitness, and health, based on over 1200 scientific papers identifying important gene traits.
One of the critical benefits of DNA testing is the ability to personalize lifestyle choices based on an individual's genetic makeup. By understanding their unique DNA, individuals can make lifestyle choices that change gene expression and support overall health.
dnaPower operates a CLIA-certified Canadian lab that uses advanced genetic testing technologies to identify and assess hundreds of targeted genetic markers involved in essential biological processes. They also adhere to strict privacy standards to ensure their customers' data confidentiality.
Review of dnaPower Products
dnaPower sells five individual DNA tests for specific results:
dietPower
fitPower
healthPower
brainPower
SkinDNA
Customers can also order the 4 in 1 bundle that includes the diet, fit, health, and brain tests.
dietPower: This test examines over 100 genetic variations related to diet and nutrition, including weight management, weight response, food tolerances, tastes and preferences, and vitamins. Furthermore, the report includes recommendations, the opportunity to speak with a consultant, and the option to purchase a meal plan.
fitPower: This test examines over 50 genetic variations related to fitness and exercise, including blood pressure, power and endurance, injury and recovery, exercise performance, and exercise response. Customers also receive recommendations and the option to speak to a consultant.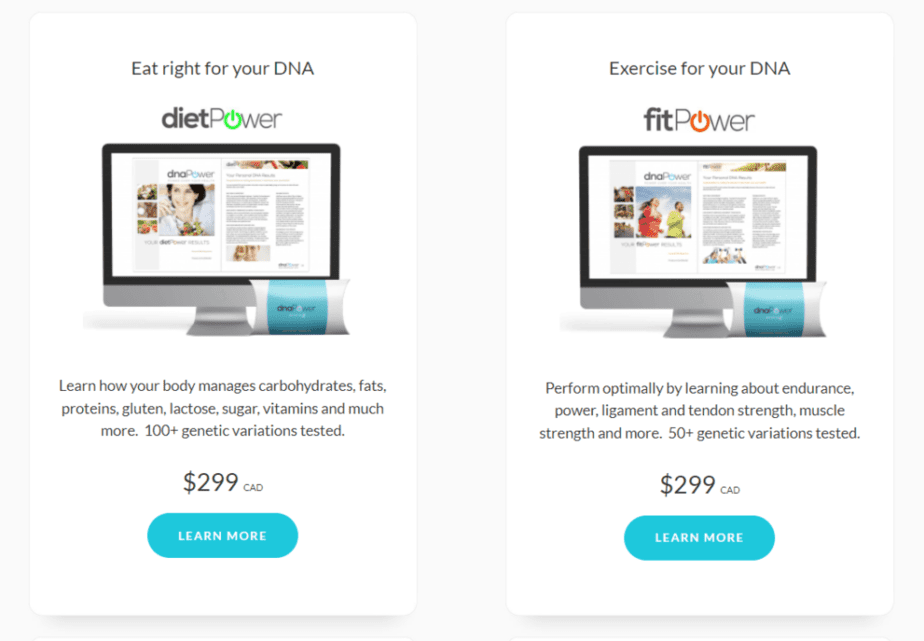 healthPower: This test examines over 35 genetic variations related to overall health risks. It includes detoxification, hormones, inflammation, and methylation.
brainPower: This test examines over 15 genetic variations related to mental wellness and brain health. These include risks for Alzheimer's, concussion, cortisol, depression, emotional eating, and Parkinson's. Customers also receive recommendations and the option to speak to a consultant.
Other products
SkinDNA: This test examines 16 genetic markers (SNPs) in 5 categories associated with skin aging. For example, it looks at genes responsible for firmness and elasticity, wrinkling, sun damage and pigmentation, free radical damage, and sensitivity and inflammation.
dnaPower also offers bundles for its products and in collaboration with partners.
totalPower: This test combines four DNA tests in one, examining over 200 genetic variations related to diet, exercise, lifestyle, and preventative health. It includes dietPower, fitPower, healthPower, and brainPower. It also includes a health consultation in its price.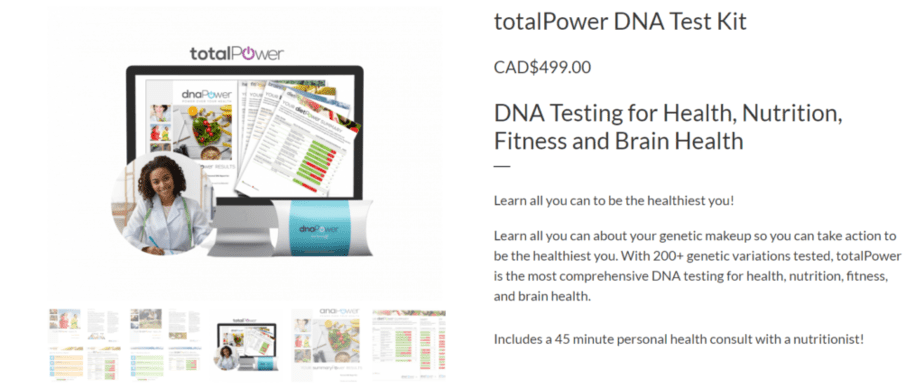 Family Bundle: This package allows you to purchase multiple totalPower kits and save money.
Ultimate Insights Package: This test combines six DNA tests and examines over 200 genetic variations related to health and drug sensitivities. It includes the four tests in totalPower together with two tests from Inagene, which assess how genes relate to medication efficacy.
Raw Data Upload
Customers can upload raw data from 23andMe or Ancestry.com to receive dnaPower reports focused specifically on diet, fitness, health, and mental wellness. In particular, the company offers three purchasing options to upload raw data.
Since the reports generated by data upload are reliant on the amount of genetic data collected in the original test they usually include about 80% of the insights customers would get if they chose to do their DNA testing with dnaPower.
Results are available online in about one week.
TotalPower Connect: Analyzes up to 200 genetic variations related to diet, exercise, lifestyle, and preventative health.
DietPower Connect: Analyses up to 100 genetic variations related to diet.
ImmunePower Connect: Analyzes up to 32 genetic variations related to immune function.
Review of Taking a dnaPower Test
Customers order their DNA test online and receive the kit in the mail. Then, they collect the sample through a mouth swab using the included supplies and mail it back to the lab.
Results are available online, including personalized recommendations and action plans. If desired, customers can also speak with a nutritionist.
Review of dnaPower Cost
Below is a summary of dnaPower's prices.
DNA tests:
dietPower: $220
fitPower: $220
healthPower: $220
brainPower: $220
SkinDNA: $146
Bundles:
totalPower: $367
Family Bundle: $660
Ultimate Insights Package: $513
DNA uploads:
totalPower Connect: $220
dietPower Connect: $110
immunePower Connect: $36
Other:
DNA Meal Plans: $36
Health Consultation: $73
Review of a dnaPower Report
We will briefly review the totalPower report, which is presently the most comprehensive one the company offers. Full results are 170 pages.
The easy to understand report is broken into sections based on the individual test: dietPower, fitPower, healthPower, and brainPower. Then, each of these sections is broken into subsections that include a summary, an action plan, and details.
The summary section lists the areas tested and an overview of your genetic results. For example, a portion of the diet management section is shown below. An area tested is carbohydrates, which tells you your ability to process carbohydrates in your diet.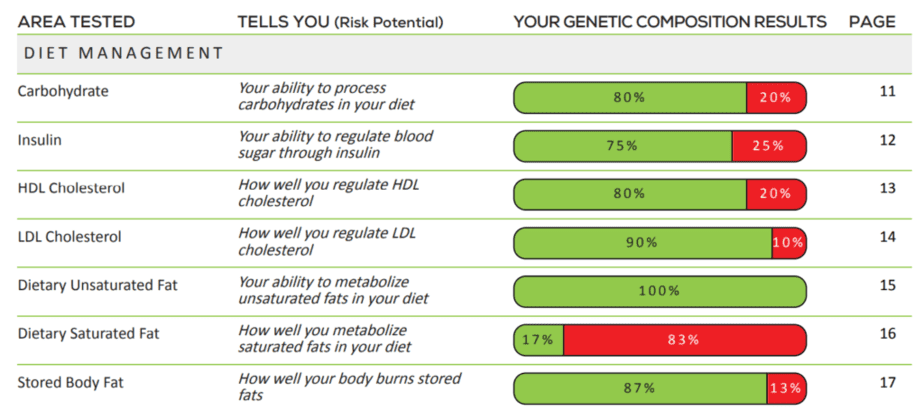 In brief, the genetic composition results show that 80% of the variants tested were normal and 20% were mutated. There is also a reference to the page number for detailed information.
The action plan section focuses on areas where you have greater than 50% genetic variations.

The areas are listed along with the company's recommendations. The idea behind this approach is to help customers focus on health areas for which they are most at risk, rather than trying everything or spending energy on areas that don't need improvement.
In this case, the customer has genetic risks for dietary saturated fat. Recommendations include replacing saturated fat with examples of healthier unsaturated fats as well as avoiding dairy, fatty meats, and processed foods.
Finally, each area tested has a page of greater detail. These sections include a paragraph about the area tested in the panel, tips for improving health if you have variations, and an indicator of your gene function.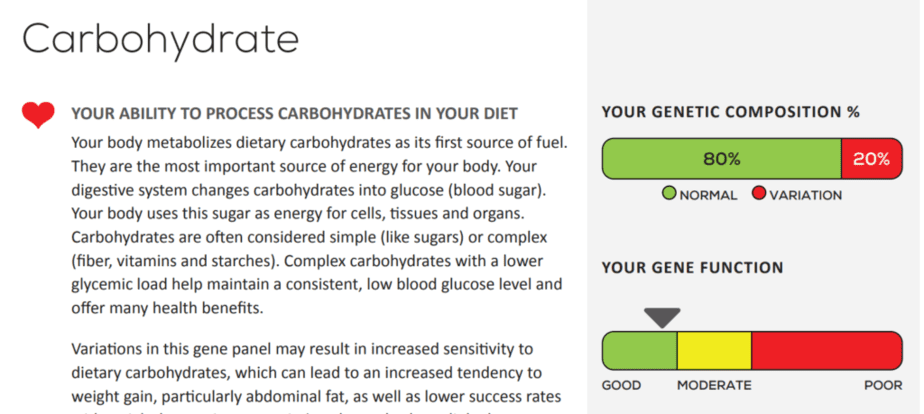 Review of dnaPower Privacy
dnaPower's privacy policy is committed to protecting user's personal information. Markedly, it clearly explains the types of information collected, how it is used, and the measures taken to ensure its security. In brief, dnaPower does not sell user data. It also does not disclose information to third parties, such as insurance companies. Personal information may be shared for debt collection purposes and to provide customers with the requested service.
The privacy policy covers collecting personal information, payment information, self-reported information, and website activity for statistical purposes. dNAPower also provides clear guidelines for using and disclosing personal information, uses latest standards in privacy and encryption, and allows users to request access to their information.
It stores samples labeled with a barcode to remove personal information. Then, after producing results, the company destroys the sample.
Other dnaPower Reviews
dnaPower does not have any detailed reviews online but are briefly mentioned on a handful of small blog sites. It has a 4.9 rating on Facebook with 21 reviews. However, most of them are a few years old. Their websites also shares success stories of satisfied customers.
Nebula Genomics
dnaPower provides a range of DNA reports focused on various aspects of overall health. By choosing the combined reports option, customers can access a detailed report covering a wide range of health topics spanning over 170 pages. Additionally, customers also receive a 45-minute personalized health consultation.
Even with over 170 pages of tailored information, you may still be missing out on a huge part of your genome. On the other hand, Nebula Genomics uses 30x whole genome sequencing technology to decode all 20,000 genes in the human genome.
Although Nebula does not provide personalized recommendations regarding your health, your access to your entire genome allows you to decide how you want to use this information. In brief, regularly updated reports on hundreds of conditions, traits, and more will give you guidance and help you understand your genetic risks. Results also come with ancestry reporting and genome exploration tools.
It's important to realize that Nebula is not a clinical test. However, because results are high quality you can use them in consultation with a health provider or genetic counselor, who can help you personalize treatment.
For only $299 or less, customers will get access to their entire genome, allowing them to continue to ask more questions as more research is conducted.
| | | |
| --- | --- | --- |
| | dnaPower | Nebula Genomics |
| Testing method | Cheek swab | Saliva test for whole genome sequencing |
| Reports | Detailed report that includes personalized health recommendations based on genetic data | An extended genetic report that is updated regularly |
| Counseling | Yes (an additional fee in most cases) | No, but data is of the highest quality and can be used by physicians and genetic counselors |
| Data upload | Yes | Yes |
| Cost | $220 – $367 | $0, $99, $299 |
Other testing companies
This company offers a variety of tests for different inquiries. Other companies that offer different testing options include: