7 Facts from our Zoloft Review
Location: New York, NY
Products: Zoloft is the brand name of an antidepressant called Sertraline
Costs: $140 – $400
Results: A treatment for depression and anxiety
How it works: Patients need a doctor's prescription
Recommended dose: 25 to 50 mg
Complementary Products: Nebula Genomics 30x Whole Genome Sequencing DNA Test decodes 100% of your DNA with extremely high accuracy. It is a more reliable DNA test than other tests that provide lesser accuracy by decoding only 0.02% of DNA
This review is written with the intent to be as unbiased as possible. However, it represents the opinion of an individual reviewer and is therefore subjective. Furthermore, at Nebula Genomics we seek to educate the public about the benefits of Whole Genome Sequencing. Information about our Whole Genome Sequencing DNA test is therefore incorporated into the review.
August 3, 2023
Pros and Cons
Pros
It is an effective SSRI antidepressant.
Causes less drowsiness than other antidepressants.
It is easy to swallow
One of the best choices of antidepressants for pregnant women
Cons
Most patient report cases of diarrhea after taking it compared to other antidepressants
It has drug interactions and may increase risk of bleeding. It should not be combined with other medications that can cause bleeding
Introduction
What is Zoloft? Made by Pfizer, Zoloft (generic name: sertraline hydrochloride) is an antidepressant that belongs to a group of drugs called selective serotonin reuptake inhibitors (SSRIs).
What is Zoloft used for? SSRIs affect certain hormones in the brain that may be unbalanced in people suffering from generalized anxiety. Zoloft for anxiety, depression, major depressive disorder (MDD), post-traumatic stress disorder (PTSD), social anxiety disorder, premenstrual dysphoric disorder (PMDD).
Doctors can also use it in plans to treat obsessive-compulsive disorder (OCD) and panic disorders. SSRIs focuse on the hormone serotonin. You can read more about this drug in the company's medication guide.
Charles Pfizer and Charles F. Erhart founded the pharmaceutical company, Pfizer, that makes the drug in 1849. It is an American multinational pharmaceutical corporation that has grown rapidly to become one of the world's largest companies in the field. Having a total revenue of $81.3 billion, the 2022 Fortune 500 list of the largest U.S. corporations by total revenue ranked Pfizer ranked 42nd on the list.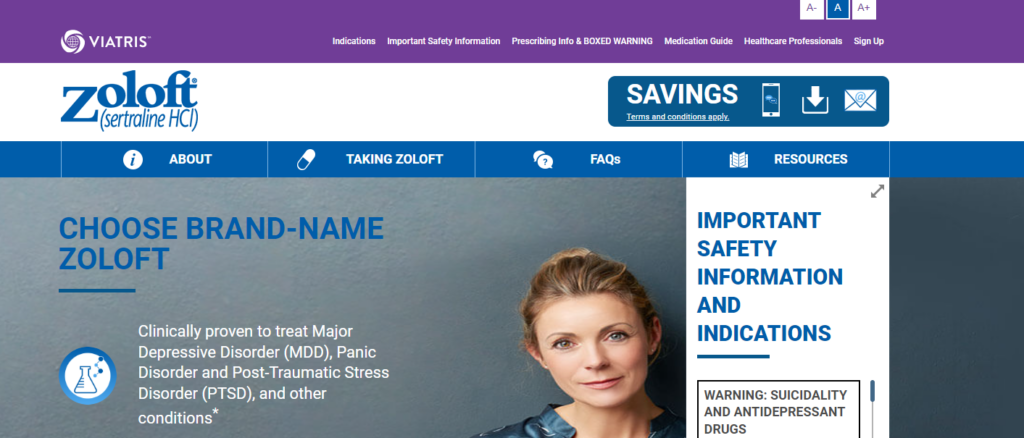 What are the side effects of Zoloft?
Common side effects include allergic reactions like skin rash or hives, joint pain, difficulty breathing, swelling of the face, tongue, lips, or throat, and dry mouth. Other Zoloft side effects in the first week may include mood or behavior changes, panic attacks, social anxiety disorder, trouble sleeping (especially when mixing Zoloft and alcohol), agitation, irritability, hostility, restlessness, aggressiveness, hyperactivity (mentally or physically), more depression, or suicidal thoughts (especially in patients 24 years of age or younger) or suicidal ideations.
The drug may also be accompanied by serotonin syndromes, such as hallucinations, agitation, fever, shivering, sweating, fast heart rate, twitching, muscle stiffness, nausea, loss of coordination, vomiting, or diarrhea. Because of these stomach issues, weight gain or loss may occur. Side effects are rarely life threatening but if you experience more severe cases, do not hesitate to contact your physician.
Finally, some people are at risk of visual problems such as eye pain, changes in vision, or swelling or redness around the eye. More recently, patients have reported sexual dysfunction, such as decreased libido or difficulty with orgasm.
You may experience a false positive drug screening test when you take this medication. Thus, you should inform the medical personnel in the laboratory that you are taking it if you need to provide a urine sample for drug screening.
Review of Zoloft Science
The production and availability of a chemical called serotonin influences the human mood. 
Serotonin is the hormone responsible for our mood, happiness, and well-being. If the availability of this chemical substance is lowered, an individual may be prone to depression. On the other hand, if the brain has too much serotonin, it may result in excessive nerve cell activity, causing restlessness and unrest. Therefore, for good mental health, you need a consistently balanced supply of serotonin. 
This is where Zoloft comes in. The drug uses the active ingredient sertraline hydrochloride to ensure a balance in the serotonin supply, thus, helping an individual stay calmer, more focused, happier, and emotionally stable.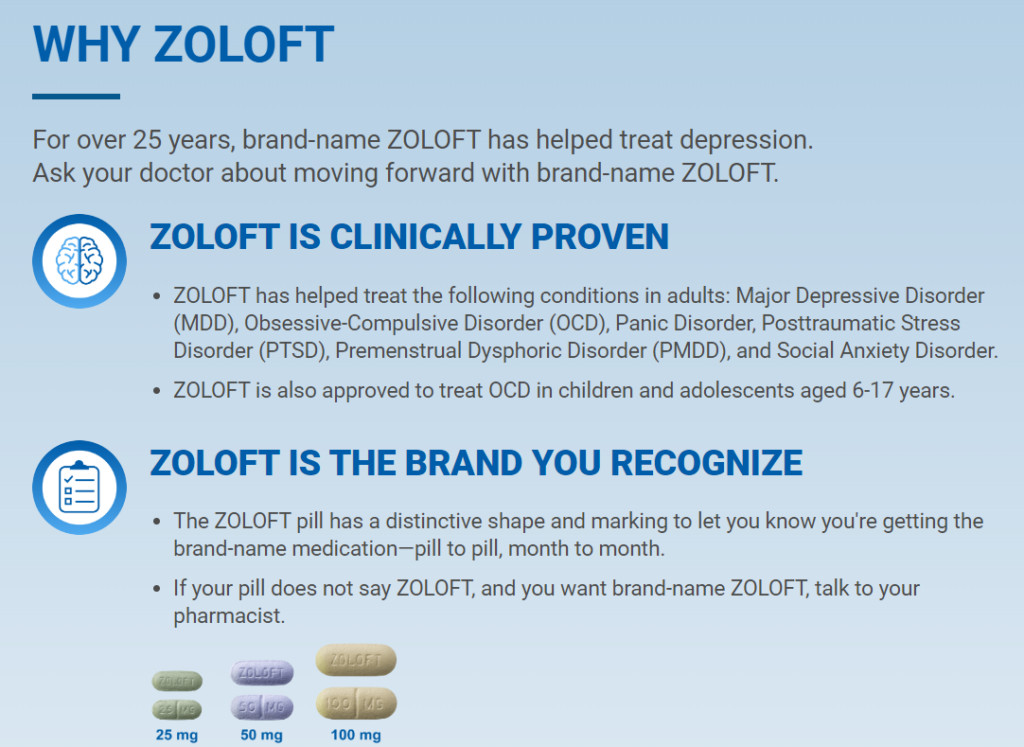 To know if they suit you and to avoid unnecessary side effects, you should speak to your doctor before taking antidepressants.
Tell your doctor or pharmacist if you have ever had a seizure, liver or kidney disease, heart disease, high blood pressure, or a stroke; bipolar disorder (manic depression); low level of sodium in the body, bleeding problems, or if you take warfarin (Coumadin, Jantoven). 
Individuals who have an allergy to sertraline should not take this medication. Those who take pimozide and those who recently took an MAO inhibitor or plan to take it soon (especially methylene blue) shouldn't take Zoloft. If you must, count 14 days before or 14 days after taking the MAO inhibitor. 
Strictly adhere to your doctor's prescription when taking this drug. Follow all directions on the label, and avoid taking too much or too small amounts of the prescribed dosage. Patients should also not take the medicine lesser or longer than the instructed time. 
Does Zoloft Reduce Anxiety?
Zoloft has been shown to be effective in treating the symptoms associated with generalized anxiety disorder (GAD), and some are skeptical that the drug may help relieve some depressed people who also experience panic attacks. The drug can help reduce stress and anxiety symptoms, such as racing thoughts. It has also proven more efficient in addressing social anxiety disorders, so the Food and Drug Administration (FDA) approved its effectiveness for treating these conditions.
Zoloft Review
The company sells the medication as both tablets and oral solutions.
How to Get Zoloft
To purchase Zoloft, you must first get a prescription from your doctor. You can use a traditional drug store or order online through sites such as Amazon pharmacy.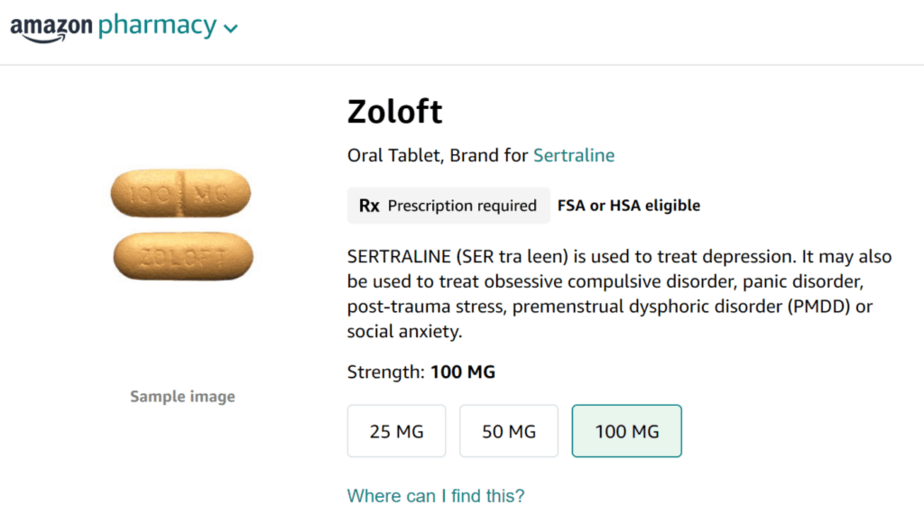 How to take Zoloft
Your doctor determines the exact dose of sertraline. They generally recommend a Zoloft dosage of 25 or 50 mg for adults with various mental health disorders and children 6-12 with OCD. The dose may be gradually increased up to 200 mg if the initial one is not effective. 
Dosing is different for patients with premenstrual dysphoric disorder.
Zoloft tablets can be taken with or without food. The oral solution must be correctly diluted with water, ginger ale, lemon/lime soda, lemonade, or orange juice immediately before taking. Use the oral dropper to determine the correct amount of Zoloft concentrate. It is normal for the solution to look cloudy or hazy after mixing. 
How Does Zoloft Work? As stated earlier, Zoloft is a serotonin reuptake inhibitor (SSRI) drug. Serotonin affects mood and can help reduce the symptoms of anxiety and depression. There is no evidence to suggest that low serotonin levels may cause depression; however, the treatment has averaged fairly high effectiveness.
How long does it take Zoloft to work? Patients may see the therapeutic effect of the drug after 1 or 2 weeks, although it usually takes between 4 to 6 weeks before they feel the full effect. This is because it takes about a week for enough of the prescription to build up in your system.
Patients should not stop taking Zoloft before speaking with their doctor. Generally, the medication needs to be stopped gradually to avoid serious Zoloft withdrawal symptoms such as increased anxiety, irritability, high or low mood, feeling restless or changes in sleep habits, headache, sweating, nausea, dizziness, electric shock-like sensations, shaking, and confusion.
Review of Zoloft Cost
You can purchase either Zoloft oral concentrate (mixed with water, ginger ale, lemon/lime soda, lemonade, or orange juice) or the Zoloft oral tablet, depending on your doctor's prescription. Prices vary based on insurance.
According to drugs.com, The oral concentrate comes in 20 mg/mL and sells for about $300 for 60 milliliters.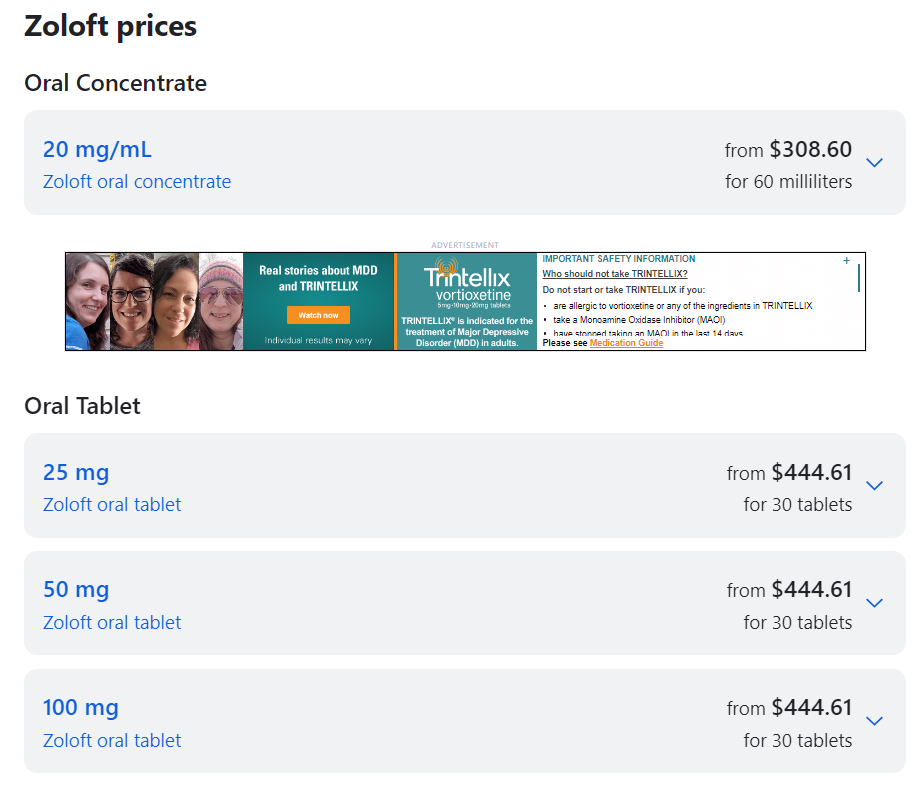 The oral tablets come in three strengths for different treatment plans and cost about $445 for 30 tablets. This website also notes that a generic version of the prescription is available for about $11 per 30 tablets.  
You can also order 60- and 100-tablet quantities. The price per unit is about the same for each plan.
If eligible, patients may participate in the Zoloft Savings Offer Program, which saves users up to $150 in prescription costs. Generally, it does not apply to individuals who have part or all of their prescriptions covered by insurance.
Review of Zoloft Privacy
Some ways Pfizer may use your information include connecting you with a required and suitable third-party, validating your ability to access certain products, services, and news, improving its products and services, and protecting patients and consumers.
The company may also share your information within its family of companies, including Pfizer Inc. and its subsidiary companies. It may also share your information in case of a business transfer.
Other Zoloft Reviews
The medication has over 1000 customer reviews on WebMD.com from people who were prescribed Zoloft. One of the customers who started Zoloft on the site reports, "Had headache when I started at 50 mg, cut back to 25 mg for a week, then returned to 50 mg…no more headache. Not only is my depression gone, I feel less anxious. I wake up and go to bed feeling thankful for a good life." 
On Drugs.com, it has over 1,500 user reviews. It has an average rating of 7.2 out of 10 on the site. 63% of those users who reviewed Zoloft reported a positive effect, while 18% reported negative reviews, mainly due to dosage difficulty and side effects. Satisfied patients on this website note things like "Zoloft literally saved my life" and "Two years ago I started Zoloft and it literally saved my life, marriage, memories with my kids, saved me from me."
Drugs.com provides accurate and independent information on more than 24,000 prescription drugs, over-the-counter medicines, and natural products. This material is provided for educational purposes only and is not intended for medical advice, diagnosis, or treatment. Data sources include IBM Watson Micromedex (updated 2 Feb 2021), Cerner Multum™ (updated 3 Feb 2021), ASHP (updated 29 Jan 2021), and others.
There's a popular YouTube video about Zoloft written by Nurse Liz. The author describes how Zoloft helped her lose ten pounds after six months.
Zoloft in the News
The medication Ranks Among the Most Commonly Prescribed Drugs in Australia
Zoloft vs. other antidepressants
| | | | | | |
| --- | --- | --- | --- | --- | --- |
| Brand name | Zoloft (sertraline) | Lexapro | Prozac | Wellbutrin | Celexa |
| Generic drug name | sertraline | escitalopram | fluoxetine | bupropion | citalopram |
| Form | oral tablet, oral solution | oral tablet, oral solution | oral tablet, oral capsule, delayed-release oral capsule, oral solution | oral tablet | oral tablet, oral solution |
| Who can take it | people 12 years and older | people 18 years and older | 18 years and older | 18 years and older | 18 years and older |
| Recommended dosage (actual dosage determined by your doctor) | 10 mg per day | 25-50 mg per day | 20 – 60 mg per day | 200 mg per day | 10 – 40 mg per day |
Nebula Genomics
Depression and anxiety are caused by different factors, both external and internal. For the internal factors, depression and anxiety can be inherited from one's parents. Such individuals can be said to be predisposed to depression. Unfortunately, most people do not know they inherited this trait.  
If you are interested in understanding how your genes may predispose you to anxiety, depression, or other psychiatric disorders, you should sequence your DNA!
Most DNA tests decode only 0.02% of genetic makeup, producing less reliable results. Nebula Genomics interprets 100% of your DNA with our 30X Whole Genome Sequencing, providing a more detailed and reliable result.
You will also get access to the Nebula Research Library, where you can stay up to date with the most cutting-edge genomic research and learn how it applies to your DNA results. You can also use our powerful, browser-based genome exploration tools to answer any questions about your DNA. We also uphold our customers' privacy; thus, you can rely on us to help you through your journey of discovery without risking the confidentiality of your most personal information.
Other companies
You may be interested in a different SSRI called Lexapro, or check out DNA tests that specifically focus on mental illnesses to guide treatment options, such as Genomind, Genesight, and Incite Health. 
If you're interested in general health and well-being in addition to mental health, you may be interested in these other at-home tests, some of which include prescription products:
Did you like our Zoloft review? You can read more reviews on our blog and check out our complete guide to the best DNA test kit and other home tests.