Edited by Christina Swords, Ph.D.
7 Facts from our Genetic Genie Review
Location: United States
Products: DNA data upload for health reporting
Reports: very detailed reports on disease risks based on variant databases
Result delivery: through the Genetic Genie website after upload
Privacy: data deleted automatically after 24 hours
Cost: free
Alternatives: Nebula Genomics (free DNA upload and reporting based on latest scientific discoveries)
This is a review of Genetic Genie, a free DNA data analysis service that was launched back in 2012. The service was created by Kyle, a patient living with a chronic illness (myalgic encephalomyelitis, or chronic fatigue syndrome).
His illness inspired Kyle to dive into the genomic connections between DNA and diseases. Kyle maintains the company to this day. The company offers multiple DNA data interpretations and analysis products.
According to the Genetic Genie website and Facebook, geneticgenie.org has seen traffic in the millions over the years. Genie operates based on donations and funding through partnerships to maintain its service for its users.
Genetic Genie does not offer DNA sample submission for genome sequencing or paternity testing. The company also does not offer Genetic Genie ancestry analysis. All of the products are centered around public health and wellness analyses (DNA health reports). Users are not requested to share email address, name, or any other personal information.
Genetic Genie Products

Genetic Genie offers multiple DNA health report products free of charge. It is designed to be compatible with raw data from other providers. It is compatible with raw DNA file exports from Nebula Genomics, 23andMe, AncestryDNA, and other genome sequencing companies.
GenVue Discovery. This is Genetic Genie's primary product. The genomic research tool GenVue Discovery is designed to "make it easy for anyone" to learn about their DNA genetic variants. More specifically, GenVue Discovery's user interface points out how users' DNA relates to health conditions and diseases. It also offers "panels" that focus on specific DNA health report information.
Methylation Cycle Panel. This report looks at imported raw DNA and analyzes how the DNA chemistry has been modified and what that means. This "epigenetic" information is important. It relates to how a user's genes are expressed and can reflect different environmental and health stressors.
Detox Profile. Genetic Genie also assesses single nucleotide polymorphisms (SNPs) in detox enzymes. SNPs are small mutations in your genetic code. Some SNPs can have no effect on health. Other SNPs can have big effects on health. Whole-genome sequencing, such as the service offered by Nebula Genomics, gives customers the data for these health report results.
Reporting Accuracy. In the Genetic Genie FAQ section, the service addresses questions about its DNA report accuracy. The primary issue is the DNA sequence completeness. Consumer DNA sequencing companies like Ancestry and 23andMe record only a small amount of the genome. If using the Genetic Genie test with data from these services, users do not have a complete picture of their health data.
How to use Genetic Genie
With Genetic Genie's free service, you just have to upload your raw data. It's recommended that you can upload your full genetic raw data (whole genome sequencing) from companies like Nebula Genomics. You can also upload DNA data from 23andMe and data from Ancestry and FamilyTreeDNA (FTDNA, family tree dna).
The following are listed as compatible DNA raw data file formats for import:
"23andMe, AncestryDNA, MyHeritage, FTDNA (Family Tree DNA), Living DNA, HomeDNA, Genes for Good, WeGene (China), 23Mofang (China) raw data file or Whole Genome Sequence or Whole Exome Sequence (WGS/WES) VCF file."
Getting started takes just a few minutes depending on the file size. The company does not ask for any personal information. Simply upload various raw DNA files types (e.g. 23andMe, AncestryDNA, VCF, etc.)
Review of Genetic Genie Reports
Review of GenVue Discovery
This is Genetic Genie's flagship DNA health reporting product that offers a very detailed user interface with many options. GenVue Discovery scans uploaded DNA genome data to identify important variants in DNA. It then compares that variant data to databases on of genomic health research to provide the following information:
Genetic Conditions
Drug Response
Other Risks
Rare Mutations
Uncommon Mutations
Genetic Genie's GenVue Discovery shows health and genetic information corresponding to each gene variant in users' DNA file. While interpreting Genetic Genie results, it's important to note that some of this health information is clinically relevant while others are not conclusive or as important.
GenVue offers users a "curation" feature (top right). This user friendly feature narrows the full list down to conditions that may be more clinically relevant. There is also a filter option to search for specific genes or conditions.
One great aspect of this product is that it is full of references. Users can follow the links to peer reviewed publications and genetic databases to learn more about their genetic health risks.
Some genetic conditions are very well researched, providing a lot of scientific knowledge. If an associated genetic variant is found in the user's genome, the result shows a banner emphasizing its importance (e.g. pathogenic variants):
This tool can be useful for consumers who want to explore their own DNA genome sequencing results. It can also be useful for medical researchers or students learning about genetic conditions, diseases, and genomic health reports.

Review of Genetic Genie Methylation Panel
Here you can upload your raw DNA data and receive access to a free methylation report.
The guide explains the meaning of the methylation panel and the meaning of each gene and variation. All of the DNA genome analysis information relates to a user's health.
For example, Genetic Genie examines imported genetic data for variants and mutations in the MTHFR gene. For example, the MTHFR C677T mutation is common in some populations. Often it's even homozygous which means that an individual inherited it from both parents.
When this mutation occurs the MTHFR enzyme is less capable of doing its job. The company suggests this mutation may play a role in "Autism, Chronic Fatigue Syndrome, IBS," and other health conditions. However, the clinical importance of this and other MTHFR mutation is a point of debate.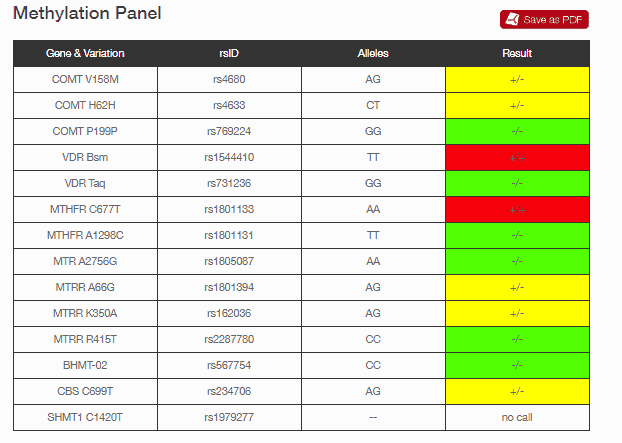 Review of Genetic Genie Detox Panel
The detox profile panel provides health test information in a similar fashion as the methylation analysis. DNA analysis results are shown in a Genetic Genie detox profile interpretation table of color-coded mutations. In this case, however, it does not provide a guide to the different genes and variations.
According to the website, it is possible that this panel is currently still work in progress. Still, users can locate the SNPs from their genome sequencing data and search on different websites for what they mean. The following variants are analyzed:
Review of Genetic Genie Privacy
The company offers a detailed Privacy Policy for its free service. It test collects cookies, log files, web beacons, tags, and pixels as users browse the site.
Is Genetic Genie safe? According to the company, any uploaded data is automatically deleted from servers within 24 hours. However, the site also states:
"We may occasionally look at data for the purposes of improving this service. Look at our Privacy Policy to learn more."
Genetic Genie in the News
Stories in The Atlantic, Science News, MIT Technology Review have mentioned Genetic Genie. They cite it's willingness to report full health information not reported by other services. Many larger companies offering DNA health reporting services have chosen to omit results with less clinical relevance.
Genetic Genie Reviews
Genetic Genie Pros and Cons
Pros
Free to use
Comprehensive health reporting
Transparent about sources for information
Focus on privacy
Cons
Users have concerns about the clarity of results
News reports suggest that some of the reporting, like the methylation panel, may promote the use of unproven dietary supplements.
Nebula Genomics
We finish our Genetic Genie review with a comparison to Nebula Genomics and other DNA analysis services. Nebula Genomics stands out among other genetic testing companies and health reporting services. We prioritize privacy, use the most advanced testing technology, and the most comprehensive reporting.
Your privacy is central
At Nebula Genomics, we understand that your genomic data is sensitive, personal, and irreplaceable. We know there are privacy risks to sharing this data, and we take those risks very seriously.
At Nebula Genomics, we are building the first privacy-focused personal genomics service. We do away with all of the middlemen between you and the third-party customers interested in your data. Without those middlemen, you have control over sharing your data and being compensated. You can read more about the importance of DNA privacy.
Nebula Expand
Do you have DNA test results from other testing sites like Ancestry or 23andMe results? Upload the DNA testing data to Nebula to learn even more with the free Nebula Genomics expanded report.
This expanded report uses statistical models to fill in the blanks left behind by typical microarray-based DNA genotyping tests. Compared to Genetic Genie, we focus on polygenic scores that combine information from many genetic variants to make predictions.
We also enable our users to stay up to date on the latest genetic research. Our service gives you access to the latest research, curated to your genomic data, through the Nebula Research Library. We provide all of the information you need to figure out what this research means to you and your DNA.
Whole-Genome Sequencing
With our new 30x Whole-Genome Sequencing service, we determine 100% of your DNA and report our analysis directly to you. This is the exact sort of test that reporting services like Genetic Genie recommend. You get 10,000 times more data than with other services, which only read 0.1% of your genome!
Here is how Nebula compares with other testing and reporting services.
| | | | | |
| --- | --- | --- | --- | --- |
| | 23andMe | Ancestry | Genetic Genie | Nebula Genomics |
| Type of genetic test | Microarray-based genotyping | Microarray-based genotyping | No DNA testing. Produces health reports based on imported DNA data | Whole-Genome Sequencing (30x coverage) |
| Produced data | ~ 600,000 positions in the genome | ~ 700,000 positions in the genome | N/A | ~ 3,000,000,000 positions in the genome |
| Compatible with other sites | Can export data and use elsewhere | Can export data and use elsewhere | Accepts all typical DNA testing data (e.g. 23andMe raw data, Ancestry raw data, Nebula Genomics raw data) | Can export data and use elsewhere or upload data from 23andMe / Ancestry to fill in gaps |
| Genome Health Report | Limited | Limited | Reports on many conditions and transparently references sources. However, results can be confusing to some users | Full access to 30x full genome data and library of the latest research |
| Target Customer | Consumers interested in basic at-home genetic testing | Consumers interested in basic at-home genetic testing | Consumers and genetic enthusiasts interested in genetics and health | Consumers and genetic enthusiasts interested in whole-genome sequencing and research |
| Ancestry reporting | Yes | Yes | No | Deep ancestry reporting with full Y chromosome and mtDNA sequencing in collaboration with FTDNA |
| Focus on privacy | No | No | Yes | Yes (learn more) |
| Cost | $99, $199, or $499 | $99 or $149 | Free | $0 – $299 |
Genetic Genie vs Ancestry DNA vs 23andMe vs Nebula Genomics
Other DNA upload sites you might want to explore are:
If you have whole genome sequencing data, also take a look at YFull ($25 – $49 for Y-DNA and mtDNA).
Did you like our Genetic Genie review? You can read more reviews on our blog and check out our complete guide to the best DNA test kit and other home tests.
You can also check out our guide to DNA upload sites!