Edited by Christina Swords, Ph.D.
7 Facts from our LifeDNA Review
Location: Honolulu, Hawaii
Products: LifeDNA offers nine different reports, including a beta Covid-19 test, plus nutrition supplements and skincare products
Costs: $99 – $199
How to Order: Sign up on their website, upload your raw DNA data from select DNA testing services, or order one of their kits
How it Works: Patients create an account and upload their DNA information from other DNA testing companies to get results in a minute. Patients can also order a testing kit, which will take 3-5 days to arrive, and results will usually take two weeks to show up in the user's account.
Reports: There are nine reports of different areas, including fitness, health and wellness, skincare, and disease.
Complementary products: Nebula Genomics offers a complete DNA sequencing test that entails every aspect of your life to help you independently create a comprehensive fitness plan and improve your lifestyle
LifeDNA Introduction
This LifeDNA review intends to cover the DNA company's reach, effectiveness, and the competitiveness of their prices.
LifeDNA started in 2017, founded by CEO Cyril Moukarzel and chairman Steve Markowitz. It is a nutrigenomics company based in Hawaii and uses DNA tests to create a genomic analysis that they later combine with reports and peer reviews to offer a health plan.
The company's primary purpose is to provide patients with a path towards a healthier life through the assignment of dietary and nutritional tasks based on their genetic composition. They do this through the generation of six extensive reports on everything from dieting to personality.
Since the services provided have DNA testing only as a portion of the offer, the company also works with DNA tests from 23andMe, Ancestry, MyHeritage, Living DNA, and Family Tree. As a patient, you can upload raw DNA data, and LifeDNA will use that information to create a report and provide a customized plan to improve your health and add years to your life.
Much like the Nebula Genomics Research Library, this genomics company updates their database regularly and passes on updates to their customers. If there is new information (which, in genetics, happens almost daily), they will update their database and keep you posted on those changes and how they affect your program.
LifeDNA does not necessarily offer a full scope of what is written in your DNA. Nebula Genomics provides a complete report on your DNA, including ancestry and other genetics fields that other companies won't even get close to. While other genomics companies can only map a concise portion of your DNA, Nebula Genomics analyzes 100% of your genome to offer a full description of your genes and how these affect your health.
Review of LifeDNA: DNA Testing and Health
Only recently, LifeDNA started making their own DNA testing. Before this, patients would only have the option to upload raw DNA data from other testing companies and begin from there. Let's look at how the entire process works.
The Company's Claims
The following are some of the claims for credibility:
To improve accuracy and credibility, LifeDNA researchers go through every study on single nucleotide polymorphism (SNP) to validate results. According to the website, this research is in-depth to ensure validity.
A critical analysis backed by 600+ peer-reviewed scientific studies. These studies are portrayed on their website for reference. With this information, patients can have the peace of mind that the reports they get are based on reliable data.
Their reports are easy to read and understand and offer over 130+ genetic traits on a person's nutrition, cognition, health, wellness, immunity, fitness, personality, and supplements. This means that they have gone through every genetic marker possible to connect it with the specific area from the list mentioned above.
Reports get updates as new information from new research arises. Patients are informed about these changes and how they affect their current health plans.
How it Works
The following are the steps to participate in LifeDNA's wellness program through an analysis of genetic information.
Step 1: Sign up on their website to begin with your own LifeDNA login. From there, you will be able to pick one from two options. You can log in straight to the website or through Facebook or Google account.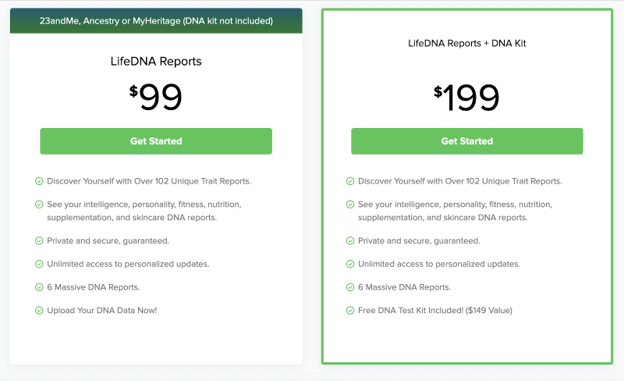 The first option involves patients performing a raw DNA upload from other testing companies. The more expensive option includes a DNA kit, in case you want LifeDNA to also sequence your DNA. Since there is not much known about their DNA testing method, some customers may feel more comfortable with the first option.
Step 2: Experts analyze your DNA data. They generate reports from DNA data from sites like 23andMe, Ancestry, or MyHeritage. Also, they can send you a kit.
If you send the data from other companies, you will see your report within hours. If you request a DNA kit from them, you will have to wait a week to see them up.
Step 3: Researchers compare the SNP (single nucleotide polymorphisms) with their own research database. With this information, they generate a clear map of your genes to establish the best road to successful wellness.
Step 4: Visit your account, where you will find all the information you need to know to optimize your health. This report updates with new information from ongoing research.
LifeDNA DNA Analysis Cost
Compared to similar services, we find LifeDNA at a fair price. For the $99 Regular Customer package, you get a 6-bundle report that includes Nutrition, Health & Wellness, Immunity & Vitamins, Fitness, Personality & Cognition, and Skin Care reports.
However, keep in mind that this is a one-time report. To many, this will suffice as it includes long-term recommendations on how to improve your health by targeting your specific bodily needs.
If you instead take their DNA test, you pay an extra $100, which is comparatively fair. But then, as explained earlier, there is not much known about this test kit. Once again, you get a one-time report.
Are you interested in having immediate access to your report and get updates as new research results are discovered? Well, this also comes at a price. There are subscription packages for updates. The options are monthly, quarterly, or yearly.
$25 – Quarterly LifeDNA Platinum Membership Subscription
$60 – Yearly LifeDNA Platinum Membership Subscription
LifeDNA coupon codes are available through websites such as couponbirds and hotdeals.
COVID-19 Test
There's also an offer to determine your susceptibility to Covid-19 through the study of genetic variation that includes the DNA testing kit for $99. To this, you may add $49 for the LifeDNA Optimization Report bundle that consists of the following reports: Nutrition, Health & Wellness, Immunity & Vitamins, Fitness, Personality & Cognition, and Skin Care.
Interested in COVID-19 travel tests? Kurix Health and Project Screen offer special testing meeting requirements for departing and arriving in the UK.
Other Products
The company also offers LifeDNA skincare products and supplements to help provide excellent nutrition based on your DNA reports. If you choose to upload raw DNA data, you will be directed to a dedicated store after your report is generated.
If you decide to take the LifeDNA test, after two weeks, you get your results, and a skincare kit will arrive at your doorstep. It is important to note that LifeDNA's skincare products are natural and, like all other products produced by the company, are made in the US in an FDA-approved facility.
These are some supplements and their cost:
Vital wellness box (3 supplement blends): $99 – supply for one month
Personalized supplements: $39 – supply for one month
Dynamic Wellness Box (2 supplements): $149 – supply for one month
Other testing companies sell their own dietary supplements such as Elysium, Tru Niagen, Biohm, Viome, and Sun Genomics.
For skincare, this is the offer:
Personalized moisturizer – 100 ml: $99 for a 3-month supply
Essential Beauty Blend: $199 for a 3-month supply. This package is made of a cleanser, toner, and moisturizer.
Deluxe Beauty Box: $289 for a 3-month supply. This box is an Essential Beauty Blend plus a serum and mask.
Other skincare products we have reviewed at Nebula Genomics are Curology and Plexaderm.
Review of a LifeDNA Health Report
The health and wellness report is the backbone of the company's service. In their words, it is nine reports in one, including a more recent Covid-19 test.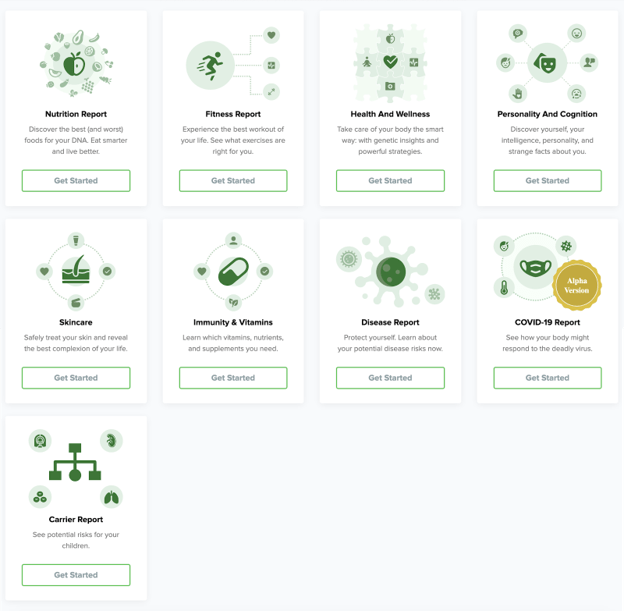 The website offers multiple sample reports. The following is a sample fitness report: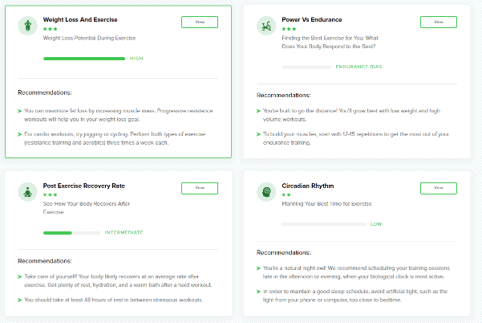 The fitness trait has six categories: weight loss and exercise, power vs endurance, post exercise recovery rate, circadian rhythm, HDL cholesterol and exercise, blood pressure and exercise.
The preview gives insight into a scaled result that differs according to the category. For example, the weight loss and exercise category ranks genetic predisposition to a greater ability for weight loss in response to exercise as low, intermediate, or high. You can also see your personalized recommendations from this page.
More information is available by opening "view" in the top right corner of each category. Here, you can also see the genetic variants analyzed to produce your result.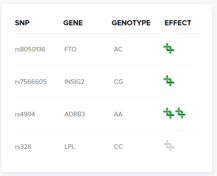 As observed, the reports are easy to read and straightforward. Although, unless you pay for the premium membership, this is the only report you will receive. The $60 yearly LifeDNA Platinum Membership subscription is useful as it provides backup and updating of your report.
Review of LifeDNA Privacy
LifeDNA collects the information you provide when you sign up. This includes your email, address, health information, communication logs, and information collected by cookies on the site. Other Information is collected when you use the service, like the device type, IP, browser and its settings, mobile device specs, and some unique identifiers.
The information LifeDNA collects from you is used to personalize the service and provide you feedback based on your DNA upload. But this information will also be used for marketing and to comply with applicable laws. They will share your data with vendors or other third parties that work directly with them. This information can also be shared with the purpose of research and analysis.
Your data is protected from unauthorized processing. LifeDNA achieves this through a series of technical, administrative, and physical safeguards. People under age 18 cannot use the service.
LifeDNA in the News
Designing Health and Wellness Through DNA by Bianca Salonga on Forbes
LifeDNA Hawaii researchers suspect DNA may contribute to COVID-19 symptoms by khon.
COVID-19: LifeDNA and University of Hawai'i Collaborate on Studying Why Certain Populations Are Hit Harder by Cision
Is understanding your DNA the key to losing weight? Testimonial article on weight loss planned from LifeDNA's services on Daily Mail.
How Cyril Moukarzel Is Using DNA to Create the Future of Personalized Medicine by a contributor's article in Entrepreneur.
Other LifeDNA Reviews
Although the company is rather young, there are quite a number of people that have provided mixed LifeDNA reviews. Most of them are positive. The following are some examples of reviews from TrustPilot:
"So far I am enjoying the information I am receiving. It is however expensive and there seems to be hidden charges. I am also in a Research Project which will provide genetic testing regarding cancer risk."
"I really found the reports from LifeDNA informational. As someone who is curious about all things that can affect my health, certain conditions or diseases, I liked their reports. I mean I understand that apart from genetics, other factors should be considered as well, but this is a new way of looking at things. So I will take into account these results together with other things and incorporate them into my lifestyle."
"LifeDNA provides a great service. It is useful and is a great adjunct to share with your doctor to help identify root cause of illnesses. Their service team is available and responsive. Ala in all-with every penny."
"I was looking for something that was tailored to my body and LifeDNA's reports helped me figure out methods that work and don't work for me. I wish I found LifeDNA sooner!"
"The insight provided was very underwhelming and the presentation was confusing (even for me as a geneticist). Customer service responded with pre-fab messages."
"Everything about the process was confusing. The word choices for the ratings scales are poor and inconsistent. The explanations are generic with little clarification. It said it tested for the MTFR , The whole Point of my purchase, and I did not find that anywhere. So I don't know if that means I don't have it or it was a lie about testing it. I wanted to purchase the whole packet because I found it fascinating but then they lock you in to a yearly payment. Why on earth would we continue to pay every year and not be able to get a one time report."
LifeDNA Pros and Cons
Pros
The reports are aesthetically pleasing and easy to read.
Ability to upload raw data from other (select) companies.
The company offers a DNA test kit.
The subscription price is affordable.
Supplement and skincare products are produced in the USA and FDA-approved facilities.
Cons
Unless you pay for a subscription, you only get one report that does not update.
The pricing and purchase process is confusing to some customers.
There is limited information about their own DNA test.
Nebula Genomics
With a highly experienced team and resources, Nebula Genomics can guarantee reliable results in all the areas that matter. Nebula Genomics offers 30x whole genome sequencing (WGS) at the most affordable price. Plus, we also allow raw DNA upload options. Unlike LifeDNA, which charges $99 for data upload, you can upload your DNA data to Nebula Genomics for free. Like LifeDNA, we also update information weekly based on the advancements of genetic studies.
Among other services, Nebula Genomics also offers data exploration tools, so your information always stays yours. In-depth ancestry studies (Y-CHR and mtDNA sequencing) provide a more thorough knowledge and research of your genetics, which allows for a more specific health plan and personality fitness. The better you know your genetic composition, the easier it will be to achieve your health goals.
We also cover important information about your genetic risks and how a genetic variant can make you prone to disease.
We take privacy seriously and do not share your information with third parties and guarantee that your information is safe, locked, and never published anywhere.
| | | |
| --- | --- | --- |
| Service | LifeDNA | Nebula Genomics |
| Sample collection | Cheek swab | Cheek swab |
| DNA testing method | Proprietary DNA method but also takes genetic data from 23andMe, Ancestry, or MyHeritage | Whole Genome Sequencing (30x coverage) |
| Information available | Nine reports in one, with regular updates with a Premium subscription | Weekly genetic reports based on the latest research and data (learn more) |
| Ancestry testing | No | In-depth ancestry reporting with a full Y chromosome and mtDNA sequencing in collaboration with FTDNA |
| Compatible with other services | Yes (23andMe, Ancestry, MyHeritage, LivingDNA, Family Tree) | Yes (FASTQ, BAM, and VCF files) |
| Information provided | One report per every aspect tested with details, recommendations, and call to action | Weekly reports based on the latest research and data (learn more) |
| Cost | $99-$199 | $0 – $299 |
LifeDNA vs Nebula Genomics
Nebula Genomics has experience enough to provide the most reliable results. You can rest assured that results are accurate and recommendations for a healthier you are on point. We are changing the way people diet and allowing them to live healthier and more fulfilling lives.
Other DNA upload sites you may be interested in are:
Other health and wellness tests and products are available through:
Did you like our LifeDNA review? You can read more reviews on our blog and check out our complete guide to the best DNA test kit and other home tests.