7 Facts from our LifeDNA Review
Location: Honolulu, Hawaii, United States
Products: LifeDNA offers six different reports, including Fitness and Nutrition
Costs: $39 – $199
How to Order: Sign up on their website, purchase a plan, upload your raw DNA data from select DNA testing services, or order one of their kits
How it Works: Customers create an account and purchase a plan, after which they upload their DNA information from other genetic testing companies to get results within minutes. Customers can also order a kit, which takes 3-5 days to arrive, and results will usually take two weeks to show up in the user's account
Reports: There are six LifeDNA reports of different areas, including fitness, health and wellness, skincare, and personality
Complementary products: Nebula Genomics offerings include a DNA sequencing test that entails every aspect of your life to help you independently create a comprehensive fitness plan and improve your lifestyle
This review is written with the intent to be as unbiased as possible. However, it represents the opinion of an individual reviewer and is therefore subjective. Furthermore, at Nebula Genomics we seek to educate the public about the benefits of Whole Genome Sequencing. Information about our Whole Genome Sequencing DNA test is therefore incorporated into the review.
September 19, 2022
Edited by Christina Swords, Ph.D.
Pros and Cons
Pros
The reports are aesthetically pleasing and easy to read
Ability to upload raw data from other (select) companies
The company offers a DNA test kit
The subscription price is affordable
Cons
Unless you pay for a subscription, you only get one report that does not update
The pricing and purchase process is confusing to some customers
There is limited information about its DNA test
Introduction
CEO Cyril Moukarzel and chairman Steve Markowitz started LifeDNA in 2017 to "inspire people to unlock the power of their DNA so they can live healthier, more fulfilling lives." The nutrigenomics company is based in Hawaii and combines DNA reports and peer reviews to offer a personalized health plan.
The genomics company's primary purpose is to provide patients with a path towards a healthier life through the assignment of dietary and nutritional tasks based on their genetic composition. They do this through the generation of six extensive reports on everything from dieting to personality.
Customers can upload raw DNA data from 23andMe, Ancestry, MyHeritage, Living DNA, and Family Tree.
Like the Nebula Genomics Research Library, LifeDNA updates customer reports regularly.
This company does not necessarily offer a full scope of what is written in your DNA. On the other hand, Nebula Genomics analyzes 100% of your genome to provide a complete description of your genes and how these effect your health.
Review of LifeDNA: DNA Testing and Health
LifeDNA also offers a DNA testing kit. Let's look at how the entire process works.
The Company's Claims
The following are some of the claims for credibility:
To improve accuracy and credibility, LifeDNA researchers go through every study on single nucleotide polymorphism (SNP) to validate results. According to the website, this research is in-depth to ensure validity.
A critical genomic analysis backed by 600+ peer-reviewed scientific studies. These studies are portrayed on its website for reference.
The reports are easy to read and understand and offer over 140 genetic traits on a person's nutrition, cognition, health, wellness, immunity, fitness, personality, and skincare. This means that they have gone through every genetic marker possible to connect it with the specific area from the list mentioned above.
Reports get updates as new information from new research arises. Customers are informed about these changes and how they affect their current health plans.
How it Works
LifeDNA currently offers three plans or health bundles to cater to different needs. New users need to choose one and sign up to complete the purchase.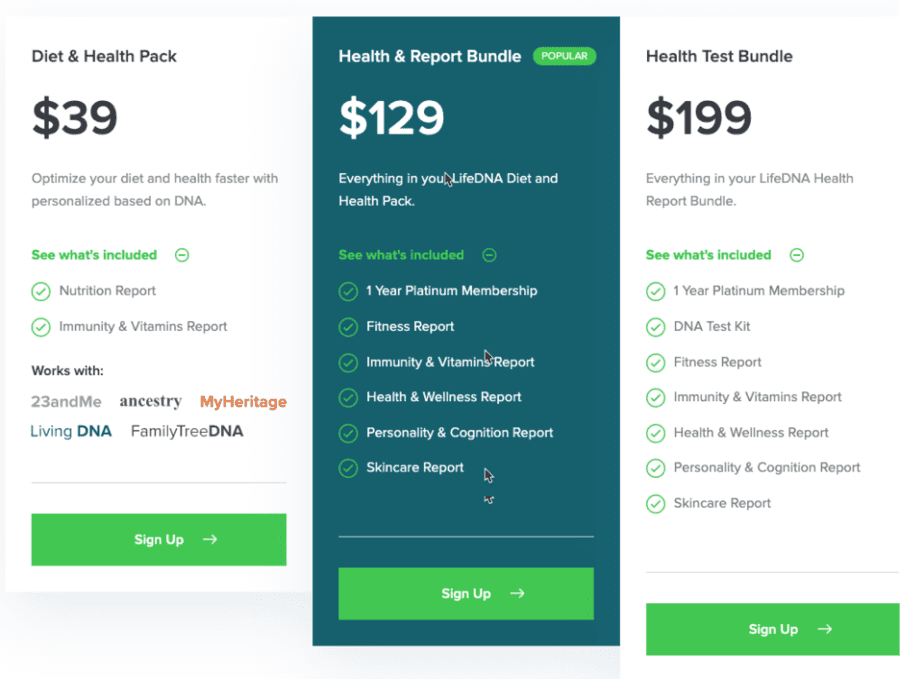 As you can see, the first two options involve customers performing a raw DNA upload from other testing companies. The most expensive option includes a LifeDNA kit.
Upon receiving the data, experts analyze it to generate reports. If you send the data from other companies, you will see your results within hours. If you order a DNA kit, you will have to wait a week or more.
Researchers compare the SNPs (single nucleotide polymorphisms) with their research database. This information generates a clear map of your genes to establish the best road to successful wellness.
Review of LifeDNA Cost
Compared to similar services, we find LifeDNA at a fair price. For the $129 Health and Report plan, you get a 6-bundle report that includes Nutrition, Health & Wellness, Immunity & Vitamins, Fitness, Personality & Cognition, and Skincare reports. In addition, the 1-year Platinum Membership included in this bundle provides periodic updates, consultations, and other special perks.
If instead, you take the DNA test, you pay an extra $70, which is comparatively fair. But then, as explained earlier, there is not much known about this test kit.
LifeDNA coupon codes are available through third party websites.
Other Products
The company has discontinued its COVID-19 test and skincare products and personalized supplements. Reports would include a link to a dedicated store to get recommended supplements.
LifeDNA claimed that skincare products were natural and, like all others produced by the company, made in the US in an FDA-approved facility.
Besides the six reports currently available, the company plans to add more features to the old Fertility, Carrier, and Disease reports. These are presently hidden and unavailable for purchase.
The company is currently working with partners to provide supplements in the future. Other testing companies sell their own dietary supplements, such as Elysium, Tru Niagen, Biohm, Viome, and Sun Genomics.
LifeDNA's catalog also used to include skincare products, such as the deluxe beauty box, which it would recommend on its Skincare report. Other products we have reviewed at Nebula Genomics are Curology and Plexaderm.
Review of a LifeDNA Health Report
The health and wellness report is the backbone of the company's service. It uses genetic variations to help analyze your health and wellness status.
Each category contains at least 15 different reports related to that category type.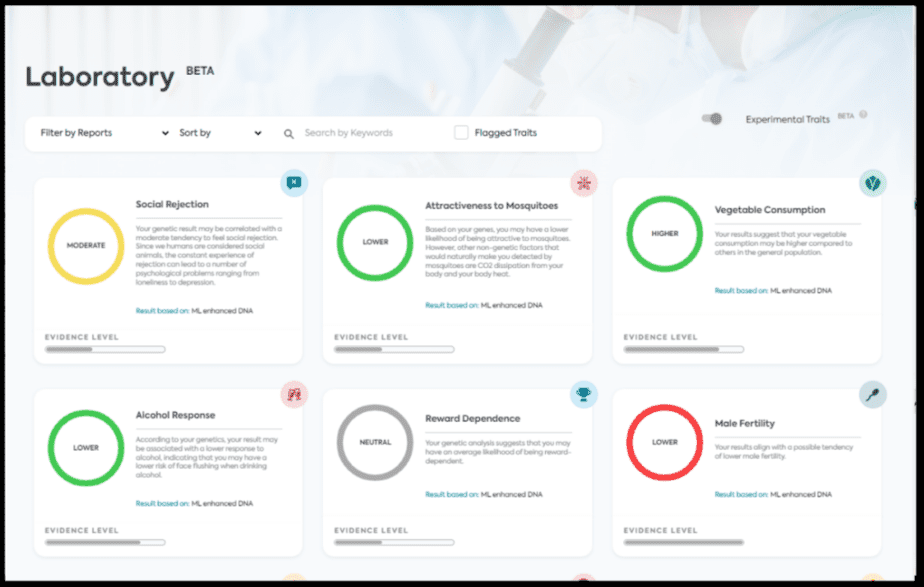 The preview gives insight into a scaled result that differs according to the category. For example, the weight loss and exercise category ranks genetic predisposition to a greater ability for weight loss in response to exercise as low, intermediate, or high. You can also see your personalized recommendations from this page.
More information is available by opening "view" in the top right corner of each category. Here, you can see the genetic variants analyzed to produce your result.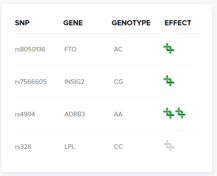 As observed, the reports are easy to read and straightforward. Although, unless you pay for the premium membership, this is the only report you will receive.
Review of LifeDNA Privacy
LifeDNA collects the information you provide when you sign up. This includes your email, address, health, communication logs, and data collected by cookies.
The information LifeDNA collects from you is used to personalize the service and provide you feedback based on your DNA upload. But it will also be used for marketing and to comply with applicable laws. It will share your data with vendors or other third parties that work directly with it. This information can also be shared for research and analysis.
Your data is protected from unauthorized processing. LifeDNA achieves this through technical, administrative, and physical safeguards. People under 18 cannot use the service.
LifeDNA in the News
Designing Health and Wellness Through DNA by Bianca Salonga on Forbes
LifeDNA Hawaii researchers suspect DNA may contribute to COVID-19 symptoms by khon.
Is understanding your DNA the key to losing weight? Testimonial article on weight loss planned from LifeDNA's services on Daily Mail.
How Cyril Moukarzel Is Using DNA to Create the Future of Personalized Medicine by a contributor's article in Entrepreneur.
Other LifeDNA Reviews
Although the company is relatively young, there are quite a number of people that have provided mixed LifeDNA reviews. Most of them are positive. On TrustPilot, the company has a 3.9 out of 5 star rating with over 280 reviews.
Nebula Genomics
With a highly experienced team and resources, Nebula Genomics can guarantee reliable results in all the areas that matter. Nebula Genomics offers 30x whole genome sequencing (WGS) at an affordable price. We also allow raw DNA upload options for free, unlike LifeDNA, which charges $39. Like LifeDNA, we also update information periodically based on the latest genetic research.
With Nebula Genomics, you also get data exploration tools, so your information always stays yours. In-depth ancestry studies (Y-CHR and mtDNA sequencing) provide a more thorough knowledge and research of your genetics, which allows for a more specific health plan and personality fitness. The better you know your genetic composition, the easier it will be to achieve your health goals.
You also get essential information about your genetic risks and how a genetic variant can make you prone to disease.
We take privacy seriously and do not share your information with third parties, and guarantee that it is safe, locked, and never published anywhere.
LifeDNA vs. Nebula Genomics
| | | |
| --- | --- | --- |
| | LifeDNA | Nebula Genomics |
| Sample collection | Cheek swab | Cheek swab |
| DNA testing method | Proprietary DNA method but also takes genetic data from 23andMe, Ancestry, or MyHeritage | Whole Genome Sequencing (30x coverage) |
| Information available | Six reports in one, with regular updates with a Platinum subscription | Regularly updated genetic reports based on the latest research and data |
| Ancestry testing | No | In-depth ancestry reporting with a full Y chromosome and mtDNA sequencing |
| Compatible with other services | Yes (23andMe, Ancestry, MyHeritage, LivingDNA, Family Tree) | Yes (FASTQ, BAM, and VCF files) |
| Information provided | One report per every aspect tested with details, recommendations, and call to action | Regularly updated reports based on the latest research and data (learn more) |
| Cost | $39-$199 | $0, $99, $299 |
Nebula Genomics has enough experience to provide accurate results and on-point recommendations for a healthier you. We are changing the way people diet and allowing them to live more fulfilling lives.
Other companies
Other DNA upload sites you may be interested in are:
Ancestry:
Health:
Did you like our LifeDNA review? You can read more reviews on our blog and check out our complete guide to the best DNA test kit and other home tests.