This review is written with the intent to be as unbiased as possible. However, it represents the opinion of an individual reviewer and is therefore subjective. Furthermore, at Nebula Genomics we seek to educate the public about the benefits of Whole Genome Sequencing. Information about our Whole Genome Sequencing DNA test is therefore incorporated into the review.
January 11, 2021
7 Facts from our Personalabs Review
Location: Fort Myers, Florida
Products: Over 400 lab tests
Ordering: Customers can order all products online without insurance or a doctor's visit
How it works: Customers select and order lab tests online, visit a local lab to conduct the test, and receive results in 24-48 hours
Reports: Results are the quantitative level of the tested components. Customers can choose to follow up with a board-certified physician.
Cost: $29-$1324
PersonaLabs Introduction
Personalabs (Personal Labs) offers customers the opportunity to learn about health conditions by ordering from the comfort of their homes through its vast catalog of lab tests and getting access to either Quest Diagnostics or LabCorp testing locations. The lab test service is a front runner on telemedicine services and aims to make home health services a mainstream way of seeking treatment in the United States and beyond. It also gives patients access to prescriptions for some conditions.
This independent lab testing company aims to give customers control over their health care by providing affordable lab tests for all patients, especially those with no or high-deductible health insurance. By expanding access to lab tests, Personlabs believes it can help more people live healthier and happier lives.
Personalabs offers over 400 affordable blood tests patients can order themselves and test locally at more than 2300 patient service centers nationwide. This company allows customers to order the same tests they would normally get without the doctor order or insurance approvals. It is not meant to replace a patient's primary physician but intended to empower patients by allowing them personal access to certain blood tests.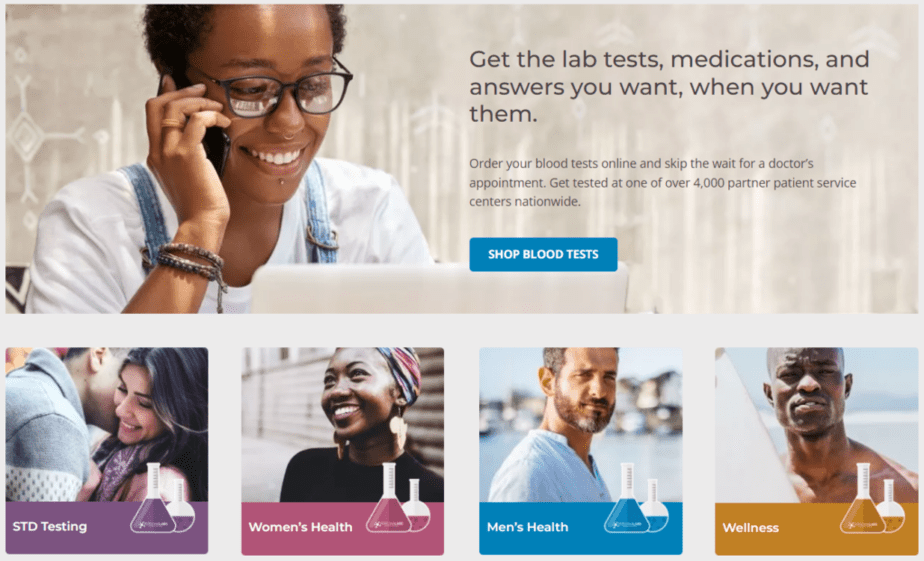 The company was established in 2006 and has grown due to its unique style of service that makes it easy for customers to get services that were almost an impossibility before. Edgar Wilson and Dr. Salko founded the firm in 2006, and the duo has remained an integral part of the company. The company headquarters is based in Fort Myers, Florida.
Review of Personalabs Science
Personalabs aims to give patients better control concerning their health. The company has made it easy for the general public to learn about their general health without insurance approval or having to see a doctor. It states that the aim of providing patients with more data about their health through lab tests is to make them proactive concerning their health and how to control their health.
The science and push for the company is largely tied to its passion for making personal knowledge concerning personal health a common and mainstream option in the United States. With its large number of tests to choose from, the company has stated that people can test for major health issues such as pregnancy, diabetes, autoimmune disorders, heart disease, and sexually transmitted disease, including herpes, syphilis, hepatitis, and HIV/AIDS.
The company has also fully incorporated remote medical counseling under its telemedicine portfolio. This service features expert advice and recommendations from certified and licensed medical doctors to help patients get the right treatment for their condition. They can even write prescriptions for certain conditions.
Review of Taking a Personalabs Test
To take a test, customers start by choosing their test(s), checking out securly, and generating a lab order. In this way, the customer experience is almost identical to other online marketplaces.
Customers then visit a local lab to get their blood work done. They can search for a lab by entering their zip code. All labs are associated with either Quest Diagnostics and LabCorp, leading US clinical laboratories with facilities around the US. Customers should bring their lab order to the appointment.

Generally, results are available on the customer's Personalabs account 24-48 hours after the sample has been collected. Once results are available, customers can choose to schedule a telemedicine follow up with a board-certified physician. While this appointment will come at a separate cost, they tend to be less expensive than a traditional doctor's visit.
Due to local regulations, customers cannot get tests at lab locations in New Jersey, New York, or Rhode Island. 
Review of Personalabs Products and Costs
Personalabs products and services are extremely numerous and designed to give customers a full breakdown of their health conditions through lab testing and telemedicine services. While we cannot review all 400 lab tests, we have provided a snapshot of some of the more popular ones and listed the major categories below.
If unsure, customers can schedule a consultation to decide which test or tests they recommend.
All Categories
On the company website, customers can filter and sort categories.
Test
Cost (Quest/LabCorp)
Allergies
Includes breakdowns by U.S. states
$59-$580 / $65-$1841
Autoimmune disorders / Arthritis
Includes:
Celiac disease
Uric acid (kidney stones)
Rheumatoid arthritis factor
Lupus anticoagulant
$47-$588 / $51-$1208
Cancer screening
Includes:
Prostate-specific Antigen
Male and Female cancer screening
$39-$629 / $29-$783
Diabetes / Kidney / Adrenal gland
$39-$629 / $35-$237
Digestive disorders
$47-$629 / $51-$106
Drugs and drug therapy monitoring
$39-$463 / $29-$544
General health & wellness
Includes:
Thyroid stimulating hormone
$39-$1240 / $29-$250
Heart and stroke
Includes:
Triglycerides
Cholesterol
Coronary risk
$46-$629 / $33-$142
Hormone
$39-$640 / $56-$315
Infectious diseases
$46-1240 / $52-$347
Liver
Includes:
Anemia
$47-1324 / $52-$375
Men's health
$47-$510 / $51-$677
Metals and poisoning
$53-$724 / $60-$291
Nutrition & vitamins
$47-$947 / $48-$549
Pregnancy & fertility
$52-$1240 / $38-$339
STD testing
Other STD testing from home: MyLab Box
$46-$522 / $51-$347
Thyroid / Parathyroid
$39-$215 / $56-$223
Weight loss & fitness
$47-$599 / $51-$484
Women's health
$52-$1240 / $38-$484
Types and costs of Personalabs tests
Review of Personalabs Women's Health blood tests
The Women's Health blood tests are online blood tests specifically for women from the Healthy Female Checkup Blood Test, Female Hormone and Aging Wellness Profile, to Female Cancer Screening Blood Test.
Review of Personalabs Men's Health blood tests
This test category is dedicated to men's health. Blood profile, hormones such as testosterone, and sexual health tests are similar to those for women but specific to male-related health conditions.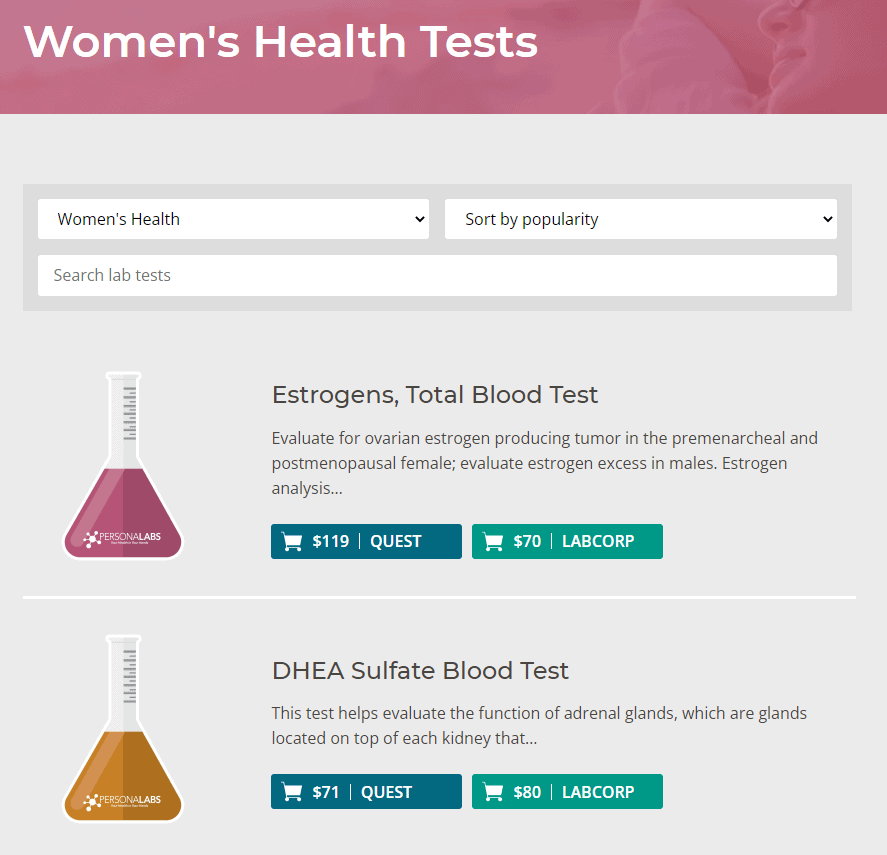 Review of Personalabs Sexual Health blood tests
The Sexual Health Blood Test is a test that helps both men and women know about their sexual health and life. The tests in this category include both STDs testing and other sexual wellness tests.
Review of Personalabs General Wellness blood tests
These include tests for overall health and wellness that all people can take advantage of. Options include blood typing tests, drug screen panels, tests that support diagnosis of chronic and metabolic diseases, and many others.
Telemedicine
The telemedicine service is a service for customers to get medical professional advice and recommendations based on their lab results. This service is carried out between a patient and a board-certified doctor of the company.
The patient consults the doctor just like any other physical-based consultation. 
The steps to getting a telemedicine service are extremely simple and straightforward.
Choose Telehealth Session and Schedule
This step helps patients consult a virtual medical practitioner and pay the consultation fee of $89.00. After payments, patients will get a confirmation email and a number to call to schedule the appointment.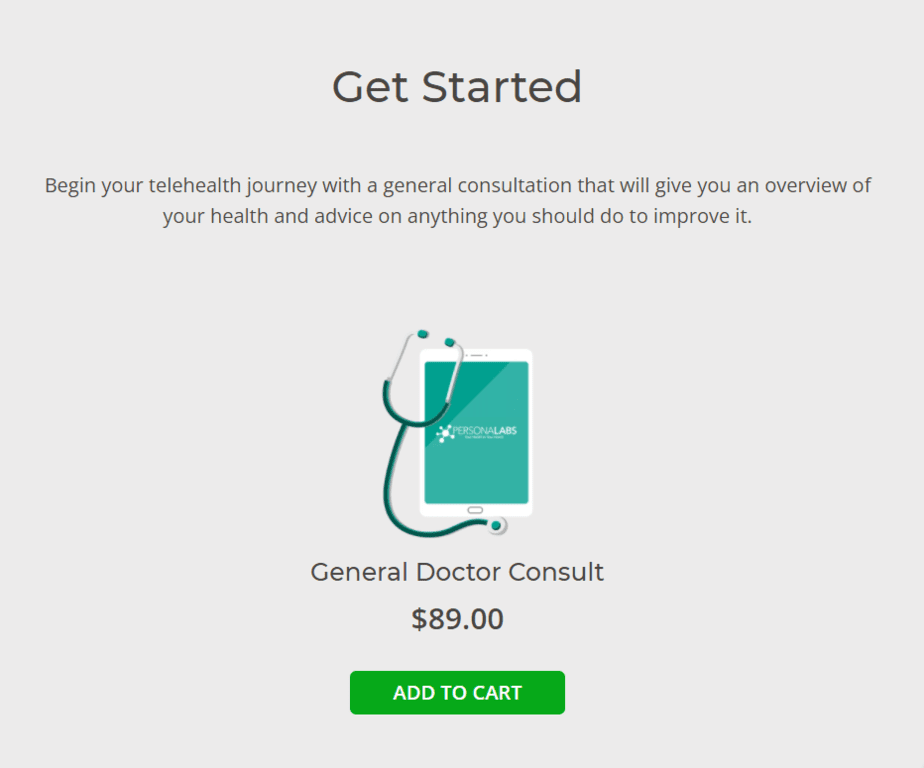 Get Ready for the Appointment
This appointment stage covers the post scheduling stage and everything that prepares patients for their first and subsequent appointment with the doctor. Patients are encouraged to be very descriptive during their appointments with the doctor and discuss specific issues that make it easy for the doctor to provide the best solution. Patients can also help by making all test results available if there are any.
Get Ready for the Telemedicine Health Session
The company advises patients to organize their lighting and camera minutes before starting a session so that they and the medical practitioner can get up to speed right from the very first second.
If, for any reason, that patients may not be able to meet up with their agreed schedule, the company desires that they put a call through to the customer service at least four hours to their session so they can reschedule.
Nebula Genomics
Personalabs is a major lab testing company that delivers home ordering to patients at their convenience and ensures that they get the same quality that they would have gotten from an in -person doctor's visit. It offers over 400 tests at many locations across the United States to make it extremely easy for people to get their tests without any stress whatsoever. Also, the company offers telehealth services that allow patients who get tested to contact a medical doctor remotely and discuss their results.
Personalabs is a top testing firm that helps patients diagnose known or suspected conditions as well as get a picture of their general health, even without insurance. However, it is important to note that the company does not offer genetic testing. Patients cannot get information on ancestry or DNA through any of its numerous tests.
To hone in on predispositions to disease, Nebula Genomics is a major testing company that performs 30x Whole-Genome Sequencing. This service provides patients with 100% of their genetic information. Through Nebula, customers can assess their entire genome and determine if certain blood tests are right for them. Genetic sequencing with Nebula is affordable and takes some of the guesswork out of taking care of one's health.
Customers can get the most comprehensive view of their genome, and all their DNA says about them using this information. With weekly updated reports, customers can learn more about themselves as more scientific data becomes available.
Below are the complimenting offers of Personalabs and Nebula Genomics.
Verge Genomics vs. Nebula Genomics
| | | |
| --- | --- | --- |
| | Verge Genomics | Nebula Genomics |
| Testing method | Blood and urine tests | 30x whole genome sequencing that allows the sequencing of all 20,000 genes and regulatory regions |
| Ancestry reporting | None | Performs deep ancestry reporting with the complete Y chromosome and mtDNA sequencing |
| Purpose | To provide lab test results on various biomarkers and consultation through its complimenting telemedicine service | Offers genetic testing to provide patients with information on genetic predispositions |
| Data access | No | Yes |
| Cost | $29-$1324 | $0, $99, $299 |
| Report for making medical decisions | Yes | No, but data is of the highest quality and can be used by physicians and genetic counselors |
Personalabs vs Nebula Genomics
Several other companies offer at lab tests that can be ordered from home:
Other reviews include Curology (personalized skincare), Plexaderm (skin anti-aging), Yoga Burn (weight loss) and Medishare, which may be able to help with emergency health bills through cost sharing ministry. You may also be interested in virtual health care such as that offered by PlushCare, Teladoc, and Lemonaid Health!
Did you like our Personalabs review? You can read more reviews on our blog and check out our complete guide to the best DNA test kit and other home tests.