This review is written with the intent to be as unbiased as possible. However, it represents the opinion of an individual reviewer and is therefore subjective. Furthermore, at Nebula Genomics we seek to educate the public about the benefits of Whole Genome Sequencing. Information about our Whole Genome Sequencing DNA test is therefore incorporated into the review.
January 25, 2022
7 Facts from our GenePlanet Review
Location: Several locations in Europe including Ireland, Poland, and Slovenia
Products: Home DNA tests (Premium, MyLifestyle, MyAncestry, MyHealth), medical DNA tests (NIPT, Cancer Screen and VeniSafe), blood tests (MyHeart), and microbiome tests (MyOral)
Cost: $112-$339
Reports: Genetic variant results and lifestyle recommendations available about 5 weeks after the sample arrives at the lab
How it works: Customers can order most tests for themselves online. However, more medical-related tests will require that you get your medical provider to make the application on your behalf. For tests requiring DNA and blood test samples, the patient can mail them directly to the company. The company will request tissue samples from the physician's hospital
Raw Data Access: GenePlanet does not provide access to raw data
Alternative Products: Nebula 30X Whole Genome Sequencing is a genomic profiling test that decodes all the genetic information on your genome
GenePlanet Introduction
GenePlanet was established in 2008 as a genetic testing company to offer a testing process that is fast, accurate, and efficient, claiming to be the leading European provider of innovative healthcare and lifestyle solutions based on preventive genetic testing. It now offers nine tests that are highly specific in important areas that impact your health. They offer both preventative tests that can be ordered by the customer as well as clinical tests that can be ordered through a medical professional. Its goal is to help people adjust their lifestyles and best manage genetic conditions and lead healthier lives through personalized recommendations tailored to individuals.
Marko Bitenc is the company's founder and has been the CEO since its establishment. The company even performed preventative genetic testing on their entire team and notes some of the results on their website.

They learned about things like gluten sensitivity, alcohol and caffeine metabolism, baldness, and biological aging. The international team is made up of employees from 20 countries.
The Science Behind GenePlanet
GenePlanet is an R&D oriented company which strives to be at the forefront of new discoveries using their in-house research and development labs. The company has capabilities in several science based areas including:
Bioinformatic analysis of raw biological data
Automated interpretation and integration of human biological and medical data
Big data science
Prenatal testing, biomarker interpretation, whole genome sequencing, polygenic risk scores, pharmacogenetics, disease prevention, diet, sports
Genetic analysis is based on the latest scientific peer-reviewed studies published in the top scientific and medical journals and the company only tests genes for which there is clear scientific evidence. Interpretation is performed using proprietary software and algorithms designed in-house.
Like Nebula Genomics, GenePlanet uses whole genome sequencing to address health issues. Most other genetic testing companies only test for targeted regions that account for less than 0.01% of your genome. Nebula and GenePlanet maps 100%, including coding and non-coding regions which allows them to analyze many more potentially relevant variants for your health. Whole Genome Sequencing is the most comprehensive DNA testing on the planet!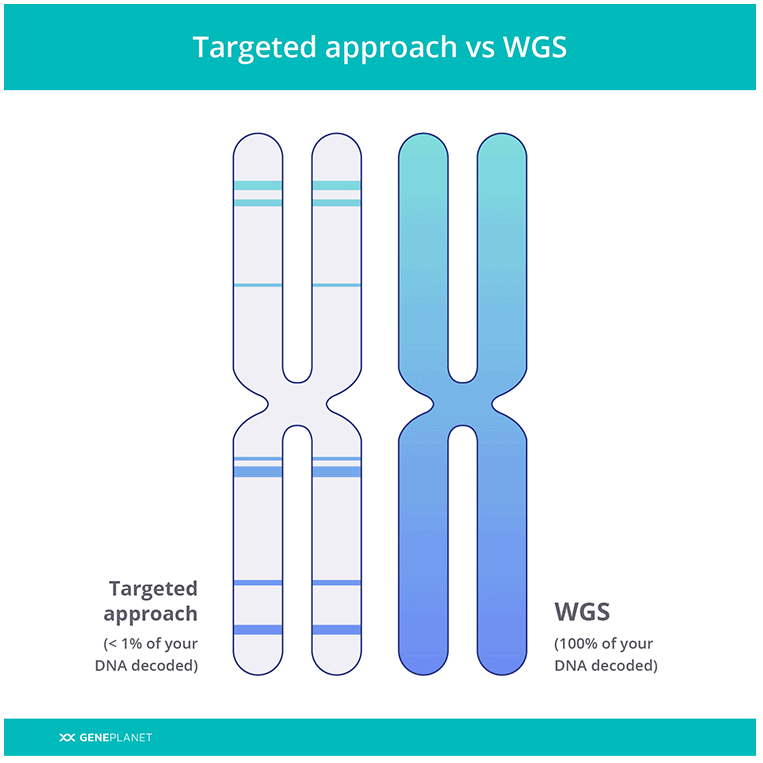 Review of GenePlanet
While GenePlanet offers a lot to users it is important to know how well the company performs in genetic testing services. This section will consider different areas of the firm by reviewing them to help people make a more informed decision.
Taking a GenePlanet Test
Ordering many GenePlanet test kits is easy to do from home. All users need to do is register and activate their account. There are different products/test categories, and users can directly order some while they will need their health expert to make the order for some.
For the HomeDNA Tests, users can make the order themselves. All they need to do is click on any of the four tests and click on the Buy Now icon. The test kit will arrive at the address provided in 2-7 days. Users will take a saliva sample using the provided instructions and mail the sample back to the lab with the pre addressed envelope. Results will be uploaded to the users' accounts approximately five weeks after the sample arrives at the lab.
Medical experts will need to make the order on behalf of their patients for other tests. The processes are, however, the same. Patients will have to offer their saliva swabs which the medical practitioner will mail to the lab. Results will be available to patients directly.
Only the HomeDNA tests are available in the United States. The medical tests can be ordered by residents in other countries in Europe and beyond.
Review of GenePlanet Products
GenePlanet offers four categories of products.
Home DNA Tests
MyLifestyle DNA Test
This test explores over 70 critical areas of your lifestyle, including: nutrition and sports:
Diet and nutrition (tips for a healthy diet and losing weight)
Sport and recreation (including resting heart rate and endurance)
Body and mind (including ways to manage stress and sleep)
It includes access to the mobile app, health score (numerical representation of wellbeing which takes into account current body measurements), and food ID (a list of over 500 foods ranked for your unique genetic profile).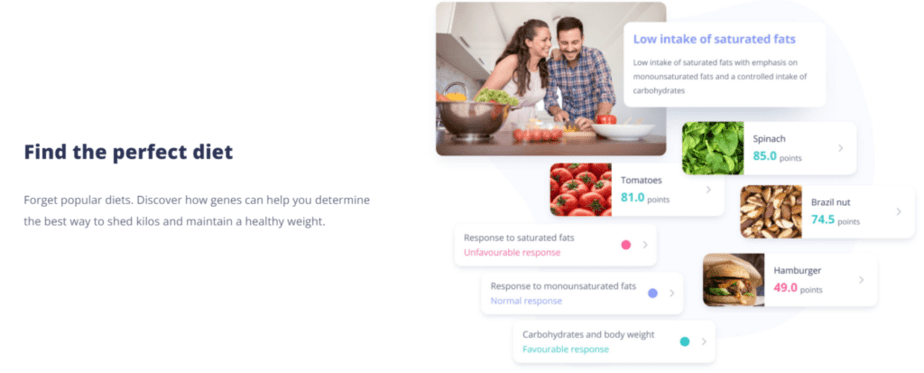 With this test, you would discover things like the recommended diet to help you keep a healthy weight, learn more about your character traits, sleep, your body sensitivity, how your body responds to stress, the best sports that align with your physical activity needs, your immune defenses, and how to boost your immune system.
MyHealth DNA Test
This DNA test reveals 5 analyses to help assess your immune system to determine your risk for a severe form of COVID-19, different types of cancer (10 analyses), and other health conditions. Knowing your health status and risk of various diseases would help you choose the suitable lifestyle habits for your genes, protect you from future health disasters, and help you stay healthy.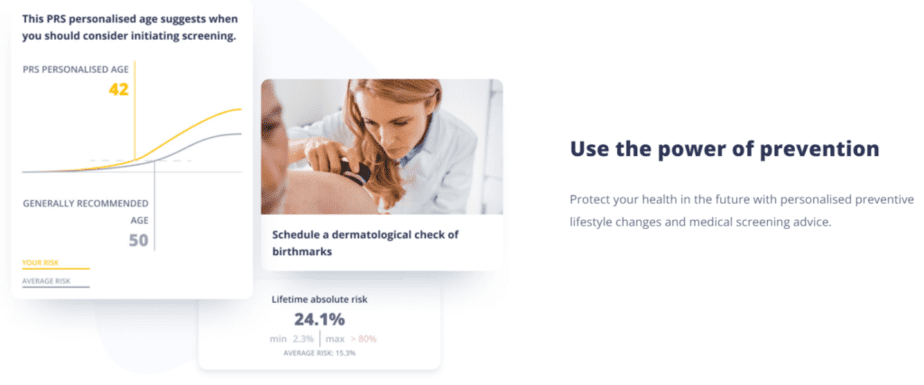 After the test, you would get medical screening advice and customized preventive lifestyle changes.
MyAncestry DNA Test
This test uses 5 analyses to help examine your genetic predispositions linked to physical traits like hair thickness, sensitivity to pain, and resilience to cold.
The test also performs 5 ancestry analyses to help determine the Neanderthal traits that you carry, where your maternal ancestors originate from, explore ethnicity and determine the similarity of your DNA to various population groups in the world.
Premium DNA Tests
With over 100 analyses, this test helps users explore their genetic history, physical traits, immune health, and many others. These test major services include:
Determine users risk for diseases
Evaluate oral cavity
Recommend the best diet for gene
Sort out the best sports activities ideal for the body,
Analyze the best way to respond to sleep, stress, and body sensitivity to pain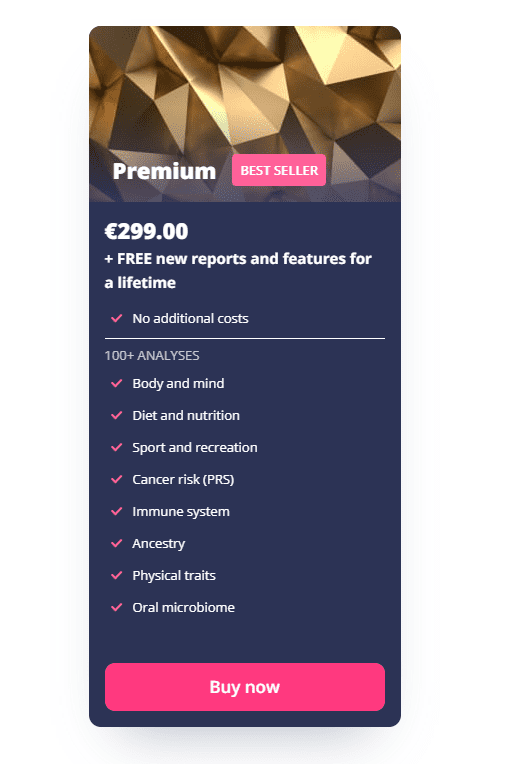 The Premium pack combines all of the features of the MyLifestyle, MyHealth, and MyAncestry DNA tests as well as the MyOral microbiome test.
Medical DNA Tests
These tests are not available in the United States but are approved in many countries in Europe and other places in the world.
NIPT
This is a non-invasive test that helps detect any genetic abnormalities in the DNA of a child, such as Patau syndrome, down syndrome, and Edward syndrome. This test is recommended for pregnant women in early pregnancy of 10 weeks.
It doesn't cause miscarriages and is suitable for women 35 years and above, women from families with a history of chromosomal conditions, and those whose first-trimester screening showed a high risk of aneuploidy.
Cancer Screen
This test examines your gene for a genetic mutation that increases your chances of having a hereditary form of cancer. The test will help you to take preventive measures against the disease.
It is recommended for everyone who wants to take timely preventive measures against cancer, those who belong to ethnic groups that are carriers of mutations, those from a family with a known mutation, and those whose family has a history of cancer.
VeniSafe Test
This genetic test helps determine if you are at a high risk of having VTE (Venous thromboembolism). VTE is deadly and can affect men and women without warning symptoms, but it can be prevented. With this test, you would know how to avoid pregnancy complications, the most suitable contraceptive for you, and preventive measures to reduce your chances of having VTE.
Blood Tests
MyHeart blood Test
This simple blood test that can be taken at home helps examine key cardiovascular blood markers to protect you from potential health complications and improve heart health. Blood test results include color coded categories that address the following:
Total cholesterol
HDL cholesterol
LDL cholesterol
Triglycerides
TG/HDL ratio
HbA1c
hs-CRP
Microbiome Tests
MyOral
MyOral microbiome test is a test that gives you personal information about the microbiome in your mouth so you can follow a customized recommendation to help improve your digestive and oral health. Simple changes can predict or stop diseases before they form.
The analyses performed with this test include:
Amount of microbial DNA
Microbial profile
Microbial associations with various disease such as gum disease and tooth decay
MyOral can be purchased as part of the premium product.
Review of GenePlanet Cost
GenePlanet costs are average for their at-home tests and may be considered high by some users, ranging from €99 ($112) to €299 ($339).
MyLifestyle: €199 ($226)
MyHealth: €199 ($226)
MyAncestry: €99 ($112)
Premium: €299 ($339)
MyHeart: €99 ($112)
MyOral: Included in the Premium test
Review of GenePlanet Reports
The following table compares the various aspects involved in the reports for the take home DNA tests. In all cases, your report is updated regularly with new insights and discoveries.
| | MyLifestyle | MyHealth | MyAncestry | Premium |
| --- | --- | --- | --- | --- |
| Number of analysis | 77 | 15 | 10 | 100+ |
| Diet and nutrition | Yes | No | No | Yes |
| Sports and recreation | Yes | No | No | Yes |
| Body and mind | Yes | No | No | Yes |
| Cancer risk | No | Yes | No | Yes |
| Immune system | No | Yes | No | Yes |
| Ancestry | No | No | Yes | Yes |
| Traits | No | No | Yes | Yes |
| Oral microbiome | No | No | No | Yes |
GenePlanet Reports
Review of GenePlanet Privacy
GenePlanet takes customer privacy seriously to ensure that no personal data or medical details get to unauthorized hands. The company has a dedicated privacy policy page that discusses everything that users should know about their data.
Users' data may get to third parties and partner companies in order to give a better and comprehensive test. The company does not release raw data to customers or unauthorized persons. They, however, use this data to ensure better testing accuracy. In addition, a user can deactivate their account if they no longer need the services. The process of deactivation can be found in the company Terms and Conditions.
Other GenePlanet Reviews
Online reviews tend to rate the company very highly. Trustpilot gives the company 4.8 out of 5 stars based on over 50 reviews. Customers praised the results for being easy, straightforward, and useful for making overall lifestyle changes. They also reported good interactions with customer support.
There are also several positive customer reviews on the company's website with 71.2% of customers reported to have improved their overall wellbeing, including reducing waist circumferences (84%) and becoming more active (89%).
Pros and Cons
Pros
Conducts whole genome sequencing
9 individual tests that deals with ancestry and health
Updated reports
Cons
The premium test is more expensive than competitors
No access to raw data
Limited reports
Nebula Genomics
GenePlanet offers users many benefits with its Whole Genome Sequencing. This type of sequencing decodes 100% of your DNA to provide comprehensive results in areas such as ancestry, health, cancer, and much more. This sequencing offers better coverage than most DNA testing companies that only sequence 0.2%.
Just Like GenePlanet, Nebula Genomics offers Whole Genome Sequencing for customers to order and perform at home. Nebula even goes further by sequencing the data 30 times for the best accuracy, giving it the name of 30x Whole-Genome Sequencing.
Nebula's price is competitive, offering whole genome sequencing for $299 or less. This most expensive option is nearly $40 less than the premium version of GenePlanet.
Plus, Nebula gives you more control over your data. All customers have access to their raw DNA data, allowing them to use it with other companies and continue to explore more variants as more research is conducted. The DNA exploration tools give customers the power to ask and answer questions, instead of receiving a single constructed report. In this way, Nebula hands over an individual's DNA back to the individual.
While GenePlanet provides a clear and comprehensive report on areas of interest, Nebula gives customers the data to explore their DNA for themselves in addition to the reports Nebula finds of interest. A standard Nebula report includes various health predispositions, ancestry, and trait analysis. Similar to GenePlanet, Nebula's reports are regularly updated on the most recent genetic research so that users can get the most out of their DNA sequencing.
GenePlanet vs. Nebula Genomics
| | | |
| --- | --- | --- |
| | GenePlanet | Nebula Genomics |
| DNA testing method | Whole genome sequencing | 30x whole genome sequencing |
| Ancestry reporting | Yes | Perform deep ancestry reporting with the complete Y chromosome and mtDNA sequencing |
| Data access | No | Patients can access raw data on request |
| Report for making medical decisions | Some | No but data is of the highest quality and can be used by physicians and genetic counselors |
| Cost | $112-$339 | $0, $99, $299 |
GenePlanet vs Nebula Genomics
Did you like our GenePlanet review? You can read more reviews on our blog and check out our complete guide to the best DNA test kit and other home tests.
Other companies
This company offers a variety of tests for different inquiries. Other companies that offer different testing options include:
Other companies that offer these types of tests include:
Ancestry
Diet and Fitness
Oral microbiome