This review is written with the intent to be as unbiased as possible. However, it represents the opinion of an individual reviewer and is therefore subjective. Furthermore, at Nebula Genomics we seek to educate the public about the benefits of Whole Genome Sequencing. Information about our Whole Genome Sequencing DNA test is therefore incorporated into the review.
December 28, 2020
7 Facts from our Parsley Health Review
Location: Principal physical office in New York City and a medical clinic in San Francisco, CA
Products: Parsley Health members enjoy holistic medicine through diagnosis, counseling, doctors, health coaches, and care managers
Costs: A $1600 yearly Parsley Health membership that can also be paid monthly at $150/month. There's also a $775 four-month plan that can be paid at $229/month
How to Order: You just need to create an account at their website and subscribe for any of the plans
How it Works: Patients pay for their subscription, complete a medical questionnaire, and later get visited by a doctor. Patients receive a consultation a few days after any ordered tests are complete
Reports: Online medical data includes the info you input and medical notes. Patients can access them on the portal at any time
Edited by Christina Swords, Ph.D.
Parsley Health Introduction
In this Parsley Health review, we will cover all the aspects of this service that uses a holistic view to treat health conditions and offer them a better lifestyle through healthy changes. Parsley Health focuses on finding the root of health conditions, not the symptoms.
Dr. Robin Berzin, MD, started Parsley Health in 2016 as a response to the need for medicine to have a more preventative approach. Dr. Berzin believes that nutrition and wellness are the road to prevention, which should also be a part of a physician's job to guide a patient through.
The company has seen considerable growth since its beginning. It has two main headquarters or centers, one located in Los Angeles and the other in New York City. Since the team is spread all over the country, you can find a Parsley doctor in most states. In 2020, Parsley Health announced a round of Series B funding with investments from funds including FirstMark Capital, Amplo, Alpha Edison, Trail Mix Ventures, Arkitekt Ventures, and Galaxy Digital, as well as individuals including, Nat Turner, founder and CEO of Flatiron Health, and Tom Lee, Founder of One Medical.
Parsley takes care of their patients and follows up with them in three ways:
In-Center – Located as Parsley Health Los Angeles and Parsley Health NYC, these offices provide an appropriate environment for effective treatment and healing.
Online – The advantage of being able to follow-up virtually makes the services available anywhere in the country. There is no servicing outside the US; however, if a patient signs up in the U.S. and moves abroad, the program can continue online.
Labs – The company works on getting a lab near you to test your samples. Parsley Health works with most labs, including LabCorp, Quest, and Bioreference.

As an alternative, they will bring many specialized testing kits to your door. Specialized labs will also be found at the centers, making it the most convenient option for patients living close to them.
According to their central premise, getting to know the genetic composition will better help treat a given condition. Countless studies and research have shown the effect that genetic predisposition has on how well diseases can be treated.
Patients subscribe to a program that starts from collecting available information that may include family history, medications taken, childhood records, genetic studies, ancestry DNA, and more to better understand a condition and follow up with programs aimed at health improvement.
According to Dr. Berzin, regular medicine will not be as effective if based only on symptoms and physicals. The company claims to help most members reduce the usage of drugs by 66%.
If you want to know what your health is like and how to treat it from the root, you should consider DNA testing. Nebula Genomics offers a full genome sequencing service.
But it does not stop with cold numbers and data as Nebula Genomics is not only about testing. Through the latest technology, the company provides reports and follow-up. The weekly reports are based on the most recent research and scientific discoveries.
Review of Parsley Health: Getting Healthier from the Inside Out
Getting Started
We want to point out in this Parsley Health review that the company offers a wide range of services, none of which is specifically a DNA test. They frequently consult with patients who provide their 23 and Me or Genomind results, but this is not at the forefront of the services they offer. The entire scope of what they do involves getting healthier and treating diseases through holistic medicine.
At Parsley, doctors trust a DNA test to determine the genetic predisposition to disease and create a plan. Most DNA companies that they promote, like 23 and Me, only analyze 0.02% of your DNA. At Nebula Genomics, we use Whole Genome Sequencing to decode 100% of your DNA and produce 10,000 times more data than other DNA tests like 23andMe and AncestryDNA.
Review of Parsley Health Cost
Essentially, you, as a patient, find yourself getting symptoms of some sort. Instead of heading for a conventional clinic, where the quality of care for an average American can be subpar and costly, you go online to Parsley Health to "rebuild your health from the inside out."
You can choose from any of three plans:
Free trial (3 weeks). Without any commitment, except having to put down your credit card information, you can get a taste of what the services are and feel like during three weeks. This trial only includes one care manager visit and one health coach visit. Note that there is no medical testing, consultation calls, or diagnosis.
12-month plan ($150/month or $1600 for one year). This, according to the site, is the most popular since paying for a yearly plan (instead of monthly) saves you $200. This plan includes five doctor visits and five health coach visits, among other Parsley Health benefits. Very importantly, this plan includes advanced testing for an additional price. Advanced tests could be bloodwork or specialty tests. Once again, it might not include DNA testing.
4-month plan ($229/month or $775 upfront for four months). You receive most of the same benefits as the 12-month plan, except only for four months, which also includes less doctor and health coach visits. The long term health plan received in the 12-month program is also replaced with a targeted health plan in the 4-month program.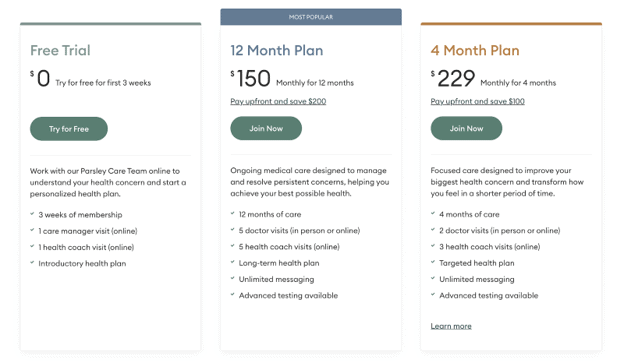 Although blood tests and specialty tests are not covered in the membership price, they are usually covered by FSA/HSA.
Types of Medical Treatment
Once a patient joins, they will receive the benefits of Parsley medicine from three standpoints:
Functional medicine. Diagnosis and treatment from the study of a patient's genetics and lifestyle.
Personalized medicine. A customized treatment for higher effectiveness.
Conventional medicine. In-depth disease diagnosis, analysis, and testing to help the patient feel better.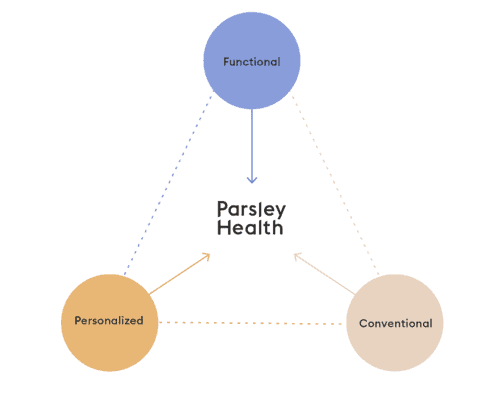 Parsley Health specializes in 8 categories of health conditions:
Digestive issues
Hormonal issues
Maternal support
Autoimmune disease
Mental and brain health
Skin issues
Cardiometabolic/respiratory
How it Works
First, Parsley Health will create a log of the patient's information. This information includes history, genetic predisposition, and lifestyle. Afterwards, a series of blood tests and/or specialty tests are taken to better understand the patient's signs and symptoms.
When the results are complete, the patient is assigned a doctor and a health coach who will visit five times a year (12 month plan), online or in person. The company creates a healthy and personalized program that includes nutrition, diet, healthy lifestyle, nutrition, and much more. To guarantee the patient's wellness, the plan is re-visited every five months to update actionable steps.
Review of a Parsley Health Report
Parsley Health is an organization that follows up through a monthly or yearly subscription package, and part of its service includes on-line access to a patient's medical data and doctor notes through the Parsley Health login.
When a patient first joins the site, they get what the company calls the Parsley Symptom Tracker, a questionnaire about a patient's medical history from their last 14 days. The questions entail nine body systems, including mental health and stress management, digestive issues, and primary care. This tracker keeps tabs on the patient's health as it is retaken over time.
After the questionnaire is complete, you will get your first visit, which will take 60 minutes. On this visit, your doctor will take from what you answered to deepen their knowledge and understanding of your particular health conditions. Next, a physical and a visual exam take place. The doctor will recommend advanced testing, which include bloodwork and specialty tests.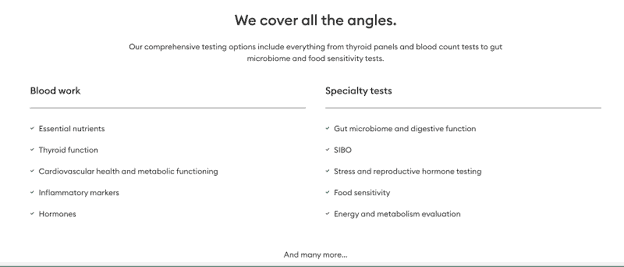 Once these results are in, the doctor will work with you to develop a health plan and achieve goals. All this info gets synced and available for the patient to watch anytime.
Review of Parsley Health Privacy
Parsley claims to be very protective of their patients' privacy. No information is shared with third parties without the patient's consent. It is important to note that a patient's data on health issues and lab work is stored, and Parsley can access it to track progress and assign health goals.
It should be noted that the Parsley Medical company is not a "covered entity" as that term is defined in the Health Insurance Portability and Accountability Act ("HIPAA"), but they have elected to voluntarily substantially comply with the standards set forth in HIPAA.
Parsley Health in the News
In recent years, the company's most noticeable news is a $26 million funding they received to launch telemedicine products. FirstMark Capital led this funding with the participation of several other investors including Mark Hyman M.D., director of the Cleveland Clinic Center for Functional Medicine, Nat Turner, CEO of Flatiron Health; Neil Parikh, Co-Founder of Casper; and Dave Gilboa, Co-Founder of Warby Parker.
The same main investor made a $10 million funding in 2018.
Other Parsley Health Reviews
Let's now take a look at other important Parsley Health reviews from customers. The company is presently not found in TrustPilot or Better Business Bureau, but it does have a 4.5 rating on Google.

They have a relatively strong social media presence and have collected some reviews for themselves. A user on Instagram, for instance, shared the following on "stories:"
"I'm so impressed with @parsleyhealth because it doesn't only feel like an online experience, it feels like going to see someone in person. You can even get diagnostic tests ordered from your doctor and take the order to the nearest lab or doctor near you."
We found this isolated negative review on a website named dirtyscam.com:
"I purchased a product from their site and because of a glitch, it generated two orders, one of which I returned and have yet to receive a refund for. Additionally, they signed me up for a vitamin subscription service that I did not opt into and charged me for that subscription as well. I have been trying to reach someone, but there is no direct line. Their chatbot dropped me twice, and no one is responding to emails. I will NEVER order from them again, nor will I ever consider a membership with them—JUST TERRIBLE!"
Additional Parsley Health reviews can be found on Yelp.
Parsley Health Pros and Cons
Pros
Personalized care; a 1-hour lengthy consultations with a doctor and a health coach
Combines three types of medical approaches to not only treat a condition but to improve an already healthy lifestyle
Offers a three-week free-trial period
The team is composed of highly trained healthcare professionals spread all over the country
Cons
It is costly. A $150 monthly membership fee is the price of some competitors' annual fee
Some of the tests required are expensive and not part of the subscription fee
The subscription fee does not cover supplements, tests, or medications
There is no personalized genetic report of any kind
Nebula Genomics
Nebula Genomics is a leader in providing DNA tests and expert health advice based on genetic composition. Our full DNA sequencing services will map out all your constitution and your predisposition. This information helps develop a plan that will benefit your health for the rest of your days. Our Whole Genome Sequencing data is of the highest quality and can be used by physicians and genetic counselors.
Services are complete and offered at a very competitive price. Nebula Genomics offers an exclusive 30x Whole Genome Sequencing that guarantees a comprehensive look at your entire genetic composition and how it affects both your health and genetic predispositions.
Parsley Health dismisses full DNA sequencing in lieu of other tests that generate less specific results and, therefore, do not provide a complete picture of genetic predisposition. Once you verify all the information that a Whole Genome Sequencing can provide, there is a chance you may wonder how dismissing it is possible if you plan to improve your health with a holistic approach.
| | | |
| --- | --- | --- |
| | Parsley Health | Nebula Genomics |
| Sample collection | Blood | Cheek swab |
| DNA testing method | When they do, they use 23 and Me, which uses microarray-based genotyping | Whole Genome Sequencing (30x coverage) |
| Information available | Patients can check their medical data and progress online | Weekly genetic reports based on the latest research and data (learn more) |
| Ancestry testing | Ancestry testing is only a small part of their screening | In-depth ancestry reporting with a full Y chromosome and mtDNA sequencing |
| Compatible with other services | Yes, in fact, they base off their research on third-party testing | Yes (FASTQ, BAM, and VCF files) |
| Information provided | Online access to medical data, routines, information, and next steps | Weekly reports based on the latest research and data (learn more) |
| Cost | $1600 for a yearly subscription | $0 – $299 |
Parsley Health vs Nebula Genomics
If you're interested in doctor-led care with at home health testing, you may be interested in these other reviews.
Diagnostics:
Includes carrier status:
Mental health:
Genomind (pharmacogenomic testing for mental health treatment)
GeneSight (clinical genomic test for psychotropics)
Rare diseases:
Other at-home lab tests you may want to look at are BlueChew (at home diagnosis and prescriptions for erectile dysfunction), Everlywell (wide range of health and wellness tests), LetsGetChecked (wide range of health and wellness tests), and MyLab Box (at-home STD testing).
Did you like our Parsley Health review? You can read more reviews on our blog and check out our complete guide to the best DNA test kit and other home tests.