This review is written with the intent to be as unbiased as possible. However, it represents the opinion of an individual reviewer and is therefore subjective. Furthermore, at Nebula Genomics we seek to educate the public about the benefits of Whole Genome Sequencing. Information about our Whole Genome Sequencing DNA test is therefore incorporated into the review.
January 4, 2022
7 Facts from our Sema4 Review
Location: Stamford, CT, United States
Products: Various tests for conditions and several health categories, including oncology, women's health, expanded carrier screening, hereditary cancer, and COVID-19
Ordering: A medical professional can make an order directly online, while a patient can only order through their doctor or certified professional
Reports: Help to make medical decisions in consultation with a medical professional
Data availability: Not available
Costs: Not available online. Quotes are available by calling the company
Sema4 Introduction
Eric Schadt PhD founded Sema4 at the same time as its parent company Sema4 Holdings and was the first service in the corporation. He created the company out of the Ichan School of Medicine (ISM) at Mount Sinai health system in 2017 with a focus on providing high-quality healthcare services to patients.
The company founders sought to provide transforming healthcare in women's health and cancer for all patients. Right from the start, the company used the combination of AI and human genetics for test and diagnosis, and to date, all its added products take advantage of these technologies. They also engage in active genomic research that includes data science and engineering, network modeling, and molecular profiling.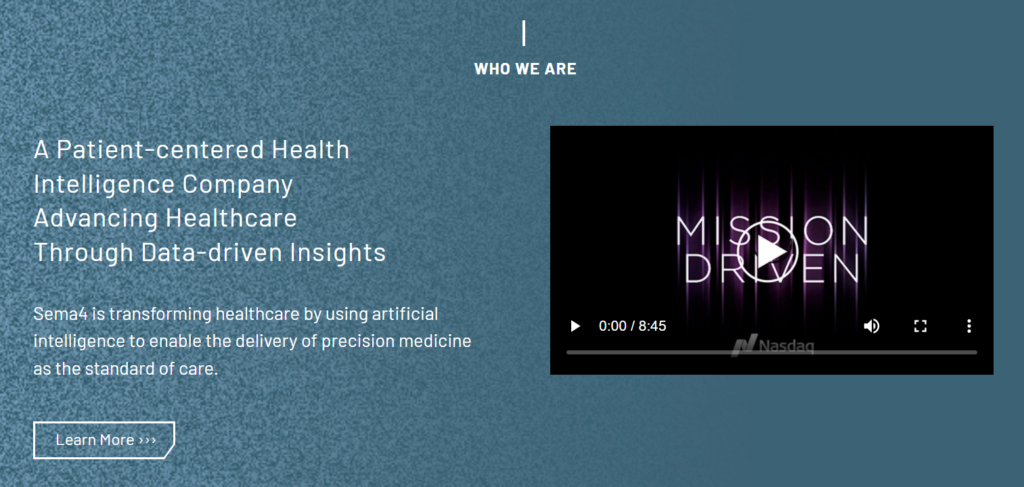 The executives as of 2021 are Kareem Saad, Tony Prentice, Karen White, and others. Its headquarter is in Stamford, Connecticut, United States, and it performs tests throughout the United States.
Sema4 is patient-focused. However, the company does not directly perform tests for patients but offers them through a patient's doctor.    
Sema4 became a public firm trading on Nasdaq in 2021.
The Science of Sema4
Sema4 is a genetic and AI-enhanced test firm dedicated to patients interested in learning about certain underlying conditions that they experience due to their ancestry and genetics. It also offers next generation genetic sequencing for people who are not yet experiencing symptoms but suspect that their familial line may have a particular condition to which they are susceptible.
The firm aims to accelerate the development and scaling of its health intelligence platform so as to enhance precision medicine and treatment for these conditions. While it is clearly focused on ensuring that patients and doctors trust its algorithms and test results for various conditions it offers solutions on, it also seeks to make its pricing cheaper and competitive.
Sem4 doesn't just perform tests like an average genetic testing company. While it does not offer a Whole-Genome Sequencing, its test panels are highly specific to give the best possible health information on a particular condition.
Taking a Sema4 Test
A doctor must order these tests. Patients and their doctor will consult on the appropriate test, which the doctor can order from the test catalog on the company website. For each test, the doctor is provided with a provider brochure, a requisition form, and a genetic testing consent form. 
The test includes specimen requirements. Usually, this will be a small blood, saliva, or cheek swab sample, which the patient will have collected at the doctor's office. They will then send the sample and other paperwork to the Sema4 lab. 
After submission, the lab analyzes the sample and makes results available usually between 2-4 weeks. Patients will receive notice as to when their results are available. A genetic counselor may contact them to explain the results if it is convenient and offer advice and answer questions.
Review of Sema4 Products
While the company does not offer genetic testing on every condition, it has over a hundred panels in its test catalogs that users can register for to know their susceptibility or nature of a particular condition.
Signal Hereditary Cancer
Signal Hereditary Cancer panels help give extremely accurate and personalized tests to allow patients the knowledge if they have the genes that make them susceptible to hereditary cancer.
The Signal Hereditary Cancer test covers 18 panels, including a universal test panel that includes 107 genes. The other 17 panels are cancer type specific but also cover several genes.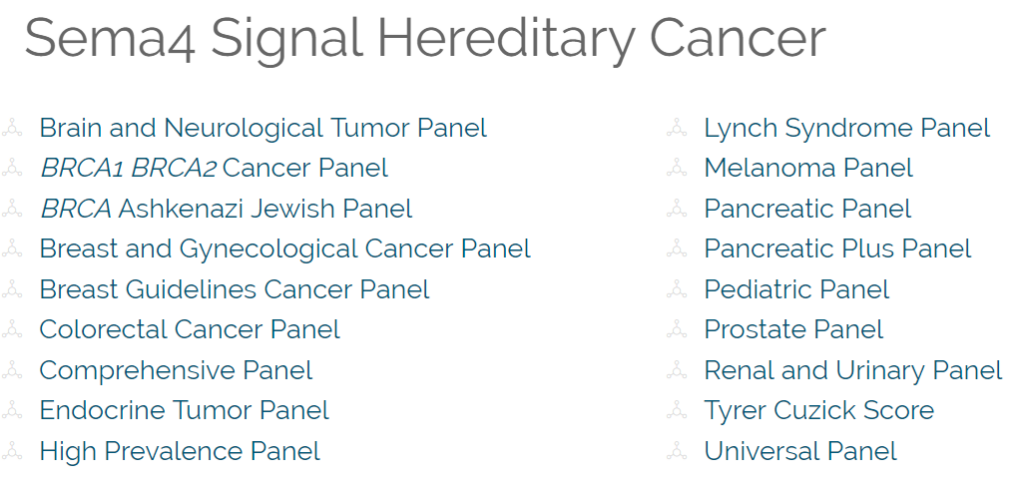 Patients can also explore other cancer testing options that include WES/WTS, PanCancer, and solid tumor tests.
The company notes patients can use its oncology solutions individually, or in combination to provide holistic care. It's largely technology driven approach aims to identify, treat, and monitor cancer in patients.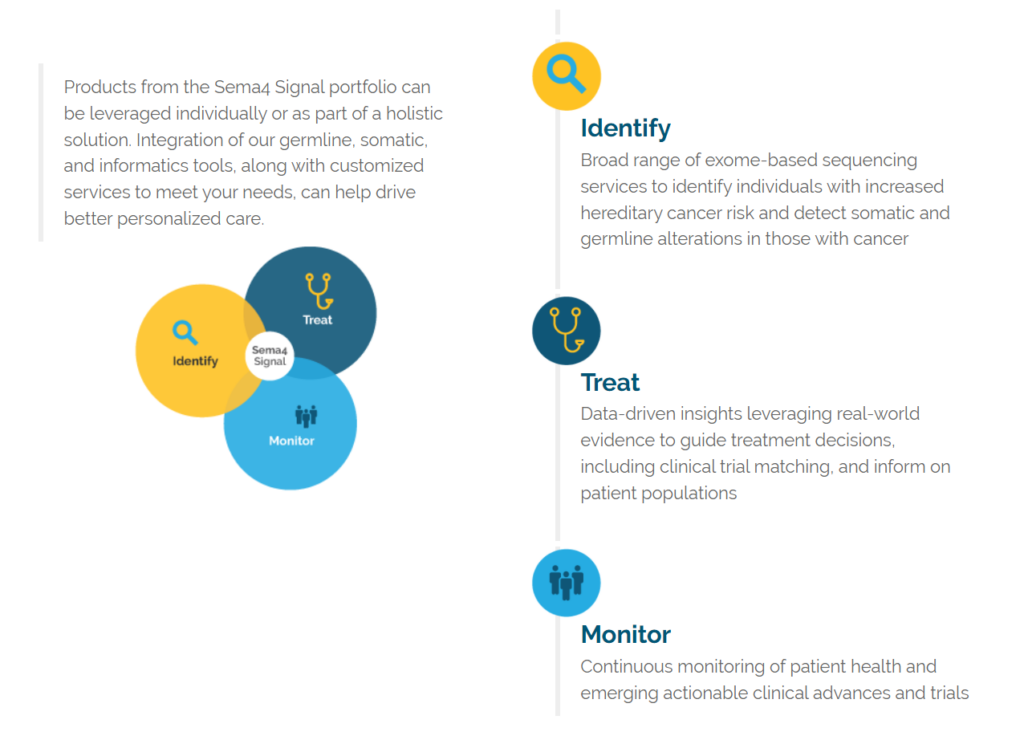 Reproductive and Prenatal Testing
The Expanded Carrier Screening is one of the newest innovations of Sema4 dedicated to women and child health. This screening test is for pregnant and expectant mothers to make healthier choices for the future of their unborn kids. The ECS is one of the most comprehensive and accurate carrier screens that help expectant mothers know the likelihood of transferring a genetic condition to their unborn child. Patients often use this test in combination with the company's noninvasive prenatal testing.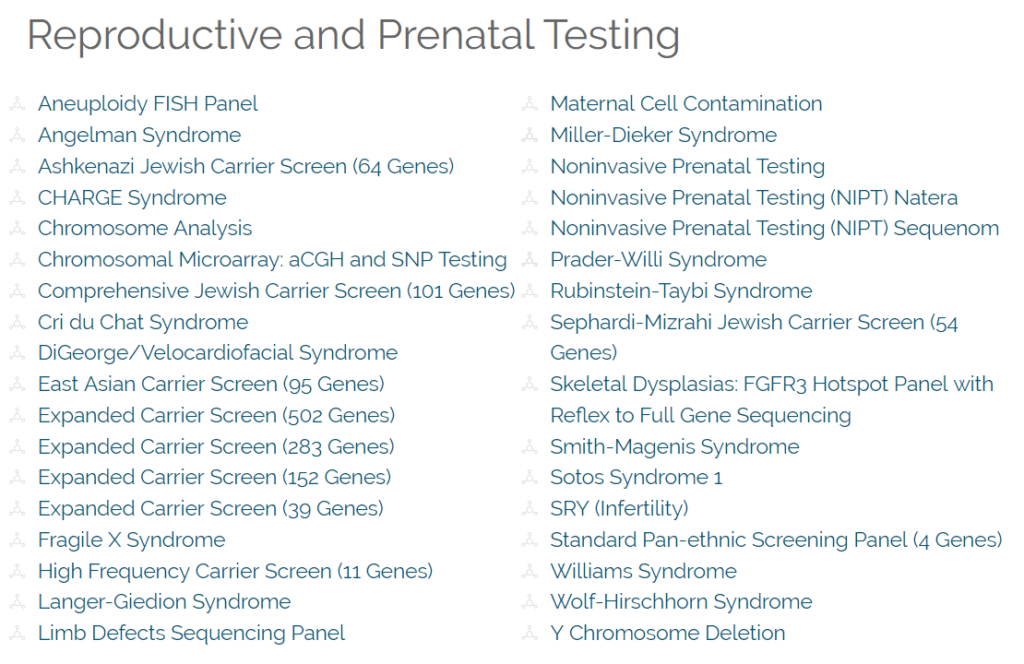 The test uses the latest technologies to calculate the possibilities of genetic susceptibility to an unborn child. To perform the test, a patient will only need to provide a blood or saliva sample and get access to accurate risk precision of their child susceptibility.
Along with newborn screening and hereditary cancer tests, the reproductive and prenatal testing is part of a larger cohort of tests for Women's Health.
Women's Health
Sema4 is highly dedicated to ensuring better health for women and, as such, offers various test panels on different stages of a woman's life.
The company offers gold-standard testing for carrier screening, noninvasive prenatal testing, postnatal testing, as well as preventative hereditary cancer testing.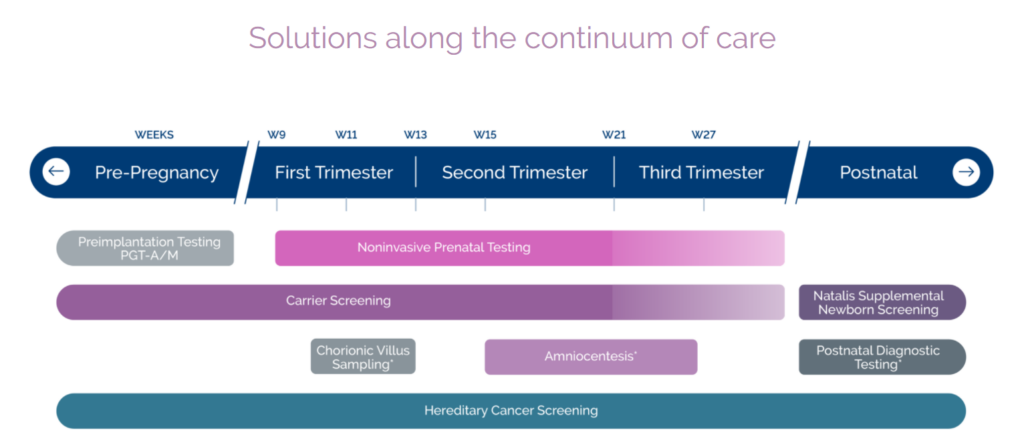 Postnatal testing detects 193 childhood conditions, many of which carrier screening, standard prenatal tests, or state newborn screening alone can't detect. It also includes a pharmacogenomic (PGx) analysis of a child's response to more than 40 medications that a doctor may prescribe during childhood, including common antibiotics.
Biopharma
Sema4 uses advanced data engineering and data science approaches to effectively leverage vast patients' genomic and clinical data in creating better medicine and drug development. The company seeks to deliver value at the pre-clinical, clinical, and commercial drug development stages for biopharma companies.
Sema4 has world-leading expertise and capabilities complemented by an interdisciplinary team of scientists, clinicians, and data engineers powered by one of the leading genomics laboratories to discover new possibilities and blaze new trails for drug production.

Companies and health care systems can contact the company to establish partnerships.
Genetic Counseling
This service is only available after the patient receives their testing results and a positive result and/or genetic variants of uncertain significance (VUS) are discovered. An expert counselor will contact you to explain the results. The counselor will also give advice on how the results will affect the patient and their family.
Review of Sema4 Cost
Sema4 is a diagnostic test ordered through physicians and thus is usually covered through insurance billing. The company works with most major insurances including Aetna, Blue Cross Blue Shield, Cigna, Humana, and United Healthcare. Billing specialists are available for patients interested in learning more about how much can be covered.
Review of Sema4 Reports
There are different types of results for different tests. However, each has the analytical part and the summary part. The sample report for hereditary cancer shows the summary section of the result, which clearly identifies a positive pathogenic variant and the type of disease that this variant may affect.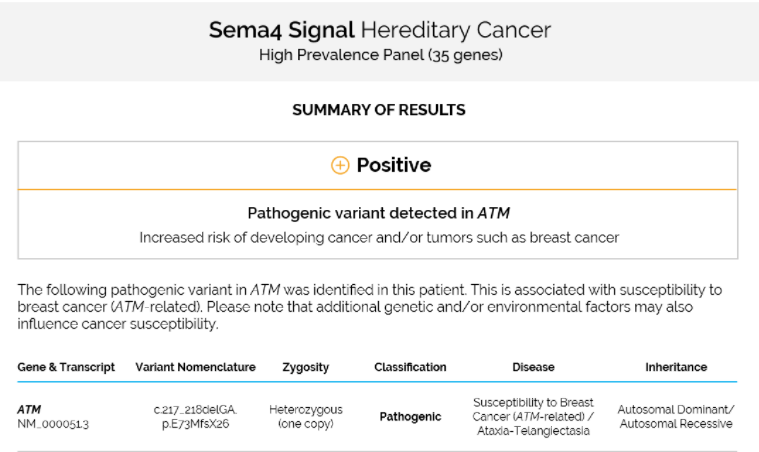 Cancer risks and recommendations are also provided on the first page.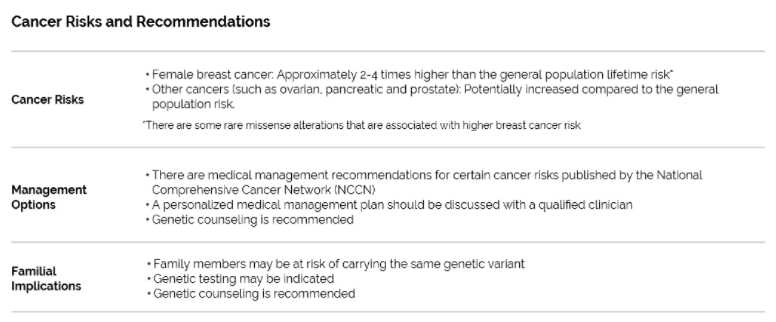 The reports can be from 5-20 pages long. After the summary page, more analytical information is provided for the health professional to help identify details of the diagnosis.
Prenatal and postnatal carrier screens will look similar and present relevant findings related to genes that pose risk of developing genetic disorders.
Review of Sema4 Privacy
Sema4 has a good privacy policy that is user-centered and ensures no mishandling of private information. Users can trust the company to securely protect their data and keep it away from unauthorized parties. The company privacy policy explicitly states that all information, including personal details it collects from patients, is solely used for testing and diagnostic purposes.
However, the company may share users' data with their partnering bodies when necessary, especially in providing better tests and diagnosis.
The company also has a notice on privacy practices that give specific information on how it handles protected health information.
Working at Sema4
Sema4 employees generally have good things to say about the company, ranking it with 4 out of 5 stars on Glassdoor. Notable reviews today announced that they learned a lot from good lab experience but upper management experience at sema4 could be improved.
Pros and Cons
Pros
A variety of tests that provide accurate information for the respective conditions
A focus on women's health and pregnancy
User-friendly privacy policy
Cons
Information on the website could be confusing
A health professional must order the tests
The cost of the tests is not available to the public
Nebula Genomics
Sema4 is especially known for its comprehensive genetic testing for specific hereditary conditions and women's health during and after pregnancy.
The company has a variety of test panels, including the hereditary cancer test and Expanded Carrier screening. However, it is essential to know that the firm does not offer a whole genome test and is limited in how many genes are considered when testing for certain conditions.
Nebula Genomics is a genetic testing company that provides accurate, comprehensive DNA testing for users globally without the need for physician ordering. Nebula offers 30x Whole-Genome Sequencing to sequence 100% of a patient's DNA, a feature that Sema4 does not provide.
The great thing about the Nebula Genomics testing service is that it is affordable. The company offers its comprehensive genetic service for $299 or less. They also provide weekly updates on the most recent genetic research so that users can get the most out of their DNA sequencing.
The test results for Nebula Genomics are easy to analyze, and a user will not need a physician to help with reading results. They can, however, recommend the results to their doctor to help them prescribe the right treatment that they need in handling their condition.
Sema4 vs. Nebula Genomics
| | | |
| --- | --- | --- |
| | Sema4 | Nebula Genomics |
| DNA testing method | At most, 502 genes for specific conditions | Sequences all 20,000 genes and regulatory regions |
| Ancestry reporting | No | Perform deep ancestry reporting with the complete Y chromosome and mtDNA sequencing |
| Data access | No | Yes |
| Cost | Physicians must call for a quote | $0, $99, $299 |
| Report for making medical decisions | Yes | No, but data is of the highest quality and can be used by physicians and genetic counselors |
Sema4 vs Nebula Genomics
Did you like our Sema4 review? You can read more reviews on our blog and check out our complete guide to the best DNA test kit and other home tests.
Other companies
You may want to check out other companies that offer diagnostic testing.
If you are particularly interested in women's health and carrier screens, you may also want to check out:
Health and diagnostics:
Mental health:
GeneSight (clinical genomic test for psychotropics)
Genomind (pharmacogenomic testing for mental health treatment)
Rare diseases:
Tumor genetics for personalized treatment: