This review is written with the intent to be as unbiased as possible. However, it represents the opinion of an individual reviewer and is therefore subjective. Furthermore, at Nebula Genomics we seek to educate the public about the benefits of Whole Genome Sequencing. Information about our Whole Genome Sequencing DNA test is therefore incorporated into the review.
July 30, 2021
7 Facts from our Fulgent Genetics Review
Fulgent Genomics Location: Temple City, CA
Products: This company offers various products that include gene panels for certain conditions, tests for known mutations, and sequencing services
Ordering: Orders can be made online or at a doctor's office
Reports: Help to make medical decisions in consultation with a medical provider
Data availability: Data download is not available for most tests
Costs: Not available online. Quotes available by calling the company.
Fulgent Genetics Introduction
Fulgent Genetics is a clinical next generation sequencing firm based in two locations: their main headquarters in Temple City, California, and a smaller branch in Houston, Texas. The advanced genetic technology company is dedicated to everything genetics, and this includes testing, bulk distribution of kits to institutions, genetic counseling, and sequencing services, among a host of others.
The company was founded in 2011. It is headed by Ming Hsieh, who serves as chairman and CEO of the firm. As a company that offers testing and counseling, patients can easily book an appointment at any of the offices or online.
Patients could book an appointment at their doctor's office or book a one-time appointment on personal request. As it is with most genetic testing companies, patients will provide their medical records and family medical history to review if they are eligible for any of the services offered. If a test is carried out based on a doctor's order, a copy of the result will be provided to both the doctor and the patient.
According to the company's mission, their major drive is to provide patients with affordability, flexibility, and quick response. Its subsidized pricing is one of its most impressive features, which has drawn a lot of popularity.
Following the rise of the COVID-19 pandemic, the company additionally focused on delivering COVID-19 tests and continues to do so today. It also has an off shout company called Picture Genetics, which focuses on easy at-home testing.
Interested in COVID-19 travel tests? Kurix Health and Project Screen offer special testing meeting requirements for departing and arriving in the UK.
Interested in sequencing your whole genome? Nebula Genomics offers the most affordable Whole Genome Sequencing that decodes 100% of your DNA! We also provide new reports every week that are based on the latest scientific discoveries.
Review of Fulgent Genetics
The company offers a wide range of genetic panels for various conditions. The possible conditions are organized into categories to help customers find their condition of interest. There are additional categories for hereditary cancer, newborn genetics, tumor profiling, and carrier screening.
Ordering a Fulgent Genetics test
Customers would usually need to purchase the DNA test kit online. However, it is essential to note that Fulgent Genetics kits are for the use of physicians, genetic counselors, or other medical professionals. Also, the costs of tests vary, and institutional, insurance, and self-pay pricing are available. If a patient wants to perform a genetic test, the best option will be to contact their physician to make the order on their behalf.
Order the kit online: Patients should contact their physicians to order a kit. Medical professionals can order kits for their patients online by clicking on the "request kits" menu and following the instructions.
There are four different types of kits
General Kits
Beacon Carrier Screening Kits
Somatic Solid Tumor Kits
Preimplantation Genetic Testing for Aneuploidy (PGT-A) Kits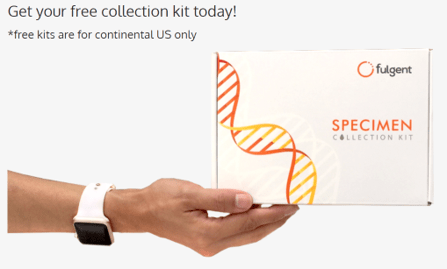 If ordering a general kit or a beacon carrier screening kit, you can choose the type of specimen collection. Either the 2 EDTA blood tubes or the 1 saliva collection kit are preferred but the buccal/cheek swab collection method is also an option.
All Fulgent test kit contains the following
A Fulgent Test Requisition Form
A specimen transport bag
A set of specimen containers
For general testing, either:
Fulgent saliva collection kit
2 EDTA purple top tubes
1 buccal/cheek swab
For somatic testing:
For preimplantation genetic testing
Additional materials are specific to the type of kit requested.
Taking a Fulgent Genetics test
To perform the test, most kits require either several drops of blood, a saliva collection, or a cheek swab depending on the type of collection method chosen. More complex tissues may be needed for certain tests. Your physician will discuss these collection methods with you.
In most cases, you can collect the sample at home and return it to the laboratory for sequencing and analysis. You must print out a completed requisition form and include it with your sample. Ensure that the samples have been collected correctly and fill in all required information on the tube labels. Then, you just need to insert the collected sample and the form into the shipping bag provided and mail it to the lab where lab techs and specialists will sequence your data.
Results are sent to the physician who ordered the test. Patients can follow up with their doctor or a genetic counselor to discuss the results and any future medical decisions.
Review of Fulgent Genetics Products
Fulgent Genetics offers genetic services on every major issue and condition. The firm major products are:

Genes & Panels
The firm boasts of over 800+ tests and 18000+ genes. Iff gene professionals cannot find a panel that suits a patient's needs, they can create a Custom NGS panel using any of the 18,000+ genes.
To help patients and physicians find what they need, the panels are divided into the following categories:
Hereditary Cancer
Blood
Cardiovascular
Dental
Endocrine
Epilepsy
Eye
Hearing
Immune
Liver
Lung
Metabolic
Muscular/skeletal
Neurological
Renal
Reproductive genetics
Skin
Once a category is selected, customers will see a list of specific conditions they may want to focus on, such as cardiomyopathy and arrhythmia under the cardiovascular category.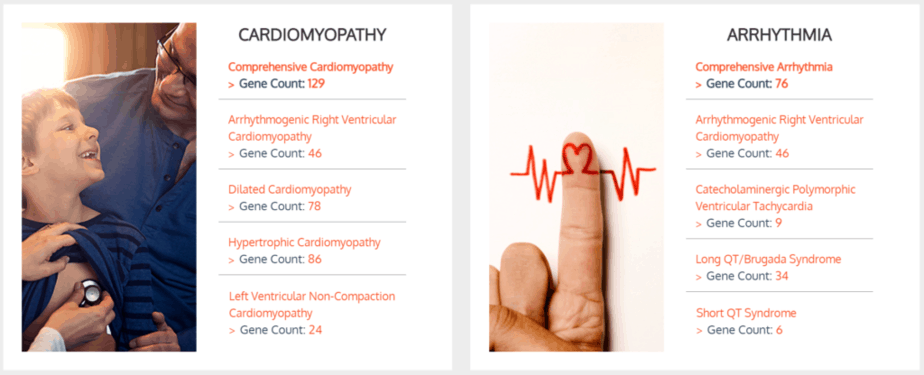 Each panel comes with a description of the test that includes information on the conditions involved and who should take this test.

This page contains additional information on the genes tested for, the coverage, and specimen collection. Physicians can also get information on test limitations, diagnostic potential, and clinical information such as the CPT codes.
Known Mutation
Some patients may be interested in only one or a few genes specific to their family history. In this case, the company offers rapid and accurate testing of specific mutations using innovative sequencing methodology. Detection status is reported in an informative and concise report.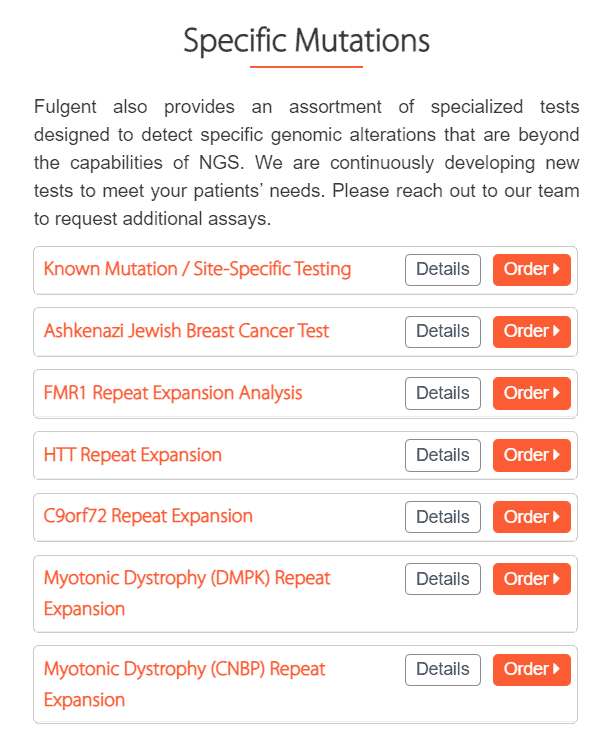 Genomic Testing
The firm boasts that its exome sequencing options are patient-centric, phenotype-driven analyses. They are designed to examine coding regions and splice junctions for thousands of genes and report only the variants that may be of clinical relevance to your patient.
Hereditary Cancer
Fulgent Focus Cancer Panels target 30 genes associated with high/moderate risk for hereditary cancer syndromes and established clinical management guidelines for disease-causing variants. These panels balance the detection of pathogenic cancer susceptibility mutations and minimize the number of reported variants of unknown clinical significance.
Interested in genetic testing for hereditary cancer? You may be interested in these posts:
Carrier Screening
Fulgent's Beacon Carrier Screening Tests claim to analyze possible pathogenic carrier mutations for over 400 conditions.
Tumor Profiling
Fulgent's Solid Tumor Molecular Profile targets 170 cancer-related genes carefully selected to provide a comprehensive and efficient analysis of therapeutically relevant alterations as well as those being studied in current and upcoming clinical trials.
Sequencing Service
Fulgent provides comprehensive NGS-based clinical and research sequencing services with acclaimed competitive prices and fast turnaround times. The firm sequencing service includes:
Whole Genome & Whole Exome Sequencing
Methylation Sequencing
RNA Sequencing
Mitochondrial DNA Sequencing
Rent-a-Lane Services
Oncology
Single Cell
Review of Fulgent Genetics Cost
Fulgent claims to provide some of the best affordable prices for its genetic services. Unlike competitors, the company keeps its costs private and only makes them available through calling for a quote.
Review of a Fulgent Genetics Report
The firm publishes monthly blog reports that are related to genetics. The patient reports for each customer are provided to the customer's doctor who ordered the test. The results are clinical in nature and should only be interpreted by a health care professional.

Review of Fulgent Genetics Privacy
Fulgent Genetics is extremely confidential with users' details and always seeks to keep customers' data safe at all times. The firm has a Notice of Privacy Practices that outlines their general privacy policies.
Other Fulgent Genetics Reviews
Since this company is a clinical diagnostic firm and tests are ordered through a doctor's office, there are not many commercial reviews of the services.
In 2020, 4 Facebook users gave the company 3 out of 5 stars.
Pros and Cons
Pros
The company offers a vast range of products
User friendly technology platform
Health care providers can decide the best product for their patients
Provides clinical diagnostics
Cons
Test kits can only be ordered by health care providers
Results are complicated and intended to be interpreted by genetic counselors
Costs of testing are not made known to the public
Nebula Genomics
Getting your DNA analyzed by a company like Fulgent Genetics is a big step. You will need to work closely with your doctor and/or genetic counselor to order the correct kit. Then, the results will be interpreted in a follow-up appointment – you will not be able to read the results yourself. On the other hand, because the results are so carefully collected and analyzed, they are a diagnostic test that can be used to plan long term treatment and act as an official diagnosis.
Not everyone, especially those without a family history of disease, needs diagnostic DNA testing. That's why companies like Nebula Genomics provide accurate, comprehensive DNA testing for everyone, everywhere. Nebula Genomics offers 30x Whole-Genome Sequencing just like Fulgent which sequences 100% of a patient's DNA. This is much higher coverage than most other DNA testing companies that only sequence 0.2%.
Nebula Genomics offers this comprehensive service for $299 or less. We also provide weekly updates on the most recent genetic research so that you can get the most out of your DNA sequencing. Unlike Fulgent Genetics, results are encouraged to be analyzed by the customer, allowing you to continually explore your genome and learn new insights from your own computer or mobile device.
| | | |
| --- | --- | --- |
| | Fulgent Genomics | Nebula Genomics |
| DNA testing method | Sequencing of up to 18,000 genes | Sequencing all 20,000 genes and regulatory regions |
| Ancestry reporting | Limited | Perform deep ancestry reporting with the complete Y chromosome and mtDNA sequencing |
| Data access | Patients can access data on request | Patients can access data on request |
| Cost | Physicians must call for a quote | $0 – $299 |
| Report for making medical decisions | Yes | No but data is of the highest quality and can be used by physicians and genetic counselors |
Fulgent Genetics vs Nebula Genomics
You can read about other clinical genetic testing companies on our blog.
Diagnostics and disease risks:
Includes carrier status:
Mental health:
GeneSight (clinical genomic test for psychotropics)
Genomind (pharmacogenomic testing for mental health treatment)
Rare diseases:
Tumor genetics for personalized treatment: