7 Facts from our MiaDNA Review
Location: Jerusalem, Yerushalayim, Israel
Products: 4 wellness products and 2 bundles: Children's DNA Discovery, Diet and nutrition, Wellness and lifestyle, Exercise and fitness, Children Discovery + Exercise and fitness bundle, and Diet and nutrition + Exercise and fitness bundle
Cost: $149-$229 for the programs; supplements start at $30/90 days
Reports: Traits and other predispositions on diet, fitness, and behavior for you and your child
How it works: Create an account, buy the product and provide a DNA sample via cheek swab. Send it to the lab and the results will be emailed as a PDF document
Counseling available: No
Alternative Products: Nebula Genomics offers 30X Whole Genome Sequencing that decodes 100% of your DNA and offers reports on diet and much more!
This review is written with the intent to be as unbiased as possible. However, it represents the opinion of an individual reviewer and is therefore subjective. Furthermore, at Nebula Genomics we seek to educate the public about the benefits of Whole Genome Sequencing. Information about our Whole Genome Sequencing DNA test is therefore incorporated into the review.
March 16, 2022
Pros and Cons
Pros
Provide good summaries on 4 important genetic areas
Combined tests are cheaper compared to individual purchase
Easy to understand
Cons
There are not a lot of additional features
Reports can be vague
MiaDNA Introduction
MiaDNA is a genetic testing company that offers 4 at-home products to provide wellness information for children and adults and help customers make smarter life decisions based on their genetic predispositions. Health experts can use this information to draft management plans and prescribe treatments relevant to the customer. The company, which was founded in Jerusalem, Yerushalayim, Israel in 2014, has grown steadily, with advanced test technologies. The company founders are Arik Even-Tov and Avraham Alkabetz.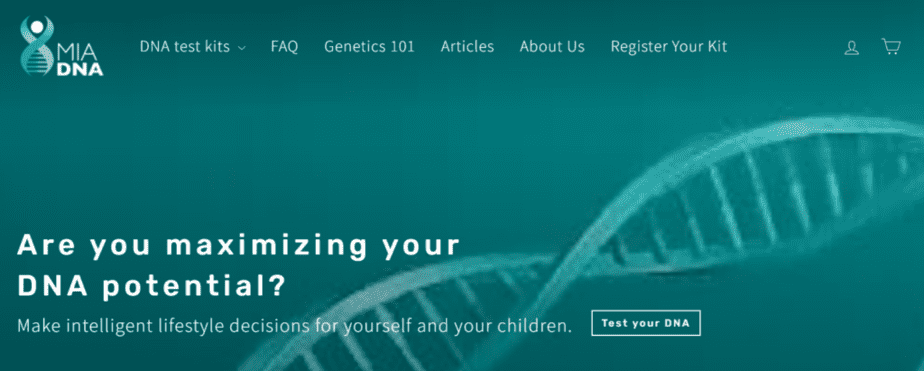 The company states that their mission is to provide easy, affordable access to DNA testing so that customers can understand their genetic makeup. As such, customers can order tests and have them shipped to anywhere in the world.
MiaDNA has continued to improve its test technologies to ensure that patients get the very best results. The children's test panels have been improved to remove any uncertainty and confusion so that health experts can easily administer treatments. The fitness and diet test provides customers with information on the best diet by checking their genes and family history.
Certified Labs throughout London, England analyze the DNA. The company uses microarray technology to link specific genes to certain details involved with diet, exercise and behavioral patterns.
Taking a MiaDNA Test
Taking a MiaDNA is straightforward. All of the products are at-home tests that can be taken at any location. First, you register as a user and purchase your preferred product or bundle out of the ones available. You will be sent a test kit that includes sample collection materials, detailed instructions, and pre-stamped return envelope.

You will take your sample using a buccal swab from your cheek using the supplied sample collection kit. Next, package the sample and send it back to the lab using the prepaid envelope. DNA results are available as a PDF delivered to your email in 4-6 weeks.
Review of MiaDNA Products
MiaDNA sells 4 different products that analyze different aspects of a customer's DNA. Some are designed specifically for children. Additionally, there are bundles that save you money when purchasing two products.
Children's DNA Discovery
The MiaDNA test uses the most recent genetic research to help discover scientific information about your child's DNA, from physical attributes to cognitive abilities. This test could help you understand the ideal sport or position your child should pursue, why your child keeps making mistakes without learning, and how tall your child will be. It also helps you know why your child is daring and reckless, their memory capacity, your child's internal clock, and if your child will become nearsighted in the future. Overall, this health testing helps provide you with information to help you plan your child's future and well-being.
Diet and Nutrition
This MiaDNA test informs you about the suitable diet plan that can help achieve your weight loss goals. It informs you on things such as how to lose or maintain weight, maximize your exercise potential, and why you respond to various foods differently.
This diet and nutrition DNA test reveals how your genetics can affect your diet, and it is ideal for people who want to optimize their diet. This test can be an important addition to weight management strategy because specific genes influence how we desire some food, like why it is difficult for you to get full or snack excessively.
Wellness and Lifestyle
This MiaDNA test helps you learn about your genetic predisposition for specific traits, conditions, behaviors, and how your gene can work favorably for you. It can help you discover if your genes contribute to tendencies for your constant mistakes, your baldness or hair loss issue, your decision-making, and learning pattern, your life span potential, and your memory capacity.
It also helps you discover if your genes are responsible for being a daring risk-taker, your internal clock, your athletic physical potential, and how you deal with stress. This wellness and lifestyle test can help you understand your unique attributes and empower you with information to help you plan your lifestyle and wellness journey.
Exercise and Fitness
This MiaDNA test helps you know the role of your genetics in your athletic performance, thereby enabling you to understand the physical activities that suit you. It allows you to determine your risk of having injuries from sports, how well your body responds to weight loss due to exercise, and how quickly your body can recover from injuries and sports.

It also helps to determine the type of athlete you are, your muscular fiber profile, and your power training. Usually, a person's athletic performance is influenced by nutrition, dieting, training, and coaching. However, your genetic profile plays a vital role in your athletic performance, and with this test, you would be well informed about the activities that best suit you.
Children Discovery + Exercise and Fitness bundle
This MiaDNA test is a special bundle that helps focus the genetic analysis of your child's behavioral, fitness, exercise, and physical tendencies. It also provides information on how your child's genetics influence what they could be or their personality. This kit is ideal for families who want to maximize their child's fitness potential, training, and sports activity.
Diet and Nutrition + Exercise and Fitness bundle
This special bundle helps to determine the perfect diet plan, physical activities, and training that best suits your genes. Instead of wasting your time eating the wrong diet, this DNA test is equipped with the proper diet that suits your body type, achieving your weight loss plan. It is the ultimate bundle for those interested in both diet and fitness components of their wellness plans.
Review of MiaDNA Cost
MiaDNA tests are relatively competitive. While they are not the cheapest tests in the market, they cover different biomarkers and are deserving of their various prices. The prices range from $149 to $229:
Children's DNA Discovery: $149
Diet and nutrition: $149
Wellness and lifestyle: $149
Exercise and fitness: $149
Children Discovery + exercise and fitness bundle: $229
Diet and nutrition + exercise and fitness bundle: $229
Review of MiaDNA Reports
MiaDNA offers reports strictly on genetic predispositions for certain wellness factors such as diet and fitness. For each test, specific traits are tested. For example, the Diet and Nutrition test results include 12 traits:
Loss of eating control
Snacking behavior
Lactose intolerance
Gluten intolerance
Folate
Vitamin B6
Vitamin B12
Vitamin D
Salt sensitivity
Caffeine metabolism
Alcohol reaction
For the Diet and Nutrition test, each report then explains each of the traits and their effects and food replacement suggestions based on your results.
Generally, the reports include a table that lists trait, gene, genotype, and result.
| | | | |
| --- | --- | --- | --- |
| Trait | Gene | Genotype | Result |
| Height | ACTN3 | T:T | Below Average |
| | | | |
Sample of a height trait included in a MiaDNA report
Review of MiaDNA Privacy
MiaDNA takes data privacy very seriously, and as such registered users can be sure of full data protection. Results are delivered privately via email or the secure company website. MiaDNA only uses public and private user submitted data to analyze and gather statistical aggregate information. These statistical analysis generally includes age, gender or any other user characteristic.
Other MiaDNA Reviews
The MiaDNA Diet & Nutrition test is available on Amazon. Although it only has a 2.2 out of 5 stars this is only based on the opinion of 20 reviewers. The most critical reviews claim that the information provided is too general for the price. Positive reviewers indicated that they liked the accuracy and found the recommendations on what to substitute in their diet useful.
Nebula Genomics
MiaDNA is a major genetic firm that provides a specialized test for customers to help them know how their bodies and genes affect certain parts of their lives. Consumers can discover their genetic predisposition to certain foods, know their fitness level, and understand what type of exercise and applications work for them.
Another top company that offers similar and vaster services like MiaDNA is Nebula Genomics. While both companies focus on genetic predispositions, Nebula Genomics is a much more comprehensive test that highlights diet, fitness, and metabolism predispositions along with health conditions and ancestry. With 30x Whole-Genome Sequencing, Nebula sequences 100% of your DNA, not just specific genes, to give you full control over your genetic blueprint.
With regularly updated reports, you learn more about your genetics as new scientific research is performed. You also get access to DNA exploration tools so that you can discover more on your terms.
Nebula Genomics tests are accurate and come with other additions that include ancestry reporting and genome exploration tools. Regularly updated reports ensure that you will not miss the latest genetic research. Nebula Genomics price is extremely competitive with the highest product cost at $299.
| | | |
| --- | --- | --- |
| | MiaDNA | Nebula Genomics |
| Testing method | Sequences some genes to provide reports | Sequences all 20,000 genes and regulatory regions |
| Reports | Dedicated articles about genes | An extended genetic report that is updated regularly |
| Ancestry reporting | No | Performs deep ancestry reporting with the complete Y chromosome and mtDNA sequencing |
| Counseling | No | No, but data is of the highest quality and can be used by physicians and genetic counselors |
| Cost | $149-$229 | $0, $99, $299 |
Did you like our MiaDNA review? You can read more reviews on our blog and check out our complete guide to the best DNA test kit and other home tests.
Other companies
This company offers a variety of tests for different inquiries. Other companies that offer different testing options include: