7 Facts from our TrueReport Review
Location: Santa Cruz, California, United States
Products: Functional medicine reports for customers as well as packages for healthcare professionals
Cost: $29
Reports: Individuals can purchase a nutrigenomics report based on raw DNA data
How it works: Customers must perform an independent 23andeMe or AncestryDNA test and upload it to their account
Counseling available: No
Alternative Products: Nebula Genomics offers 30X Whole Genome Sequencing that decodes 100% of your DNA and offers reports on ideal diet and much more!
This review is written with the intent to be as unbiased as possible. However, it represents the opinion of an individual reviewer and is therefore subjective. Furthermore, at Nebula Genomics we seek to educate the public about the benefits of Whole Genome Sequencing. Information about our Whole Genome Sequencing DNA test is therefore incorporated into the review.
August 2, 2022
Pros and Cons
Pros
Personalized nutrition information
Cost is affordable
Easy to read reports
Cons
Analyses (250+ SNPs) are not as comprehensive as Whole Genome Sequencing
Customers need to perform a third party test first before using the service
Introduction
TrueReport (True Report) provides educational reports with tools to help make informed decisions about health. The company mainly focuses on nutrigenomics as a vital tool to determine problems in the core processes of your body system. This report is available to both individuals and healthcare practitioners.
TrueReport provides additional offerings to health practitioners for use in their practice. These include a Professional Suite of more functional reports and a Functional Blood Chemistry Analyzer® Reporting System.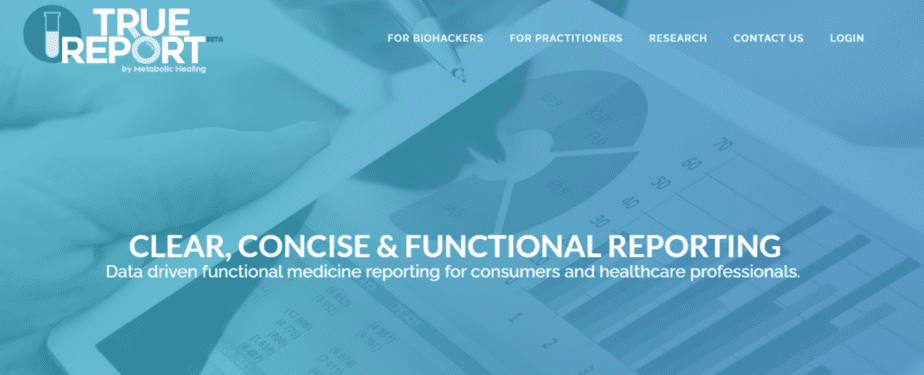 TrueReport is based on functional medicine, which uses specialized tools to determine how and why an illness occurs and treats it by mitigating the root cause.
Nutrigenomics, the study of how a person's genes affect their response to food, is one way TrueReport makes the field of functional medicine available to all.
The company's goal is to educate people about the different stages of living a holistic life and empower them with the knowledge and skills to make good decisions about their health. It is a subsidiary of Metabolic Healing. The parent company offers additional resources, including integrative nutrition consulting, practitioner training courses, and consumer education courses.
Michael McEvoy founded TrueReport in 2009 and based it in Santa Cruz, California, United States.
Review of TrueReport Products
TrueReport offers one product that individuals can order for personalized results and interpretation. There are additional products available to healthcare practitioners who wish to use them consistently in their practice.
True Report Nutrigenomics
This report analyzes over 250 SNPs from uploaded DNA data and provides a personalized, easy to understand description of how SNP polymorphisms influence your body's response to food. To note, it is not used to diagnose a medical condition or disease. The proper use of this test data shows why certain things won't work for your body system.

With proper evaluation, the individualized nutrition test can be a vital tool to help determine issues in the core processes in the body system. To do this, individuals must upload raw DNA data from 23andMe or AncestryDNA.
Practitioners can order multiple reports at once and also subscribe to a program called Pro Suite, which includes unlimited reports, intake forms, client accounts, and data tracking.
Functional Blood Chemistry Analyzer Reporting System
This is a premier clinical tool and revolutionary reporting system for a precise, computerized evaluation of blood chemistry. It is available for health professionals.

The company arranges the blood chemistry analyzer into five easy-to-follow practical sections: test results, pattern overview, recommendations, marker appendix, and pattern appendix.
This analyzer gives doctors valuable, easy to understand data that can save time when interpreting blood test data, and improves clinical power.
True Report Professional Suite Software
This professional suite is designed for healthcare practitioners to help them with data tracking solutions and client management. It comes with a functional data tracking analysis, a client management dashboard, client intake, and symptomatology forms, where professionals can create custom client reports and more.

It also helps check client data in its interactive, personalized report generator and create robust reports with the help of nutrigenomics, symptoms data, blood chemistry, and unique protocols.
Review of Taking a TrueReport Test
This company does not offer DNA testing kits. Instead, individuals or their doctors will upload raw DNA data from either 23andMe or AncestryDNA.
Individuals will first go to the website and purchase the nutrigenomics report. Then, they will get instructions for how to register and upload their data.
Review of TrueReport Cost
Purchasing a single report for personal information is relatively inexpensive.
A single nutrigenomics report costs $29. Alternatively, individuals can purchase three at once for $77, which saves $10.
Healthcare practitioners can purchase the Functional Blood Chemistry report directly from the website. Once again, a single report costs $29. However, users will get it at a cheaper price of $145 for five reports or $290 for 10 reports.
Review of a TrueReport Report
Unlike many genetic testing institutions, TrueReport has made it extremely clear that it does not accurately predict the diseases that patients will experience. The company analyzes genetic data from other companies to provide users with probable information on disease vulnerabilities, nutrients, and metabolism. The reports are not based on Whole Genome Sequencing, and as such, only critical genes referred to as key genes are analyzed.
Nutrigenomics
A TrueReport genetic nutrigenomic report is about 50 pages. Even though it is relatively long in relative genetic report terms, the company breaks it down to be easier to understand. It groups the report into specific categories according to how certain genes affect certain biological functions.
Because of the complexity of biological function, SNPs may be placed in more than one category. This duplication contributes to the length of the report but ideally makes it easier for someone to pinpoint certain areas of concern.
Below is a sample report for autism-related genetics. The genes analyzed affect neurotransmitters, behavior, and detoxification.
The first section contains a table with six columns: RS#, call, risk allele, gene, variation, and result.

The results are color coded. If someone is heterozygous (one copy of the risk allele) the result will be highlighted in orange. If they are homozygous (two copies of the risk allele) the result will be highlighted in red.
If no risk alleles are found the result will not be highlighted.
Each result is described in detail under the table. The information includes a background on the gene, what it contributes to, and a brief explanation of the scientific studies that led to this conclusion. The results also include the specific symptoms and conditions that could be related to the genetic mutation.

The genetic categories included in the nutrigenomics report are:
APOE
Autism-related
Brain health
Clotting factors
Detoxification
Estrogen metabolism
Fatty acid & lipid metabolism
GI health
Heart health
Immune-related
Iron & hemochromatosis
Methylation
Mitochondrial
Oxalate-related
SHBG: Sex hormone binding globulin
Thyroid
Vaccine adverse
Vitamin A
Vitamin D
Blood Chemistry Analyzer
This report is offered to healthcare practitioners. It organizes blood test results into 5 easy to understand sections with actionable insights.
The five sections are:
Test results
Pattern overview
Recommendations
Marker appendix
Pattern appendix
The first 3 sections, which are the main part of the report, are about 12 pages. The information in the appendices can be up to 100 pages of additional information.
The first part of the report shows the numerical test results, optimal range, and clear flags for patient values that are outside of the normal range.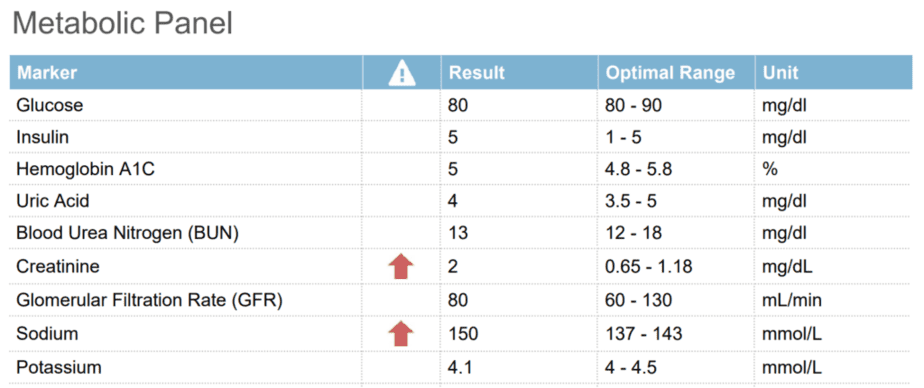 At the end of this section, a table for each panel is included that contains just the flagged results.
The various panels include the metabolic panel, lipid panel, complete blood count (CBC), thyroid, and other markers.
The next section is the Patterns Overview. This is an overview and description for potential physiological patterns that have been identified. Patterns are classified as either "high risk" (red) or "moderate risk" (blue).

The final section of the main report is Recommendations. It should be noted that these lifestyle and nutrition recommendations are based on the patterns observed, not the individual markers.
Each risk identified in the Patterns Overview section will be listed here along with notes under the categories of symptoms, clinical objectives, lifestyle factors, dietary considerations, supplementation, related or follow-up testing, and notes.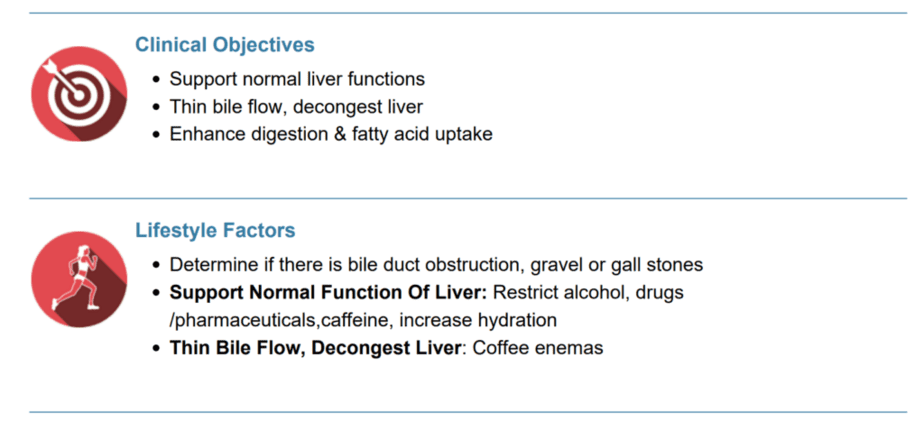 The main report is followed by two appendices, one on the markers and the other for the patterns. These sections contain detailed information for doctors who are looking to reference additional medical information on the marker or pattern.
Review of TrueReport Privacy
TrueReport's policy explains how dedicated they are to protecting customers' information. It states that provided data like your name and contact information are only used to provide you with their necessary product or service.
The company's automatic data collection accesses your IP address and domain name is used to improve their service to you. The genetic information you provide is also used to process the order you require.
TrueReport does not rent, share, sell, or disclose any of its customer's data with third parties without consent, except to provide its service or to comply with the law.
The company uses reasonable measures to safeguard user data but does note that it can make no assurances that data will not be subject to loss, misuse, or alteration. Users can request their information be deleted by contacting the company.
Nebula Genomics
TrueReport does not perform Whole Exome Sequencing or the more comprehensive Whole Genome Sequencing. Its analysis, although focused, is solely based on 250 selected SNPs from the already limited 23andMe or AncestryDNA reports. This means that there are certain areas where its analysis may be very limited. Users can find a way to get a complete test and analysis with Nebula Genomics.
Unlike other companies, Nebula Genomics offers 30x Whole-Genomic sequencing that sequences up to 100% of your DNA. The regularly updated reports cover areas important to nutrigenomics, including health, metabolism, fitness, and many other important issues.
In terms of cost, Nebula Genomics will provide more information for your money. TrueReport users are required to first obtain raw DNA data from another company.
The price of these tests vary but they are normally around $100. However, these only cover a bit of your genome. You then must return to TrueReport to receive its specific analysis.
For $299, Nebula Genomics sequences your entire genome and provides regular updates on their reports instead of just a static analysis from companies such as TrueReport.
TrueReport vs. Nebula Genomics
| | | |
| --- | --- | --- |
| | TrueReport | Nebula Genomics |
| Testing method | 250 SNP Analysis based on raw DNA data | Sequences all 20,000 genes and regulatory regions |
| Reports | Nutrigenomic testing | An extended genetic report that is updated regularly |
| Ancestry reporting | No | Performs deep ancestry reporting with the complete Y chromosome and mtDNA sequencing |
| Counseling | No | No, but data is of the highest quality and can be used by physicians and genetic counselors |
| Cost | $29 | $0, $99, $299 |
Did you like our TrueReport review? You can read more reviews on our blog and check out our complete guide to the best DNA test kit and other home tests.
You may also want to review these other places to upload raw DNA data:
Ancestry:
Health: