This review is written with the intent to be as unbiased as possible. However, it represents the opinion of an individual reviewer and is therefore subjective. Furthermore, at Nebula Genomics we seek to educate the public about the benefits of Whole Genome Sequencing. Information about our Whole Genome Sequencing DNA test is therefore incorporated into the review.
March 1, 2022
7 Facts from our yourDNAportal Review
Location: London, England
Products: Genetic health and ancestry tests with optional relatives matching
Cost: Most tests are $10, besides the advanced ancestry tests which costs $25
Reports: Free expanded reports available within minutes from raw DNA data
How it works: Create a yourDNAportal account, upload your genetic data from a commercial DNA test provider and wait for the results of the analysis
Raw Data Access: yourDNAportal does not offer access to raw data
Alternative Products: Nebula 30X Whole Genome Sequencing decodes all the information on your genome. Nebula reads over six million positions on your genome to provide you with reliable results that can be used in consultation with a medical professional.
yourDNAportal Introduction
yourDNAportal was founded by Gemma Rooney in 2017. However, very little information is available concerning the founder. yourDNAportal's services include free analysis of your existing genetic data. This means that yourDNAportal does not perform genetic testing on their own. The company's tests only involve an analysis of the results acquired from DNA testing services. As most of the tests done by yourDNAportal are free, it is an interesting service that allows one to make use of one's already existing genetic information.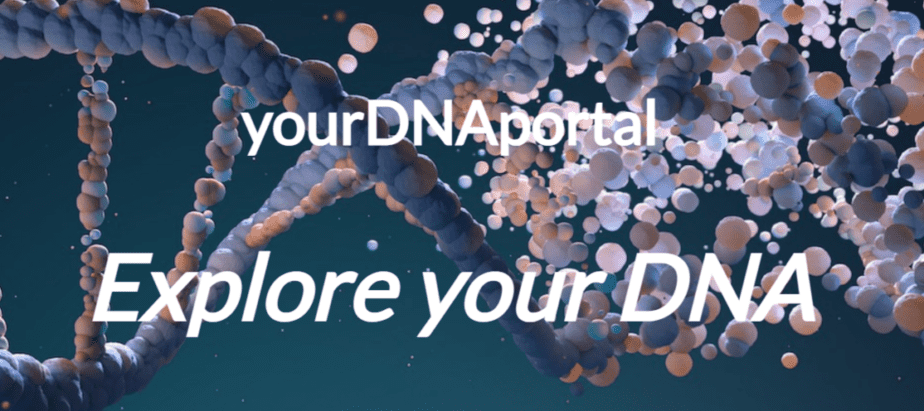 yourDNAportal Review
This service allows you to upload your previously sequenced DNA and receive free genetic health and ancestry results, with optional DNA relatives matching. It is a good choice for customers that already have data and want additional information.
The company supports raw DNA data from 23andme, AncestryDNA, Family Tree DNA (FTDNA), MyHeritageDNA, LivingDNA, Genes for Good, Vitagene, 24Genetics, sequencing.com and Geno 2.0. You can also contact them if your DNA provider is not on the list to see if it is compatible.
Review of yourDNAportal Products
Health
yourDNAportal Genetic Health Test
The genetic health reports uncover inherited traits that leave you at a risk of certain medical conditions and diseases. In brief, these reports include traits, health risks, inherited conditions, and drug response.

yourDNAportal Genetic Mental Health Test
The genetic mental health test is meant to help you stay mentally healthy by revealing up to 123 genetic markers that may influence your mental health, allowing you to take quick action against them. Some of these markers include your disposition to cannabis and other narcotics as well as your likelihood of developing anxiety-related problems.
This test analyzes you for other mental health-related predispositions such as your response to antidepressants, antipsychotics, and selective serotonin reuptake inhibitors. It also analyzes for the risk of developing mental disorders such as schizophrenia, post-traumatic stress disorder, seasonal affective disorder, and bipolar disorder. 
The company has estimated the percentage of their report that customers receive based on the DNA type they upload. This chart is available for each health test on the product page.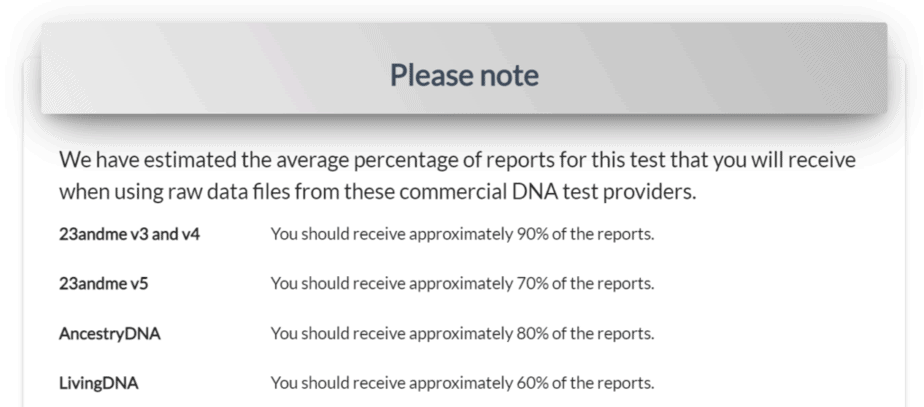 yourDNAportal Genetic Response to Diet and And Exercise Test
Discover the influence your genetic makeup has on your penchant for weight gain or loss with this test. The test uncovers close to 200 genetic markers linked to nutrition, exercise and body composition. It helps you uncover your response to fats in your diet as well as the risk of heart diseases it exposes you to. It also reveals your susceptibility to lactose intolerance, obesity, and type 2 diabetes.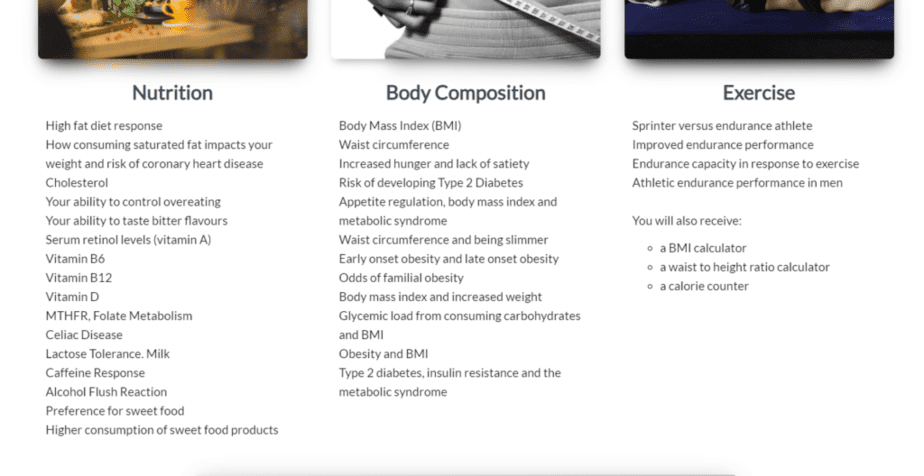 At the end of the analysis, you are provided with a BMI calculator as well as a calorie counter.
yourDNAportal Genetic Reproductive Health Test
The genetic reproductive health test helps both males and females analyze their fertility and their risk of developing fertility-related conditions. Covering more than 55 genetic markers, this test helps to calculate testosterone levels in males and the timing of menopause in females. The test even goes as far as to evaluate your likelihood of birthing fraternal twins.
yourDNAportal Longevity, Youthfulness, Skin Health and Physical Appearance Test
Your genetics play a role in the way you look as well as the rate at which you age. This test, using information from over 107 genetic markers aims to reveal the relationship between your genetic makeup and your physical appearance.
Ancestry
The genetic ancestry test helps you trace your roots from different perspectives. You can decide to trace your roots globally with the new Advanced Ancestry Analysis, or if you are sure of part of your descent, by continent. The continental autosomal ancestry analyses include specific reports for those of African, EDAR and East Asian, and Native American descent. If unknown, a free simple SNP analysis can tell you if you possess any of the associated genes.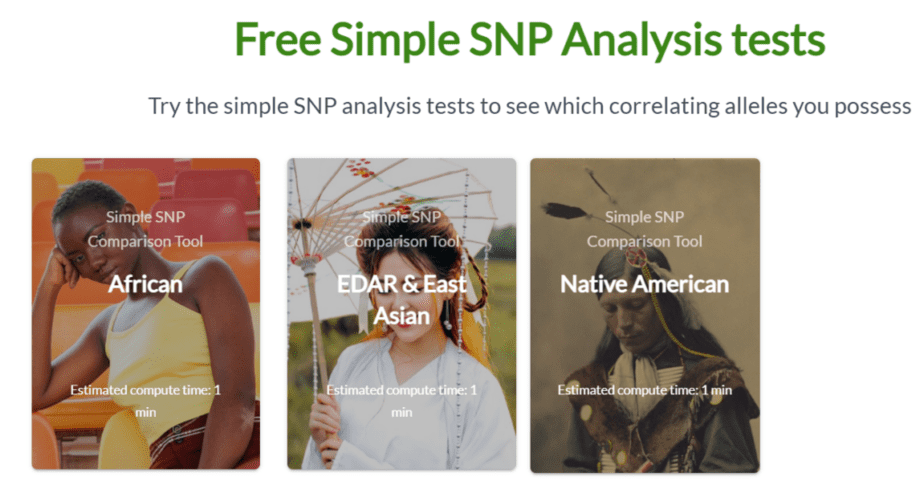 Anyone can use the free Autosomal Admixture and Oracle calculators. These calculators allow you to explore your origins from different perspectives. A genetic admixture is a point in which previously separate genetic populations mixed. The oracle calculator is a way of refining and interpreting your results.
Finally, the neanderthal report uses various comparison tools to compare how much of your DNA is related to human ancestors, the neanderthal. Some of these genetic variants are associated with various health risks and diseases.
yourDNAportal DNA Relatives Matching Tool
This tool, although still in beta, tries to help you locate your relatives via genetic testing. By reviewing the genetic data you upload, along with ancestry calculations, the relatives matching tool seeks to help you find long lost relatives and family.
Taking a yourDNAportal Genetics Test
Taking a yourDNAportal genetics test is extremely easy provided you have genetic data from another genetic testing provider. If you do not however have genetic data, you will have to carry out a test from one of the supported genetic testing providers as yourDNAportal does not provide the tests themselves. Once you have the genetic data, you create a yourDNAportal account. The account creation process is pretty straightforward and all you need for the account creation is access to an email address. Once you have the account created, you can upload your genetic data through your portal. Results for the tests will usually arrive between 1 and 4 minutes.
Review of yourDNAportal Cost
The majority of the yourDNAportal tests are free of charge, except for the advanced ancestry test that cost $25. Seeing as the results are not diagnostic results, it makes sense to have them be free.
Review of yourDNAportal Reports
yourDNAportal reports are probably the fastest you will ever get. This is largely due to the fact that they do not have to carry out any of the actual testing. All they do is an algorithm analysis of your DNA information compared to the yourDNAportal database to generate your report.
yourDNAportal reports are usually generated in 1 and 4 minutes. Being a free tool, the results generated from a yourDNAportal test are characteristically basic and there is a disclaimer splashed all over the website stating that the results of the test are not a medical diagnosis. We highlight some of the report examples below.
Ancestry
The ancestry report provides ethnicity estimates and a view of your ancestry from different perspectives, including continental and global. The advanced ancestry test includes reports for those of specific ethnicities. Each test uses admixtures, or the mixing of genetic populations, to help estimate ethnicities and ancestry.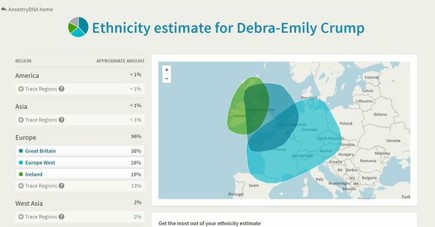 Genetic Health Report
The genetic health risk report provides you with information concerning your genotype relative to your metabolism of vitamins. It also intimates you of your risk to certain health conditions such as heart disease, type 2 diabetes, breast and skin cancer, and even Prion disease, a rare fatal disease of the brain.
Appearance Test Report
The appearance test report contains an analysis of your traits based on genotypic assessment. It displays gene references such as the likelihood of having straight or curly hair, fair or dark skin, blonde or dark hair among others. Your eye color and metabolism traits are also highlighted.
Drug Response Report
This report lists your expected response to a list of drugs. The report is based on several responses including normal, average, and good.
Review of yourDNAportal Privacy
yourDNAportal claims that it does not share your genetic information or results with any third parties without your consent or if it is required by law to share it. It is however stated in the privacy policy that your information can be used to tailor promotional material to be sent to you. Under their terms of use, it is stated that you are granting them a "non-exclusive, irrevocable, worldwide, royalty-free and perpetual license" to your uploaded information. It is however stated that the license can be revoked if you write to the company and demand that your data protection be updated and your data destroyed.
Other yourDNAportal Reviews
While yourDNAportal doesn't have a lot of reviews on Trustpilot, with just 30 reviews, 97% of these are positive, 5-star reviews. The majority of the reviews were generic, highlighting how they were impressed with the convenience and accuracy of the tests and how they would recommend it to others. Other reviewers commented on the quality of the support they received from the yourDNAportal staff with comments such as "excellent customer service" and "friendly staff".
dnatestingchoice.com, a forum for DNA testing reviews had even fewer reviews for yourDNAportal with just 4 customer reviews. Two of these were 5-star reviews, with the other two being four and two stars. The 5-star reviews commended the ease of use of the website along with the comprehensiveness of the generated reports. The Facebook page also received a lot of praise as the reviewer was impressed with the sense of belonging that existed in the group. The 2-star reviewer felt the results of the test were too similar to GEDmatch tests results.
Pros and Cons
Pros
The majority of the tests are free
Reports are generated in a matter of minutes
Cons
The generated reports can not be used as a diagnosis
The results are basic
Company does not offer DNA testing or access to raw data
Nebula Genomics
While yourDNAportal is a free and interesting service for those who already have DNA data, if you need sequencing you will need to choose a company that offers DNA testing.
Nebula Genomics is one of the top providers of genetic testing services. With a genomic test that decodes 100% of your DNA, Nebula's DNA tests are superior to tests from other providers which only provide around 0.2% of your entire data. With each health product, yourDNAportal indicates the percentage of their report you will receive with each DNA testing company. This is because most companies only decode certain genes. Since Nebula provides you with raw data access of your entire genome in multiple file types, you are expected to receive 100% of the yourDNAportal reports. This will allow you to get the most out of this free service!
Nebula Genomics also provides comprehensive reports to examine ancestry, health and diet. It is one of the few genetic testing providers that give you full access to your raw data along with regular reports based on new insights in DNA studies.
| | | |
| --- | --- | --- |
| | yourDNAportal | Nebula Genomics |
| DNA testing method | None | Whole Genome Sequencing (30x coverage) |
| Ancestry testing | Ancestry admixture and SNP comparison | Deep ancestry reporting with full Y chromosome and mtDNA sequencing |
| Free DNA upload | Yes | Yes |
| Raw DNA download | No | Yes (FASTQ, BAM, and VCF files) |
| Compatible with other services | Yes | Yes |
| Report | Isolated reports | Regular genetic reports based on the latest research and data |
| Cost | 0-$25 | $0, $99, $299 |
yourDNAportal vs Nebula Genomics
Did you like our yourDNAportal review? You can read more reviews on our blog and check out our complete guide to the best DNA test kit and other home tests.
Other companies
You may also be interested in these other DNA upload sites:
Ancestry:
Health: