7 Facts from our BioStatus Health Review
Location: Dewey, AZ
Products: Health and Fitness apps for smartphones and tablets
Cost: $3-$11
Reports: Personalized genetic reports on health, nutrition, and fitness
How it works: Customers download the selected app from either the Apple Store or Google Play. They then upload their raw DNA data and receive their report
Counseling available: No
Alternative Products: Nebula Genomics offers 30X Whole Genome Sequencing that decodes 100% of your DNA and offers reports on diet and much more!
This review is written with the intent to be as unbiased as possible. However, it represents the opinion of an individual reviewer and is therefore subjective. Furthermore, at Nebula Genomics we seek to educate the public about the benefits of Whole Genome Sequencing. Information about our Whole Genome Sequencing DNA test is therefore incorporated into the review.
July 26, 2022
Pros and Cons
Pros
The apps are easy to use
Results are easy to interpret
Good starting point for personalized genetic analysis
Cons
Only option is to upload data from a DNA testing site
Other alternatives may be more comprehensive
Introduction
BioStatus Health is a personalized health technology company that offers several mobile applications for people who want to live a healthy life. These apps use raw DNA data from 23andMe, Ancestry DNA, FTDNA, and MyHeritage to create personalized reports on a wide range of health aspects, including nutrition, fitness, and even personality.
These applications aid customers with tailoring their routines to help them create and maintain their fitness profile and health. These recommendations include diet programs, training plans, health disorders you can choose to discuss with your doctors, and many more. Some apps even allow you to assess and monitor your health through live monitoring.
BioStatus Health is an Arizona-based company.
The Science Behind Biostatus Health
The aim of BioStatus Health is to make health analysis as accessible as possible. Using the apps is extremely easy. Patients only need to buy and download the app and then upload their genetic data, which they can obtain from companies like AncestryDNA and 23andMe.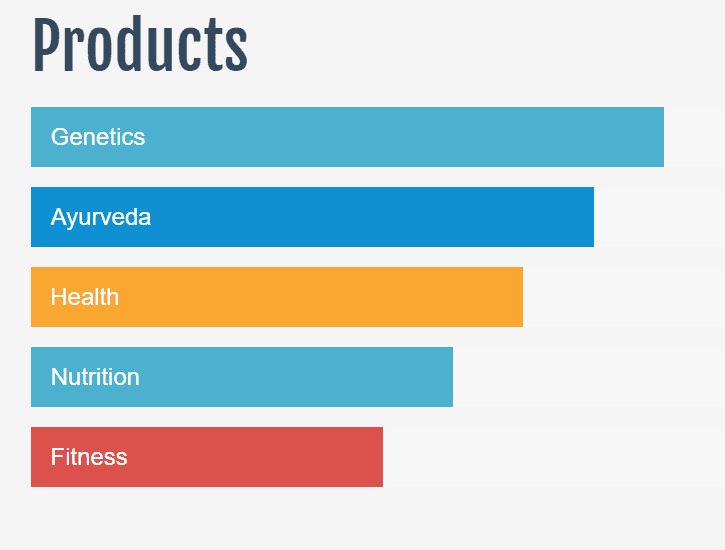 The company's major aim is to ensure that patients know more about their health based on the reports and analyses the apps provide them. They should not use this information for medication consultation. It is designed for information purposes that experts may consider when they develop their treatment options for their patients.
Review of BioStatus Health Products
BioStatus Health offers patients five main products:
DNA Doctor
Health Tracker
Fitness Tracker
Nutrition Tracker
Ayurveda Guru
DNA Doctor
This is the comprehensive app available from BioStatus Health. The DNA Doctor app helps customers understand how genes affect mentality, fitness, nutrition, health, allergies/sensitivities, and detoxification. Using raw genetic data from Family Tree DNA, 23andMe, AncestryDNA, or MyHeritage it creates a customized genetic report to help determine the ideal exercise, diet, and more.
The nutritional reports analyze 22 common diet related mutations, while the fitness report analyzes 17 mutations. The report includes various other mutations in the other categories.
Health Tracker
This app is designed to create a health and fitness profile using simple measurements taken at home. The estimates include body composition, muscular endurance, flexibility and many other wellness indicators.
The interface uses a proprietary ehealth platform, intended to give you the best tracking experience.
This is the foundational tracker app. Customers can choose to buy the nutrition and fitness expansions at additional costs.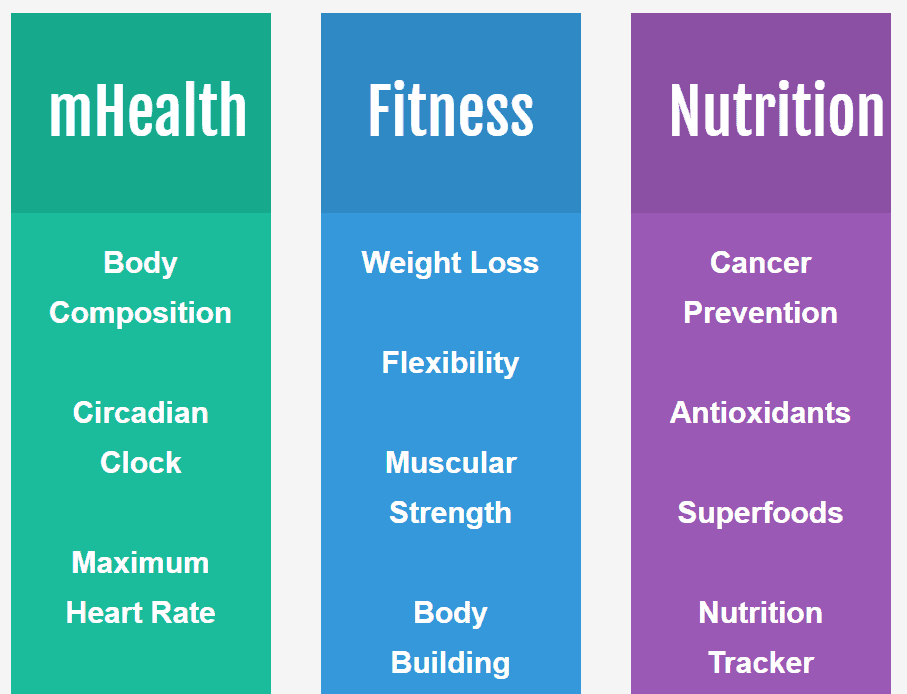 Nutrition Tracker
The Nutrition Tracker is an expansion of the Health Tracker app.
It acts as a personal dietician that guides customers on how to select the optimal diet based on genetics, lifestyle, and weight goals. 
The app includes genetic reports for nutrition, vital signs, a wellness dashboard for monitoring body composition and core body regions, a medical log, and circadian clock alerts.
Fitness Tracker
The Fitness Tracker is an expansion of the Health Tracker app.
It acts as a personal fitness coach that guides customers in how to select the optimal exercise routine for their genes and fitness goals. The eTrainer program uses scientific formulas to evaluate fitness level and create a customized exercise program to meet activity level, weight, height, sex, and age.
Like the nutrition tracker, the app includes genetic reports, vital signs, a wellness dashboard for monitoring body composition and core body regions, a medical log, and circadian clock alerts. In this case, the genetic reports focus on aspects of fitness.
Ayurveda Guru
Ayurveda Guru offers Ayurvedic guidance that focuses on making healthy decisions in relation to metabolism. It includes an integrated questionnaire to help determine metabolic/dosha type, a table of appropriate beverages and food by metabolic/dosha type, Ayurvedic routine and lifestyle recommendations, and more.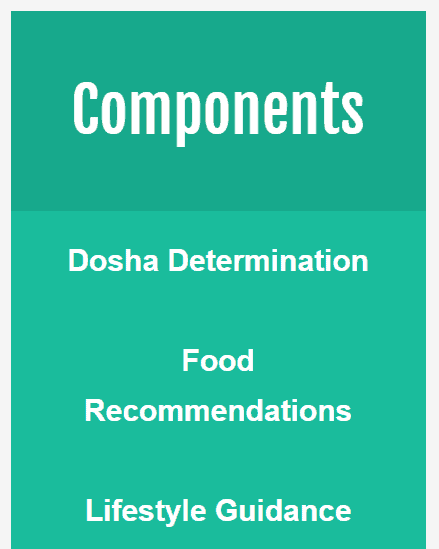 Overall, Ayurveda Guru helps customers stay fit by providing a customized diet ideal for your dosha type.
Using the BioStatus Health App
BioStatus Health provides personalized health information and guidance through applications available on Android and iOS.
Customers buy and download the products through an app store, accessible through the company's website or on a personal device.
There are instructions for how to upload raw data. Once uploaded, the reports are accessed from within the app. The company accepts raw autosomal genetic data from 23andme, Family Tree DNA, AncestryDNA or MyHeritage.
Review of BioStatus Health Cost
The apps range in cost from $3-$11.
DNA Doctor (Android): $11
DNA Doctor (IOS): $10
Health Tracker: $4
Nutrition Tracker: $4
Fitness Tracker: $4
Ayurveda Guru: $3
It's also important to note that since BioStatus Health relies on the upload of raw DNA data from another testing company, customers must factor in the price of the DNA testing kit.
Review of BioStatus Health Reports
BioStatus Health is a very proactive health company given it does not sell its own test kit. The apps and trackers provide detailed information that stands out in their own way.
Below, we go into greater detail of the DNA Doctor app.
This app focuses on genetic reports related to health and wellness. If you are interested in tracking your health, you would need one of the tracker apps.
DNA Doctor contains six different groups: injury, detox, allergies, nutrition, mentality, and fitness.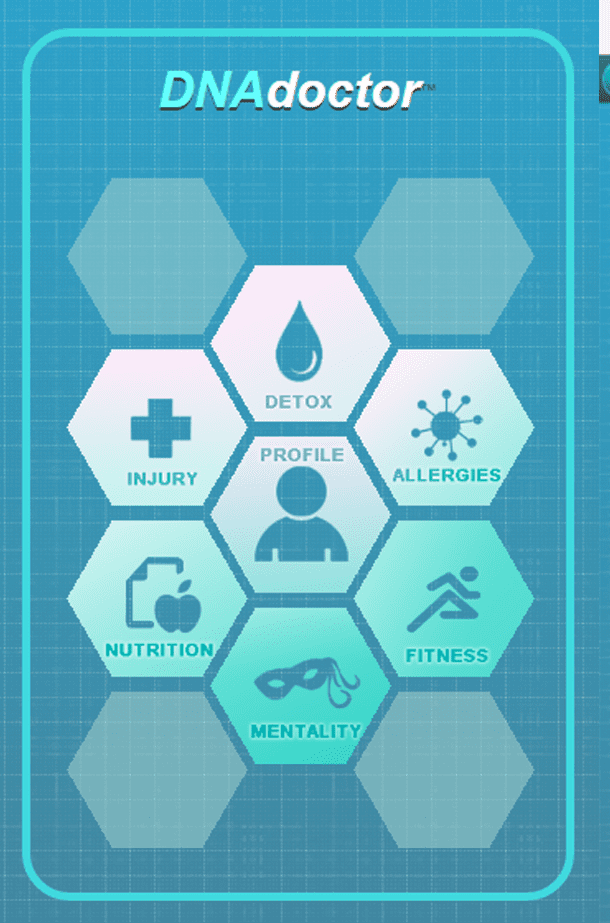 These groups are further broken down into specific aspects. For example, the nutrition report analyzes 22 common diet related mutations. These are broken down into carbohydrate sensitivity, saturated fat sensitivity, antioxidant needs, omega 3 fatty acid needs, and other needs related to various vitamins, such as vitamin D.
By selecting one of these aspects, customers receive additional information. The example below is for carbohydrate sensitivity.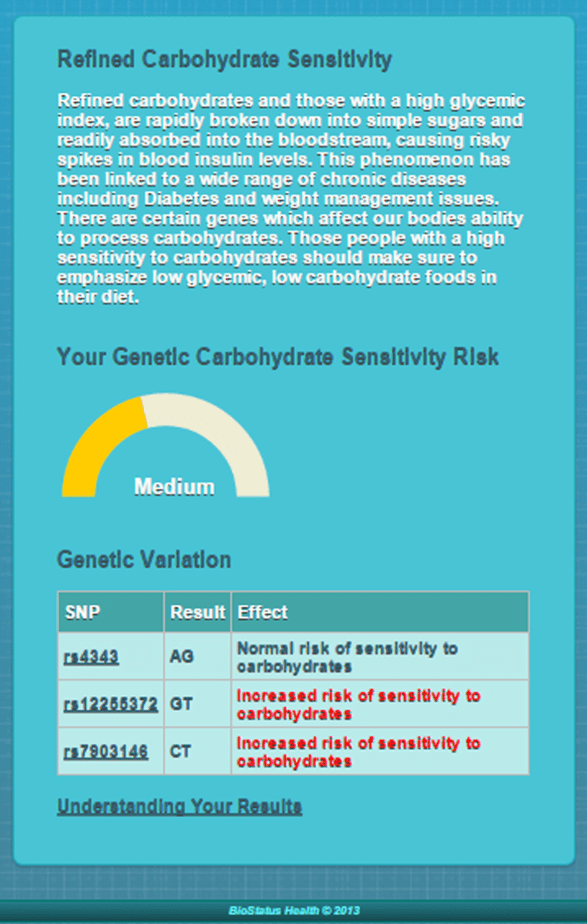 The first part defines the health aspect being measured. Then, it presents the risk as low, medium, or high. 
The final section is a table which lists the genetic markers used to calculate the risk, the genotype found, and the effect the genotype has on the health aspect.
The Tracker apps (Health, Nutrition, and Fitness) are displayed in a similar platform, but the content is also designed to act as a personalized assessment and continuous monitoring program. For example, customers will receive many of the same reports included in the DNA Doctor app.
They will also see relevant data, such as graphs that allow them to manually track certain progress.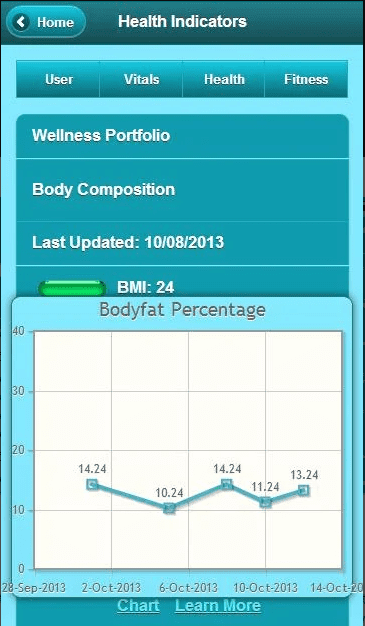 Customers will also receive recommendations for optimizing their health based on the results of the genetic analysis.
Review of BioStatus Health Privacy
BioStatus Health can access self-reported information like medical history and age, which are used to provide their service. This company does not share, rent, sell, or disclose information with third parties. Any third party from the company that has access to the customer's information uses it to help process the customer's requirements.
Other BioStatus Health Reviews
The various BioStatus Health apps are reviewed individually in the Apple and Google app stores. DNA Doctor has a 3.8 out of 5 stars on Google Play with just over 40 reviews. Customers liked the interface and the actionable information provided.
The low reviews mostly cited technical issues with uploading data. For the most part, the company has responded to and corrected these issues, which tend to be bugs in the technology.
The same app has only 2.3 out of 5 stars on the Apple Store, but it is also limited to only 3 reviews. The main complaint was that the results were no more informative than similar platforms.
The other apps have similar ratings.
Nebula Genomics
While BioStatus Health performs quite well in its analysis of the users' health, it does not provide as much detailed information as other genetic testing companies.
Nebula Genomics offers a comprehensive test highlighting predispositions related to the health aspects covered in BioStatus Health, such as diet, fitness, and metabolism, plus much more. With 30x Whole-Genome Sequencing, Nebula sequences 100% of your DNA to get to the root cause of every biological inclination. The test is incredibly accurate and comes with other additions, including ancestry reporting and genome exploration tools. Regularly updated reports ensure that you will not miss the latest genetic research.
For only $299 or less, customers can access their entire genome, allowing them to continue to ask more questions and use their data in new ways as technology like personalized apps is developed.
| | | |
| --- | --- | --- |
| | BioStatus Health | Nebula Genomics |
| Testing method | No testing method | Sequences all 20,000 genes and regulatory regions |
| Reports | Reports on health, diseases, fitness, mentality, and nutrition | An extended genetic report that is updated regularly |
| Ancestry reporting | No | Performs deep ancestry reporting with the complete Y chromosome and mtDNA sequencing |
| Counseling | No | No, but data is of the highest quality and can be used by physicians and genetic counselors |
| Cost | $3-$11 | $0, $99, $299 |
Did you like our BioStatus Health review? You can read more reviews on our blog and check out our complete guide to the best DNA test kit and other home tests.
Other companies
Looking for more places to upload previously sequenced DNA data? You should consider:
Health:
Ancestry: