This review is written with the intent to be as unbiased as possible. However, it represents the opinion of an individual reviewer and is therefore subjective. Furthermore, at Nebula Genomics we seek to educate the public about the benefits of Whole Genome Sequencing. Information about our Whole Genome Sequencing DNA test is therefore incorporated into the review.
December 8, 2021
7 Facts From our LiveWello Review
Type of Service: Digital
Products: Reports based on raw DNA data that include genetic links to health conditions
Ordering: Customers make a one-time payment or subscribe for a monthly fee. Then their raw DNA data file can be uploaded to their account, so they access their reports
Health consultations: The platform does not offer any professional health advice or lifestyle recommendations
Report availability: Report is immediately available as soon as it is requested following the raw DNA data upload.
Costs: $19.95 for a one-time payment or $5.95 per month for a subscription
LiveWello Introduction
LiveWello is a major raw DNA data analysis company that helps users know more about their genetics. The company was founded by FlorenceIwegbue, Nigeria, Attorney & Co-Founder, LiveWello, and her husband, who is a self-taught software developer and a physician. They built the company after their baby boy was diagnosed with autism.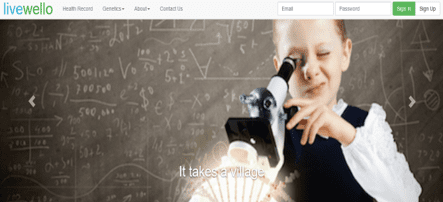 LiveWello is a service that focuses on a sense of community. The aim is to allow people to take control and help understand their health through sharing the details of their diagnosed conditions and genetic predispositions.
The child's condition served as an inspiration for the parents, and they both followed their desire for their child to live a better life and for others to know more about their health to build the analysis app or online platform.
The platform works as an app where LiveWello users can upload their raw DNA data and get a comprehensive genetic report. The company updates its software regularly to make its reports more efficient, accurate, and useful for prescribed treatment.
The Science Behind LiveWello
LiveWello is built on the foundation of helping people gain better control of their personal health. The owners created it following the birth of their son, who was diagnosed with autism. The challenges of finding tools to organize their son's health data led them to establish the organization that gives people access to know more about their DNA and genes to better control certain conditions or potential ones with healthy lifestyle choices and changes.
While they started the platform to help their son, they have expanded the company to give lots of people more control over their health. The company offers users the ability to access a vast range of information based on their personal genomics, facilitate sharing of health and genomic records, and adjust their lives based on the report to prevent or manage various medical conditions.
Review of LiveWello Products
LiveWello offers a range of products:
Gene Variance Reports
LiveWello's major product provides clients with better information on their genetic data to help them better understand the cause of their disease and if it is related to genetics. The LiveWello gene software allows clients to easily translate their raw genetic data into genetic variation reports responsible for the information on thousands of diseases and how they relate to SNPs.
The company software compiles information from multiple genetic reference databases and combines them with clients' genotypes. The combination helps generate reports on the client's genetics that can be reviewed by a practitioner and the right step taken towards treatment.
The software is backed and runs on the foundation of raw data DNA provided from some of the best direct-to-consumer genetic services and databases globally. The associated genetic testing companies where clients can get raw data include the following:
23andMe
Ancestry.com
Family Tree DNA
Gene By Gene
Hence with these databases, a client can enjoy a broad range of data on different reports and identify if a condition is gene-related or not.
The LiveWello Software provides reports for 600,000 SNPs on average based on users' experience, and when the report is given, resources are added to help clients better understand their results. According to the company, they update the software when new SNPs are added, and it now includes the following features:
A Free Gene Library
The gene library allows subscribers to create custom health reports at their convenience. It is compiled of Gene Templates compiled by users using the SNP sandbox and the Genome Wide Association Studies (GWAS) tools.
Free GWAS tool
The software comes with a GWAS tool that lets clients browse through unlimited gene reports based on their genetics.
Free Gene Template Builder
This tool allows clients to customize their gene reports based on their health issues or any genes they choose.
Free Health Data Tracking Tools
The software also allows patients to chart a wellness program that helps them improve their daily lives through routines that limit the effect of their condition.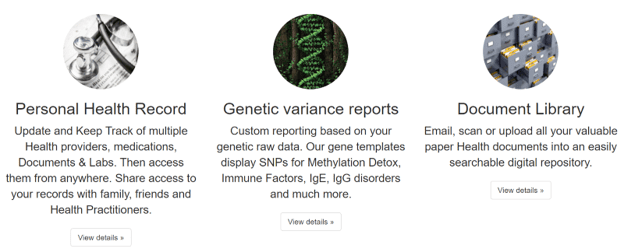 The company offers other products, which include:
Emergency Health
With this product, clients get a unique web address to write on a medical alert bracelet. In the event of an emergency, they can use the link to access their records quickly.
Surveys
The survey offers clients customized assessment tools for collecting health data and helps them generate reports for their health practitioners, research projects, and wellness programs.
Health Village
With Health Village, clients can build a community of loved ones with whom they share health information.
Taking a LiveWello Test
One important feature to note is that LiveWello is not a genetic testing company, but a raw DNA analysis firm that provides analyses and a broad range of information based on the data uploaded by its customers from other services. Therefore, customers subscribing or making a one-time payment for the firm's services must have downloaded the raw DNA data from recommended firms. The firms recommended by LiveWello include:
Family Tree DNA
Gene By Gene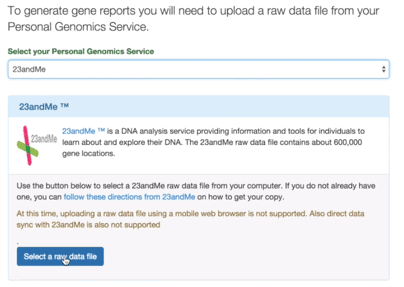 If a client already has their raw DNA data file from another testing company, they will mail LiveWello at info@livewello.com to upload the data.
Hence, LiveWello does not provide test kits, nor does it offer advice on genetic testing. Clients that have to upload their raw DNA data file get access to its reports immediately, which are usually broad and diverse compared to most companies.
Review of LiveWello Reports
The company generally offers over 20 free reports to customers that have successfully updated their raw data files. Users looking to run their reports using direct data sync with 23andMe will need to reset their gene app and upload a raw data file. The firm has a single-use gene app reset link for this purpose.
The standard Livewello Gene Variance Report contains only about 300 SNPs out of the thousands that the LiveWello App provides. As long as a SNP is in a client's raw data, with the Minor Allele and rsID, Livewello will generate a Gene Report. With the App, clients will be able to generate their reports with much more genes and learn about the diseases and symptoms associated with theirs.
LiveWello reports are wide-ranging and categorized into two forms: the health reports and the variance reports.
Health reports
The health reports are considered one of the most comprehensive parts of the report and is actually the center from which other analyses branch out. The standard health results include over 20 free reports on a range of health conditions that users can access to understand their genes better. Many of these free reports focus on pharmacogenetics. Free reports include:
COMT Gene and Sensitivity to Pain
Nexium, acid reflux disease and CYP2C19 drugs
Warfarin Sensitivity
Plavix, blood thinners and CYP2C19 drugs
Hepatitis C Treatment
Preference for sweet foods
Tramadol and CYP2D6 drugs
VDR Taq Gene and Osteoporosis
STAT4 Gene and Risk of Lupus
Vitamin B12
MTHFR and Risk of Depression
COMT Gene and Personality Traits
Vitamin B6
Alcohol tolerance
Folate and the MTHFR gene
Caffeine and Anxiety
Tamiflu and Risk Of Neuropsychiatric Adverse Reactions
Kidney disease risk and MTHFS gene
Vitamin A
Hormone Replacement Therapy
Response to cholesterol lowering medication
Alcohol abuse and risk of esophageal cancer
Zofran and CYP2D6 drugs
MAOA – The Warrior gene
Metformin
With a paid subscription service, customers can access the full reports, which include 600,000 SNPs. For example, this report on aspirin allergies in people with asthma is only available with a subscription.

Generally, users will be given the genotype detected and which condition that genotype is associated with.
Clients may also be invited to answer survey questions based on their reports to help the firm develop better analyses methods. An example of this would be answering a prompt that asks whether you experience the condition you are predisposed to in your genes.
Variance reports
The variance results are more complicated and less user-friendly than the health results. However, they also provide more detailed information on each genetic variant.
Tables in this section provide information such as the SNP name, genotype, and phenotype of each condition. Phenotype is provided as a color code:
Green (-/-): Neither chromosome contains the genetic variant
Yellow (+/-): Heterozygous (one chromosome contains the genetic variant)
Red (+/+): Homozygous (both chromosomes contain the genetic variant)
Based on the table below, this individual has one heterozygous variant for a SNP associated with allergy but no genetic variants associated with a different SNP.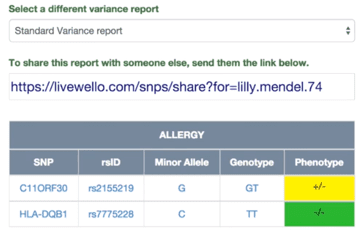 Based on current information, different numbers of SNPs are available for different conditions. For example, there are more options available for cleft lip.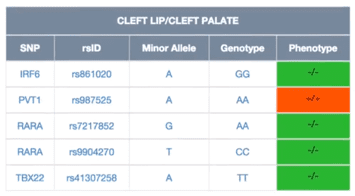 The reports also include references to original research and additional tools to explore your genetic information. On the platform, you can print or download your results as a PDF.
Neither the health report or variant report offer health recommendations or lifestyle advice based on the genotype results.
You can also compare the results in your profile with up to 5 other profiles on the platform. It's important to note that you should not use the information on this website as a substitute for medical advice. You should consult with your doctor if you are concerned about a medical issue or your health care.
Review of LiveWello Costs
The company offers users the option of a one-time payment fee or a subscription fee for those who want to continue receiving updated reports and want to cut on the cost of continuously making one-time payments. Also, subscribers tend to get exclusive additions in their reports unavailable for those making a one-time payment.
The cost for a one-time fee is $19.95.
A monthly subscription costs $5.95 a month or $60 a year. This service provides access to the Livewello app—a service that allows users to view all 132 reports.
Review of LiveWello Privacy
The privacy statement and terms of service make it clear that LiveWello's report and information do not constitute medical advice. Also clients' data provided is not sold, rented, or shared without their express permission. The platform states that users can delete their information and account at any time if they do not find the services relevant.
All entities covered by HIPAA are required to comply with HIPAA's rules related to collection, use, and sharing of your information.
Other LiveWello Reviews
Publically available reviews are limited to other DNA testing review sites.
DNAtestingchoice ranked the company 3 out of 5 stars from 6 customers. Some of these customers reported that the test was inaccurate, different from similar companies such as Genetic Genie, or that the process was too complicated. This site also provides an in depth report review by editor Craig Macpherson from 2016, who gave it 4 out of 5 stars.
LiveWello Pros and Cons
Pros
Offers a broad range of report analyses based on users' raw DNA data provided
Accepts raw data files from any genetic testing firm despite being specific on easily accessible ones
The results are easy to navigate
Cons
Does not offer genetic testing
Users can only upload just one raw DNA data file
Results are limited
Nebula Genomics
LiveWello offers a convenient platform to analyze lots of genetic data related to your health. It also provides practitioners and doctors with reliable and handy information on their clients and how they can best set up treatment plans to ensure their recovery.
However, they are not a genetic testing company in that they do not provide their own testing services. Instead, they rely on previously purchased raw DNA from other commercial companies. This drawback means that customers must first purchase a DNA analysis from another site before taking advantage of LiveWello's reports.
Nebula Genomics is a genetic testing company that offers 30x Whole Genome Sequencing and, as such, sequences all 20,000 genes and 2 million bases in the human genome. The great thing about Nebula Genomics is that it not only provides raw DNA data, but also detailed reports on how those genotypes are associated with your health, traits, and ancestry. The Nebula Research Library is continuously updated as new research is performed. Thus, you can continue to ask new questions about your genes and learn more as additional discoveries are made.
| | | |
| --- | --- | --- |
| | LiveWello | Nebula Genomics |
| DNA testing method | None | 30x whole genome sequencing |
| Reports | Variant reports including SNP, genotype, phenotype, and associated condition | Continuously updated reports on various traits and conditions based on the latest research |
| Gene Library | Yes | Yes |
| Interpretation of results | No | Users can interpret the results themselves |
| Ancestry reporting | No | Perform deep ancestry reporting with the complete Y chromosome and mtDNA sequencing |
| Data access | Not Available | Yes |
| Cost | $19.95 for one time report analysis or a subscription for $5.95 per month or $60 per year | $0, $99, $299 |
LiveWello vs Nebula Genomics
Did you like our LiveWello review? You can read more reviews on our blog and check out our complete guide to the best DNA test kit and other home tests.
Other DNA upload sites that can expand your knowledge of DNA include:
Ancestry:
Health:
If you have whole genome sequencing data, also take a look at YFull for Y-DNA and mtDNA analysis.